Food and drink in Western Australia
The restaurant scene in Perth and Fremantle is buzzing with a number of new openings and a fusion cuisine nurtured by influences from all over Asia including Thai, Chinese and Vietnamese cooking. Proximity to the Indian Ocean also means that the seafood is invariably ultra-fresh with some exotic additions to the menu unfamiliar to most visitors.
The Margaret River region is famous the world-over for its wines and while not producing in the same volumes as in the east, its wineries regularly win prizes for quality both within Australia and on the international stage. Innovative micro-breweries are also springing up around Perth, Margaret River and Broome.
---
Little Creatures Brewery, Fremantle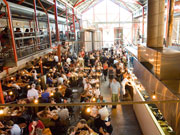 Refusing to accept the traditional view that Aussies only know how to brew lager - and lots of it! - the guys at Little Creatures Brewery on Fishing Boat Harbour in Fremantle started their own micro-brewery and restaurant/bar brewing fine ales on the premises and creating one of the most happening locations in 'Freo'.
Taking the shell of an old boat yard (formerly a crocodile farm!), the brewery introduced a number of cutting edge and innovative technologies designed to brew a beer unique to the taste buds of Australian drinkers.
A main feature was the introduction of a 'hop back' (like a giant tea bag) that infuses the goodness of whole hop flowers into the beer - a process rarely ever seen in Australian brewing.
As in many wineries in the Margaret River region, the brewery experience was opened up to the public, a 'cellar door' added where visitors could taste and buy the beers, and eventually the premises expanded to include a bar and restaurant. Award-winning beers brewed on the premises include a pale ale, pilsner, malt, and bright beer . Not forgetting, of course their Pipsqueak cider!

Howard Cearns - Little Creatures Brewery, Fremantle
"Fremantle is a little bit bohemian, a little bit alternative"
Wine & Truffle company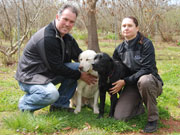 It comes as a big surprise to even the most knowledgeable of foodies that top-class truffles are grown anywhere outside Europe.
But word is beginning to spread that there's a new kid on the block in the shape of the Aussie truffle which is now threatening to storm the bastions of the best restaurants all over Europe, Japan, America and, of course, Australia itself. Not only are top chefs beginning to realise that Aussie truffles rival the best in Europe, but also that a reliable supply is now available during the northern hemisphere winter.
The Wine and Truffle Company, in the township of Manjimup in the Southern Forests region about 300 kms south of Perth, was established in 2002 and is now the largest producer of fresh truffles in the southern hemisphere as well as producing its own premium wines. The estate has 13,000 hazel and oak trees and 30 acres of vineyards.
As well as being able to sample its truffles and wines in the gourmet restaurant on site, visitors can now experience the thrill of sniffing out and digging up gourmet black truffles joining in hunts with a team of champion truffle hunting dogs capable of locating their target with pin-point accuracy from 50 metres away.

Damon Boorman - Wine and Truffle Company, Manjimup
"You can come and watch our daily truffle hunt"
Margaret River discovery tours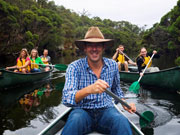 Discovering people and places in the Margaret River area that a visitor would never find on their own is the philosophy behind Sean Blocksidge's 4WD tours and he has a knowledge of the more out-of-the-way tracks, trails, waterfalls and up-and-coming wine estates that is second to none. His experience running a five-star hotel and managing a winery means that his knowledge of wines generally, and Margaret River wines in particular, rivals that of many producers and it's hardly surprising that his choice of the best estates to visit - from more than 100 wineries in the region - are sure-fire winners.
Lunch among barrels of ageing wine with Australian Winemaker of the Year, Clive Otto, at the Fraser Gallup winery is an experience not to be missed.
The famous 140 km Cape to Cape walking trail between Cape Naturaliste in the north and Cape Leeuwin in the south is one of Australia's most famous walking trails, but if you don't have the time - or the inclination - to walk the entire length of the track, then Sean knows some of the very best bits.

Sean Blocksidge - Margaret River Discovery Company
"Margaret River has exactly the right climatic conditions for winemakers"
A taste of Broome
With its complex cosmopolitan history it is hardly surprising that Broome has an eclectic mixture of restaurants and eating houses. Take the Taste of Broome half day tour to get an idea of what is on offer, from the Kanagae mango estate some 12 kilometres out of town which has the smoothest mango smoothies served in the shade of the trees which produced the fruit, to Café Carlotta in the centre of Broome, with excellent Italian food in an open courtyard open to the stars.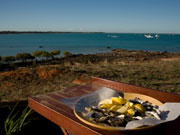 Out by the jetty the Wharf restaurant has succulent fresh oysters served up on the terrace overlooking Roebuck Bay. Noodlefish on Hammersly Street blends Mediterranean and Asian cooking styles to creatively produce excellent fish dishes.
Zanders at Cable Beach has one of the best locations in town perched on the dunes overlooking the vast expanse of white sand and offers Australian cuisine and sea food served on an open terrace. It's a good place to have breakfast - and to watch the sun go down at the end of the day.
The hotels tucked behind the beach also have excellent restaurants - at the newly opened Pinctada a blend of Asian, Middle Eastern and Mediterranean cuisine is served in their large airy brasserie. To have a taste of Aboriginal bush food go out for an afternoon with Neville Poelina, of Uptuyu Aboriginal Adventures. A former pearl diver Neville takes visitors out to Roebuck bay to catch and cook fish and crab - and is an excellent raconteur telling stories of his life growing up as a young Aboriginal here in the 1960s and 70s.
To have a drink with the locals try Rooeys on Dampier terrace - a no nonsense Australian pub, or Matso's bar which has an open courtyard popular with resident Broomites. For a beer closer to Cable Beach try Divers Tavern, where both visitors and locals hang out. There's good public transport, with a special Night bus at weekend until after midnight if you want to visit a few of the night spots - local police are very keen to catch those infringing the stringent drink driving laws here.
Beer tasting in Broome
Matso's Bar has the atmosphere of old Broome with a high ceilinged bar under a steeply pitched roof. The Kimberley's only microbrewery, many of the beers are actually produced here and there's a range of exotic flavours, from chilli to alcoholic ginger beer on sale. The food is good too - from typical Australian cuisine to sea food.

Explore more of the
culture
in Western Australia
Responsible Travel would like to thank the Western Australia tourist board for their sponsorship of this guide