Western Australia nature and wildlife
WA includes some of the most bio-diverse hotspots in the world with unrivalled opportunities to get up close and personal with rare and awe-inspiring flora and fauna. Whether it be kangaroos, emus, wallabies, woylies and quokkas on land or whales, dolphins, manta rays, dugongs or the whaleshark (the world's largest fish), under the water its all here waiting in Western Australia.
---
Bungle Bungle Range, Purnululu National Park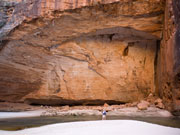 Purnululu National Park was listed as a World Heritage site in 2003 for the unique nature of the Bungle Bungle Ranges which form the major part of the 2400km
2
park. The rounded weathered hills of red rock are striated with horizontal layers of black. They rise some 300m above the Kimberley plains and are visible from 50 miles away, resembling a scrum of giant bumble bees head down in the sandy savannah. The ranges are some of the most unusual rock formations in Australia, formed of domes of sandstone which was once an ancient river bed 360 million years ago.
Read more about
Purnululu National Park
Gorge Country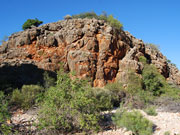 The central and southern parts of the Kimberley plateau form a rugged area of wide rolling savannah plains crisscrossed with rugged mountain ranges. With 6 national parks, mostly accessible only in the dry season with 4WD vehicles, it has a wide natural diversity, with tropical tidal rivers to the north, and the vast expanse of the inland Tanami desert to the south. The spectacular scenery of rugged high cliffs, dramatic waterfalls, gorges, savannah and rain forest is said to have inspired Baz Luhrman to make his recent film 'Australia', much of which was shot on location.
Read more about
Gorge Country
Rottnest Island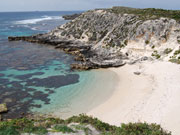 Located in the Indian Ocean approximately 18km west of Perth, Rottnest is known locally as Western Australia's holiday playground and receives around 400,000 visitors every year. But with vehicles banned from the island, it still manages to preserve its remote, easy-beat, island atmosphere. The island was for many years an aboriginal penal settlement before it was taken over by the army during WW2. Today the island provides the perfect get-away from the pressures of modern life with numerous beaches, excellent swimming, surfing, snorkelling and diving.
Read more about
Rottnest Island
Karakamia Wildlife Sanctuary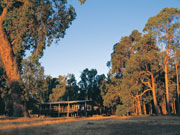 Karakamia Sanctuary is located in the Perth Hills, 50km east of the city itself. It was the first property acquired by the Australian Wildlife Conservancy (AWC) whose goal is to re-establish many of the native mammals whose numbers have either significantly declined or become regionally extinct. An educational visitor program is now well established at Karakamia and a two-hour evening spotlighting tour means that visitors can experience the magic of wandering through the bush as it would have been more than 200 years ago.
Read more about
Karakamia Wildlife Sanctuary
Kings Park & Botanic Gardens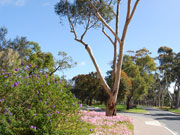 Located on the Mt Eliza escarpment with panoramic views over the city of Perth and the Swan River, Kings Park & Botanic Garden covers an area not far short of 1,000 acres (400ha). Only about a third of this area has been landscaped into manicured lawns, flower-beds, terraces, cycleways and picnic spots with the remainder still given over to virgin bushland. It's location has been sacred to the indigenous Nyoongar people tens of thousands of years and was used as a place of ritual and marriage, shelter, and for the gathering and hunting of food.
Read more about
Kings Park & Botanic Gardens
Pinnacles of Nambung National Park
Located near the Coral Coast town of Cervantes in the Nambung National Park, 250km north of Perth, the Pinnacles are jagged limestone formations that protrude up to 5m out of the surrounding desert of yellow quartz sand dunes. The structures, which look like jagged teeth, were formed around 25,000 to 30,000 years ago when the sea receded and left deposits of shells which subsequently eroded away leaving the pinnacles behind. Often compared to tombstones or termite mounds, the Pinnacles vary in size and shape. They are best seen at dusk when they cast long eerie shadows over the surrounding dunes and wildlife appears.
Yelverton Brook, Margaret River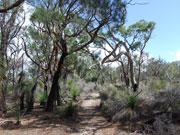 The south west corner is an international recognised boidiveristy hotspot thanks to its range of eco-systems and rare flora and fauna. A great way to experience this is a stay at Yelverton Brook Eco Spa.
Set in a private 100-acre conservation sanctuary in the heart of the Margaret River region, Yelverton Brook has five self-contained one- and two-bedroom chalets each with its own private hydrotherapy massage spa. All the chalets use solar power and are well insulated and energy efficient.
Surrounded by a predator-proof fence, a major feature of the property are its wild animals some of which are trusting enough to be hand-fed and which will often appear on the lawn outside your chalet in the late afternoon. These include kangaroos, bandicoots, possums and critically endangered woylies.
There are walking trails through the sanctuary which has preserved the atmosphere of wild bushland, but can be enjoyed without the fear of getting hopelessly lost. Tables and chairs have been strategically placed in the most beautiful spots for impromptu picnics next to babbling brooks or under the shade of a gum tree.
The property's owners, Joy and Simon Ensor, are committed conservationists who built all the chalets by hand and have developed the sanctuary as a safe release site for native wildlife. The property has Advanced Accreditation with the Ecotourism Association of Australia, Greenglobe21 Benchmarking and Landcare & Energy Efficiency Awards.
Marine life
For many, Western Australia's coastline, its beaches, and its incredible
marine life
are the main reason to make a visit. Read about
Monkey Mia
,
Ningaloo Reef and diving
or the
wild dolphins
in Rockingham.
Responsible Travel would like to thank the Western Australia tourist board for their sponsorship of this guide