Walking in Western Australia
With some of the least crowded coastlines in the world and walking trails over 1,000 kms long, Western Australia has lots of opportunities for walking enthusiasts. Read all about Western Australia walking here:
Bibbulmun Track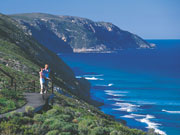 One of the world's great long distance trails, the Bibbulmun or 'Bib' Track runs from Kalamunda in the hills outside Perth to the town of Albany on the south coast and passes through some of the most spectacular scenery in the south west of Western Australia. The Track is for walkers only and is signposted with yellow triangular markers symbolising the 'Waugal' (rainbow serpent) of the Aboriginal Dreaming. It takes walkers through towering karri and tingle forests, down mist-shrouded valleys and along coastal heathlands while passing through many of the most beautiful national parks of the south west forests and coastline.
While a few hardy walkers set out on the full eight weeks it normally takes to complete the trail, most people tackle the Track in smaller stretches over a day or two either on their own or in guided groups.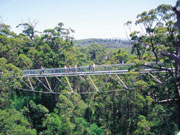 Accommodation along the trail include 48 bushwalker campsites, each with a three-sided timber sleeping shelter, pit toilet, rainwater tank, tent areas and picnic table.
The Department of Environment and Conservation (DEC) have published eight 'track-proof' colour maps along with two guide books covering the north and south sections respectively while a wide variety of short walks, interpretative tours, accommodation and walking packages are offered by the Bibbulmun Track Foundation.

Hiking and canoeing guide Andy Russell talks about the track
"It comes down the central forest system then follows the south coast... It's pretty unique to get such a well-serviced long distance track as the Bibbulmun"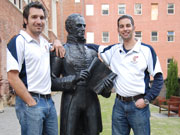 Perth walking tour
Getting orientated and finding your way around is top priority in a new city, but putting your finger on the pulse and catching the vibe can take a little longer. Which is where Ryan Zaknich and Ryan Mossny come in.
Two mates who were fed up with the traditional guide pointing at a building and spouting dates, facts and figures parrot-fashion, they decided that it was the people and stories in Perth's history that would really bring the city alive. And so Two Feet and a Heartbeat Walking Tours was born.
"Perth has an image problem and somewhere along the way it's been accepted that there is no culture, no history, no cool stuff. Even the locals thought it, but we saw it differently," say Ryan and Ryan. In fact, the city's culture and night-life is currently going through a transformation and these two have an encyclopaedic knowledge of both the city's history and its contemporary scene.
The tours (both lunch-time and evening) usually cover about 3.5kms and last for about two hours and can be tailor-made to accommodate differing interests and different areas of both Perth and Fremantle.
The city is also famous for its 19 metropolitan beaches which combined with its tropical climate make it one of the world's great outdoor cities. Among the city's most popular beaches are Cottesloe Beach, Scarborough Beach and Mullaloo Beach, all no more than 20 minutes from the city centre.

Ryan Zaknich of Two Feet and a Heartbeat Walking Tours, Perth
"Our aim is to not only show people the history but the stories... There is a real tidal wave of enthusiasm for bringing Perth into the modern age"

Read more about
activities in Western Australia
Responsible Travel would like to thank the Western Australia tourist board for their sponsorship of this guide