Tracking Snow leopards in Ladakh

In the Buddhist state of Ladakh, in northern India, the villagers call it 'the grey ghost' – one moment it's there on the rocks far above, the next it's disappeared, wraith-like, into thin air.

The snow leopard is a triumph of evolution, adapted to what are surely some of the most formidable conditions on the planet – the mountainous regions of Central Asia. Their white and grey coats, spotted with patches of black, offer exceptional camouflage against the rock and snow. Add the fact that they are normally only visible in winter and active by night, and you can understand why we know so little about them, or even how many there actually are out in the wild.
These are immensely powerful creatures, perfectly balanced by their long tails and able to pounce up to six times the length of their own bodies, but like so many other big cats their future is in jeopardy. The threat of habitat loss, largely due to climate change, weighs heavily especially in the Himalayas, which to date is one of the best places in the world to see snow leopards along with other species such as wolves, bears, red foxes and golden eagles.
Because of the logistics involved in tracking snow leopards and the inherent difficulties involved in visiting such remote destinations, there are not many holiday companies that run these trips, and those that do have a laser focus on sustainability. Some tours support the
Snow Leopard Conservancy
that aims to protect mountain landscapes, and by extension the leopards themselves; all tours use, indeed rely on, local communities, which in turn are encouraged to see the cats as a source of income rather than a worrisome threat to livestock.
Our top trip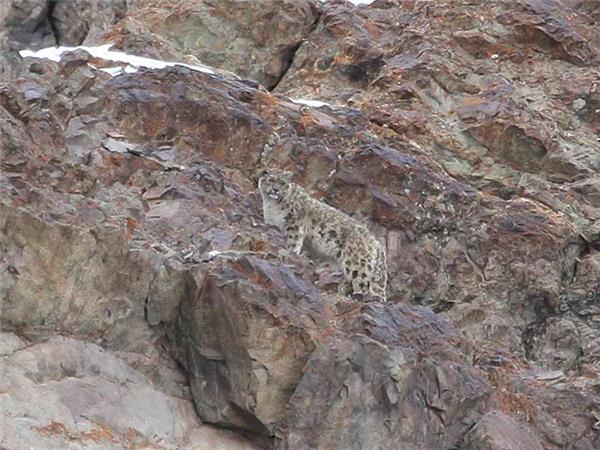 An exciting search for the elusive snow leopard
From
£3649

to

£3949
15 days
inc UK flights
Small group travel:
2024: 16 Feb
2025: 28 Feb
If you'd like to chat about Wildlife tracking on foot or need help finding a holiday to suit you we're very happy to help.

What does snow leopard
tracking entail?
Snow leopard tracking holidays in the Himalayas generally focus on two main locations: the valleys of Tarlung, Hysing and Karlung in Hemis High Altitude National Park, and the Ullay Valley a five-hour drive away, both of which are thought to have populations of around 200 leopards. You'll typically fly to Ladakh from Delhi, as the roads are blocked by snow in winter, and spend a few days in the desert city of Leh, once an important stop on ancient trade routes, to acclimatise before driving further on by 4x4.

Accommodations are a mix of camping and homestays, the latter of which is a fantastic opportunity to learn about Ladakhi life, and helps to convince people there is value in protecting snow leopards. Porters and mules carry most of the equipment and your luggage, and when camping there will be a cook, too, so no need to worry about surviving on baked beans for a week. Trips are accompanied by expert trackers, naturalists and even trained zoologists subject to availability. Nocturnal spotlighting and thermal imaging are two of the techniques employed to better the likelihood of success. You can never guarantee a sighting, but with a team like this behind you, your chances are much improved.

These trips, which it's worth pointing out have already resulted in a decline in leopard poaching in the area, will usually be tailor made. That gives you greater flexibility on your dates, and they can be organised for groups, couples, or even just one person, if necessary.
Let's get physical
Make no mistake, of all the big cat safaris we offer this is one of the most demanding. You'll be trekking into high altitude mountainous terrain, on your feet for around four hours a day over a period of at least five days, and in cold winter weather.
That said, tour operators and the guides they use aim to make these trips as inclusive as possible. Read
Colin Hovey's account
of his very successful trip, which he undertook with little difficulty aged 75!
So you will want to be in decent physical condition, but don't think you need to be Everest-ready. The minimum age for a trip like this is 18 and the maximum is… well, who are we to say?
When to track snow leopards
It's not hard to pinpoint the exact best time to see snow leopards in the Himalayas – it's in the coldest months between November and March. During the winter, the leopards' prey species – ibex, bharal and argali – are forced down the mountains by thick snow and the leopards, of course, give chase. This makes the leopards much easier to spot, and the snow cover also helps considerably when it comes to following them, as you'll see their tracks.
"We spent nearly 50 hours watching interaction between several different cats including hunting and mating. Make sure you have good telescope, binoculars and camera lenses. Even if you don't see snow leopards, they are needed for the birdlife. Suggest getting a solar powered charger for electrical equipment – they don't weigh much and work really well. Have a care if you suffer from vertigo – you will be climbing up the side of mountains and walking along narrow trails in order to get good vantage points!" – Liz Cooke in a review of her snow leopard tracking holiday in the Himalayas

"As well as warm clothing and a puffa jacket the best thing I took to cope with the cold was an extra blow up mattress for camping. I don't go camping at all usually, so this mattress as well as a very good quality -5°C sleeping bag were really important as I always had a good night's sleep. I knew I was fit because I had been going to the gym for three or four months but I knew that the breathing thing was going to hold me back, so I was best not going in a group. Each morning, walking 200m or 300m up a relatively gentle gradient, I had to stop. The breathing at night for the first two nights was bad, but after a couple of nights I didn't have a problem." – Colin Hovey (aged 75) in a review of his snow leopard tracking holiday in the Himalayas
More Wildlife tracking on foot articles