3

independent reviews for

Thailand family holiday
Reviews for Thailand family holiday
---
Suzi Drew

review 11 Aug 2008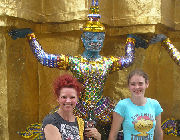 1. What was the most memorable or exciting part of your holiday?
Trekking in the hills of Northern Thailand and staying in a traditional Hilltribe Village home.
2. What tips would you give other travellers booking this holiday?
Check the itinerary carefully before booking any holiday of this sort - we had an excellent time overall but felt there was too much travelling eating into our precious holiday time! Also if doing this type of thing for the first time (as we were) get as much advice as poss re what to take etc.
3. Did you feel that your holiday benefited local people, and minimized impacts on the environment?
I didn't see any great evidence of 'responsible tourism' but there again we wouldn't know whether genuine local companies were used for travel etc so it's hard to say. I feel the large hotels used in Bangkok and Chiang Mai should be replaced with smaller 'family' run accommodation.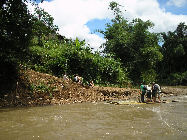 4. Finally, how would you rate your holiday overall?
Overall an awesome experience but when travelling somewhere new and exotic for the first time it usually is! As mentioned above I was disappointed with some of the accom (too big!) but apart from that everything pretty much as expected leaving us with some great memories.
Read the operator's response here:
It is great to hear that the highlight was staying in the village home. We do cover a lot of ground on our trips so that clients can see as much as possible in the time they have, however, we are always happy to add on a few days at the end so that clients can wind down and relax before travelling home. Our Customer Service and Sales staff have all travelled on our trips and can provide a wealth of information with regards to what to take, we are always willing to go through any pre trip queries you may have. We always chose ground agents who operate responsibly and do our best to provide smaller locally owned accommodation where possible. However, in some destinations there may not be a great choice at of an acceptable standard or location.
---
Farrukh Alam

review 10 Apr 2008
1. What was the most memorable or exciting part of your holiday?
The stay with Karen hill tribe. The seclusion of the beach in koh samet.
2. What tips would you give other travellers booking this holiday?
Do your own reading on history, culture and the people as there is little information from the guide.
3. Did you feel that your holiday benefited local people, and minimized impacts on the environment?
The trip had little contact with local people generally.
4. Finally, how would you rate your holiday overall?
Sadly, mediocre. We were left at the airport in Bangkok on arrival, and had to wait for 90mins before transport was organised to the hotel. The guide was unaware that we were to be collected. The guide appeared generally disinterested in the group, transport arranged was delayed and often this was due to either poor organisation or the guide having a meal or smoking. Upon arrival at the Karen village, the group was left on their own for most of the day except for a 30 min walkabout. On leaving sappong, the flight to chang mai was not until early evening, thus wasting a whole day visiting a rather nondescript cave and being left in market. On the whole, the trip was more organisation of travel around Thailand, rather than offering any insight into the culture and people of the country. Whilst the operator describes this as a family holiday, there was no attempt whatsoever to involve the children in the group. A bit disappointing really.
Read the operator's response here:
Firstly, I would like to thank you for your feedback on your recent holiday to Thailand. I was pleased to see that there were some aspects of the holiday you enjoyed but was disappointed that you found your experience mediocre overall. As a result we have been in contact with our agent in Thailand to investigate the points raised in your review. We have been advised that indeed the staff were late in arriving at the airport and this seems to have been the result of a communication problem at their end. I would assure you that this is not a regular occurrence but I can understand how disconcerting this must have been for your family at the start of the trip. I was sorry that you felt the Group Leader did not give enough information. We usually receive excellent feedback in relation to our leaders and I would therefore ask you to accept our sincere apologies for any shortcomings you experienced in this respect. Our agent has taken your views on board and will be emphasising the need for leaders to be more forthcoming and to focus their attentions on involving and organising childrenísí activities in future. Similarly, our agent has assured us that they are actively trying to find ways of creating more local contact and I regret you were disappointed with this aspect of the holiday. However, I am pleased that you found the stay with the Karen Hill tribe to be the most memorable part of your holiday. Although it was disappointing to read of your unhappiness with your holiday, your views are extremely valuable in helping us to maintain our standards and further develop the abilities of our colleagues overseas. Hopefully my response to your comments reassures you that this is not simply a platitude but a view that reflects practical action. We really do rely on feedback such as yours to help us continually improve the service we offer our clients and Iím grateful for the time youíve taken to express your views.
---
Lisa Beckenham

review 12 Aug 2006
Take a look at Lisa's photos from this trip.

(click photos to enlarge)
Fantastic holiday enjoyed by all the family. Anti malarias were definitely needed. Info on this was vague but would suggest you tell future customers that we all took it and those that didn't have any went out of their way to get it!!! Didn't need Dollars or Sterling only Bahts so this would also be useful info for customers. Mosquito nets were needed for the hill tribe!!! Riding elephants and jet boating down the canals were real highlights. Would like to have done the floating market in Bangkok. Was shocked to learn how little the guide was paid she was superb and worked extremely hard. Without good tips she would have been out of pocket for all she did. Was disappointed that as a responsible company you couldn't see your quides being better paid.
Read the operator's response here:
We're sorry that you should have been concerned about the level of salary earned by the Group Leader on your holiday. By employing local Group Leaders on our holidays, our aim is not only to ensure that our clients gain the best experience in their chosen destination but also that yet another element of their holiday cost is fed directly into the host country. Clearly rates of pay and standards of living in Thailand are very different to that of the UK but as a minimum we expect our Group Leaders to be paid the local "going rate" whilst leading our clients. Following your feedback we will be contacting our colleagues in Thailand to verify the arrangements for your holiday. Obviously we would not expect any of our leaders to be "out of pocket" as a result of any operational problems or issues that may have arisen during your holiday. Many thanks for taking the time to provide us with your feedback. We're delighted to hear that you and your family had such a fantastic holiday.
Holiday Reviews
You can trust Responsible Travel reviews because, unlike many other schemes, reviews can ONLY be written by people who we have verified have been on the holidays. In addition, we don't run these holidays ourselves - our only interest is giving you the best independent advice.