Western Australia self drive itinerary
"A good stat that I like," says Tom Pegram, Australia senior specialist at our partner Audley Travel, "is that after Geraldton, there's not a set of traffic lights before you get to Broome." This means that for nearly 2,000km through the Western Australia Outback, you don't have to stop. It's the very definition of open road. 
Road trips down Australia's western coast
are characterised by the free, unfettered Outback. Long straight roads take you through dry scrub, under enormous skies, where you can put on the cruise control and a playlist. There's no such thing as traffic. Passing utility vehicles, "They're called utes, as in 'Nice ute, mate!'" says Tom – and road trains, very long lorries which will leave you in the dust – show you that this is a place for serious journeys.
If you like driving, then you'll like driving here. In fact, there isn't really any other way to see the treasures of the coast in full.

It's my favourite place that I've been, one of my best experiences ever – not just in Australia, but anywhere.

The rewards at the end of the drive? Many. "The beaches are just ridiculously good," says Tom. And he also reckons that Ningaloo Reef is better than the Great Barrier Reef. It's certainly more accessible – "It's a fringe reef – which means you can access it from the shore." The Great Barrier Reef is two hours by boat from the mainland or can be accessed by staying on a reef island. At Ningaloo, "You walk in and then, 10-15 metres later, you're swimming with a turtle". That's a near-guaranteed experience, swimming with turtles and reef sharks above huge 'coral bombies' (submerged reefs).

But there are bigger fish to spy; most people come to Ningaloo Reef to snorkel with whale sharks. When the whale sharks aren't available? It's humpback whales. Sometimes Australians call them 'humpies', but you don't have to.

"It's my favourite place that I've been, one of my best experiences ever – not just in Australia, but anywhere," says Tom.

Coastal Western Australia road trips are synonymous with coral-filled sea, beaches and national parks – those are its beauties. Yes, there are cities – a good road trip starts or ends in relaxed Perth. But generally, those who venture west have already done Sydney and the east and are hankering for something a bit more remote.

"What struck us most about Western Australia was how empty of tourists it was," says Joanna Cooke, our very own managing editor at Responsible Travel, who did her own West Coast road trip a few years ago. "In March, when we visited, there were very few people on walking trails – Kalbarri National Park's red rock landscape was so quiet it was as if we he had stepped back in time. The Pinnacles was one of the busier sites, being closer (in relative terms) to Perth, but for visitors like us, used to the madness of a Lake District car park, it was positively serene."

Joanna, like Tom, was struck by the beaches, "almost comically beautiful," she says, and enjoyed their quietness. "We hired kayaks at Shark Bay and were the only people on the water... We were joined by a green turtle, happily exploring the sea grass in the shallows, and a small shark, who seemed a little su

Pack your glove compartment full of kangaroo jerky and pick your best playlist.

Lonely roads
Western Australia is the country's biggest state, covering a third of its area. Much of it is Outback territory, with a hot desert climate – thinly populated, arid land that extends for miles – colonised by small towns built on the profits of mining or sheep farming. Mining for raw materials like iron ore and gold is still the largest industry in the area.
The area's bushland might be dry, but it supports plenty of interesting flora and fauna, and this is
under threat
. Resource extraction, alongside pollution, habitat loss, invasive species and climate change – is causing mammal species to decline. This harsh landscape takes a battering from the heat every year, but since 1910, the
temperature has increased by 1.5°C
.
You'll get red dust over your car and get used to lifting your hand from your steering wheel to acknowledge the rare drivers that pass you. Fuel stations – and their famous pies – will be your friend.
Drivers will also share the road with 'road trains', huge articulated lorries up to 60 metres long, transporting goods up and down the coast.
"An overtaking road train is quite something, those trailers just keep coming," says Joanna, "You're sat in what now feels like a tiny car, while huge wheels power past the window. Eventually, off it goes into the distance, leaving a cloud of dust behind."
The northwest coastal highway – National Route 1 – is the main road along the Western Australia coast. It's at times a very lonely road. There's just one town on it, Carnarvon, and little settlements and filling stations. The Indian Ocean Drive is the coastal tourist route that runs parallel, with pretty views of the ocean.
A road that Australians in the area nickname the 'ten mile straight' is far, far longer than that. As Joanna says, "The emptiness is all part of the fun, although I recommend setting up a decent playlist." To reach a tiny town called Coral Bay, from which you can access Ningaloo beach, you have a long, lonely drive ahead – but the promise of what's at the end of the road should spur you on.
Best time to go on a Western Australia road trip
The best time to go on a road trip in Western Australia is when it's not too hot, and not too wet – so avoid rainy season, when there is chance of cyclones and very hot weather the further north you get past the Tropic of Capricorn, which crosses Western Australia just below Ningaloo Reef. For cyclone season, which runs from November to April and affects the very north of the state, the temperature sticks around 40-50°C, and during cyclones some roads get washed away or submerged underwater.

Instead, catch Western Australia from May to September, when you can expect cooler temperatures on your drive north. Western Australia is known as the 'wildflower state'. It's thought that the poor soil in some areas means that no one species of flower dominates – and you'll not find many trees out here stealing sunlight and water supply. The result is a beautifully diverse mix of wildflowers. Count them in Kalbarri National Park from July. Wildflowers in the state peak in October.
If you'd like to chat about Australia self drive or need help finding a holiday to suit you we're very happy to help.

Western Australia driving itinerary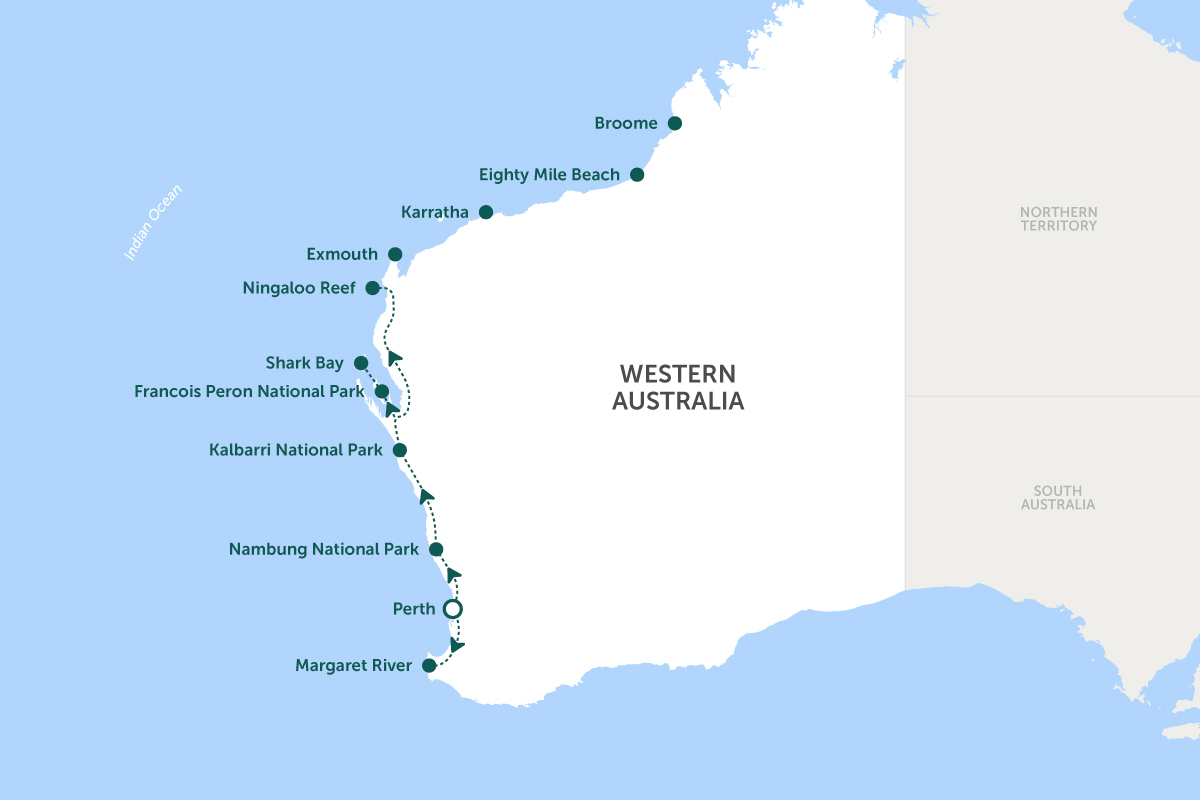 A typical tour of western Australia starts at Perth, where there are a few sights to see car-free before you hit the road. Heading north from Perth, you'll move from a temperate climate, feeling the temperature rise with every degree of latitude lost.

You'll stick to the coast for most of the sights: Nambung National Park with its rock pinnacles and Kalbarri National Park with its gorge walk among gorgeous wildflowers. It's a long drive from Kalbarri to the next big hitter – Exmouth, gateway to the Ningaloo reef, but on the way stop at Shark Bay, where there are dolphins and dugongs, and stroll on the beach at Francois Peron National Park.
Perth
Though it's one of the most isolated cities in the world, there's nothing but camaraderie in friendly Perth, Australia's fourth largest city – which expanded during the 19th century gold rush, but has relaxed since this flurry of industry. The state buildings – previously administrative buildings, are now bars and restaurants. The attractive Elizabeth Quay overlooks the Swan River – which is named after the area's native black swans.
Fremantle
Historically, if you wanted to reach Australia from Europe, Fremantle would be your landing point, and so this historic city has an interesting background as a penal colony – you can still visit its prison, which was built by the convicts themselves. Nowadays, Fremantle is a jumping off point for Rottnest Island, rather than a landing point from Europe, and is woven into next-door Perth by the expanding suburbs. The Fremantle doctor is not a city resident, but the name of a cooling afternoon breeze that comes off the sea in the summer months.
Rottnest island
A 25-minute ferry ride from Freemantle, Rottnest Island is a nature reserve – particularly known for funny creatures called quokkas. These wallaby-like little animals for whom the island ('rat's nest island') is named, use it as one of few safe havens now that predators make it hard for them to live on the mainland. Until 1931 the island was used as a prison for Aboriginal people. Whilst only 300 people live there now, it gets hundreds of thousands of tourists a year.
Nambung National Park
To the untrained eye, geology is only noticeable if it does something really wacky. Enter the Pinnacles Desert in Nambung National Park where, by out-staying day trippers from Perth, you can enjoy a near-private audience with a series of odd, human-sized limestone rocks that stick up out of the sand. As the afternoon progresses, these natural sundials cast weird shadows on the desert floor.
Kalbarri National Park
The next big point of interest on the road north after Nambung National Park, the Murchison River Gorge has cut the rock in this region so that you can see its colourful layers. The sunset hues are eventually bested by some of Western Australia's most beautiful wildflower displays, which arrive from July and bloom until around November. You can hike here; the park's famous Loop Walk takes you to a viewpoint where a natural 'window' rock frames the river below.
Francois Peron National Park
If a destination on your road gives the greatest sense of Western Australia, perhaps it's here; Cape Peron, near the town of Monkey Mia, marks the meeting place of two of Western Australia's' highlights – the beach and the Outback. Red ochre cliffs, separated from a blue ocean by a strip of white sand, make a striking aerial shot.
Shark Bay
Shark Bay is framed by a series of raggedly peninsulas. Some parts have weirdly salty water, which accounts for some of its unusual biodiversity. Whilst it has tiger sharks, the bay's name belies its variety; Shark Bay is a great place to spot dugongs and dolphins, too – as well as stromatolites: stony structures found in Hamelin Pool, reckoned to be Earth's oldest living lifeforms.The wider area is best explored with an Aboriginal guide; the bay was first occupied by Aboriginal people from the Nhanda and Malgana and Yingkarta language groups.
Ningaloo Reef
This is what your road trip has been aiming for. A long drive from the nearest city, Ningaloo Reef is a massive fringing reef supporting hundreds of coral and reef species. There aren't just cute little coral-munching fish in this UNESCO-listed site, but massive fish-munching predators, too. A known 63 species of rays and sharks live nearby, but they are dwarfed by whale sharks and humpback whales. Stay right on the beach near the town of Exmouth, and you're only ever a swan-dive away from a turtle.
Winelands
Worth extending your trip for, Margaret River, a river and town of the same name, are a few hours south of Perth, and known for the surrounding wine regions. The Mediterranean climate, which gets neither too hot nor too cold, produces great grapes – and lovely visiting weather too. From grapes to surf breaks, then, as there are some of the best surfing conditions in the world down here. Sommeliers and surfers break bread together in the town's restaurants. "You can live very pleasantly around Margaret River," says Jo, "drifting between vineyards for tastings and visiting small boutique restaurants for elegant meals. I felt very at home!"
Western Australia road trips tend to follow the coast north from Perth, and usually require an internal flight to bring you back to your starting point. Perth is an hour and three quarters' flight south from Learmonth airport.

You'll need to be comfortable with being at the wheel for up to seven or so hours for some of the long drives on this coast. The roads are generally very straight and very quiet, but you'll be looking to around 1,200km over 11 days' driving.

You'll only pick up the hire car when you need it – Perth, for instance, is great to explore car-free, thanks to a public transport network. Rottnest Island – an important area for birds – is again best left to feet, boat and bicycle.
More Australia self drive articles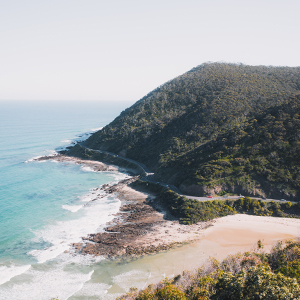 Read our guide to find out why road trips are the best way to really get to know Australia.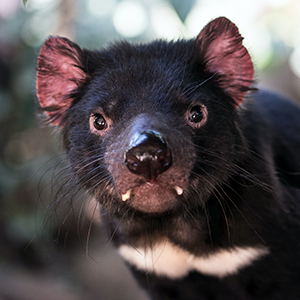 Discover the wild delights of exploring the island state on a self drive itinerary.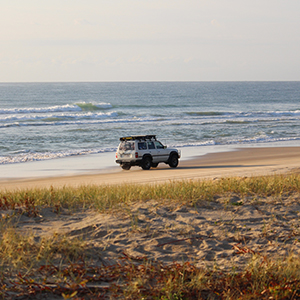 It would take something pretty special to induce many travellers to leave Sydney – like this.