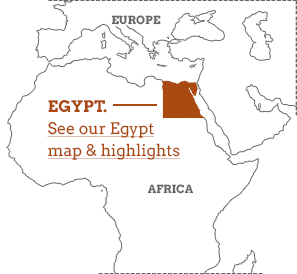 Egypt's ancient landmarks possess a near-mythical quality, and our holidays help preserve them so that future generations can wonder over them as well. Our ever-popular Nile cruises go to places like Aswan and Luxor, using only small ships or feluccas which reduce pollution and crowding – and which mean a more relaxed experience for you. And whether touring the Pyramids of Giza or Nubian villages, our partners use expert local guides adept at explaining customs and traditions, and putting the 'story' into the history. Families diving in the Red Sea, meanwhile, stay at eco-friendly resorts where instructors prioritise the well-being of the reefs.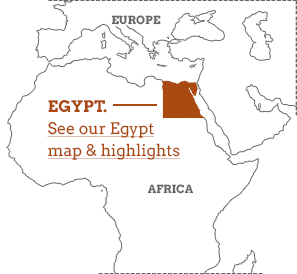 Our top Egypt holidays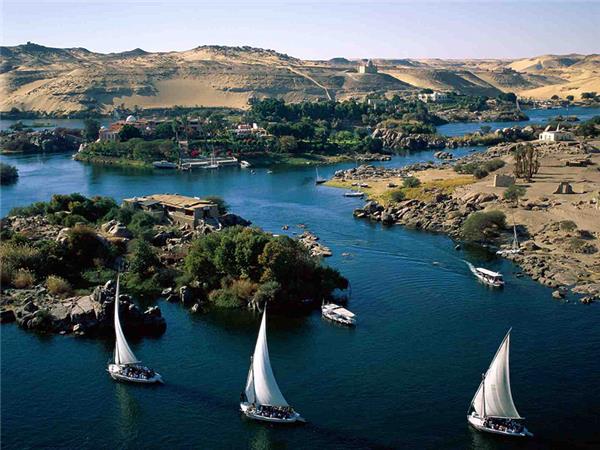 9 days
inc UK flights
Discover ancient temples & tombs & travel by Nile cruise boat
Small group
2021: 18 Dec, 2022: 5 Feb, 19 Feb, 5 Mar, 19 Mar, 2 Apr, 9 Apr, 30 Apr, 7 May, 28 May, 17 Sep, 24 Sep, 1 Oct, 8 Oct, 15 Oct, 22 Oct, 29 Oct, 5 Nov, 12 Nov, 26 Nov, 10 Dec, 24 Dec, 2023: 21 Jan, 11 Feb, 18 Feb, 25 Feb, 4 Mar, 11 Mar, 18 Mar, 1 Apr, 8 Apr, 15 Apr, 29 Apr, 6 May, 27 May, 23 Sep, 30 Sep, 7 Oct, 21 Oct, 28 Oct, 4 Nov, 11 Nov, 18 Nov, 25 Nov, 2 Dec, 9 Dec, 23 Dec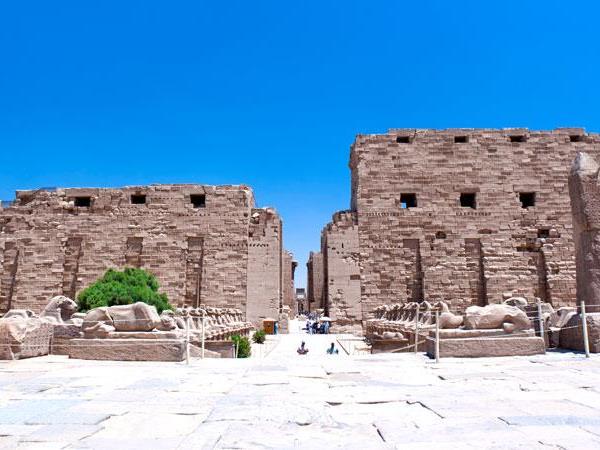 10 days
ex flights
Culture, history and beaches of Egypt
Small group
2021: 11 Dec, 18 Dec, 28 Dec, 2022: 8 Jan, 22 Jan, 5 Feb, 19 Feb, 5 Mar, 19 Mar, 2 Apr, 16 Apr, 30 Apr, 14 May, 28 May, 11 Jun, 25 Jun, 9 Jul, 23 Jul, 6 Aug, 20 Aug, 3 Sep, 17 Sep, 1 Oct, 15 Oct, 29 Oct, 12 Nov, 26 Nov, 10 Dec, 21 Dec, 28 Dec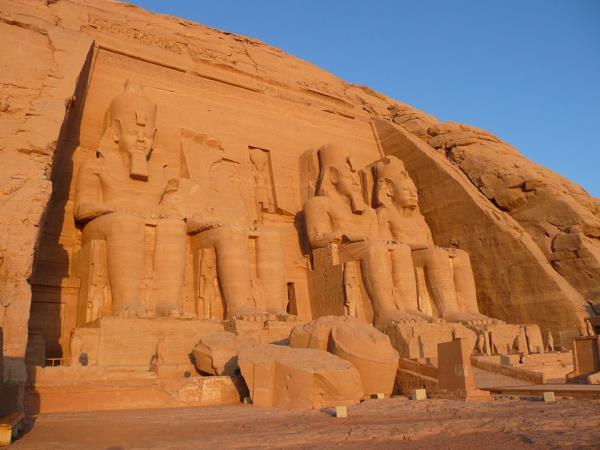 12 days
ex flights
Cairo, Giza, Luxor & Aswan Nile Cruise & Red Sea Holiday
Map & highlights
The timeless wonder of Egypt begins amid the noise and grime of Cairo, where the Pyramids of Giza and mysterious Sphinx stand just outside the capital. Further south, often reached by night train, Luxor holds many of Egypt's great architectural treasures, including the tombs of pharaohs set into the Valley of the Kings. Most Nile cruises, whether by small ship or felucca, sail between Luxor and laidback Aswan with its Nubian villages, sometimes diverting by road or air to the temples of Abu Simbel. Dahab on the Red Sea, meanwhile, is a chilled base for scuba diving.
1. Valley of the Kings
A labyrinth of underground hidden tombs and vivid ancient illustrations – not least King Tutankhamun's burial chamber – is all part of the otherworldly mystique of the Valley of the Kings. Every archaeologist that's struck lucky there has claimed there's nothing left to find and yet amazing discoveries keep happening; rumour has it, Queen Nefertiti's resting place is next to be uncovered.
2. Aswan
Aswan is a compelling and underrated city that sits right down south on the wide, slow-flowing banks of the Nile. Unlike lively Luxor, Aswan's allure lies in its laid-back vibe. Its colourful markets, unique and historically important Nubian villages, an excellent souk, and the tropical-fringed Elephantine Island are all fascinating, as is the natural splendour of a burnt orange sunset over the Nile.
3. Cairo
One city, three parts: Downtown Cairo houses the Egyptian Museum – a crumbling and chaotic affair, but with a priceless collection of pharaonic antiquities (to be relocated from 2021). Old Cairo is the Coptic centre with an array of medieval churches; and Islamic Cairo is a maze of narrow walkways, artisan bazaars and shisha. Khan al-Khalili market area is shopping heaven for some, hell for others.
4. Dahab & Red Sea
If you like the idea of giving scuba diving a go just a short walk from the water's edge then Dahab is spot on. Diving here is mainly shore-based as the Red Sea drops down quickly to great depths, making it an ideal destination for beginners. With over 1,000 species of fish, 150 species of coral, and curious dolphins the Red Sea is known for its unbelievable underwater scenes and excellent visibility.
5. Abu Simbel Temples
Thanks to UNESCO these magnificent temples, built by Ramses II in 13th century BCE, were rescued from the flooding of the lands that took place to build the Aswan Dam and Lake Nasser in 1960s. They relocated them to Abu Simbel, and placed them on the rock face by tunnelling into the hillside. As you do. They are spectacular. Come for the Stonehenge-like sun effect at dawn 22nd Oct and 22nd Feb.
6. Luxor
A modern metropolis merged with an ancient arcadia, it is divided by the Nile into two sections. The East Bank is the modern but French influenced town, also home to Luxor and colossal Karnak temples, plus Luxor's museum. Take a boat to the West Bank to explore the Valley of the Kings. You can take a sleeper train from Cairo, and hire a bike to explore the West Bank when you are there.
If you'd like to chat about Egypt or need help finding a holiday to suit you we're very happy to help.