Family holidays travel guide
The family holiday comes with a lot of baggage, and not just the packing kind. It is, for many, the only time loved ones really get time to relax together, and so the pressure is huge. Which is why so many of them can end in tears before bedtime. Or indeed before booking. This family holidays travel guide aims to lessen the load from the word go.

As a travel writer and a mum, I am always cornered in the school yard about where to go, what to do, and if I think granny will enjoy it too. So, here it all is, in one guide.

- Catherine Mack, guide author at Responsible Travel
It will not only inspire you with lots of new ideas but will also help you narrow down the choices from a world of family fun, to a mountain lake in Montenegro, island-hopping by kayak in Croatia, a wildlife cruise in the Galapagos Islands, trekking in the Moroccan Atlas Mountains or a husky sled ride through the frozen wilds of Finnish Lapland. Follow the tips in our family holidays travel guide, and the process of choosing a family holiday will be like the difference between carrying a 25 kg bag, bursting at the seams with loads of stuff you don't need, and a super cool carry on one. Baggage? What baggage?
What we rate & what we don't
Other Spain
Most people can reel off more destinations in Spain than for most other countries. But for every place you've heard of, there are a dozen more that you haven't. Every village has a fiesta, a fine and friendly restaurant, a genuine welcome for families, and a plaza or two to sip a cafe con leche. And with the country covered with coast, mountains or forest, there'll be excellent landscapes to match – with no other tourists.
Leaving your comfort zone
Family holidays that include the word 'activity' are not all about adrenaline, but more about stepping out of the comfort zones many of us have unwittingly built around our children. Unwrap all that cotton wool by hiking to an Alpine peak, or wild camping in a canyon, while feeling the fear just a little. Or mountain biking back down and watching grizzlies in the wild. And feeling the fear just a bit more.
Having a guide
Let's face it, when you're in charge of a hiking or biking expedition with your children, there are always tears somewhere along the way. A good family guide knows exactly how to keep a family inspired and interested, no matter how old they are. So, no more domestics over map reading, tantrums over treats, or kids declaring 'This is sooo boring'. Expert guides love their jobs, and their love is always infectious.
Family wildlife holidays
There are lots of family safari opportunities, but more specific wildlife watching holidays can be tailor made to cater for different age ranges. Follow giant tortoises on the Galapagos Islands and go kayaking the next. Or see Rajasthan's tigers in the morning and explore an ancient fort in the afternoon. Seeing nature's wonders is spectacular, but holding your loved ones in your arms as you do so is the icing on the cake.
Hiking en famille
The idea of a walking holiday is always going to take a bit of selling to children. From toddlerhood on that instinct to just say 'carry me' can take time to wear off. However, throw in a safari camp, a donkey to carry your bags, a mountain yurt or a swim at the end of each day and the walking bug will kick in. Combine it with some kayaking and horse riding, and you'll have converts for life.
Bizarre beds
Not only is it fun to stay in unique and funky accommodation, but because they are often created by people who have ambitious visions when it comes to responsible tourism. And hearts of gold, not just green, when it comes to hosting. Such as an eco yurt holiday in Lanzarote, a tree hotel in Sweden, a ryokan in Japan, a cave in Andalucia, a houseboat in Kerala or a luxurious beach cabin in Tobago.
Small group holidays
If a family holiday makes you nervous about packing and planning, let it go. Many of the ones that we feature are small group holidays, where everything is organised for you – by experts who totally get family needs. All the equipment is provided, so no battling with bike carriers or stuffed-to-the-brim roof boxes. Or worrying about how to get from A to B. Just pack and go.
Family cycling holidays
A family cycling holiday is a double whammy of wondrousness. First of all, all of the logistics are taken care of on your behalf, so you don't need to spend hours taking bikes on and off bike carriers, or finding the safest route from place to place without heading into a load of trucks. Second, the joy that you get watching your children gain that sense of freedom is second to none.
Disney
There is no doubt that it brings smiles to many people's faces, but with so little time to enjoy together as a family these days, trust us - the smile on your child's face as they go white water rafting, kayaking or, for something different, walking across the Alps with a donkey as their favourite companion in the world, is so much better than the cartoon alternative. Which, let's face it, is all a bit Mickey Mouse.
Performing animals
Whether it is orcas in captivity, walking with lion cubs or riding on elephants, all of these animals are performing. And to perform they have to conform. And to conform, many of them are treated in the most unethical and destructive ways. Such outings are often disguised as being important for conservation reasons, but there are so many alternatives to protecting species than getting them to perform for our pleasure.
Kids clubs
If you or your children have grown out of 'kids' clubs' or, indeed, you never liked them in the first place, there are so many holiday activities out there. Swap face paint for real mud on a mountain biking expedition in Catalonia, or swimming pool games for wild swimming among Montenegrin waterfalls. Get away from the cold, clinical concept of clubs, and go a bit wild. Feral is the new fun.
Family cruises
Apart from the fact that these floating, all inclusive hotels are environmentally dubious and disengaged with local communities and economies, the idea of taking on a climbing wall in the middle of an ocean, or jumping into a pool in the middle of the Med is not even soft adventure, it is downright unsustainable squishy. You don't need a bigger boat. Just a bigger imagination.
Our top trip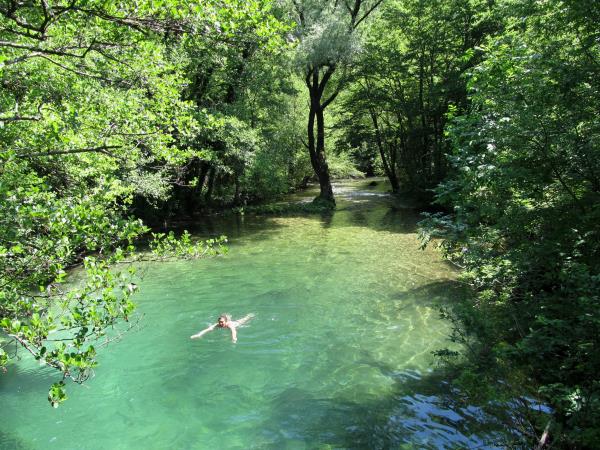 An active villa holiday at stunning Lake Skadar, Montenegro
From
£745

to

£845
7 days
ex flights
Small group travel:
2024: 7 Apr, 14 Apr, 21 Apr, 28 Apr, 5 May, 12 May, 19 May, 26 May, 2 Jun, 9 Jun, 16 Jun, 23 Jun, 30 Jun, 7 Jul, 14 Jul, 21 Jul, 28 Jul, 4 Aug, 11 Aug, 18 Aug, 25 Aug, 1 Sep, 15 Sep, 22 Sep, 29 Sep, 6 Oct, 13 Oct
If you'd like to chat about Family or need help finding a holiday to suit you we're very happy to help.

Child reviews from family holidays

When I told my friends that I had been walking in the Alps with a donkey during the summer, they laughed. Five minutes later, after seeing the photos and hearing the stories, they all wanted to go too.

"We have been on a few family cruises because my parents love them, and granny comes too. But last year we changed and went on a sailing holiday in Scotland which was amazing. Granny got a crush on the skipper, so when he suggested she went in a kayak with him, she did!" – Maisie, 8 years old

"On our holiday in Thailand, we spent a night sleeping on a floating bungalow on a river raft in the Khao Sok National Park. I was a bit scared at first, because I knew we were in the jungle, but actually it was really sick." – Jahim,10 years old

"It was brilliant to really have a laugh with my parents on holiday. They usually try and do board games and stuff like that to have 'family time' – but mountain biking together and then jumping into a gorgeous lake at the end of the day was so much better. Montenegro was our best family holiday ever." – Kate, 11 years old

"I was never into rugby, cricket or football really. Then I went kayaking in Turkey when I was 12. I was hooked straight away, and I have spent my last two summers helping out on a kayaking summer camp. Kayaking is just cool." – Louis, 15 years old