Liking hiking Liguria
Melanie McAnaw from our supplier Headwater discusses the timeless appeal of the Ligurian coast in her Italy travel advice: "I have to pick out hiking in Liguria and especially on the Cinque Terre – the five pastel coloured villages that tumble down the hillside to the sea. This area arguably offers some of the best coastal walking in the country. I will never forget walking through cultivated vine terraces, with sea views galore, down to Corniglia, one of the Cinque Terre. And of course finishing the walk with a fragrant bowl of tasty pesto trofie – the local pasta accompanied by the Ligurian world famous sauce."

Making Italy look good
Etien Veeman from our supplier 46 Degrees highlights the joys of buying 'locally made' in her Italy travel advice: "Italy has always been a country of artisans. Nowadays the financial crisis is hitting really badly, so buying artisan articles helps – though always check that it is really 'Made in Italy'. At the lakes, watch for silk scarves, while Bergamo has very fine wines and local food specialities. In Tuscany the olive harvest has been bad this year, so be aware that any bottle of olive oil that costs less than €8 will not be 100% Italian! Also look for objects made of olive wood. The lodgings on our tours often offer local products to buy or can advise you where to get them."
The road less travelled
Marta Marinelli from our supplier Exodus highlights the joy of the undiscovered in her Italy travel advice: "Our trips always include hidden gems. Walking the Amalfi coast cannot be considered complete without a walk on the Path of the Gods, considered by many one of the finest coastal walks in the world – while in Tuscany we take in 'best kept secrets' like the Garfagnana hills. In Sicily, we explore the romantic Val di Noto and its baroque towns on foot or by bike. In Sardinia, we go for full immersion in unspoilt nature and authentic village life. On tours to Puglia and Basilicata every day is filled with cultural discovery and unique foodie experiences. In north Italy we get active and discover the spectacular jagged limestone peaks of the Dolomites on foot."

Italia delizioso!
Marina Caldera from our Umbria supplier Agriturismo Podere le Olle highlights foodie temptations in her Italy travel advice: "Everything that surrounds us is related to food, and each village has specialities of which they are proud. Our area is famous for extra virgin olive oil and Orvieto wine, plus norcineria - cured pork meats. We also grow all kind of beans that are cooked with spelt and barley to create delicious soups. And we have a very specific pasta, a sort of rough spaghetti called umbrichelli. A traditional recipe is umbrichelli all' aglione, a spicy tomato sauce with lots of our very tasty red garlic! Another speciality is wild boar, either stewed or cooked with tagliatelle. The village of Cita della Pieve is the place for saffron, while Fabro is famous for white truffle."
Engaging times
Andrea Monti from our distinctive new cultural experience supplier FindYourItaly has Italy travel advice on grabbing first-hand experiences of historic traditions: "We take travellers beyond common tours using local crafts people or food producers who show and tell their history, lived in Italy for centuries. I like the painting restorer in the hills of Asti who teaches travellers about ancient painting. He doesn't want to be paid – but asks for contributions to the local community to restore buildings. I also like the trip where you can learn fishing in a real old fishing house (trabocco) – mostly constructed from wood and railway sleepers – in the old Roman town of Vasto on the Adriatic coast. Then you start cooking and eating!"
Our top Italy Holiday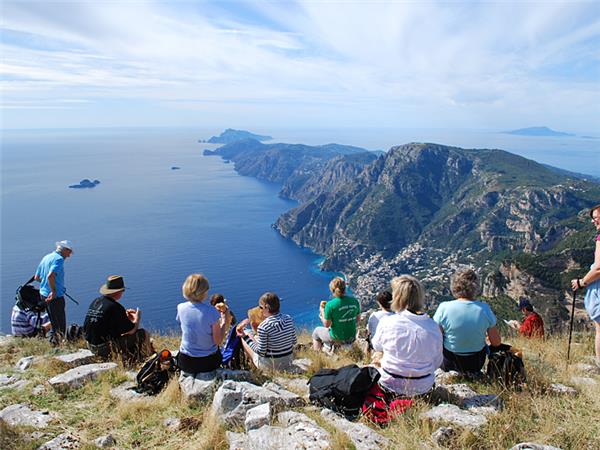 Walk in lemon groves and hillside villages
From
£1579

to

£2199
8 days
inc UK flights
Small group travel:
2023: 7 Oct, 18 Nov, 30 Dec
2024: 10 Feb, 17 Feb, 24 Feb, 2 Mar, 9 Mar, 16 Mar, 23 Mar, 30 Mar, 6 Apr, 13 Apr, 20 Apr, 27 Apr, 4 May, 11 May, 25 May, 1 Jun, 8 Jun, 15 Jun, 22 Jun, 29 Jun, 6 Jul, 13 Jul, 20 Jul, 27 Jul, 3 Aug, 10 Aug, 17 Aug, 24 Aug, 31 Aug, 14 Sep, 21 Sep, 28 Sep, 5 Oct, 12 Oct, 19 Oct, 26 Oct, 2 Nov, 9 Nov, 16 Nov, 21 Dec, 28 Dec
If you'd like to chat about Italy or need help finding a holiday to suit you we're very happy to help.

HEALTH
If you need emergency treatment – medical or dental – head to casualty (pronto soccorso) at the nearest hospital.
To call an ambulance, dial 118.
For EU citizens, the EHIC card provides cover for most medical care at public hospitals in Italy. But be sure to also have travel insurance in place in case you need emergency repatriation. The standard of healthcare in Italy is generally good, though public hospitals may look less impressive the further south you go in the country.

SAFETY
Italy is not a dangerous country but travellers should take all usual basic precautions against petty crime, particularly in larger cities. If you need to call the police, the number is 113. Women travellers – particularly solo women – may find themselves the focus of attention from Italian men under the guise of 'flirtation', particularly the further south you are. In some areas, you may find yourself subject to outright staring from men, and persistent approaches from would-be Casanovas. The best response is usually to just ignore them. If that doesn't work, politely tell your admirers you are waiting for your husband (marito) or boyfriend (fidanzato), and walk away. If this still fails, approach a member of the police Women may also find themselves the focus of wandering male hands in crowds or on public transport. If you feel an untoward touch, try saying something like Che schifo! (kay skee-fo) - 'How disgusting!'. If you feel an incident merits further action, report it to the police, who are required by law to press charges against the person concerned. Also worth mentioning here the driving – not the safest in Europe. Plus traffic never stops at zebra crossings!
Italy tips from our travellers
At Responsible Travel, we think the best people to advise our travellers are often... other travellers. They always return from our tours with packing tips, weather reports, ideas about what to do - and opinions about what not to.

We have selected some of the most useful Italy travel tips that our guests have provided over the years to help you make the very most of your holiday - and the space inside your suitcase.

On the Amalfi coast walking trails be prepared for hundreds of steps - but it's well worth the climb up and down as every view is stunning.

"When walking in the hills or up Vesuvius, think skiing - if you let anything slip it could quickly be lost forever, so I had my glasses on a chain and used the wrist strap on my camera, etc. And keep 50c coins handy for automated public toilets!" – Juliet Dunn

"In Liguria, there's a walks leaflet with lots of long and short options." – Mike Bloom

"If you're staying in a village bring some cash [in case there's no ATM]. At Coletta (Liguria) you will also need at least 200 euro deposit [on the accommodation]." – Yann Gendrot

"The Sicily culture tour has a very busy schedule. Be prepared to feel that you haven't had enough time at many of the sites." – Adam Patchett

Pack a compass. Way-markers along walking routes are not infallible. We got lost several times!

"For Sicily, travel in the shoulder months." – Richard Trist

"In Colettta (Liguria), take one of the higher apartments. We took the lower garden one which had a bit of mould and damp – plus the bonus of all the outdoor space was limited due to mosquitoes." – Hadleigh Garland

"Be ready to try something different, whether it be food, wine, or just walk to discover a neighbourhood off of the main streets." – Jeffrey Maclusky