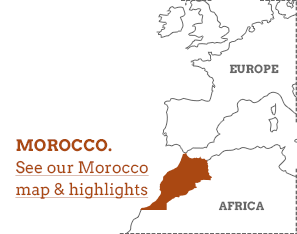 Culture and adventure intertwine kaleidoscopically on our Morocco holidays, brought vividly to life by our partners who are dedicated to getting you beyond the beaten tourist trail. Local guides add deeper shades of understanding, whether you're on luxury trekking tours in the Atlas Mountains, wandering the souks of Marrakech in search of honeyed chebakia, or sleeping beneath the stars in the Sahara Desert. Holidays in Morocco can have profound benefits for communities and the environment, so our partners work with educational and animal welfare charities, and seek out welcoming family-run riads to stay in, providing a true take on Moroccan life.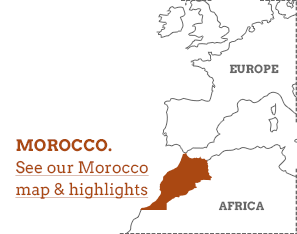 Our top Morocco holidays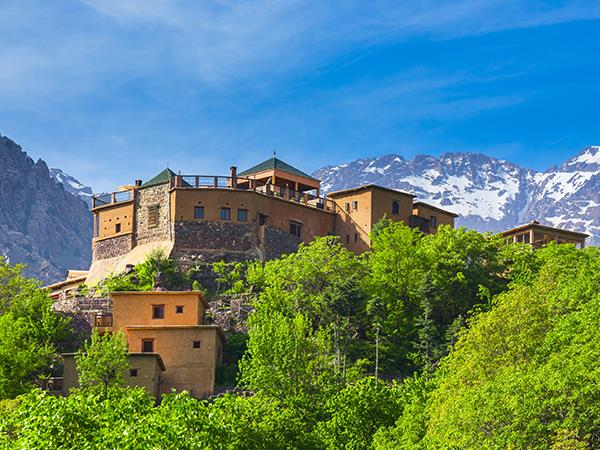 6 days
ex flights
Stay at the Kasbah du Toubkal and trek in style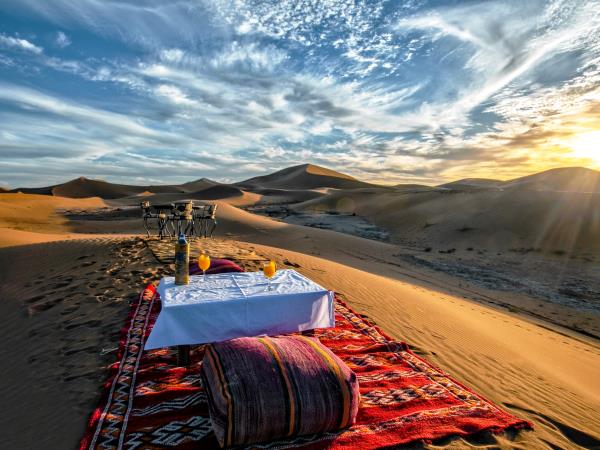 7 days
ex flights
Marrakech and Sahara - stay in a Riad, sleep under the stars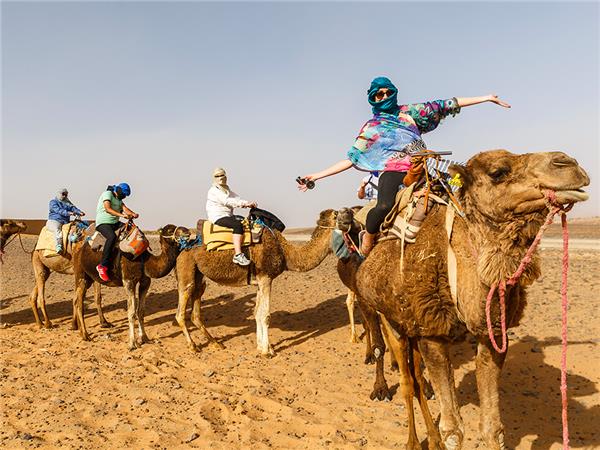 15 days
ex flights
Come and see Morocco's kaleidoscope of colours
Small group
Departs every Wednesday & Sunday and selected Fridays throughout the year
Best time to go on holiday to Morocco
Working out when to go to Morocco isn't always easy; the Atlas Mountains, Sahara and Atlantic Ocean all have very different tourist seasons. The coasts are mild in winter and not too hot in summer – a great time for a break in Essaouira. The desert is best visited in spring, whilst you can hike in the Atlas Mountains from March to November. Go to the mountains early in the season and flowers are blooming on the slopes; you'll be surprised by how green Morocco can be. Go in January and February, and you can ski.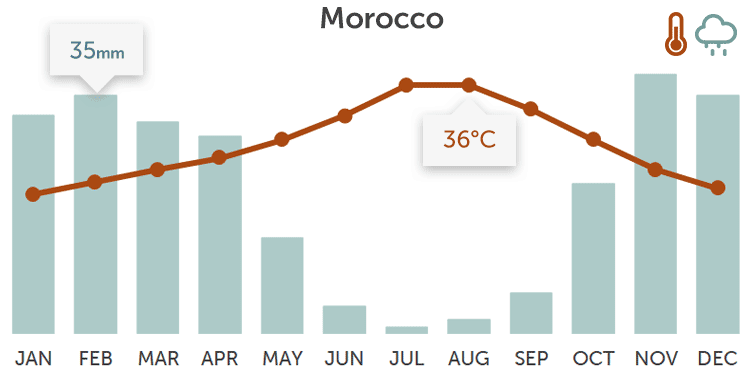 Map & highlights
The Atlas Mountains are just 70km out of Marrakech and Mount Toubkal is their jewel. It makes a challenging climb, or an attractive backdrop, depending on how you want to spend your holiday. Marrakech is also the best gateway for visiting Essaouira, a breezy coastal city buffeted by the Atlantic. Head north to reach Fez. The nearby city of Meknes and the Roman ruins at Volubilis cement the need to stay in the area for more than a day. The Moroccan Sahara sweeps through the south-east, and is famous for its enormous sand dunes.
1. Atlas Mountains
This has been on the expert explorers' radar for a long time, but lovers of Moroccan souks and seaside are now starting to embark on journeys up to its magnificent peaks. Hardcore hikers head for the High Atlas' Mount Toubkal but there is superb walking to be had in the lower Atlas range too, with welcoming Berber people at wonderfully remote mountain villages.
2. Essaouira
Famous for its dazzling shades of blue, you'll feel far from blue here, as the Moroccan culture, charm and creative savoir faire blows through every tiny street of this walled town, as strongly as the Atlantic winds off its shores. The fishing port is a blanket of blue boats, women dressed in blue clothing sell fish, shutters and doors are all painted blue and a sky that is almost always blue.
3. Fez
If Marrakech is the lion, Fez is the tiger. The one that doesn't need to roar about how beautiful it is, and long admired for its innate elegance. It has a superbly preserved ancient Islamic heritage, with Attarine Madrassa, Moulay Idriss mausoleum and Karaouine Mosque as highlights. Its heart is the labyrinthine, car-free Fez el-Bali medina. The Fez Festival of Sacred Music in June is a fab event too.
4. Marrakech
Marrakech wears its heart on its sleeve. It's out there. Bombarding the senses, enticing you out of your comfort zone and welcoming you into the fiesta. A fiesta of food, with spices, exotic fruits and mint tea everywhere. A fiesta of sounds. Drumming, snake charming, haggling. And a fiesta of culture, with the Koutoubia Mosque its centrepiece and Jemaa El-Fna Medina where all the action happens.
5. Mount Toubkal
The Atlas Mountains are one thing, but its highest point is one of the mothers of mountaineering. At 4,167m, it is the highest peak in North Africa. Even in spring and summer this is a strenuous hike when you need expert guidance and support. And in winter it's a whole other ballgame again, when crampons, ice picks and a serious commitment to winter climbing come into play.
6. Sahara Desert
From small buffer towns, such as Zagora and Erfoud, take a camel ride into the dunes. If you remember the first time you saw the Alps, this is a similar thump in the chest moment, like you've landed in the heart of greatness. Don't miss the chance to camp the night. This region is not to be confused with Western Sahara, further south, a long disputed territory.
Culture in Morocco
Winter sun aside, you go to Morocco for its culture. Things are done differently here, but it's great how quickly you'll get used to your new cultural norms – waking up with the call to prayer in the morning, sharing a tagine, chatting over mint tea, haggling in the souk, or picking up words of Tamazight and Arabic. Family-run riads – houses centred around leafy courtyards – are in high demand if you want to stay in Marrakech. If you'd like to experience Berber life – the majority of Moroccans are of Berber descent – head to the Atlas Mountains.
Walking holidays in Morocco
Morocco's
Atlas Mountains
are a great place for
walking holidays
. The High Atlas is high enough that you can even trek in the summer months – though prepare for heat. The Anti-Atlas, further south, reaches lower altitudes and gets fewer visitors. It's a great place for winter walking. Those wanting a bigger challenge can look to Jebel Toubkal, the highest mountain in the Atlas range – and in North Africa. You don't need technical skills to climb over a five-day trek, though if you opt for the same trek over winter you'll need crampons and an ice axe. Your guide will show you how.
Cycling holidays in Morocco
The promise of a hammam at the end of the road is a powerful motivator – but there are many other reasons to spring into the saddle.
Cycling in Morocco
is a great way to see the countryside in all its rugged glory. Forget the road bike: off-road is best here. Try mountain biking in the Rif Mountains and stopping in the colourful city of Chefchaouen to refuel. In the High Atlas you can explore the Dades and Todra gorges, dive into the Draa Valley, and cycle in the foothills of Mount Toubkal. Cycling holidays are challenging, but rewarding. Read our
Morocco cycling guide
for more.
Family holidays in Morocco
Show your children a sky full of stars above the Sahara Desert, and it might be the first time they've ever seen the night sky in all its glory. See them build confidence as they chat to Berber families and get them to buy themselves an orange juice in Marrakech's Jemaa el-Fna.
Morocco family holidays
– and the Moroccan seasons – fit in well with school timings. At Easter, try the desert; in summer, you could go into the Atlas Mountains. Family hiking holidays in Morocco come with a muleteer – your kids will dote on the donkey.
Moroccan landscapes
Morocco is mostly mountainous. The Rif Mountains sit in the north of the country, their fertile valleys forested with cedar, oak and pine. The Atlas Mountains run like a diagonal speedbump across the middle. Morocco's green quiff brushes the bottom of Spain, but the burnished blush of desert creeps into the picture from the south-east corner.
The Moroccan Sahara
is famous for Erg Chebbi and Erg Chigaga – giant dunes best summited by 4x4 or camel. The country also has a long coastline on the Mediterranean and Atlantic. Seek out the beach near Essaouira.
Types of holidays & vacations in Morocco
Going on a
small group holiday in Morocco
means that you can tackle some unforgettable journeys without having to worry about finding your way back – great if you want to try hiking in the Atlas foothills, biking down Todra Gorge, or summiting Mount Toubkal. A small group trip also means that when you get to the desert on a cultural tour, you already have your own ready-made guided camel train.
Adventure holidays in Morocco
can involve sleeping under the stars among the sand dunes in Bedouin camps, taking a sleeper train from Tangier to Marrakech, or even travelling over to Spain and Portugal.
If you'd like to chat about Morocco or need help finding a holiday to suit you we're very happy to help.