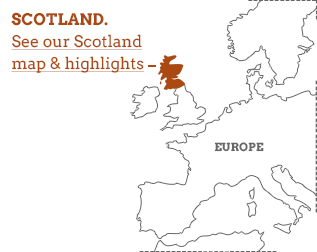 Our Scotland holidays are ideal for those craving spectacular natural landscapes, wildlife watching and low carbon travel, since getting there by train is as easy as it is enjoyable. Continue with rail tours through the Highlands or small ship cruising around the islands of the Inner and Outer Hebrides, such as Mull and Skye. Family-friendly cruises are often accompanied by naturalist guides who explain wildlife behaviour for you, while skippers keep a safe distance from dolphins and seals. Then there are walking holidays in Orkney and the Cairngorms, staying in locally owned hotels in remote communities whose hosts love to spoil their guests with Scotlandís natural larder.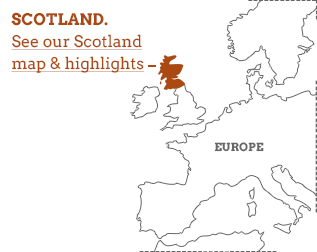 Our top Scotland holidays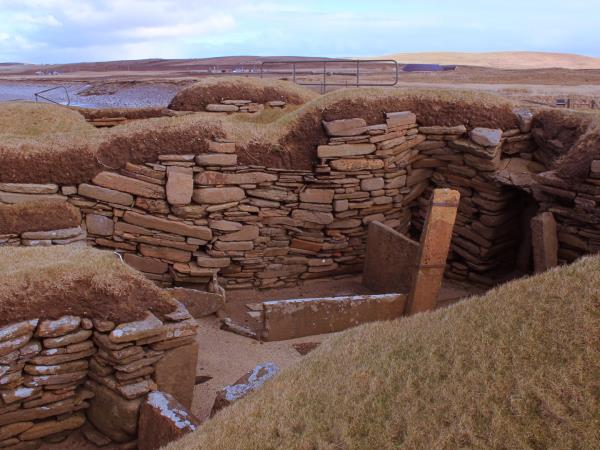 7 days
ex flights
Island hop the wild Scottish Northern Isles on this week's holiday to Orkney and Shetland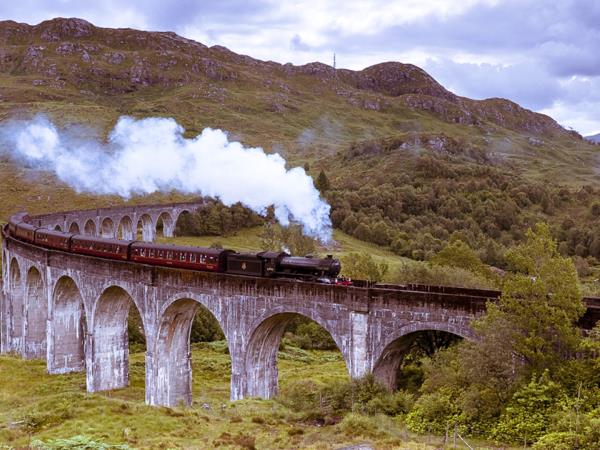 8 days
ex flights
Experience authentic Scotland independently and car-free
5 days
ex flights
Spot whales, otters and eagles on Isle of Mull, Scotland
Best time to go on holiday in Scotland
The Scots have invented hundreds of words to describe the weather. Some are as bleak they sound: dreich; snell; fret. Others are pure poetry: gloaming, for that gold-dark twilight; feefle for powdery swirling snow; stermm is when you can see every star in the sky. And thanks to the changeable Scottish weather, you could get them all in a week. Just go when itís best for what you want to do Ė perhaps summer for less choppy seas, autumn for wildlife photography, or early spring for empty rail routes and a dusting of snow.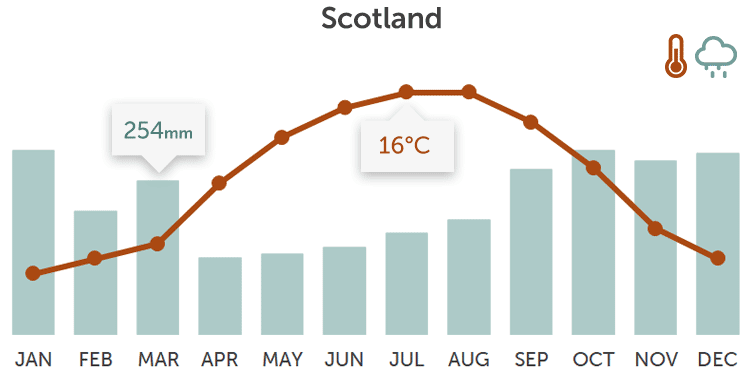 Map & highlights
Scotland's highlights range from the distant islands of the Hebrides (say, Mull, Iona, Lewis or Harris) to landlocked national parks like the Cairngorms that are less than a three-hour train journey away from Edinburgh. The Caledonian Canal is a shortcut from the west to east coasts, meticulously designed to slice from loch to loch by the Victorians. Fort William is your terminus if you arrive on the Caledonian sleeper train from London; from here, you can continue your rail journey beneath Ben Nevis through the West Highlands. Read more about
where to go in Scotland
.
1. Cairngorms National Park
With Aviemore at its core, it's already known as a skiing centre. But with mountain biking, canoeing, climbing, white water rafting and gorge walking also on offer, plus some eco chic yoga, the
Cairngorms
have a cool thing going down. Literally. The Cairn Gorm Mountain Centre's funicular train (non-operational as of early 2021) takes you up, then allows you to cycle all the way back down.
2. Caledonian Canal
Created by those genius Victorians so that ships could traverse the country instead of tackling its treacherous tip. This aquatic artery which cuts straight through the glens from Corpach in the west to Inverness in the east, is now a trail of outdoorsiness. Cruise it, canoe it, cycle it or hike it or do a bit of all four. It is also part of the long distance Great Glen Way.
3. Fort William
Sitting at the head of Loch Linnhe, and the foot of Ben Nevis, this is the hub for hikers, bikers and all round outsiders. It is also where many journeys on the historic Caledonian Sleeper Train, which transports you overnight from London to luscious lochs and wild moors, come to an end.
4. Isle of Iona
A small island off an island. Off the Highlands. We like that. Iona is a spiritual place for many. Known also as the Isle of Colm Cille, after the Irish priest who first founded a monastery here in the 6th century. Go for the Abbey alone, built on the site of the original and run as a residential centre with daily worship. If worshipping a god isnít your thing, you will leave worshipping nature at least.
5. Isle of Mull
From the candy coloured sea front terrace in Tobermory, to the prolific arts centre, Comar, this is a vibrant island. However, for natural as well as cultural exhilaration, nothing beats watching whales in the wild, with puffins, golden and white tailed eagles thrown into the magical mix of Mull. The more adventurous can take wildlife cruises to St Kilda, Canna, Mingulay and the Monach Islands from here.
6. Lewis & Harris
Although often considered separate, this is one island, the northern half being Lewis and the southern half Harris. It is part of the Outer Hebrides, with Harris totally mountainous and Lewis contrastingly flat. Lewis also has the main town of Stornoway, and Harris the world famous eponymous tweed. Both have stunning beaches and wildlife. Island addicts beware. You are in danger of never wanting to leave.
Read our top Scotland travel guides
Our collection of in-depth, honest travel guides delves a little deeper into some of our favourite bits of Scotland. Read up on how to
travel Scotland by rail
and find out why you should explore the nooks and crannies of the coast and islands on a
small ship cruise
. Our
Scottish wildlife guide
leaves no stone unturned when it comes to revealing which creatures you can see where – and how.
Railway holidays in Scotland
The romance of
rail travel
is alive and well in Scotland. You've just got to get out of Glasgow and onto the West Highland Line, where you can skim past looking-glass lochs and pretend you're on the Hogwarts Express as you chug over the Glenfinnan Viaduct. Or take the Kyle Line, which starts at Eilean Donan Castle, near Inverness, before tugging you away from the rumble of day-trip coaches and through the towering munros of the Torridon Peaks instead. With no need to keep your eyes on the road or hands on the wheel, you can busy yourself looking out for golden eagles.
Small ship cruising in Scotland
Small ship cruises in Scotland
are voyages on boats designed to navigate the remote islands, skinny inlets and sandy seal beaches of the jagged Scottish coast. Small means small, so you'll probably be in a boat with no more than six cabins – all the better for watching dolphins, puffins, whales and sea eagles supremely unbothered by your little vessel. In true Victorian style, cruises along the Caledonian Canal set a more sedate pace, stretching from coast to coast via a gorgeous gauntlet of lochs and villages.
Watching wildlife
A sleeper train from London wheels you to right where you want to be for a
wildlife holiday in Scotland
: the wild heart of the Cairngorms National Park. Red deer, pine martens, golden eagles, otters and red squirrels flicker through the heathery hills and pine forests – and the more people who visit to see these beasts, the less land that's set aside for the hunting of them. Head to the wild, watery worlds of Orkney and the Shetland Islands for whales, puffins and even – if you're very lucky, like Tessa from our Travel Team – a pod of orcas.
Types of holidays & vacations in Scotland
The pinprick villages and people-free mountains of Scotland lend themselves to
small group holidays
. You'll ditch the coaches that trace the same old routes and viewpoints like it's
Groundhog Day
, and instead hop from port to village to hiking trail by
train
or on a
small ship
. If you're arriving from the UK or mainland Europe, your holiday can be completely flight-free. The sleeper train from London delivers you directly into the Highlands, while ferries and a hire car are all you need to get to far-flung archipelagos like the Outer Hebrides.
Where to go in Scotland
Holidays to Scotland introduce you to the faraway isles of the
Inner
and
Outer
Hebrides,
Orkney
and the Shetland Islands – archipelagos of cairn-like churches and guillotine puffin cliffs. Further south, you could explore the
Highlands
and islands, where railway stations pair up with ferry terminals that launch you into the beautiful – and environmentally astute – communities on Skye, Eigg and the Knoydart Peninsula. And Edinburgh is
always
a good place to start; its fairy tale streets and historic hills are a runaway highlight of many holidays to Scotland.
If you'd like to chat about Scotland or need help finding a holiday to suit you we're very happy to help.