Small ship cruising holidays
If you are trying to tick off boxes on your tourism wish list, small ship cruising holidays will throw you off kilter because they take you off radar to places you won't find on any scratch map. Visit the Galapagos Islands on a small boat, for example, and you can go scuba diving off Wolf or snorkelling with sea lions off Floreana. Sailing cruises take you to elusive atolls such as Felidhoo in the Maldives, or through complex archipelagos such as the Mergui Archipelago, Turkey's Gokova Islands, Greenland's Land of a Thousand Islands archipelago and the Dodecanese Islands in Greece.

Unlike the giant liners of the world, small ship cruises take you off all the usual wanderers' wavelengths, away from massive marinas to island idylls.

Because such remote spots are often wildlife havens, small ship cruising holidays usually come with expert guides too, who can tell you all about the polar bears of Spitsbergen, whales in Scotland's Kyles of Bute and, of course, Antarctica's very own Carnival of the Animals – to name but a few.
Our small ship cruising holidays travel guide helps you navigate your way around the many holiday options.
Our Small ship cruising Holidays
Is a small ship cruising holiday for you?
Go on a small ship cruise if...
...exploration and expertise float your boat.
...you want to combine remote travel with activities such as kayaking or hiking.
...you want to see wildlife in far off places.
...you are happy to socialise with other passengers.
Don't go on a small ship cruise if...
...you worship the King Cunards of the world. ...you don't like water. ...onboard facilities such as golf courses, climbing walls and basketball courts are your thing. ...you like rigid itineraries.
What size is a 'small ship'?
In the world of cruising, which has become a dirty word thanks to the irresponsible practices of some of the giant cruise liners that dominate the seas, going on a small ship cruise is a bit like the difference between a travelling the world in a giant marauding motorhome as opposed to a funky Volkswagen van. Or, in the case of a traditional 'gulet' in Turkey, a Bahamian tall ship or a fishing 'dhona' in the Maldives, for example, it is more like heading off into the wilds in a head-turning classic car, with the roof down and hair flowing in the wind. What defines a 'small ship' varies from holiday to holiday.

A traditional schooner in Spitsbergen, for example, sleeps 20. However, a 'small' expedition boat to Antarctica might have up to 260 passengers. A Turkish gulet often sleeps up to about 12, but a 15m yacht going round the Greek Islands usually sleeps eight people. And sailing boats bound for the Scottish Islands may have cabins for no more than six people.

There are also restrictions in some parts of the world regarding passenger numbers. In the Galapagos Islands, for example, the law restricts passenger numbers on board to 100. In Antarctica you can have more than that, but only 100 passengers are allowed to disembark at a time.
Going with the flow
One of the advantages of a small cruise ship is that it doesn't have to stick to a strict itinerary. On special wildlife trips to see polar bears, for example, small ships stay in touch with each other, so they know the locations of where the last bears were seen, and give each other good tips. And then the skipper can take off in the right direction for all the best sightings. Similarly, if the weather is looking a bit dodgy, they can dip into a bay to avoid it which helps if you are nervous about sickness. In fact, most small cruise ships stick close to the shoreline anyway, so sickness is less of an issue for many people, although on the Arctic and Antarctic trips there are longer stints on open water.
Lara Paxton, from our partner The Small Ship Cruise Collection, says:
"If you get very seasick, it can be a problem, but the Antarctic and Spitsbergen boats, for example, will have an on board doctor, who will have seasickness medication. I took one that was almost like a sleeping tablet that just knocked me out for eight hours, and then I woke up thinking, 'Oh that was the Drake Passage then, was it?!'"
Small group holidays
Small ship cruises, by their very nature, are nearly always small group holidays. People make all sorts of different misjudged assumptions about small group holidays. Boating snobs might think they are for wimps who can't navigate for themselves. Young travellers may fear they will be the only person under fifty, older travellers might worry that it might be too active, and shy souls might feel under pressure to socialise.

Most of these are maritime myths, however, as there is something for everyone on a small ship cruise, although it is true to say that the truly anti-social traveller may suffer a little cabin fever. However, water lovers are, in general, people who like to look outwards, not inwards. They are also happy to go with the flow and, although conditions on board might be more cramped than in a floating hotel, seafarers know how to respect other people's space. Whether they are taking time out on deck to savour the solace of the sea, or having some chill out time in their berth.

Colette Dubois at our partners, St. Hilda Sea Adventures:
"One thing that is really special about living on a small boat is that you become extremely close to your passengers. It is a very special week for us as well. We learn from our passengers, we teach them things too, and because we live together, eat together, we discuss all sorts of things – politics, books and so on. And it is lovely to see young children on board too, who are so fresh, enthusiastic and wanting to learn and anticipate. The people who come are usually open minded and patient, and so it feels very special."
Cabin fever
Again, cabins vary from holiday to holiday but, in general, you will have a choice of a double cabin, twin cabin or a single. Ideally, they have a porthole so you can catch the sunrise and sunsets. You will also want to check if they have an en suite bathroom or not. Most do, but always enquire just to be clear. On an expedition ship to see polar bears in the Arctic, for example, you might not have an en suite bathroom. But head off around Myanmar's Mergui Archipelago on a luxury yacht, and there will be just four fully air conditioned guest cabins, with en suite bathrooms, electric toilets and queen sized beds. So, a small cruise holiday can sway from littoral luxury to budget berth. Depends what floats your boat really. It is also worth noting that some are tricky for people with mobility issues, and others are fine.
Lara Paxton at our supplier, The Small Ship Cruise Collection:
"We are still developing the single traveller issues, because we feel that it is really unfair that single travellers have to pay a huge supplement to visit places, just because they are travelling on their own. A lot of the companies that we work with now offer the idea that if you are willing to share a cabin with somebody, then they will match you with a like-minded traveller. And if there is no one available, then you get the cabin to yourself, and you won't be forced to pay a single supplement."
Onboard activities
Long gone are the days of having to scrub the deck or man the rigging. Although you can learn rigging skills on a tall ship cruise holiday, you are more likely to engage in chilled out activities on board. Although unlike cruise liners, you won't find any cinemas, casinos or cheesy singers, you might take part in a wildlife lecture, watch a David Attenborough movie, or just browse the library full of maps and books about where you are going and what you are likely to see. There are no ball gowns, no black tie, but is all very casual, relaxed and very personal. Instead of dining with the captain, you can often go up on the bridge and chat with them about where you are going and what you are up to for the day. The expert expedition leaders hang out with you on board at all times too, always full of knowledge about wildlife, geography and so on. Or you can just chill out on deck and watch the world go by, of course.
Mealtimes
This will vary according to the type of small ship cruise you are on. However, ships' cooks always appreciate that the sea air whets an appetite and hearty meals are par for the course. Don't be expecting giant cruise liner 'eat all you can' buffets, however. Small ship cruises are more likely to pick up some seafood in a local port and create a chowder fish pie for everyone. Or if you are on a small sailing vessel, you may like to help fish for your supper too. They are also likely to buy fresh food within easy distance of mooring, so it is much more likely to be sustainably sourced. The smaller the ship, the easier it is to create a good relationship with the chef, so you can talk about your dietary needs or tastes too.
Our top Small ship cruising Holiday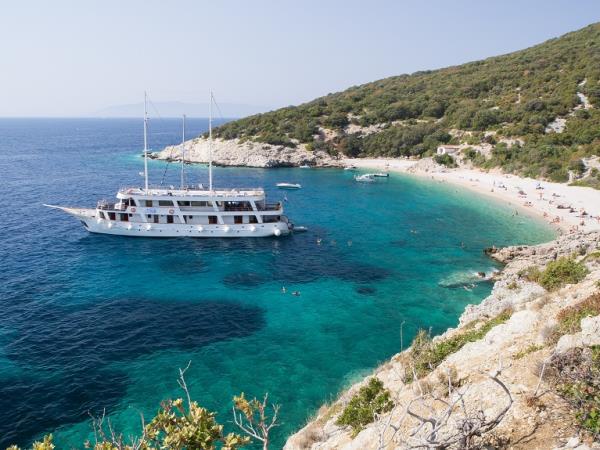 Cruise Croatia's beautiful islands on a small cruise ship
From
£669

to

£979
8 days
ex flights
Small group travel:
2023: 6 May, 13 May, 20 May, 27 May, 3 Jun, 10 Jun, 17 Jun, 24 Jun, 1 Jul, 8 Jul, 15 Jul, 22 Jul, 29 Jul, 5 Aug, 12 Aug, 19 Aug, 26 Aug, 2 Sep, 9 Sep, 16 Sep, 23 Sep, 30 Sep, 7 Oct, 14 Oct
If you'd like to chat about Small ship cruising or need help finding a holiday to suit you we're very happy to help.


Excursions aren't optional extras on small ship cruises. They are the raison d'être

Excursions
This is a term emanating from the huge cruise liners, really, where getting off the ship is considered almost like an optional extra, and the facilities on board are the big selling point. Indeed, on the mammoth ships, many of the passengers don't even disembark. On small ship cruises the opposite is the case. The ship is really only used for getting from A to B. The common denominator for everyone is what you are going to see what you get there, and the many activities you can do there too. You might take a zodiac trip around icebergs, go hiking up an Alaskan mountain, cycle along the Croatian coast, go wildlife watching in Antarctica, kayaking around the Scottish islands, diving to see remnants of ancient Grecian civilisations or snorkelling off an uninhabited island in the Maldives.
Ship mates
A lot of people, if they have travelled on a small ship, like to stay with the same ship. They ask where that ship is going next, and just follow her round wherever she goes. You get to know the ship, her skipper and crew, and so meeting them all in a completely different destination, sometimes on the other side of the world, is very exciting. A lot of the polar ships sail both north and south. So they will do Spitsbergen from June through to August or September, and then they'll sail down and start Antarctica around the end of October/beginning of November until the end of February/beginning of March. And then if there are any updates needed on the ship, they have that time in between to go into dry dock for a couple of weeks or so.
More about Small ship cruising