Seven reasons why artificial snow has no future
Downhill skiing's sustainability crisis
We love active, outdoor winter holidays, and we sell lots of them. We always strive to promote holidays that cause the least damage to the environment and create benefits for local communities, too. Consequently, our focus has always been on wilderness winter activities that – where possible – don't require huge infrastructure, such as ski touring, cross country skiing, dog sledding, snow shoeing and wildlife tracking.
While we acknowledge that downhill skiing has more impact on the environment than most other winter activities, we don't have an ideological objection to the sport itself. We understand its popularity and recognise that many Alpine communities depend on it for survival. What we are opposed to is artificial snow.
Since the mid 1980s, snowfall has steadily decreased in the northern hemisphere's mountainous regions. Snow arrives later and melts earlier, too. But rather than allowing the snow to dictate when we can ski, many resorts have responded by manufacturing it using cannons. Artificial snow may once have seemed like a handy get out of jail card, keeping resorts open whatever the weather, but an avalanche of research reveals how artificial snow is damaging to the environment, the communities that rely on it, and ultimately to the skiing industry itself.
Asked about the massive use of
artificial snow at the 2022 Beijing Olympics
(estimated to require nearly 50 million gallons of water), our CEO Justin Francis said: "This is the world's showcase of winter sport and it's extraordinary to host it in a place dependent on artificial snow. The Olympics inspires us about sport, but also about doing our bit to sustain the planet. This is the ideal platform and it's the wrong message."
The seven deadly sins of artificial snow
Some
60 percent of the world's ski resorts
now use snowmaking machines to supplement natural snowfall. At lower elevations many are becoming increasingly reliant on them as a means of survival. Once used to patch up balding ski runs, artificial snow is now used to secure and extend the ski season, providing guaranteed snow during the lucrative Christmas and Easter period.
But while the slopes may be glittering and pristine, things are not well under the surface. There is a multitude of problems with the large-scale manufacture of artificial snow which makes it a ticking environmental time bomb.
Water
Vast amounts of water are needed to manufacture artificial snow –
between 70 and 120 litres per square metre
to reach a depth of about 35cm, which is the minimum required for skiing. That water is being taken when water resources are naturally at their lowest. It also coincides with peak tourism season, when tens of thousands of tourists accumulate in a few big skiing areas, consuming water for cooking, showering and laundry, so that snow production is effectively in direct competition with human needs.
It's safe to assume that this impacts on alpine communities, creating the costly expense of piping water in to meet demand, which in turn potentially drives up water bills for local people and holiday costs for skiers.
Safety
Artificial snow brings safety concerns, too. It is four times harder than natural snow, so that falling on it carries a far greater risk of injury. In addition, snow shortages mean more and more skiers cram onto the few narrow runs that are open, increasing the risk of serious collisions.
Unnatural environment
The enjoyment of skiing is at stake. Rather than being in a natural environment, the skier is essentially in a man-made one. Unnatural looking mountains, with ribbons of artificial snow threading down through brown slopes, do not resemble the pristine winter wilderness that most skiers hope to enjoy. Instead of swishing down smooth slopes, skiers are navigating concrete hard artificial snow, grassy patches and even rocks.
Noise
Just one snow cannon in action
emits 60 to 80 decibels
, which is the equivalent of heavy traffic. There are
more than 220 snow cannons
in the French resort of Les Deux Alpes alone. It's easy to picture the detrimental effect of that noise, for hours at a time throughout the season, will have on mountain wildlife.
Cost
The long-term financial viability of using artificial snow is in question. It's been estimated that North American resorts spend
between $500,000 and $3.5 million
every season to make snow, and we can assume the cost will be similar in Europe. That cost will in many cases either be passed on to skiers or covered in the form of government subsidy.
It's also a financial burden that isn't going to go away, as the future for natural snowfall looks bleak. Many ski resorts at low altitude in the European Alps are expected to have very little snow left within the next one to two decades. The OECD think tank warned as far back as 2007 that, of 666 Alpine ski resorts, roughly 40 percent would no longer get enough snow to operate a 100-day season (the period needed to make money) if the region warmed by another 2°C.
The additional cost of a ski holiday
is also pushing them further and further out of reach for most people, calling the survival of many resorts into question.
Power
The energy required to power enough snow cannons to provide guaranteed coverage throughout a season is enormous. In Les Deux Alpes in France, the cannons use
more power than the entire lift system
.
And despite the growth of renewables, many resorts still depend on fossil fuels – although the carbon footprint of snow-making remains a fraction of that created by tourists getting to a resort.
Wildlife & environment
Wildlife and the environment are impacted negatively by artificial snow production in numerous ways. In Bulgaria, the Bansko ski resort, already fully equipped with artificial snow machines, was blocked from expanding with 333km of new slopes and 113km of ski lifts, by the efforts of campaigners. The resort belongs to Pirin National Park, a UNESCO World Heritage Site that's one of Europe's last wildernesses; a place where brown bears, grey wolves and the lesser spotted eagle live. The expansion of Bansko ski resort would have directly threatened their habitat.
When artificial snow melts, the water is known to
affect the chemical composition
, and nutrient availability, of the soil which in turn affects plants and can result in a decrease in biodiversity, as those plants with higher nutrient demands are unable to outcompete other species.
In 2018, the Hopi tribe in Arizona lost a
legal ruling
when it complained that a nearby resort's melting snow made from wastewater was contaminating its sacred sites. It raises the question of whether the right of (often wealthy) people should trump the right of others to protect their cultural resources.
What would Responsible Travel like to see?
We're not against downhill skiing, but we are against artificial snow. We prefer skiers – or anyone after the bracing fun of a winter sports break – to be able to enjoy real snow. Here's how.
We promote those regions and resorts that don't depend on artificial snow, because their altitude or location means natural snowfall occurs dependably and snow cannons are not in use. A huge number of our winter snow holidays take place in Scandinavia, whose northerly latitudes mean snowfall is more probable.


We promote other winter activities, including ski touring, cross country skiing, dog sledding, snowshoeing and wildlife tracking. Where possible, these wilderness winter activities make the most of natural snow.


We are clear about the right time of year to travel. If we do market holidays that use resorts where artificial snow production takes place, we ask the holiday supplier to specify when travellers can visit and experience the real thing, when the likelihood of snow being manufactured is low. This is both responsible and sensible. Historically, skiing took place when mountain conditions permitted. The first skiers, over a century ago, would not have expected snow to be guaranteed from November to April, but the skiing industry's focus on Christmas, when snowfall can be patchy, and on extending the season into Easter – which can occur as late as mid April – has increased the demand for artificial snow.
Our top trip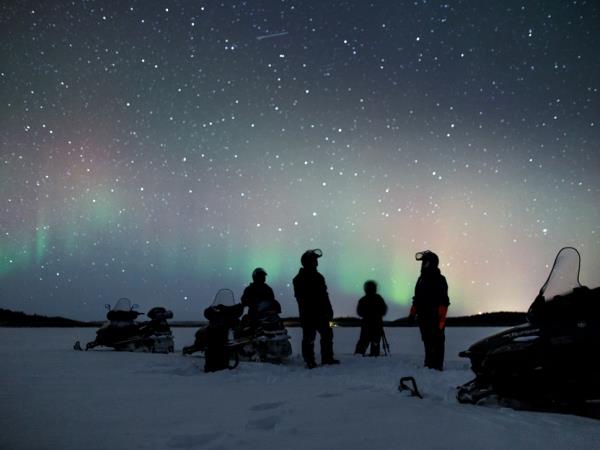 Winter activities & Aurora hunting in Finland
From
£1997

to

£2444
5 days
inc UK flights
Small group travel:
2023: 19 Dec, 26 Dec
2024: 2 Jan, 9 Jan, 16 Jan, 23 Jan, 6 Feb, 13 Feb, 20 Feb, 27 Feb, 5 Mar, 12 Mar, 19 Mar, 26 Mar
If you'd like to chat about Winter or need help finding a holiday to suit you we're very happy to help.

What is the future for ski resorts?
At present, the ski industry appears on a path of
maladaptation
– rather than facing up to the realities of climate change and making preparations to cope with its effects sustainably, they are burying their heads in the snow and trying to carry on as normal. Through its ever-increasing use of artificial snow, the industry is actually increasing its vulnerability and accelerating decline.
Diminished snowfall and the financial demands of producing artificial snow, some of which is passed on to skiers, suggests skiing will become a much smaller industry in the future. Statistics already show it's becoming less popular – too expensive, too unpredictable, and smaller, lower resorts are either
going bust or being abandoned
.
This decline impacts small mountain communities, many of which owe their continued existence to ski resorts. Skiing has in many parts of Europe stemmed the tide of migration away from rural regions and towards cities, but a great many of these people are wholly dependent on the winter income from skiing.
A solution doesn't lie in creating artificial snow, and it doesn't lie in boycotting skiing altogether. Instead, travellers need to think responsibly before booking a skiing holiday, considering not only where and when they travel, but how.
Many resorts in Europe can be reached by train
, for instance.
Ski resorts also need to diversify, offering a wider range of winter activities. Many of these activities cost less than traditional downhill skiing, such as cross country skiing and snowshoeing which don't involve costly lift passes; some don't even depend on snow, such as winter walking.
Ski resorts need to market themselves as summer destinations, too; a cool escape from the heat of lower altitudes, where you can cycle, hike, rock climb, even paraglide. This won't replace the volume of visitors that come to ski in winter, and there is obviously huge competition when it comes to walking and cycling breaks around the world, but it would contribute to the sustainability and viability of ski resorts in the sad, but very real, absence of natural snow.