This article first appeared in BBC Wildlife Magazine, July 2001.
It shouldn't happen to an ape. By Stephen Brend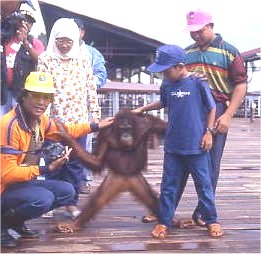 Tourists warned to avoid resorts which offer the chance to have their photo taken with orang-utans.
In a worrying development, hotels in Malaysia, where eco-tourism is booming, are capitalising on the ability of orangutans to pull in visitors. Already four resorts have orang-utans, and more want them. Their activities are being portrayed as conservation.
Bukit Merah Laketown Resort, in West (Peninsula) Malaysia, has 11 orang-utans, including an adult male. Its publicity material boasts an "Orangutan Rehabilitation Island" and "Ecopark". Inside this Ecopark, a macaque is led around on a chain and, on the island, orang-utans are brought out of their enclosure to meet guests.
Having your photograph taken with one of them is an explicit part of the tour. Bukit Merah advertises having "Lunch with the Wild Man of the Forest". The orang-utans are made to stand and pose with visitors, and the staff ensure no photo opportunity is missed.
Ashley Leiman, Director of the Orangutan Foundation, is alarmed. "Displaying orang-utans and introducing people to them in this way has no part to play in species conservation," she says. "The orang-utans are not allowed to behave naturally. It is not rehabilitation, neither is it educational. It is exploitation."
In Malaysia, all official wildlife rescue and rehabilitation centres are government-run, including Sepilok, the oldest orang-utan rehabilitation programme in the world. In Sarawak, the Government has opened another centre, Matang, to avoid overcrowding at Semenggogh, the states original facility. Funding for all these operations should be secure since they have the Government's backing and none of them suffer from the overcrowding seen in Indonesia's orang-utan rehabilitation facilities. That reflects Malaysia's tougher stance on habitat preservation – protected areas really are protected.
The decision to allow commercial operations to display them seems misguided. Currently, few resorts may raise the welfare concerns associated with Bukit Merah, but they are still of little conservation value, and the trend is disturbing. In addition, it is thought that one hotel has acquired its orang-utans illegally.
"There is a need for education and there is undoubted value in letting people see orang-utans in a natural environment," says Leiman. "The Government rehabilitation centres provide this. The main focus of orang-utan conservation has to be the protection of primary forests. The fact that we need rehabilitation at all is a sign of our inability to protect the species. Having orang-utans as hotel attractions weakens this message. After all, they are an endangered species".

See these magnificent apes in the wild on an
orangutan holiday
or take a look at our
wildlife conservation
holidays.