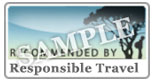 responsibletravel.com is the leading marketing platform for tour operators, accommodation owners, day trip operators and visitor attractions committed to responsible tourism. All our members need to provide
evidence
of responsible tourism and provide visitors with a real connection with the people, the landscape, the culture and the environment. We call this helping them to 'travel like a local'
We have over 350 tour operator partners for whom we generate booking enquiries.


Build your own FREE accommodation listing or see PREMIER MODEL



Please note: we classify businesses that book activities (eg. Yoga, biking, volunteering) as a compulsory element of a package including accommodation as a tour operator.
The free option is only open to small scale accommodation owners.

Is your accommodation right for responsibletravel.com?
You can build your own FREE day tour or attraction listing on the site. IF you are a tour operator and offer multi day trips please do not try and use this free day tour system..


We work with local, regional & national Tourist Boards to support them with promoting their responsible tourism destination and tourism experiences.