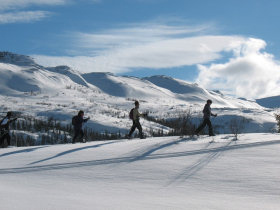 How to become a more green skier
by Justin Francis, Responsible Travel co-founder
Our mountains are some of the most pristine natural environments in the world. These wilderness areas provide enjoyment for a great many tourists and local people, as well as livelihoods, money and jobs for mountain communities. They must be conserved for the future.
What could be more sustainable than skiing? All you leave behind is tracks in the snow - right?
At first glance skiing might appear highly sustainable, but in fact there are some very significant environmental and cultural impacts.
Most downhill ski slopes are graded - this involves the removal of trees and flattening of slopes to create large areas for skiing. The addition of large pilons and ski lifts creates further environmental scarring.
Due to global warming we expect more resorts to be developed at higher altitudes - migrating the negative impacts higher up the mountains.
As a further consequence of global warming the use of snow machines has increased. In some cases they draw water unsustainably from local water courses. In other cases chemicals used to ensure that the water freezes at a low temperature leach back into the soil when the artificial snow melts.
Litter discarded in the mountains does not degrade - orange peel takes 2 years, and cigarette butts 5 years to degrade. When we ski over new tree shoots in, or under, the snow we destroy them.
When we fly into ski resorts the climate change we are contributing to is destroying glaciers and limiting the future of many resorts.
Wildlife is disturbed by ski developments and skiers - the dwindling Colorado population of the Canadian Lynx being probably the most notorious example.
While a significant number seasonal jobs are created by tourism, a proportion are taken by overseas staff, inculding chalet maids, limiting local employment. The cultural landscape of many mountain villages is changed by overseas ownership of local properties that are only occupied for a very small part of the year, and by relatively large numbers of tourists swamping villages.
7 Responsible Travel tips for more sustainable skiing:
1.
Travel by train by where possible, its convenient and reduces carbon emissions. Rail Europe's Snow Train to the Alps departs on Friday evening. Enjoy 8 days on the slopes, return the following Saturday evening!
2.
If travelling to the US make sure your resort has signed up to the National Ski Area Association Sustainable Slope environmental charter. For other areas ask your operator if the resort is International Standards Organisation (ISO) 14001 accredited. You can also read ski areas' environmental score cards
here
.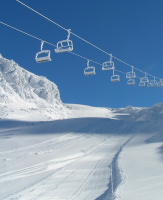 3.
Ask your tour operator for their written responsible tourism policy, if they haven't got one they probably are not taking it seriously.
4.
Consider ski touring,
cross country skiing
or
snow shoeing
. They are less dependent on graded slopes and ski lifts and create less environmental impacts. Responsible Travel has a great selection of these holidays
here
.
5.
Take all your litter home with you, if you see litter just swoop down and pick it up!
6.
Stay in locally owned accommodation, rather than chalets owned by overseas tour companies - unless they can convince you that they provide significant local employment, train and develop local people, use local services & produce, and that the accommodation has been built to exceptionally high environmental standards. Have a look at some of our responsible
skiing accommodations
. Eat in local restaurants, use ski guides from the local community.
7.
Respect the natural habitat of mountain animals and plants by taking care not to damage vegetation, knocking off branches or damaging shoots when skiing. Many areas are out of bounds to protect the natural habitat of animals and plants - not just for safety reasons.
Interested? Take a look at our skiing holidays or read more tips on responsible travel.