Oman travel information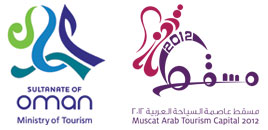 At the south-eastern tip of the Arabian Peninsula, the Sultanate of Oman has a coastline extending for more than a thousand miles, with numerous beaches offering excellent sailing and diving facilities. Sumerian clay tablets from the 3rd century BC mention Oman as one of the outstanding Mesopotamian trade centres, a position that is reflected in the blend of Arabic, Iranian, Indian and African cultures, traditions and cuisine to be experienced in the major towns.
Archaeological treasures include the site of Souks Bausharios and fabulous collections in the National Museum at Qurum, while modern craftsmanship is evident in the traditional souks such as that at Nizwa, famous for its gold and silver handicrafts, and Bahla, known for its pottery. Stark deserts with their fascinating flora and fauna, including the reintroduced Arabian oryx, provide colourful contrasts to the turquoise waters of the Arabian Sea, in which several species of whale and dolphin can be seen.
The Sultanate of Oman, celebrating 42 years of Renaissance, has so much to offer that it is hard to know where to begin. There are literally hundreds of attractions in this country – and the diversity of choice will make almost any length of holiday seem too short to take everything in. Here are just 10 of the most popular things visitors see, do and experience to get the most from their visit.
The vibrant capital of Muscat
…Selected as the Arab Tourism Capital 2012, Muscat's charming beauty, cultural events, luxurious accommodations, The Royal Opera House Muscat, the Muttrah Souq and Corniche, Sultan Qaboos Grand Mosque, aquatic activities, and wild water sports bracing its coastline alongside traditional dhows are some of the features that appeal to all tourists. What is striking about Muscat is the breathtaking intermingling of ancient cultural heritage and modern style. You will see authentic houses, gates, old markets, small shops, and winding roads side by side with modern malls buildings and streets. This allows Oman to preserve its historic character, and at the same time enjoy its contemporary spirit. Oman has developed its own architectural style that allows its historic buildings to blend comfortably with modern edifices.
6000 years of History and Culture
The ancient ramparts of Bahla Fort, Aflaj Irrigation Systems of Oman, Archaeological Sites of Bat, Al-Khutm and Al-Ayn are now UNESCO World Heritage Sites, the carefully preserved Jabrin Castle dating from 1670, or the art of Dhow building that has come down through generations of Omanis, all help visitors to relive the glory of an ancient civilisation. Explore a land where Shahrazad's stories from '1001 Nights' or the legendary Sinbad the Sailor come alive and visit hundreds of castles, forts and archaeological sites steeped in mythology. 24 of the 500 Omani forts have been renovated including one currently being turned into a boutique hotel.
Fjords of Arabia…The Musandam Peninsula
is a rugged and starkly beautiful region. Musandam overlooks the straits of Hormuz, one of the busiest shipping lanes in the world. The natural beauty of this region is Breathtaking with the cliffs of the Hajar Mountains falling steeply into the Arabian Sea from a height of almost 2,000 metres.
Nature, Wildlife and Adventure
Oman has a rigorous 'green' policy and a fascinating array of animals thrive in the many protected areas. Oman features and protects five of the world's seven species of turtle, each year green turtles nest on Omani beaches, visitors can watch as these tiny creatures hatch between September and November in Raz al Hadd. Approximately 400 birds have been recorded in Oman including many migratory species. With its 1700 kilometres of unspoilt coastline and beaches Oman offers so many opportunities for adventure; visitors are rewarded with the sight of dolphins and whales, divers also enjoy moray eels, corals and a spectacular array of tropical fish. Not to mention the chance to participate in water sports, fishing, sailing, climbing, trekking, caving, horse and camel racing and off-road driving.
Responsible and Sustainable Tourism
Oman has embraced responsible tourism and has been awarded the accolade by the United Nations Environmental Programme of having one of the best records in environmental preservation. Not only have the government put in place firm environmental laws to protect the beautiful landscape and architectural sites but they have also started many projects which are aimed at protecting endangered species such as the Arabian Oryx; and protecting Ras Al Jinz to be used solely for turtle breeding. Hotel groups have also started their own initiatives by recycling and limiting washes and waste.