Map

View
3 Rivers Eco Lodge
in a larger map
Responsible tourism
Responsible tourism: Dominica ecolodge holiday
Environment
Before commencing construction we carried out an environmental impact assessment and stone is taken from the property for building work which avoids transport and pollution. All our electricity is solar, hydro and wind, and our hot water comes from a solar thermosyphon system.
We monitor the water both entering and leaving our land by testing the river water in the lab to ensure we do not cause any detrimental effects. We use low flow taps, rocks in the toilets for displacement, and grey water passes through a trap in the plug hole, a grease trap outside and then a soakaway.
All our gardens are organic and we use a rotating 4 bin composting system. Each building has 2 bins (compost and other) - there is currently no recycling in Dominica.
We are actively involved in an island wide scheme to increase general environmental awareness through our membership of the south east tourism development committee. We have also hosted a number of school visits for educational training, showing them our solar equipment, veggie oil truck and organic farming practises.
We employ only local people and have set up a local lady with a washing machine so she can not only do our laundry, but also run a small laundry service in the local village.
We have also been actively involved in creating a new library for the village - a previous customer from the USA donated a large amount of books and we installed electricity into an available room in the village which will be used for the project.
Community
The nearest village to Rosalie Forest Eco Lodge is called Grand Fond, and is home to around 1,000 people. Most of our workers are from this village, some others come from the nearest village in the other direction, Petite Soufriere, or another village near Rosalie beach called Riviere Cyrique. This is in keeping with our social policy.
As well as working closely with the local village councils to offer a number of community based activities for our guests, we also offer a community homestay programme, where visitors can spend one night with a family to experience village life for real, and the host gets a good income for their time. click here for details
Some of our other community projects include:
Computer Mission Dominica - 400 computers installed in schools and workshops on maintenance held at each school
Grand Fond Pre school Scholarship fund
The schools visit us for free to get an eco education tour.
The local school has a library for the village, using books supplied initially from one of our guests. Staff from the lodge installed all the electricity and donated the parts for the work carried out.
We bought a washing machine for a lady in the village and she now has her own laundry business. As well as doing the laundry for us and our guests, she is also able to provide a service for the villagers.
We have sponsored the village cricket team by providing them with a large amount of new equipment.
We have sponsored one of the village bands, The Blazing Squad, by helping towards the cost of a new keyboard which they greatly need, and by showcasing them, and another local band The Sucroze Band, occasionally here, at Rosalie Forest.
We have hosted environmentally educational school visits for a few of the island's schools, and continue to offer this free service to all schools in Dominica. We also offer this service to all interested parties, and all of our staff are fully trained in all of our environmental policies.
We ran an art competition in Grand Fond School to design our roadside banners. The four winners won some art equipment and a weekend at the lodge, during which time we held an art workshop and transferred their paper designs onto the large roadside banners which can be seen today around Dominica. We donated some art equipment to the school in order to run the competition.
If you would like to know more about any of our environmental policies and practices, please feel free to contact us any time, and we will always be more than happy to help.
We have a small library in our reception area, which contains a whole host of useful information and technical details about all of our systems, and other systems which we do not yet use.
3 Reviews of Dominica ecolodge holiday
---
Reviewed on 26 Aug 2007 by
Nicola Beldham
1. What was the most memorable or exciting part of your holiday?

The most memorable part has to be the hurricane and it's impact on our journey home, however the hurricane was in many ways a very positive experience - it emphasised just how fantastic the people of Dominica are. All walks, swims in river pools and gaining knowledge about the Dominican culture were exciting. Searching for whales, being greeted by dolphins, snorkelling above seahorses leave a warm fuzzy feeling inside. I feel truly privileged to have been a part of the ecolodge and Dominican way of life, even if it was just for 2 weeks. There is too much to say, it can't possibly be summarised in a few lines.


2. What tips would you give other travellers booking this holiday?

Get some really good insect repellent and bite treatment. My tropical version with deet had no use what so ever! Use an airline you can trust in a crisis, we were let down by ours after the hurricane.


3. Did you feel that your holiday benefited local people, and minimized impacts on the environment?

Absolutely. Totally dependent on solar, hydro and wind power. A lot of food grown on site. Local people employed (and very happy working there). Vehicles partially run on cooking oil. River friendly soap and cleaning products, toilet waste management and probably lots more that I can't remember.


4. Finally, how would you rate your holiday overall?

You have to be willing to go back to basics to enjoy it and be willing to exert yourself through lots of walking in humid conditions. Once you've got that sorted, it's absolutely fantastic. Stunning country and brilliantly fabulous people. A privilege to have been there.
---
Reviewed on 30 Dec 2006 by
Lee Jenkins
We had a wonderful time at the eco lodge in Dominica; I can't recommend this highly enough. It's beautiful, unspoiled, and absolutely perfect for families, and is a genuine example of positive interaction with the local community and environment.

It is, also, superb value for money--we hope to go back. 10 out of 10 for Jem Winston and the lodge. Thanks for posting Jem's information on your site, which is how we found it.
---
Reviewed on 20 May 2006 by
Rachel Donahue
1. What was the most memorable or exciting part of your holiday?

The whole trip was amazing the tree house, the family dinners, the fruit, the waterfalls.


2. What tips would you give other travellers booking this holiday?

Bring lots of old clothing, you will hike and sweat and get muddy a lot.


3. Did you feel that your holiday benefited local people, and minimized impacts on the environment?

Environmental impact was minimal using rivers for showers and eating fresh fruit.


4. Any other comments?

Definitely 5 stars.

---
Popular similar holidays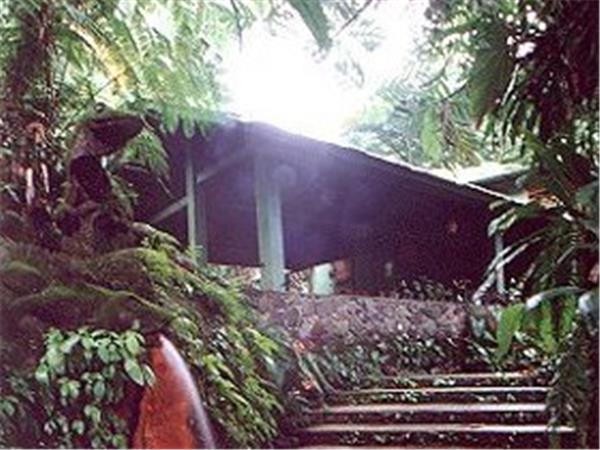 A small hotel set within mountain rainforest wilderness
From US $110 - US $130 per room per night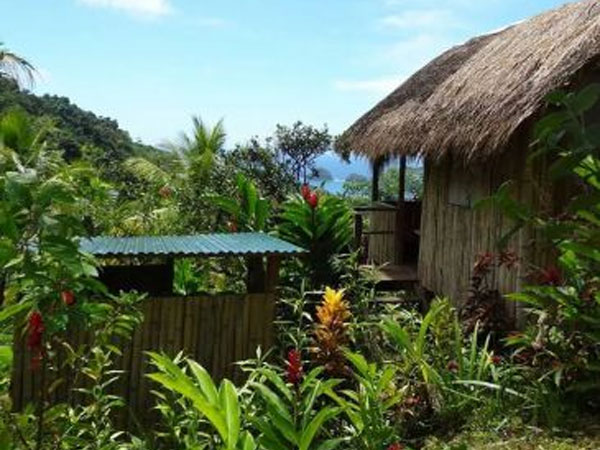 Experience life simply in the captivating nature of Dominica
From US $45 - US $55 per accommodation per night (sleeps 2)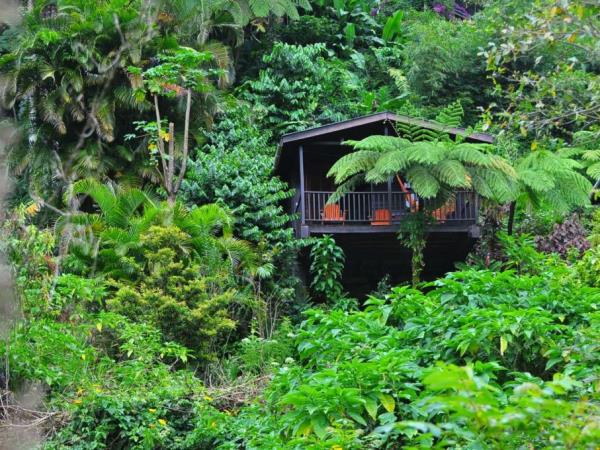 Panoramic views of the mountains and sea
From US $156 per accommodation per night (sleeps 2-4)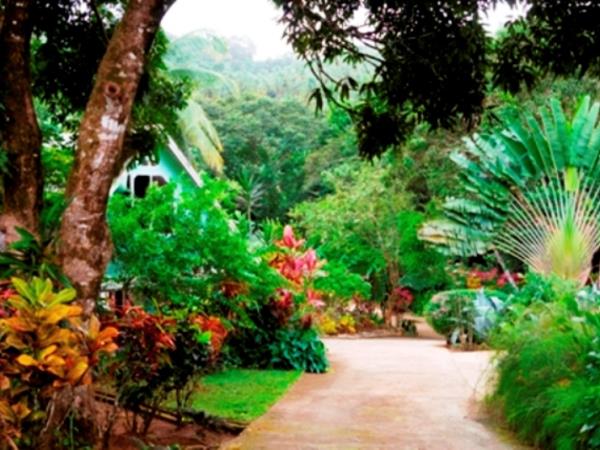 Delightful Cottages in a tropical garden, river, Plantation
From US $100 per couple per night