Banning Microbeads in Household Products
Plastic litters our oceans across the globe and it is not just plastic bags that are the culprits. Millions and millions of tiny plastic balls in the form of 'microbeads' found in many household beauty and cleaning products make their way from company factories to seabed ecosystems worldwide. In fact they now make up 4% of total marine plastic pollution. The knock-on effect of these beads is serious, they are ingested by fish, harm flora and fauna, act as magnets for harmful chemicals and enter the human food chain as a result.

The British Government has recently (September 2016) has committed to a likely ban on these beads in beauty products by the end of 2017. However, Greenpeace say there is still a way to go and want to see a total ban on microbeads in all products, including household cleaning products
Take action!
Sign the petition to ban all microbeads
STOP using microbead products
SHARE this campaign with your friends and family to explain more: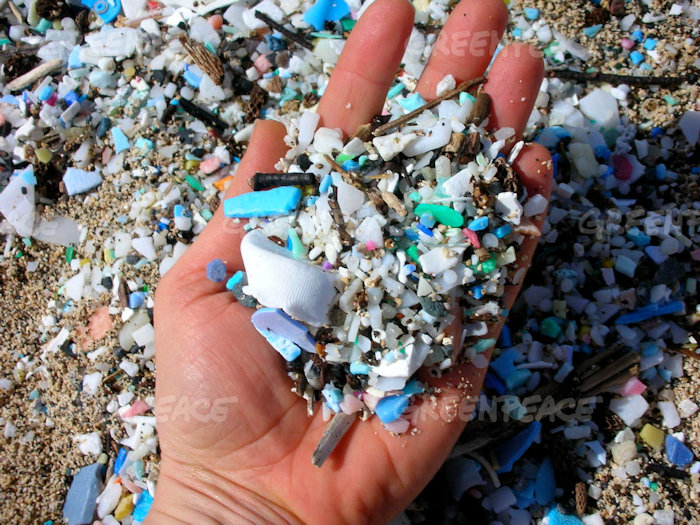 Photo credit: Greenpeace - Ocean plastic does not disappear by itself, so for every bit that ends up in the ocean, it means more cleaning up
We catch up with Fiona Nicholls, an Oceans Campaigner at Greenpeace UK to find out more.
What's the name of the campaign?
We just call it the "Microbeads Campaign", though others have called it Beat The Beads and Ban the Beads!
When did it launch?
Greenpeace launched our petition to ban microbeads in January 2016 (which now has a whopping 350,000 signatures) and we've joined up with a coalition of organisations including the Environmental Investigation Agency, Fauna & Flora International and the Marine Conservation Society.
Tell us about your campaign in a nutshell?
Microbeads are tiny pieces of plastic used in personal care products such as face washes and toothpaste, and other cleaning products. They are small enough to travel down the drain, passing easily through water filtration systems and ending up in the sea. They make up 4% of total marine plastic pollution. Once in the sea, these indigestible plastic pieces cause irreversible environmental damage and act as magnets for toxic chemicals in the marine environment. There is then the possibly that these toxic chemicals enter the food chain and could end up on our plates.
Photo credit: Greenpeace - Tonnes of plastic swirl around in our beautiful oceans damaging marine life
What inspired this campaign?
Plastic waste pollution in the ocean is a serious problem. About 8 million tonnes of plastic enters the oceans every year and there are fears that by 2050 there could be more plastic in the ocean than fish! With just one application of a product containing microbeads you could wash 100,000 microbeads down the sink that then end up in the sea and the food chain. This not only affects the marine life either - up to 90 % of sea birds have been found to have plastic waste in their stomachs.
Share with us a story about a person / place / animal that's currently getting a rough ride because of these issues?
According to
this study
published in Journal Science, juvenile fish have been observed to prefer microplastics over their natural food source, plankton, when given the choice. This has increased their mortality rates, stunted growth and made them more vulnerable to predators due to behavioural changes.
What change needs to happen to make things better?
Whilst the British Government has said it plans to ban microbeads in personal care products, we need to ban the use of microbeads in all household products if we're really going to tackle this issue. The ban is important because it should not be the responsibility of the consumer to make sure they aren't accidentally polluting the oceans with microbeads - companies are all over the shop on their commitments to phase out microbeads- and so a ban in law across all products is vital.
How will the world be a better place if and when you succeed?
We will have cleaner, healthier oceans with thriving marine life and beautiful beaches to enjoy. We'd also be taking positive action to stop plastic ending up in seafood eaten by humans - the risks of which are still relatively unknown. I would also like to see us relying less on plastics in general. For personal care products such as face washes for example, it makes no sense to put plastic in - many companies use natural alternatives which don't harm the environment. Personally I`d rather have natural ingredients on my skin than plastic.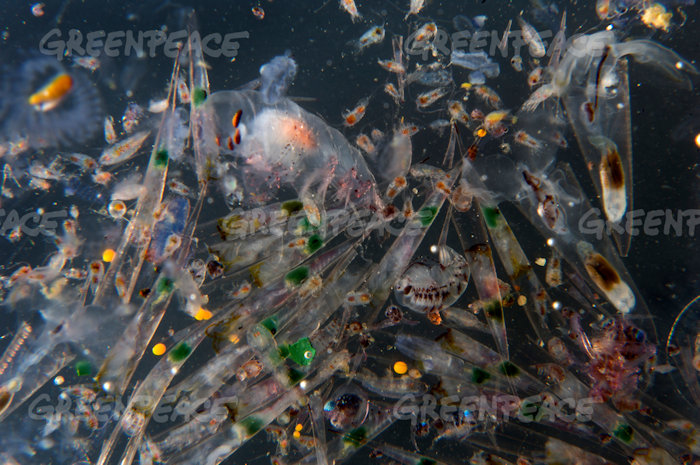 Photo credit: Greenpeace - tiny plastics could spread toxic chemicals, being eaten by marine life and travelling up the food chain from plankton to our seafood
If you had a mega-phone for 10 seconds on a rooftop to get your message out, what would you shout?
Pouring plastic into our oceans makes no sense. Up to 12 million tonnes of plastic goes into our seas every year. From plastic bottles to microbeads and plastic packaging, if we keep throwing away plastic, we risk throwing away our oceans.
If you had a 10 second slot on TV which image would you show to get your message out?
This image of a Laysan albatross chick found dead with a stomach full of plastic, the plastic has been fed to the chick by its parents who mistook it for food. I think this really shows that plastic pollution in the marine environment is having a tangible affect on marine life, such as seabirds.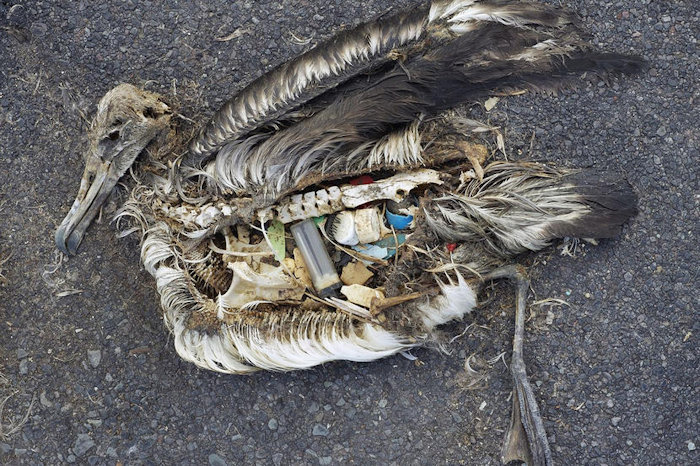 Photo credit: Greenpeace
Is there one person who figureheads this campaign? Tell us about them and their inspiration and aspirations
As well as the Greenpeace campaign team, Ellie Goulding, Dougie Poynter and Hugh Fearnley-Whittingstall have all spoken out on this, with Dougie Poynter calling it a
`massive global issue affecting all of us as humans`
What three things can we all do to help?
Sign the petition on Greenpeace's site to urge Theresa May to ban the manufacturing and selling of all products containing microbeads.
Stop using products that use microbeads. You can download the Beat the Microbead app to help you choose alternative brands and send a powerful message to the manufacturers.
Spread awareness. A lot of people don't know what microbeads are, why they are in our products, and what consequences they have once in the oceans.
What's the campaign website?
Greenpeace.co.uk/banthebead
Do you have a target end date for this campaign?
We're campaigning until we get a ban on microbeads!
Take action!
Sign the petition to ban all microbeads
STOP using microbead products
SHARE this campaign with your friends and family to explain more:


Responsible Travel's view
"
As travellers our oceans are endlessly precious and feature so prominently in many of our holidays. It is our collective responsibility to care for the seas and all that habits them. With so many safe, healthy alternative product options out there, there really is no reason to continue to buy products containing microbeads. Change your shopping habits today and help put an end to the irreversible, toxic build up of plastics in our oceans.
"