End Bullfighting campaign
Bullfighting is an ancient tradition in Spain but it is also innately cruel. The bull is often maltreated prior to the performance - going without food and water for days and subjected to various atrocities that hinder the bull and make master of the bullfighter. Every year, more than 40,000 bulls are massacred in a bull ring.

The Spanish people campaign hard to put an end to bullfighting and attendance figures are dwindling. However, many bullfighting performances survive on the tourist dollar and many tourists are simply not aware of the violence and brutality involved. Isn't it time we move into the 21st century and put an end to this barbaric industry?
Take action!


We catch up with Kirsty Henderson at
People for the Ethical Treatment of Animals (PETA)
to find out more.
What's your role?
I'm the senior campaigns coordinator for PETA. I work on a wide range of campaigns to bring about meaningful change for animals, including those who are exploited in the entertainment industry.
What's the name of the campaign?
PETA's motto reads, in part, that "animals are not ours to use for entertainment" - and as such, one of our campaigns focuses on the cruel bullfighting industry. The campaign has multiple targets, but each has the same aim: to end this barbaric spectacle.
Tell us about your campaign in a nutshell?
Few public displays are more barbaric or cowardly than bullfights. Behind the scenes, bulls are commonly deprived of food and water for days prior to a "fight", and before they're forced to enter the ring, they can be subjected to various atrocities. For instance, the tips of their horns are shaved off - a painful procedure - to impair their coordination, and petroleum jelly is smeared into their eyes to blur their vision. Once in the ring, the bull will be attacked by as many as eight people and repeatedly stabbed with a variety of spears, spikes, and daggers, causing tremendous pain and blood loss, until the matador finally stabs the exhausted animal with a sword. Thankfully, times are changing. Catalonia has implemented a total ban on bullfighting, becoming the second Spanish region to do so. And attendance at bullfights is declining - 81 per cent of Spaniards say that they have no interest in this archaic ritual. Stabbing bulls to death is cruel, not culture, and it's time to put an end to this dying industry forever - something we are striving to do.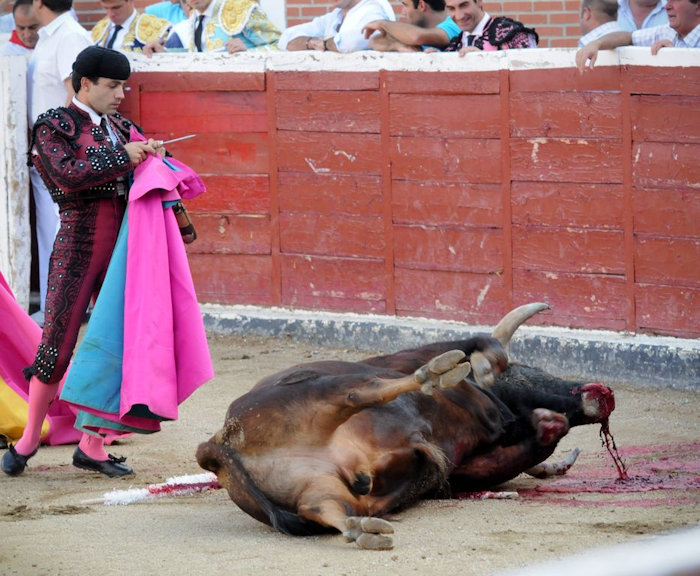 Jo-Anne McArthur / We Animals
What inspired this campaign?
In bullfighting, people torture animals to death for fun. You can see for yourself what bullfighting actually looks like by watching the short video featured above.
Share with us a story about a person / place / animal that's currently getting a rough ride because of these issues?
Each bull used in a fight is speared, stabbed, and weakened until, finally, a matador attempts to sever the exhausted animal's spine with a dagger. Sometimes, the bull drowns in his own blood before the dagger comes into play - other times, he's still alive as his broken, bleeding body is dragged out of the arena.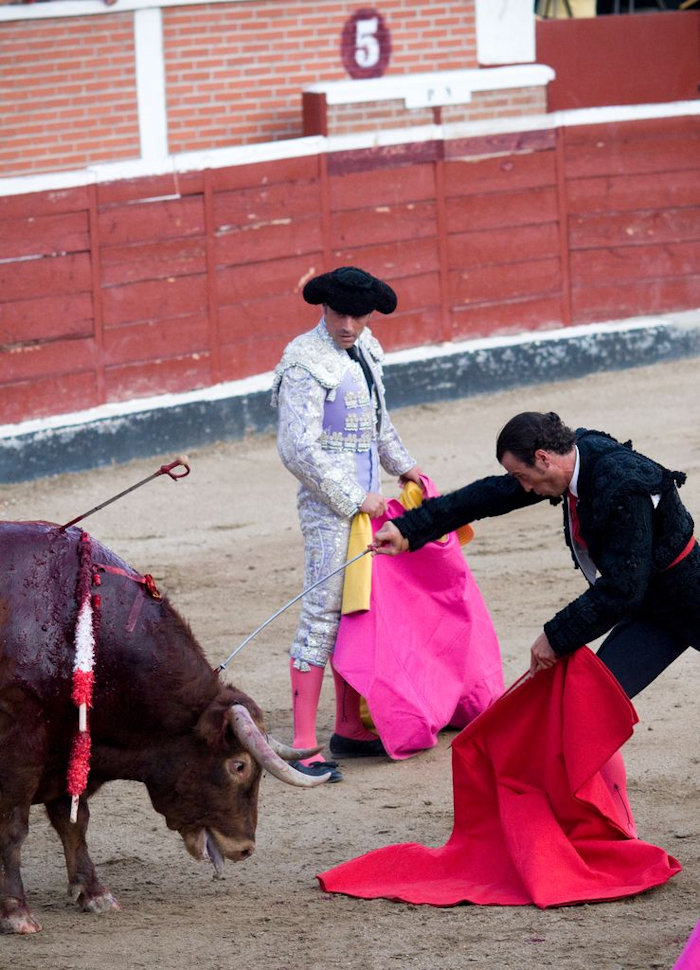 Jo-Anne McArthur / We Animals
What change needs to happen to make things better?
Unsuspecting tourists must stop propping up this bloody industry. Many buy tickets to bullfights without understanding the torture and violence involved. They often leave the bullring completely disgusted, vowing never to return to another fight - but by then, the damage has already been done, and their money will help keep the cruel spectacle alive. The best thing that anyone can do is to stay away from bullfights and bull runs and urge their friends and family to do the same.
How will the world be a better place if and when you succeed?
Animals are not ours to abuse, and when bulls are no longer tormented and stabbed in bullrings, it'll mean that we are one step closer to being a culture that respects animals.
If you had a mega-phone for 10 seconds on a rooftop to get your message out, what would you shout?
La tortura no es cultura is Spanish for "torture is not culture". This is the chant that activists from all over the world shouted this year while taking part in PETA's and AnimaNaturalis' huge protest against the Running of the Bulls in Pamplona, Spain, and the bullfights that ensue.
If you had a 10 second slot on TV which image would you show to get your message out?
We would show three images from our Pamplona protests, which can be seen below.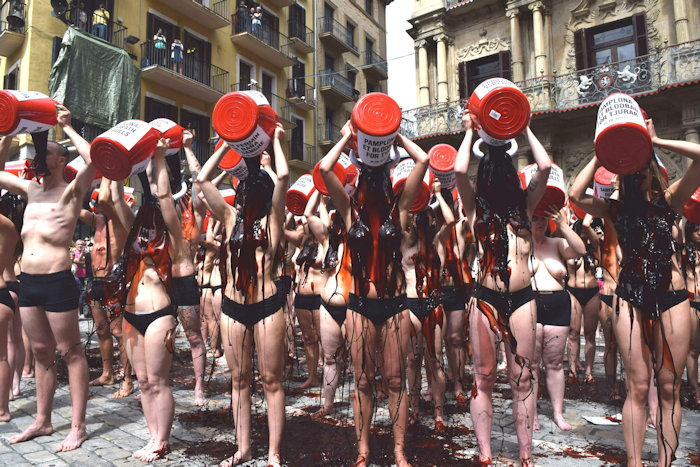 Pamplona protests,2016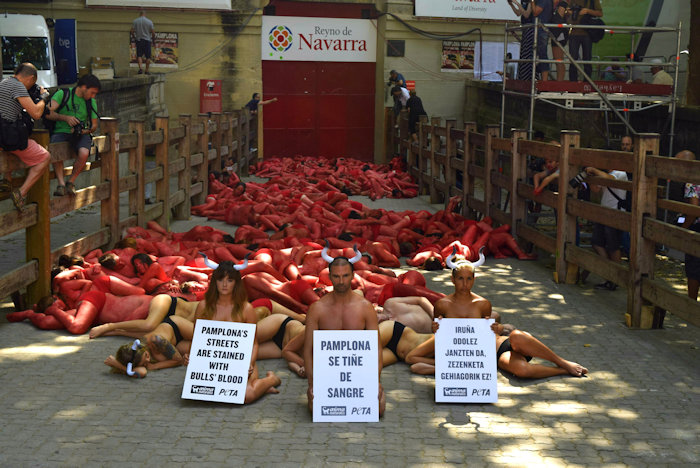 Pamplona protests,2015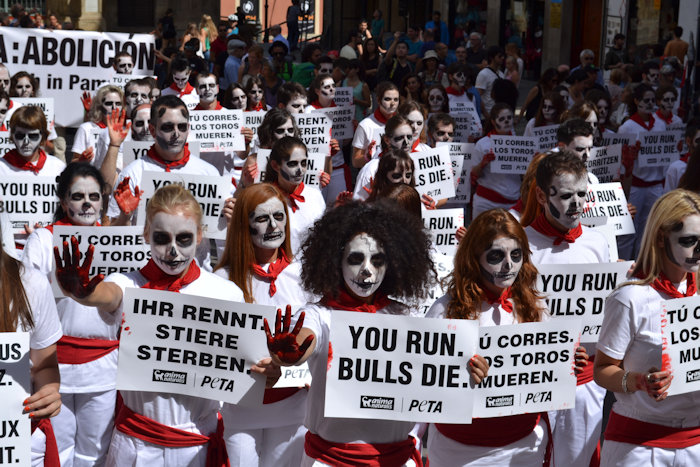 Pamplona protests,2014
Is there one person who figureheads this campaign? Tell us about them and their inspiration and aspirations.
The effort to end bullfighting is a global movement that's often spearheaded by Spanish people who are passionately working to end these violent events. They know that bullfighting does not represent them or their country. I've seen Spaniards cry at demonstrations against bullfighting because they feel so strongly that violence in the name of tradition or entertainment should not be allowed to continue. It's only a matter of time before their dream is realised.
What three things can we all do to help?
If you're visiting Spain or another region where bullfighting takes place, don't attend a bullfight. Tourism is one of the industry's main excuses for carrying on with this abhorrent tradition. Even though most visitors who witness the cruelty of a bullfight never want to see one again, by that time, the money has been paid and the damage done.
If you see a company profiting from animal abuse by selling tickets to bullfighting events, let it know you will not be patronising the business and send its details to PETA so that we can contact it and urge it to stop.
You can join PETA here in letting mayors of prominent Spanish cities know that there is more to Spain than bullfights and that while you love the country, bullfighting does not belong in the 21st century.
What's the campaign website?
For more details on our bullfighting campaign, head to
PETA.org.uk.
Take action!


Responsible Travel's view
"
As tourists, knowing the whole story behind a place and its traditions is not always easy but it is our responsibility. The fact that most visitors who witness a bullfight never want to see one again is testimony to the importance of this. There is no doubt that this brutal, atrocious activity, simply has to stop. Tourism is one of the main excuses given for carrying on this tradition so we must ask questions, read the information and use our voices to say 'no more bullfighting'.
"