Children Are Not Tourist Attractions
ChildSafe
is a movement actively protecting children and youth around the world. Their 'Children are not Tourist Attractions' campaign aims to tackle the problem of orphanage tourism.
It has become the norm in some countries for holidaymakers to make a one-off, fleeting visit to an orphanage, school or slum. They may watch a short performance or dance by the children and then be asked to give a small donation. This is known as orphanage tourism and has evolved into an entire industry of its own.
However, research has shown that orphanage tourism does more harm than good for young people. Rather than helping with child protection, rights and education standards, the industry is actually contributing to the separation of families. Instead, the 'Children are Not Tourist Attractions' campaign is recommending that travellers help families by supporting vocational training and community based initiatives, rather than visiting orphanages directly.
We talk to Valérie Sfeir to find out more about this important campaign.
What's your role?
I am the International Coordinator of the ChildSafe Movement.
When did the campaign launch?
November 2011
Tell us about your campaign in a nutshell?
It's about awareness raising and behaviour change in tourists, travellers and volunteers - people who have, or may be thinking about, visiting or volunteering in an orphanage, or indeed a school or local community. We want them to think again, to discover in particular the reality of the orphanage issue and to redirect their good intentions in ways that will have a positive impact rather than the negative one that orphanage tourism/voluntourism has.
What inspired this campaign?
The plight of the thousands of Cambodian children who are not orphans, but whose families have been pressurised into placing them into unregulated and even harmful institutions which often exploit the children to raise money - money which does not contribute to their well-being. The rapid growth in the number of these institutions over the last ten years has mirrored the growth in tourism, and clearly for many unscrupulous people, orphanages are an easy way to raise money from gullible foreigners.
Share with us a story about a person / place / animal that's currently getting a rough ride because of these issues?
It's not simply one person, it's the estimated 12,000 plus children in Cambodia who are in institutional care - nearly three quarters of them have living parents they could be reunited with, others could be cared for in their community. Conditions in many institutions are also very poor, with children kept dirty or underfed to generate sympathy (and dollars). Of course there is also the worrying issue of easy access from members of the public or unskilled volunteers...'could that happen to children in care in your home country?', is a question we often urge people to consider. The answer of course, is no. Plus, of course this is not just a local issue, it's a global one. There are around 8,000,000 children in institutions worldwide, and 80% of them have parents and families they could and should be with.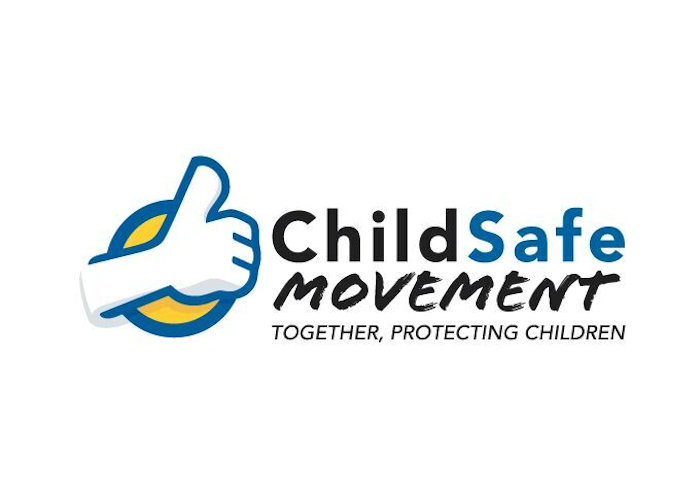 ChildSafe is a Movement actively protecting children and youth, involving everyone, everywhere.
What change needs to happen to make things better?
Awareness among the public, travellers, tourists, so their behaviour will change and they will no longer visit or support orphanages. 'Bad' orphanages who no longer make money from donors will then close (we have NGO Partnerships operational to ensure children can be safely reintegrated with families when this happens), others may transition to community resources that support families to stay together.
How will the world be a better place if and when you succeed?
Children will be where they should be - with their families. If we can redirect people away from supporting harmful institutional care and into giving support to organisations that work to keep families thriving and together, then we will have real positive impact, and many happier children!
If you had a mega-phone for 10 seconds on a rooftop to get your message out, what would you shout?
"Think! Don't visit orphanages, don't create more orphans! Go to
www.ThinkChildSafe.Org
to find out why!"
If you had a 10 second slot on TV which image would you show to get your message out?
Our campaign image, the boxed children surrounded by tourist cameras, is immensely strong and leads people to dig deeper into the issue.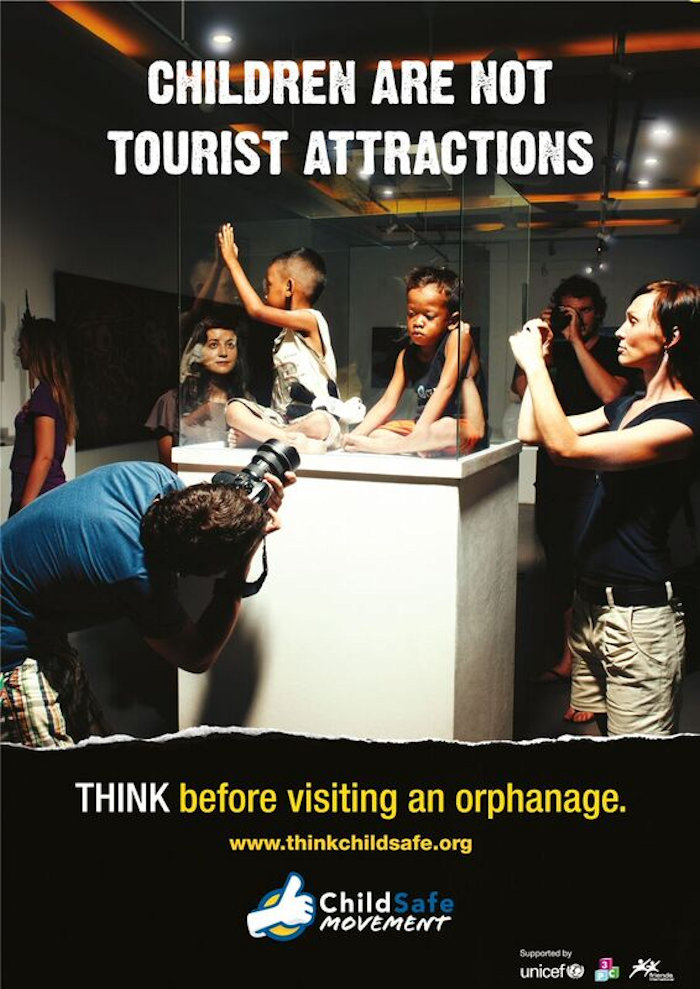 Tourist visits to orphanages, despite best intentions, cause more harm than good
Is there one person who figureheads this campaign? Tell us about them and their inspiration and aspirations.
ChildSafe is a Movement. We are many, working to make the world a safer place for all children. You can be part of it too - Join the Movement!
What three things can we all do to help?
Stop visiting (or volunteering in) orphanages, stop donating to harmful orphanages/institutions and redirect our support to organisations working to keep families together.
What's the campaign website?
www.ThinkChildSafe.org
Do you have a target end date for this campaign?
It's an ongoing issue, linked to other campaigns we are running (for Cambodians, 'Keep Families Together' and targeting donors, 'Don't Create More Orphans') and we still have a great deal of work to do to get global recognition and action on this issue... so, no - we'll keep working on this until the institutional care landscape in Cambodia (and elsewhere) has changed, and children are no longer unnecessarily institutionalised.
Responsible Travel's view
"
In 2013 Responsible Travel removed all orphanage volunteering holidays from the website following concerns about the impacts of orphanage tourism on vulnerable children. This sparked important discussions in our industry. However, awareness and realisation needs to continue to grow among tour operators and travellers alike. It's an important message that still hasn't reached the masses of well-intentioned tourists who do not know the true story behind this industry. We need your help to spread the word.
"