Flying & the responsible traveller
The dilemma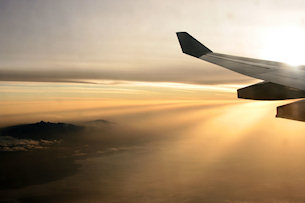 We are often asked:
"How can a holiday be responsible if you have to fly to get there?"
Of course nearly every aspect of our lives and businesses contributes in some way to carbon dioxide emissions, and flying is no exception. Global warming poses a severe threat to those things that responsible travellers hold most dear - the welfare of local communities around the world and the conservation of the earth's natural and cultural heritage.
Figures vary but recent research shows that aviation accounts for approximately 2.6 percent of global CO2 emissions (The Stern Report) or 5.6 percent of CO2 emissions from the UK. It is thought to be more damaging than other sources of emission (possibly by a factor of two) because it is emitted at altitude. It is also the fastest growing of all contributions to global warming.
The dilemma is twofold – firstly that tourism provides real benefits to local communities and local conservation initiatives (particularly in developing countries), and secondly unlike other fuels there is no greener alternative to aviation fuel (kerosene) on the horizon. So what is the responsible tourist to do?
Our view
We believe that responsible tourism can bring many positive benefits to destinations and help to reduce poverty. Indeed, according to the World Tourism Organization (WTO) tourism employs one in ten people globally.
Whilst the aviation industry are working very hard to improve the fuel efficiency of planes and reduce emissions in other ways including improving flight paths and patterns it is clear that the projected growth in air travel will outstrip any efficiency savings. There is much debate about the efficacy of carbon offset schemes, and in our view they provide a dangerous distraction from the real need to reduce our emissions. Given this we feel we need to accept that we need to fly less, not carbon offset (which we no longer offer), if we are to reach tough global emission reduction targets.
This means that we as tourists need to change the way in which we holiday, and that governments need to take stronger action to enforce change. However it is equally clear that aviation is here to stay, and that people will continue to fly for leisure. When we do decide to fly it is even more important than ever that we choose responsible holidays – those that seek to reduce the CO2 impacts on our holidays in destinations, support local community programs and community development.
We have always explained how every holiday seeks to address social and environmental issues in the destinations. We are the only travel company to do this for every holiday, and do so to enable the tourist to make a more informed choice about their holidays.
6 tips for the responsible flyer
1. Low carbon travel
: We are huge fans of train travel. It's a great way to see a destination and has a much lower carbon impact than flying - some estimates say it generates just an eighth of the emissions. We encourage travellers to take the train when possible. You'll find a wide range of holiday options on the site that are based in Europe and reachable by train if you live in the UK.
2.
Wherever you are in the world, think about
holidaying closer to home
. For those of you based in the UK you'll be pleased to hear that the UK is our top selling destination at Responsible Travel. See our
UK holiday ideas
.
3. Try and avoid internal flights
within a destination - use local public transport where possible and travel on foot or by bike to explore smaller areas.
4. Take fewer short breaks by air - and fly direct when you can
. Shorter flights and stopovers are more polluting per passenger mile than longer flights as take off and landings generate a significant part of the total emissions per flight.
5. Take fewer holidays and stay for longer
- that way your holiday creates greater benefits to conservation and local communities in the destination.
6.
When you do fly,
make it count
- take a
responsible holiday
that benefits local communities, helps fund protected areas and encourages the preservation of wildlife.
Convert currencies