Tour leader interview with Emily Chrystie - Amalfi Coast walking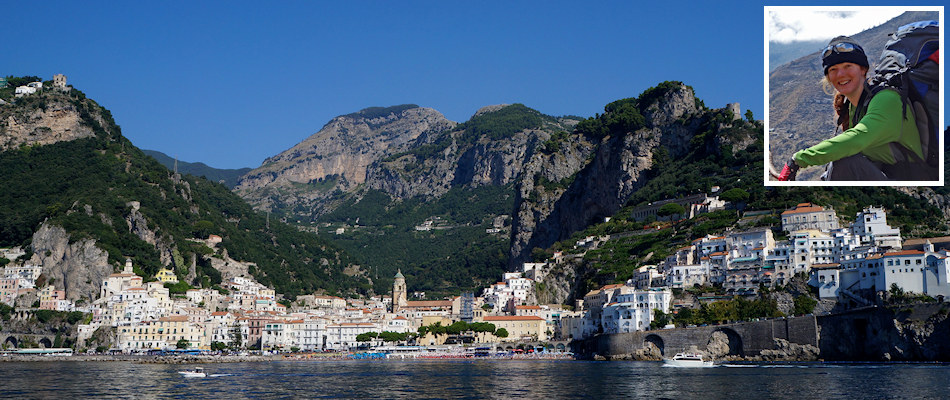 Leader interview: Emily Chrystie - Amalfi Coast walking holiday
Emily used to lead horseback riding tours, but now prefers to lead walking holidays as she gets to travel to more places. She also leads volunteer trips in Morocco as responsible tourism is a passion of hers. As well as English, she speaks fluent Spanish, a smattering of Arabic, can get by in Italian and is currently learning French.
Emily adores all the walking and exploring that she gets to do on her tours – and on her days off, she usually head off to do another walk!
There's one moment where the church of Montepertuso lines up with the Amalfi Coast and Capri at the end.
It's absolutely lovely. It's at the end of the Walk of the Gods on the last day of the itinerary, and you get a lovely view which you only glimpse for one moment.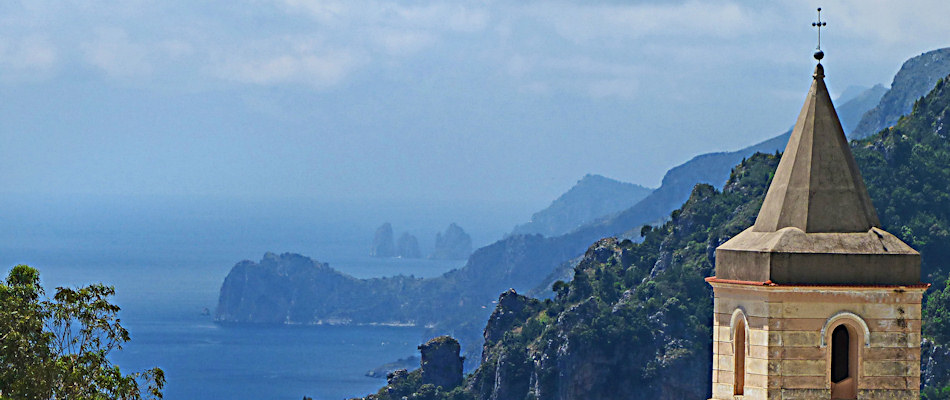 Church view (Photo courtesy of Emily Chrystie)
There's a guy that normally sits outside his house, just at the bottom of the mountain, and he kind of waves as we go by, and he gives us – by sign language – his opinion on whether we should be walking up the mountain or not.
He doesn't speak any English but he'll say hello to us in Italian. Then if it's very, very hot, he'll look kind of despairing and shake his head and raise his eyebrows. If it's a really nice day in his estimation – so lightly cooler, a bit of a breeze maybe – then he'll look very pleased with us. The funniest one is if it's raining in which case he won't sit outside but he'll open the door as we come by and he'll just give us this despairing look, like "Why? Why? Why are you still going up the mountain when it's raining?!" He's a lot of fun.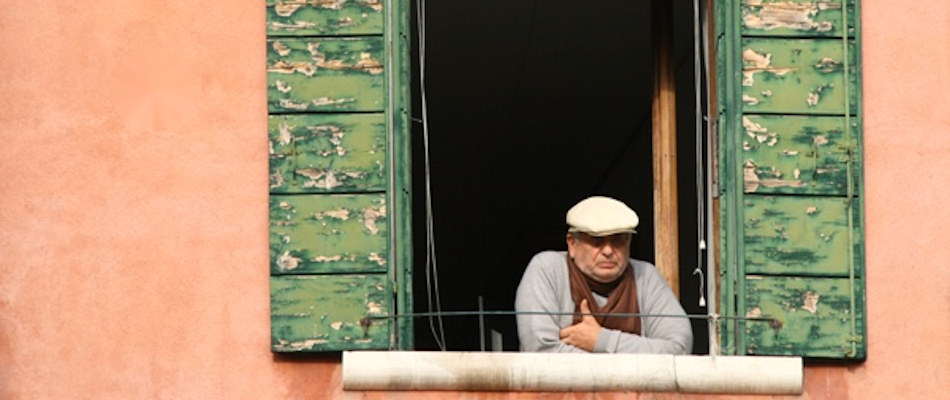 A lot of the time people are very surprised by how simple a lot of the locals' lives are. A lot of people still basically live a subsistence lifestyle.
It's the one thing that tends to surprise people as they imagine that they are going to a very developed area where everyone is very wealthy because of the amount of tourism. But absolutely everybody grows their own fruit and veg to some degree; you don't see any gardens, everybody has veg patches. A lot of people still work the terraces which is incredibly hard work as you can't fit any machinery onto them, they're too narrow. So there still is a very traditional way of life there which a lot of people are surprised by. They think the Amalfi Coast is all tourism and posh houses and wealthy people, which really isn't the case at all. It's a very traditional area still.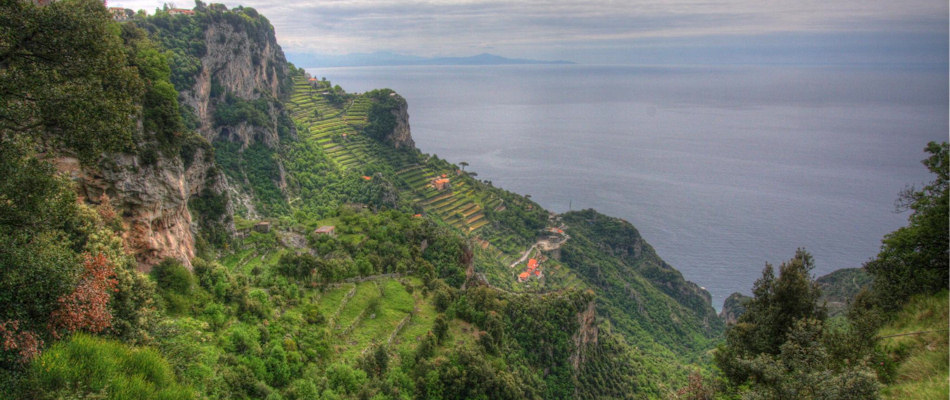 In lemon season, as we're walking to go up the mountain, locals will come up and, they'll give us enormous bags full of lemons completely out of the kindness of their hearts.
They'll encourage us to take them up the mountain and eat them at the top. I'm normally the one who has to carry them us as we're much too polite to say "no thank you, we're going up a mountain, we don't need ten kilos of lemons"! So we go up with massive great big bags, and they go "it's ok, you can eat them, they're special Amalfi lemons" – which are meant to be very sweet. They will literally just eat them like an apple. The lemons are nice, and the juice is very nice, but they're not quite to British tastes for eating like an apple on top of the mountain! And of course I don't want to litter, so I normally end up carrying the whole bag down again. It is quite funny. It happens a lot and I can't say no as they're just doing it out of kindness, and you can't really turn down that kind of a gift!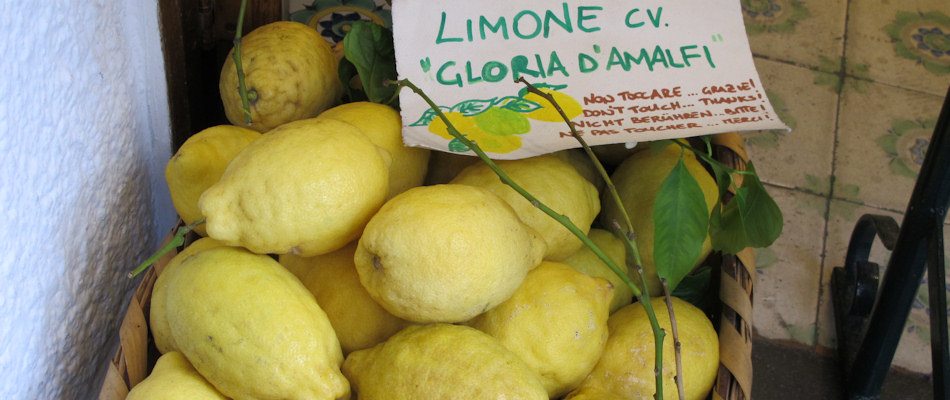 We've actually had somebody so desperate for us to try his lemons that he started posting lemons out through his own letterbox so that we could take some with us.
He was a complete stranger, we didn't know him. We were on the walk to Amalfi. We walk through terraces and past a lot of these little houses, and this gentleman wanted to give us some of his lemons, but he couldn't find the key to his door. As we passed he was shouting "Stop! Wait, wait!" and started posting them to us. They just kept on coming – this disembodied hand coming out with a massive lemon in it and waving around until someone took it!
The guide on Vesuvius will still get everybody to sing Funiculi, Funicula, which was actually commissioned when the funicular railway was still going up to the top of Vesuvius.
It's since been destroyed by one of the eruptions. Andrea Bocelli sings the most famous version of it.
I'd say one of my favourite things is when we stop at a little café or a terrace somewhere, and with your drinks they'll bring out a basket of fresh, roasted chestnuts, which are really, really good.
It's very simple, nothing fancy but really nice.
Amalfi is quite famous for its paper making, and they have a paper press there that makes paper in a very old, traditional way out of old cotton rags.
They mush them up and then flatten them onto a board then make this lovely paper out of it. You can still buy that in Amalfi, made in a very traditional way. It's quite expensive but it's really nice as a special writing paper or you can buy lovely envelopes – really nice personal presents to get for people. The food and drink is all great – but this is a bit more unusual!
There's so much food that you can just pick while you're walking. Wild strawberries in the woods, there's chestnuts that you can just fill your pockets up with, then somebody will roast them for you in the evening.
Walnuts fall off the trees all the time – you can just pick up fresh walnuts and eat them as you walk – they're absolutely delicious. And obviously we're given a lot of lemons, so we can have lemons whilst we walk! Prickly pears as well that you can pick while you're walking, wild mushrooms which are very seasonal. If we pick mushrooms there's a really nice chap in the village who we can take them to and he'll just cook them up for us.
There's just a lot of grazing while we're walking, and the real feeling that you're doing something that the locals do – they do it as well.
They go out and just forage for anything, be it fennel or asparagus or mushrooms, they're doing exactly the same thing. Nobody minds you going along and grazing your way through the terraces. So that's one of my favourite things that's just a little bit different to any other trip I run.
The best word is "piano" – which means gently, softly, slowly.
We often get told that when we're heading off up the mountain – a local will cheerfully look at us and go "piano, piano" – you're going too fast, you need to slow down! The pace of life is very, very slow, and if you go slowly that gives you time to graze and to take in the surroundings and to meet people along the way. And to not get too hot – as it often is very hot there. So it's a very nice word I think – piano, a steady pace of life and take it easy!
Because of the nature of the holiday, you need a sense of humour and an open mind to enable people to absorb that culture and fully get a feeling of what the community is actually like.
And because they're open and friendly, if you have that attitude yourself, then you won't go wrong. You'll really make a lot of friends there. You need to be the kind of person who wants to get stuck in and is open minded and accepts what's going on around them – not the sort of coach trip traveller who wants to just be getting off the coast and taking a photo and getting back on again. It's a much more hands on way of having a holiday.
Amalfi is beautiful but it's a very, very small area of a really interesting area and community. So the way we do it gives you a very different view of the place to the average coach trip traveller.
It's so, so easy to get away from the coaches. In Amalfi, for example, you get a lot of people who go on the coach, walk up the one main street to the cathedral, they look at the harbor and then they get back on the coach, then they leave again. But you literally walk five minutes out of Amalfi, and you won't see another soul there. People just don't stray that far which is a real shame.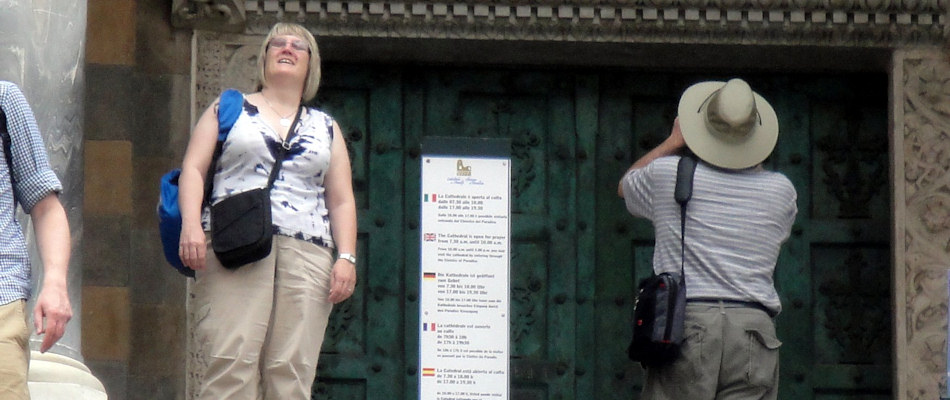 The locals find it quite funny that we're there for a walking holiday, especially if a big storm comes over and it pours with rain and they can still see you out there, walking around.
They're a bit astonished by that – they think actually we should be sheltering inside and giving up for the day! So they do think it entertaining that no matter what the weather's like there we always think it's better than British weather – because it is. These storms will come over for maybe 20 minutes or half an hour then the sun comes back out again.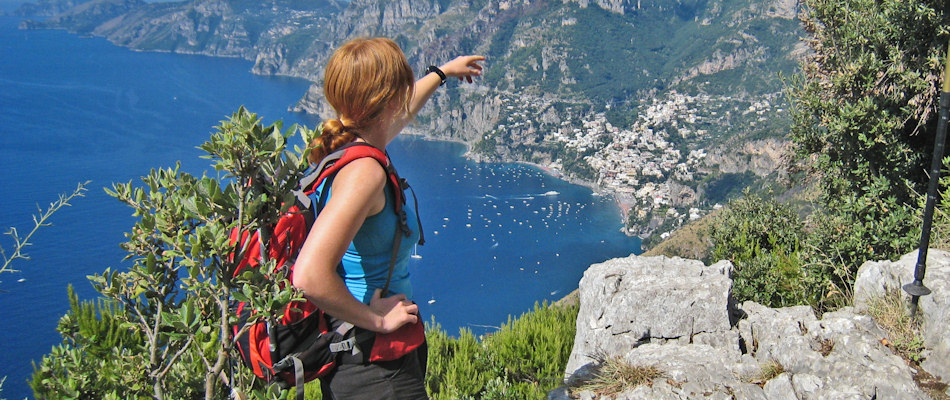 Ocean view (Photo courtesy of Emily Chrystie)
The smell of the lemon groves – it's a very heady smell, and that's all year round as well as you get the smell of the lemons but before that you get the smell of the blossoms, which is just as strong.
You've always got the sound of water. If you're at one end of the coast then you get the sound of the sea all the time.
When we're walking to Amalfi we get the sound of the fountains on the paths, and my favourite of them all, on the Thursday we do a walk called the Valle delle Ferriere which follows the old waterways down into Amalfi. So you start very near the start of the river that goes down into Amalfi then you just follow it down. There are beautiful waterfalls, lots of old ironworks and paper mills, and you've always got the sound of the water.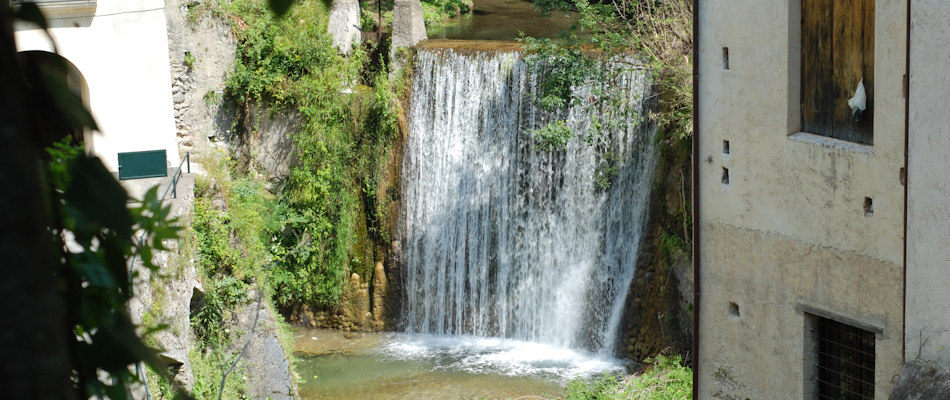 On a really hot day you're bound to find somebody, somewhere along the way who will offer you some lemon juice.
They squeeze the lemon there and then, mix in ice and sugar normally, give it a shake and it's really refreshing.
You should always have a swimming costume in your daypack!
Surprisingly, a lot of people forget it because they imagine that you're always walking along the cliff. But we don't, we drop down to the sea almost every day, so it's lovely to have a swim. I'd also say flip flops – as it's really nice when you do drop down to the sea to be able to take off your waking boots and put on some flip flops. And something that nobody would think of is just a little plastic bag to put in all your nibbles as you're walking.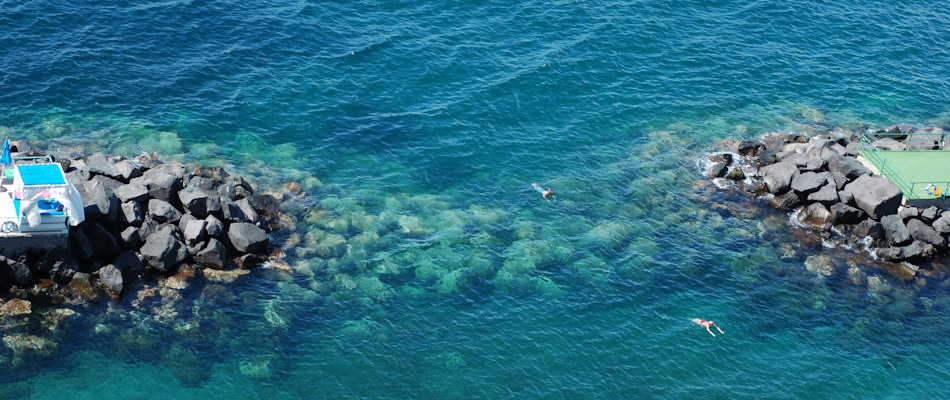 Last summer and there was a quiet, older couple in the group who were really nice. On the last day at dinner, the man got up and asked for silence. He gave a beautiful speech to his girlfriend and he proposed to her!
It was absolutely wonderful and we all felt quite honoured that he'd chosen to do it with all of us as witnesses. It was an absolutely lovely, lovely speech that he gave, how he wanted to spend the rest of his life with her, and they got engaged. He got down on one knee and gave her a ring, and there was barely a dry eye in the house! It goes to show how a group can knit in that short an amount of time, to feel confident enough to do something like that in front of people who, five days ago, were strangers. It was really wonderful.
One pet hate is when people litter on the path.
I always say, just to make it clear at the beginning of the week – we don't leave anything on the hill at all, not even an apple core. It is a very small area, it has a very fragile ecosystem which is already under a massive amount of pressure from the amount of tourists that go there. The funny thing is, the more remote into the Amalfi Coast you get, the more comfortable people feel about tossing an apple core, without thinking they're not in a totally remote area, it's just a tiny patch of "wild" surrounded by a lot of people's houses and terraces.
You're going to people's homes and looking at how they live.
So I love having guests who show the most interest and respect for the culture and the environment, who are happy to engage and show a level of respect for what they are looking at. It's not just looking at exhibits where you can point and stare.
Find out more about this trip
Continue reading about this
Amalfi Coast walking holiday in Italy