Tour leader interview with Charlotte Caffrey - Antarctica and Falklands cruise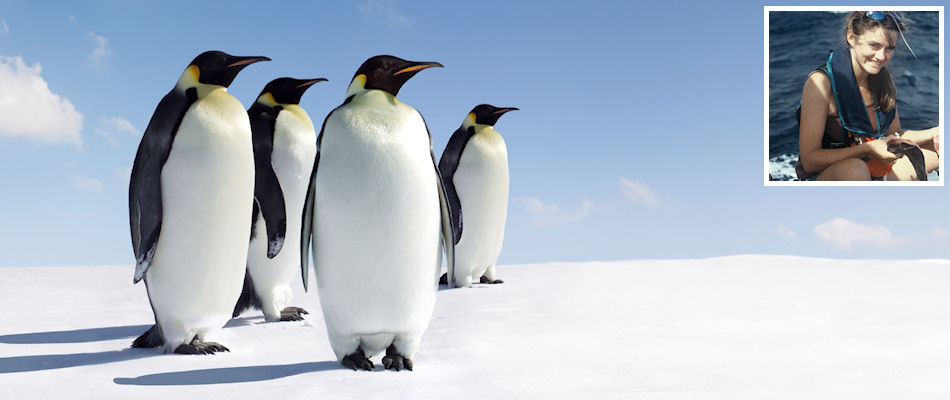 Penguins and (inset) Charlotte Caffrey
Leader interview: Charlotte Caffrey - Antarctica and Falklands cruise
Charlotte Caffrey is a marine scientist and a polar guide to some of the world's most extraordinary destinations. "A particular highlight of this tour is how different Antarctica, the Falklands and South Georgia are from each other; each has their own unique highlight,' she says. 'I've been on this trip three times and have had a completely different experience each time seeing and learning so much; it's a truly incredible journey.'
On this trip, we spend as little time as possible on the boat.
There's always an onboard briefing after breakfast when we'll decide what to do that day, but then your straight off the boat and into zodiacs in groups of eight. One group might cruise around the icebergs, while another is landing at a site where there are hundreds of penguins, and another is hiking for an hour or so across the tundra. People have different interests and different levels of fitness, so you can mix and match activities that suit you.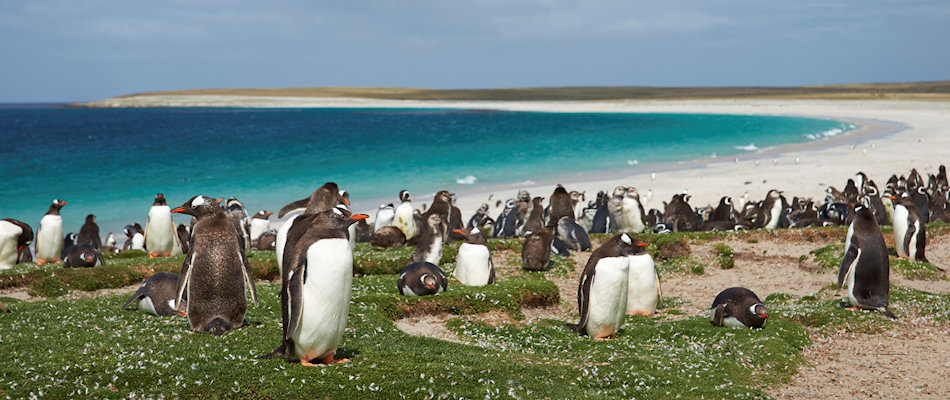 It's so hard to pinpoint the most beautiful viewpoint on the itinerary.
If I had to pick one though, it'd be the moment that you reach Antarctica and are just hit by immense scenery of icebergs and remote wilderness. It's the world's highest continent and the western peninsula that we visit is actually a continuation of the Andes where they no longer join, so you find yourself suddenly surrounded by mountains shrouded in ice with huge icebergs coming down in between them. It really is otherworldly; the closest thing to another planet that I've ever seen.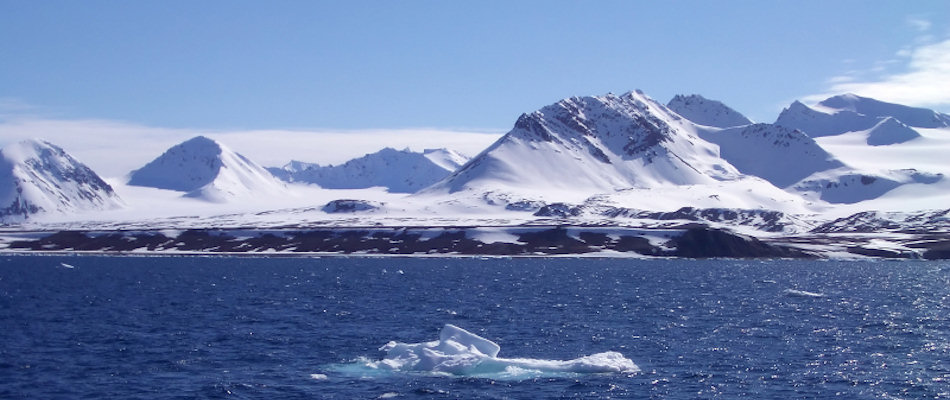 South Georgia is the burial place of Shackleton and is like a pilgrimage site to many people.
People are very keen to visit his grave to pay their respects and to learn more about what happened on his ill-fated last expedition. On the trip, we try and reach Elephant Island, where Shackleton's men were marooned awaiting his return, but the weather conditions are notoriously bad there making it difficult to land, so we have to be flexible with our itinerary expectations.
Generally, we'll take about 110 passengers on a trip and the atmosphere on the boat is electric.
We attract a hugely diverse age range, from people in their 20s to people in their 80s and in the evenings everybody is so buzzed about what they've seen and experienced and they're all sharing their stories about the sheer exhilaration of seeing the icebergs and taking in the incredible scenery. It's such a wonderfully varied mix of people, but with a real sense of bonding because everyone has been brought together there by a shared passion.
Sometimes we have a BBQ in the evening on the back deck of the boat - when you've got a huge blue sky and icebergs surrounding you, some of which are moving, it's breathtaking.
We also run an evening programme of lectures, giving talks on whales and their different biology, species of penguin, or the history of the area and of Ernest Shackleton. We show films like 'South', the story of Shackleton's last expedition, and of course, you can grab a G&T from the bar and wind down with that too.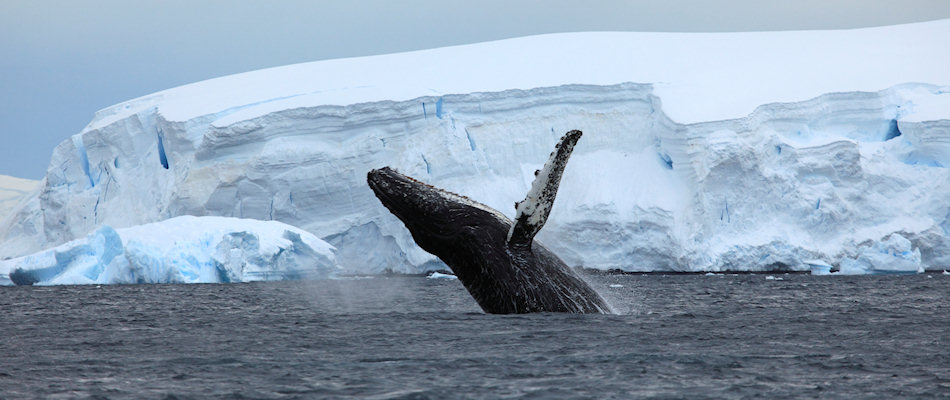 One of the biggest misconceptions about this trip is the idea of 'cruising' and the stereotype that that brings to mind.
We don't even call our trips cruises because of all the connotations associated with the term. We keep our trips small; you're not expected to go to dinner in your finery; and there's no musical entertainment or band playing each evening. Part of the joy of these trips is making conversation with people you may not have met otherwise.
The Falkland Islands are incredible and have a lot of wildlife including six or seven different species of penguin, rockhoppers, albatross and dolphins that follow the bow waves of our zodiacs.
People tend to associate the Falklands with its history and the war, but we have to get over that and think about the unbelievable wildlife and environment that's there. It's a wonderful contrast of amazing wildlife, Victorian architecture and the odd Tesco! It's definitely the most developed place we visit and has a strong cultural and historical identity, which you can explore off the boat.
The most unexpected thing that's ever happened is when I witnessed a leopard seal chasing a penguin right in front of me.
My colleague and I were sitting on the front deck having a tea break and just looking out and then suddenly this leopard seal zoomed in from nowhere and began to chase a penguin who was very nearly caught before it leapt over onto a 30ft piece of ice, which it made it safely onto, panting with exhaustion. We were cheering for the penguin and then a second later the leopard seal shot underneath the ice, broke through underneath the penguin, and dragged it down with him. It was unbelievable! That seal was like a missile - I didn't even know they could do that because that ice was pretty thick!
Some people save for years to go on these trips and I've met some really interesting characters along the way.
Apart from the amazing scientists and researchers at research stations that we visit who are happy to show us around and usually come on board for a shower and a meal, you meet people on board with surprising stories to tell. Once at dinner I sat opposite an Australian man who had funded his trip by digging up gold nuggets from his own garden. It turned out he lived in a gold mining area, so he bought a metal detector and was able to dig out hand-sized pieces of pure gold. The lady sitting next to him was an incredibly sophisticated diplomat who had travelled the world. It was such a great contrast the three of us chatting, all from very different walks of life.
A voyage to this part of the world is a very sensory experience and there are some sounds and smells that you probably wouldn't expect.
Penguins have an amazing language that they seem to talk to one another all day long and when you get a lot in a colony there's a very loud chatter. The sound of a whale blowing is really special and sometimes you can smell the blow too; it smells like they've been eating cat food and is really quite horrible! If you're up on a mountainside before a vista of sparkling waters and ice that seems to shine in different colours, the silence is almost palpable. It's unusual and beautiful.
My top tip for this trip would be not to over pack - another huge misconception is that you'll be shivering in -40oC conditions, so will need all sorts of new gear to keep warm.
People tend to bring so much with them, but what you need to do is bring thin layers and not big, bulky coats. If you've got clothes that will get you through a cold winter in Britain then those will suffice - our winter in the UK is summertime where you'll be travelling to and when the sun is out and the sky is blue, the temperatures hovers at around 0oC and can climb up to 7 or 8oC. Of course you can hit adverse, colder conditions, but in that case you just get back on the boat, enjoy the warmth and wait for it to pass.
There are no souvenirs to be bought on this trip, which is purely because there are no shops and there is nothing to buy!
You can buy a postcard from one or two research stations and post it from Port Lockroy, which is a post office on the tiny island of Goudier in Antarctica, but you should expect it to take some time to arrive. In March 2014, someone who was with me in Antarctica sent a postcard to herself and received it almost a year to the day in March 2015! You can't take anything like shells or rocks from anywhere that we explore; even when we get on and off the boats you have to make sure you scrub your boots and hoover your bags to ensure there is no cross-contamination either way.
If you're dithering over whether or not to undertake this trip I have two words: do it.
It's unlike any other trip you'll do in your life and is a very rejuvenating experience to be somewhere so far removed from the trappings of normal life. You've got the total freedom of the ship and can be one minute standing beside the captain as he's navigating through the ice, and the next stood on the bough looking across a sea of thousands of penguins. A lot of our cabins have flatscreen TVs, but barely any get watched because you have your very own wildlife documentary playing out in front of you.
Find out more about this trip
Continue reading about this
Antarctica, Falklands & South Georgia icebreaker cruise