Traveller interview: Wendy Pillar on her Cilento and Amalfi Coast cycling holiday in Italy
See / go back to this
Cilento and Amalfi Coast cycling holiday, Italy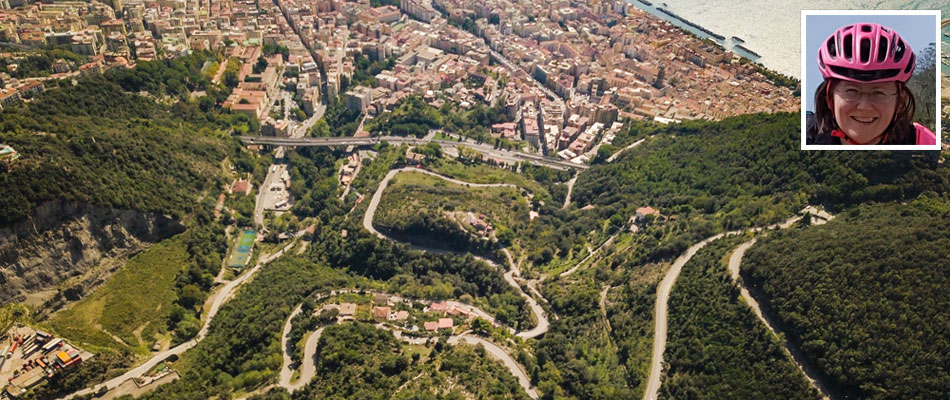 A keen cyclist and Italophile, Wendy Pillar from Dorset chats with one of our travel writers, Catherine Mack, about her recent holiday in Italy, cycling through Cilento National Park in the Salerno region of southern Italy as well as the Amalfi Coast. Read more of the
trip details here.
What made you want to go to this part of Italy?
I hadnít been to this part of Italy before, and in fact I had wanted to go on
another trip to Puglia,
but the group mix didnít really appeal to me and so I changed holidays. I travel by myself so I prefer to travel with, preferably, other solo women. I donít like to be the only single amongst couples; thatís not fun. When you book, the tour operator tells you who has already booked, and this group trip to the Amalfi Coast fitted the bill. But I am hoping to do the Puglia trip next year.
So, you have done plenty of group holidays before Ė have many of these been cycling holidays?
Yes, this was my fifth group cycling holiday and all booked through Responsible Travel. The last one I did was the
Dolomites through to Venice
which was a great holiday. These cycle tours have all been really good and the tour operator always looks after us really well.
Did you have a good guide for this trip?
It is always really good if you get a local guide and on this trip we did Ė Paulo was really excellent. He was from the Amalfi area, and in fact we went past the town where he lives. He is a very good cyclist and very calm and relaxed. He was also very, very organised, but he made it look effortless. Things just happened smoothly. Iíve been on enough tours to know that there is a lot of organisation that goes on behind the scenes.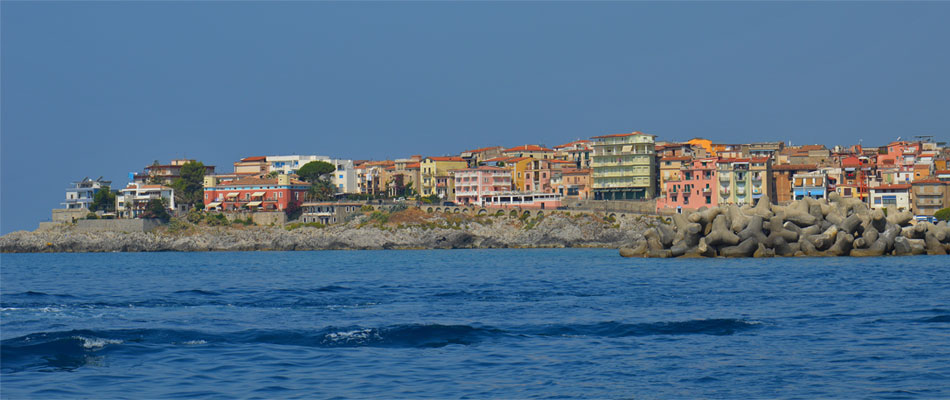 How many were in your group?
There were nine of us. Itís always a key moment of the holiday when you meet the group and the guide on the first morning. Itís what makes or breaks the trip, and you canít know in advance. By the first coffee break, I knew this was going to be a good one. There were six women and three men, mostly between the ages of 40-60.
What is the most useful thing you packed?
Cycling leg warmers Ė it was chilly! When you wear your cycling shorts, you have these socks or leggings that can go right up to thigh height, so that when you warm up you can take them off and put them in your pocket. Iím usually pretty organised but I wish Iíd packed the gel saddle. The saddle was different from my own and it took a few days to get used to. You donít need too many clothes either, as you are wearing Lycra every day, and that packs up really small. And then you just need something for a couple of hours in the evening.
Did you need a pretty good level of fitness for this trip?
Not really. Itís only 30-40 miles a day, so anyone who cycles a bit can do it. But there was a nice balance between cycling, sightseeing and food and stuff; it wasnít just all about cycling. There were only three of us who were proper cyclists, but that is fine for me. I am fine in engaging Ďholiday modeí!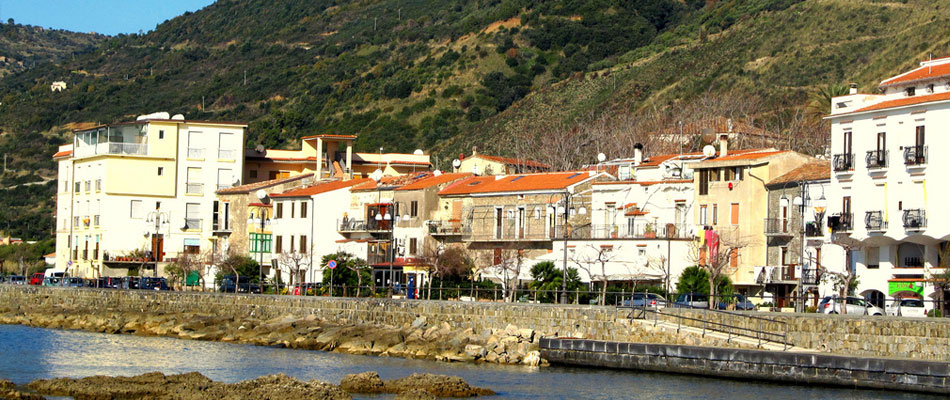 Did you learn or use any Italian?
I have been learning Italian, and try to use it whenever I can. I am slowly getting better at being understood when I speak! But I am a big Italophile, especially when it comes to food!
Do tell us more about the amazing food.
Amalfi is the home of the Mediterranean diet, and the food was just spectacularly good. Paulo took us to little local places, not the touristy restaurants, so you really got authentic food. There was a lot of fish and in Pioppi, which is where the Mediterranean diet was developed, we had lots of beans, anchovies, vegetables and salad, as well as beautiful sourdough bread. Just simple, plain peasant food but extraordinarily tasty. We also went to a farm where they keep buffaloes and made mozzarella. That was pretty good! It was cheap as well, with an evening meal about Ä15 on average for two courses. I donít drink but if you were having wine it would be dearer.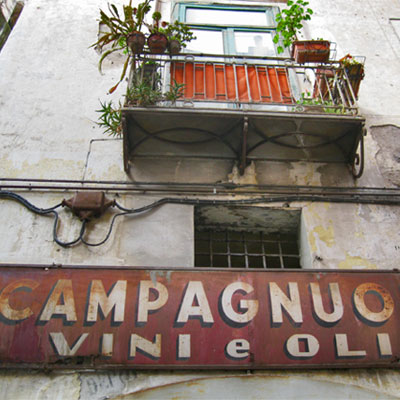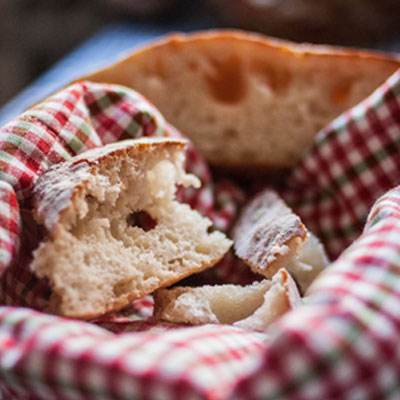 How many places did you stay in?
Four, with two nights in the first place and three in the last, so it wasnít a different hotel every night. My favourite was the last one, in Minori. It was the smallest room of the week, but really comfortable. There were swimming pools at the hotels, but it was early April so they werenít open yet. Which is a bit of a shame as I like to swim, but we did do some swimming in the sea. It was very cold, but it was lovely! I canít be near the sea and not get into it. In Minori our hotel was near the beach, so we could get a swim in at the end of the day.
How were breakfasts? Always very important for cyclists!
Yes, very! They were variable. Some places it was just pastries and coffee, others had a full buffet. I had some lovely fresh ricotta cheese one day, with ham and sourdough bread. That was a spectacularly good breakfast! As well as that, the van support always had a good supply of bananas.
How did the tour operator deal with the plastic water bottle issue?
We all had our own bottles that they refilled. They did have disposable plastic bottles in the van but they were refilling them along the way, because there was drinking water in the taps everywhere, so you could fill up at the hotels and so on.
Tell me more about cycling through Cilento National Park and the surrounding areas. It isnít as well known as Amalfi, is it?
It was lovely, although it was very stormy that day. But it was very beautiful, quiet with no traffic and also very authentic, with no tourist stuff. The whole trip is up and down with plenty of hills. After that section of the coast, when we entered Amalfi, it started to get much busier on the roads.
How was it cycling on the famous Amalfi Coast Road?
It wasnít high season, but it was still busy. The road is about the size of one of our Dorset country lanes and itís windy, up and down, and there are tourist buses going up and down it in both directions, all the time. Plus the local traffic. So it is really busy. There is no cycle lane of course, nor any pavement, so you have pedestrians in there as well! It is still amazing, but if they did the sensible thing and rationed the number of vehicles on it, then it would probably be one of the best cycling roads on the planet, it is that spectacular. We were completely fine with the traffic though. I am not a city cyclist as I live in the country and cycle on country lanes, so it was a shock to the system at first, but we were all fine.
There were some American tourists who got off a bus and told us we were crazy to be cycling it, but then they got back on their bus, with the tinted windows so they canít see the colours, and if you are not on the sea side you wonít see anything anyway. So, thatís the crazy way to see it as far as I am concerned. When you are on a bicycle you can stop and look at the view, you can see the colours and smell the sea, and stop for lemon
granita
every now and then, which is very good indeed!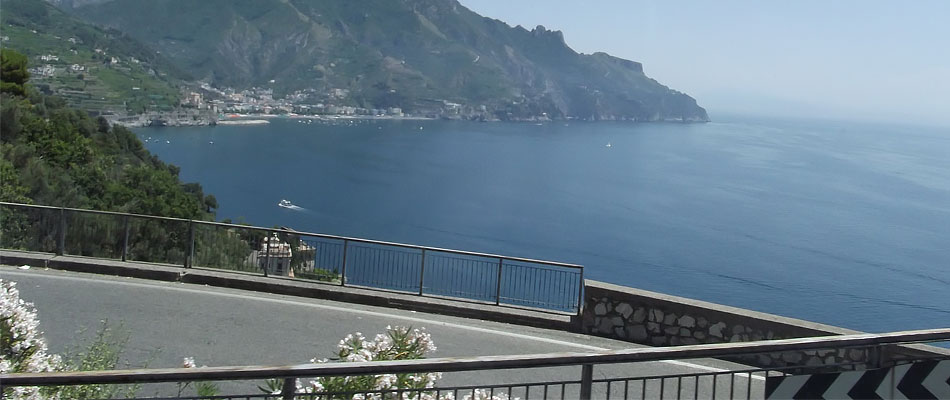 Is there debate about rationing the traffic on the Amalfi Coast Road then?
Yes, and about installing a traffic light system. When you get to the little towns along the Amalfi Coast Road, itís too narrow for buses to get through and they have men with walkie talkies at each end of the town controlling the buses going through. If they meet in the middle they will just get stuck. So something does need to be done, and no doubt something will with time, but the Italians arenít the fastest at making these things happen!
Were your preconceptions of this region very different from reality?
The photos, TV and films never do justice to just how beautiful the Amalfi coast is in reality. I think it must be one of the most beautiful places on the planet. Itís the colours and the light, and the way that the villages are built right up the cliff. The mountains just drop sheer into the sea, and they build houses on each little ledge as it goes up the mountain.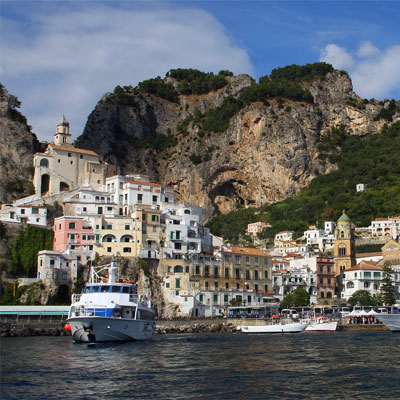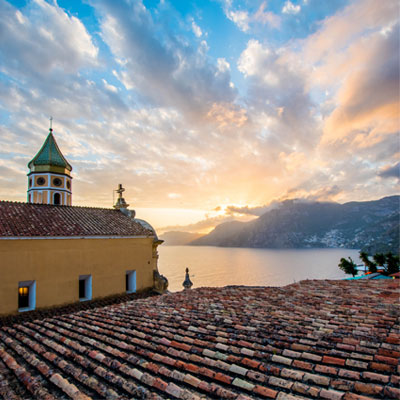 Were local people welcoming to you as cyclists?
The people were lovely; they like cyclists and they understand cycling. Also, because we were there out of season, they were happy to see tourists coming into spend money in their restaurants and so on.
Do you have any sense memories from your trip, other than Ďsightí ones?
Being Amalfi, it has to be the lemons. There are lemon trees everywhere and they were in full bloom so they were very fragrant. You would be cycling past lemon trees and just get that lovely whiff. Also, there were chaps with stands on the side of the road, with piles of lemons, and they squeeze you some lemon juice, or lemon
granita
What is your favourite photograph?
Thereís one the guide took of me flying down a hill with a big smile on my face Ė which sums up the trip really! And lots of photographs of food, of course.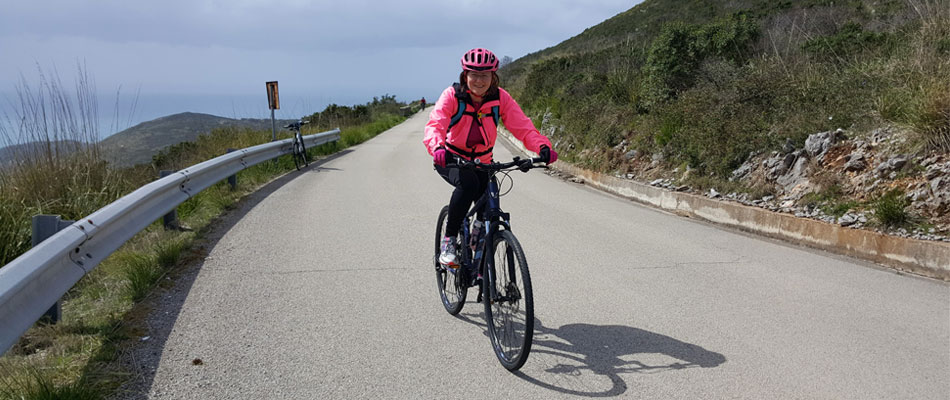 Wendy Pillar cycling. Photo by Wendy Pillar
Has this holiday influenced where you would like to go next?
I am going to do the
coast to coast trip to Amalfi,
with the last day the same as this trip. And Paulo is guiding this trip too, which is great. That is a proper cyclistsí tour with big distances and climbs, again for a week, but 75 miles a day and through the mountains. I will go at the same time again next year, because although the swimming pools arenít open, you do get the wildflowers, and the temperatures are usually about right. Plus it is quiet and not too touristy. And I am always brave enough to go in the sea.
Find out more about this trip
Continue reading about this
Cilento and Amalfi Coast cycling holiday, Italy