Traveller interview: Stephen Lindsay on his Costa Rica wildlife holiday
See / go back to the
Costa Rica wildlife holiday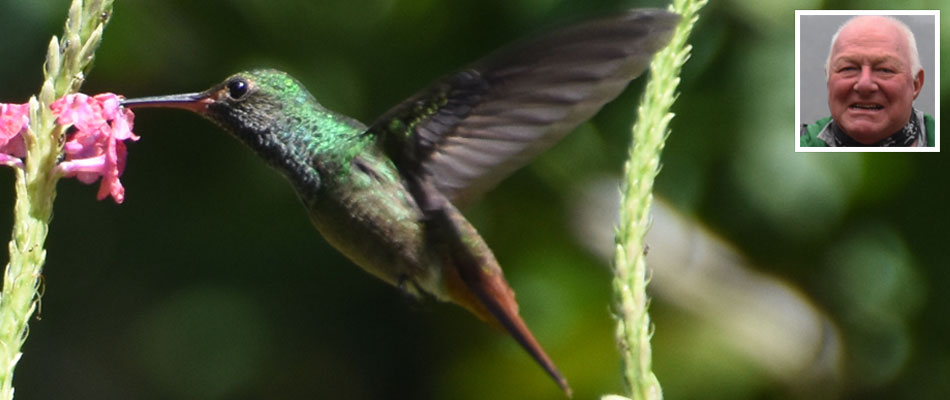 Hummingbird. Photo by Stephen Lindsay
Stephen Lindsay went on a 16-day
wildlife holiday in Costa Rica
, travelling in a small group with likeminded wildlife lovers. He chats with one of our writers, Catherine Mack, about his experience of seeing a cornucopia of colour in Costa Rica. For details of this trip see our
Costa Rica wildlife holiday
What made you want to go on this trip to Costa Rica?
I go away about every six months since I retired four years ago, but Iíd never been to Costa Rica. I knew people who had been, and I wanted to go for the wildlife and particularly the birds Ė although I am not a twitcher! I enjoy group trips if I think the place is going to be difficult to do by myself a trip and tricky to organise. I had been to
Madagascar on a small group tour
before with this same company and it was great, so I was delighted when I saw they had a trip to Costa Rica that had a focus on birds. It turned out that most people on the trip were like me. They werenít serious twitchers; they just liked birds.
How many people were in the group?
There were 12. You tend to find likeminded people on these trips and we had a good laugh. That has always been my experience on these trips; Iíve only met a couple of tricky people. The youngest person on this trip was about 50, and the oldest was early 70s, probably because it isnít a cheap trip.
Did Costa Rica live up to your expectations?
I had been through Central America before, and San Josť is far more Westernised than I thought it was going to be. It is quite American, and I know there are retired Americans living there, so from that perspective in the city was different from what I expected to see. The rest of the country was very different to that though: rugged and rainforest covered.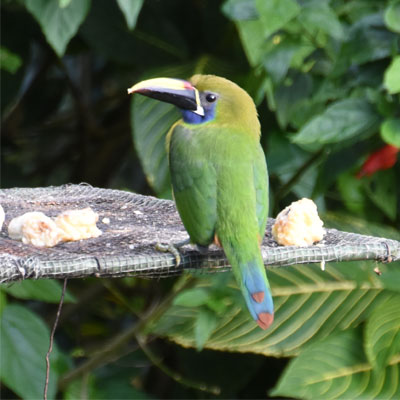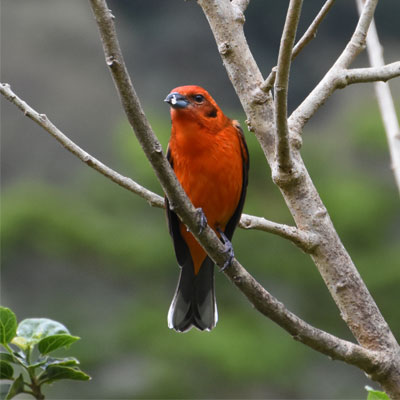 Blue Throated Toucanet & Tanager. Photos by Stephen Lindsay.
Is there anything you wish you had packed?
If you are going to do this trip, it is very damp. It doesnít matter when you travel, because you spend lots of time in the jungle, rainforest and cloud forest, so you need a good waterproof and a cover for your day sack. The places we stayed are really, really nice, but none of them had heating, so it can be tricky to dry damp clothes. You need to put your clothes in polythene bags Ė which I didnít do Ė because otherwise they donít dry. For that reason, I wish I had taken more pairs of socks.
What did you wear?
I wore shorts when I could, as it is easier. When it rains you just get your legs wet. But in the jungle sometimes you want to wear long, waterproof trousers, such as Rohan walking ones.
Did you learn or use any Spanish?
I can speak a little bit of Spanish, order a beer and food and have a little chat with people. But so many people speak English there, it is easy to just slip back into that. But I do try.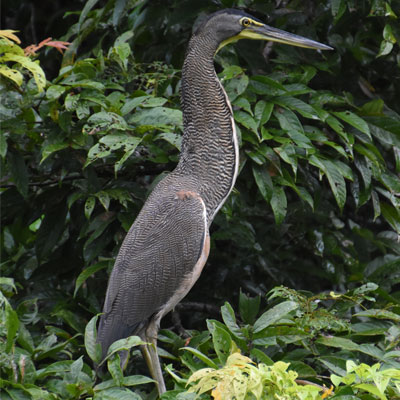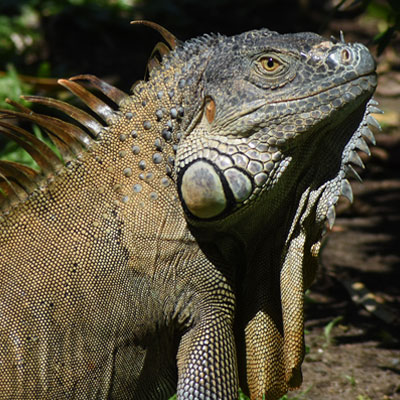 Bare Throated Tiger-Heron & Iguana. Photos by Stephen Lindsay.
Were your preconceptions very different from reality?
The variety of birds is just huge. There are over 900 bird species there, some endemic and some migratory. There are 50-plus types of hummingbirds alone, so the breadth is stunning. And the other thing thatís fantastic is the colours; they are all bright blues, iridescent greens, yellows, oranges, reds. Itís not like looking out at your garden at home. You have nice birds, of course, but you just donít have the colours that you have in Costa Rica. It must be one of the top destinations on the planet for this breadth of colour and seeing interesting birds.
Do you see some of these beautifully coloured birds en masse?
Yes, although of course it depends where you go and how much background noise there is. But by and large, if you wander around in the really quiet areas, you will see lots. Some will come very close, but others are very high up at the tops of trees. If you are a photographer, you really do need to have a 300-400mm lens. You wonít get them with a standard point and snap.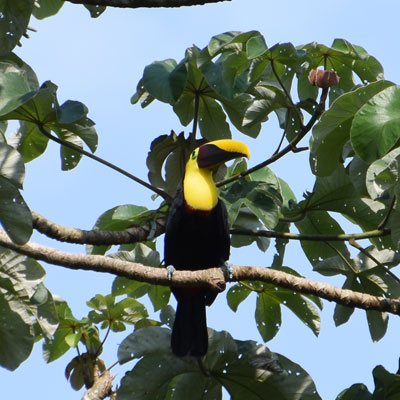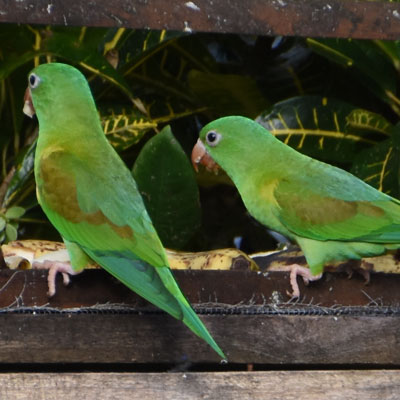 Keel Billed Toucan & Parrots. Photos by Stephen Lindsay.
Do you have a favourite wildlife moment in Costa Rica?
The holy grail of bird watching in Costa Rica is the resplendent quetzal. I spoke to someone who had been going there for five years and she had never seen one. We went out one morning for an hour and a half and saw three Ė we were really lucky. And of course, seeing baby turtles hatching and crawling towards the sea was fantastic. Heading there at sunset and watching the eggs hatching, as well as all the birds in the trees waiting to pounce on the baby turtles for supper. Of course, if humans are there the birds donít come down because they are frightened of you. It is incredible to watch the turtles heading down the beach as if they are wired to do so. I think that fewer than one in 100 survive in the long term. I could have watched that all day.
Did you see the turtles in Tortuguero National Park?
Yes, we spent two days in Tortuguero on the Caribbean coast. The local people used to kill the turtles and eat them, and what they have done there is quite sensible. There is a main beach where the turtles lay their eggs and then they hatch, which is about a 30-mile stretch. On this stretch, they have shut off 20 miles or so of it for conservation, and 10 miles or so can be accessed by local people who are allowed to kill them there. It is not ideal, I know, but banning them altogether wonít work either. What they are trying to do is match nature with the needs of the local people, which I think is a good way. And also the people of Costa Rica rely heavily on nature tourism.
Was there anything you thought was going to be hard that turned about to be ok?
You do have to get up at dawn every day on this trip if you want to see the birds, and dawn is around 5am. So your sleep pattern does change a little as you end up going to bed around eight which, after you have been walking all day, you will be ready to do. But it was fine. You sleep well because you are tired, and there isnít a lot to do in the rainforest lodges so it is easy to go to bed early. I donít usually get up that early, but if you come here and you want to see birds, you have to really. There was also quite a lot of walking. Some days I walked six or seven miles a day, which isnít something I would normally do, but it was absolutely fine.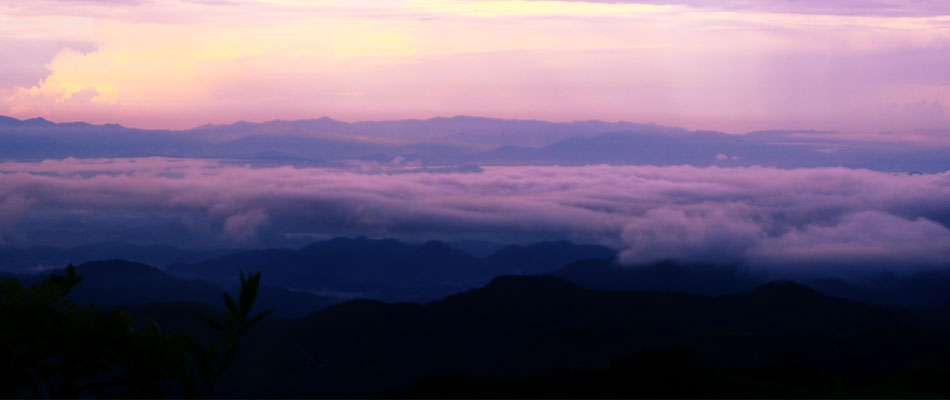 Was there one local person that you will always remember?
It has to be Johnny Villalobos, our guide. He was absolutely fantastic. He was Costa Rican, about 40 years old, and just brilliant. He was a real expert in birds, and really great with everyone. Didnít matter if it was a bird, fruit or tree, Johnny knew the answers to everything. And he was also really good to be with, funny and great company.
Did you keep a record of the wildlife you saw?
They give you a book with all the bird species in Costa Rica and every night, over a drink, we would go over our list and tick off what we saw. There is also a brilliant app from Cornell University in the USA from their ornithology department. Itís mostly for American birds, but it does have Costa Rica on it, and that is really, really useful. It also has their calls on it.
Looking back at my list, we saw 300 species of birds, which is 30 percent of the birds that exist in Costa Rica. We saw all the species of monkeys, in fact: howler, spider, capuchin and squirrel, as well as two and three toed sloths, crocodiles (I hate crocodiles!), snakes, lizards, bats, raccoons, turtlesÖ You name, it we saw it. We also saw a bird that is red all over, and Johnny said that he hadnít seen one in five years. I canít remember what it was called now, but it looked like Father Christmas it was so red. But it was lovely because Johnny was so excited to see it.
What is your favourite photograph?
I have a half decent one of the resplendent quetzal, which is great because it is pretty rare. And I have a decent one of a hummingbird, with its wings flapping as it hovers over a flower. That was a bit of luck really. I just held the trigger down and took about 50 photos, and one of them got it absolutely frozen in time!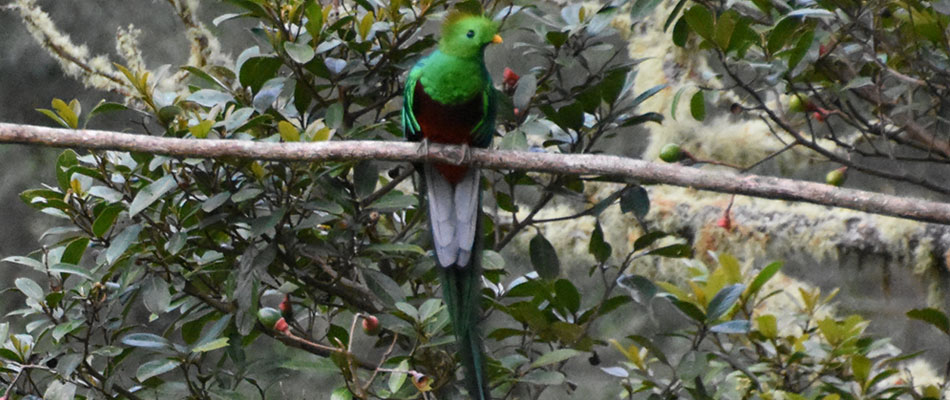 Resplendent Quetzal at dawn. Photo by Stephen Lindsay
And, just to ask a silly questionÖ do hummingbirds hum?
No! Well, I donít know. I didnít hear them. They do make a noise but I didnít hear them hum. Some people say it was just my hearing and that they do hum, but Iím not so sure!
Find out more about this trip
Continue reading about these
Costa Rica wildlife holiday