Tour leader interview with Maria Budimir-Bekan - Croatia family activity holiday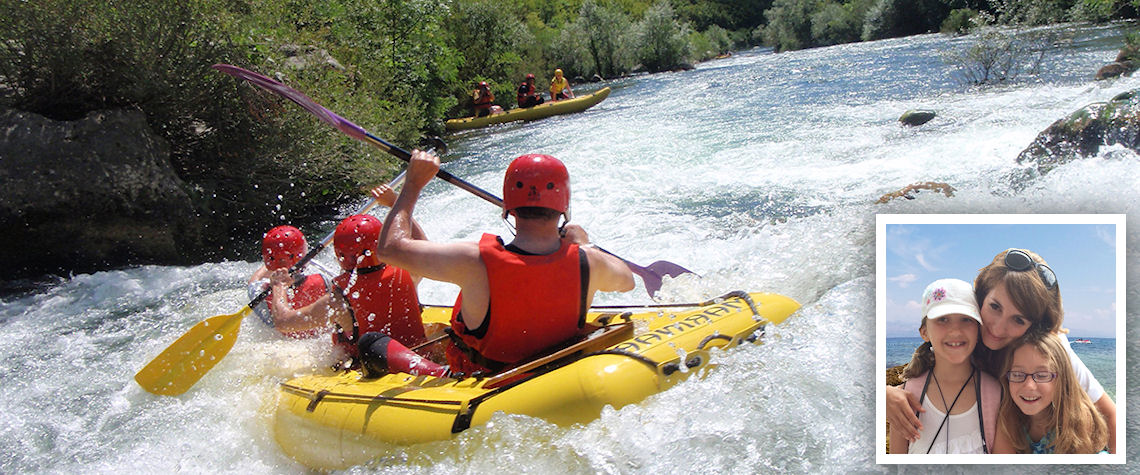 Mini rafting and (inset) Maria (Photo from Maria Budimir-Bekan)
Leader interview: Maria Budimir-Bekan - Croatia activity holiday for families with teenagers
Maria Budimir-Bekan lives in Trilj, and is proud of the beauty of her inland Croatia home. Right on the Cetina River, life revolves around the water for her, whether she is white water kayaking, or hanging out in her favourite waterside café with friends drinking Croatian coffee. She has been working as a leader guide for nearly four years now, and always having been outdoorsy and sporty, handball being her top childhood sport, she now love combining all of these things. That and watching teenagers forget about screens, and just enjoy screams of joy instead. That makes her smile more than anything.
English tourists are keen to do a lot, and in summer they really like this trip, because they are not the type of people who want to lie on the beach for five hours.
The sun is strong here in summer, and so spending time around the river water, still with a really good temperature, around 20°C, is the perfect combination. So, they can enjoy the adventure and still relax afterwards, and they really like that. I enjoy my work because I can see that everyone really enjoys this balance.
We had a grandfather on the trip this year, with his grandson who was around 12. The grandfather, John, who was 67, was brilliant at all the activities too.
John, the grandfather, phoned because he was a bit worried that he might not be able to do all the activities. But as soon as I knew he was outdoorsy, enjoys nature and has done some kind of sport, I knew he could do it. I reassured him that if at any stage he felt uncomfortable, that we have professional guides and support, so he could step away and the guides would help out his grandson. So he decided to come, and fair play to him. The best part is that he was a really lovely man, and he had amazing stories to share with everyone, and everyone enjoyed his company, from the teenagers to the mums and dads.
When the cycling day came, he was worried, and I told him there was a support van if the heat got too much for him or anything. But do you know what, he was probably the best on the cycling day. He did everything on the trip, and canyoning and white water rafting were his favourite activities. At the end of the week, he gave our guides a gift, and told them 'You know, if you need some help next year, I can come to help you!' So, age means nothing really. It is just a number.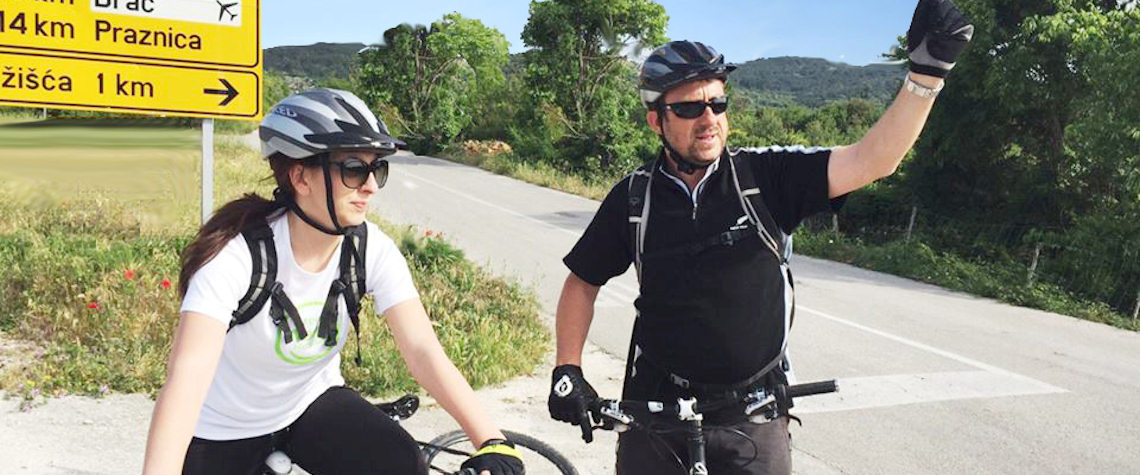 Cycling (Photo from Maria Budimir-Bekan)
On this holiday we never cycle for more than 35-40 minutes in one go. There are lots of stops at the river, with time to jump in and refresh yourself, because it is not just about cycling all day, it is about using bikes to explore inland.
On this trip, mums are usually worried and have lots of questions, and sometimes they need to be encouraged to say yes to canyoning. Because it is the most challenging activity of the week, but the most rewarding one at the same time.
But unless they have any physical fear or afraid of something, they are usually fine. Sometimes they ask me if their younger ones will be able to do it and I can tell them easily that kids nearly always do it better than the adults. Because they don't let the fear do anything to them. They just do it. Sometimes the teenagers say to their mums ' just don't do this activity, mum' because they are worried that their mums will give up at some point, but at the end of the canyoning, when they are both together, they are always so proud of each other for doing it. The kids have seen their mums swimming in the rapids, and the mums have seen how good their kids are at jumping around the rocks and stuff. So it is a mutual feeling of being proud for each other. I see that all the time, and it is brilliant.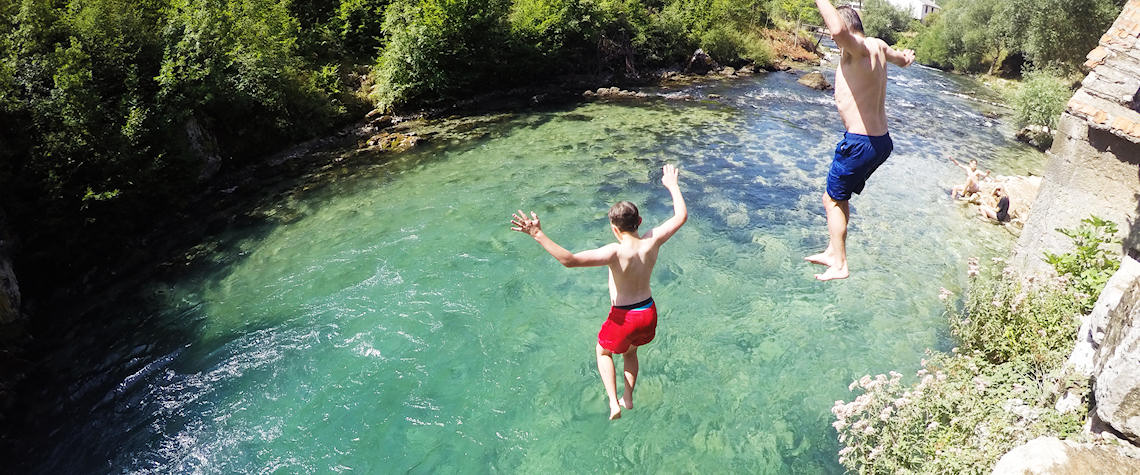 Jumping in springs (Photo from Maria Budimir-Bekan)
For four days we are on the rivers, and my favourite viewpoint during this time is probably when we look down over the canyon towards Omis, which is where the river meets the sea.
It is just beautiful. Just seeing the greenery canyon on one side, and seeing the sea and blue skies on the right, is just breathtaking.
If there is one song that sums up guiding on this trip, it would have to be 'Walking on Sunshine'.
We often sing it in the van on the way to rafting in the minibus, but we change the words to 'rafting on sunshine'. So it is a great one to encourage us as we set off on our activities. I also love singing U2's 'Beautiful Day' because it is how I would describe every day during this trip, with the sunshine, the sky and the water. It can't be anything else but a beautiful day.
There was a boy called Joe, possibly the most interesting person I have met on this trip. He was 13 or 14 when he came here to Trilj, from England. And he was a bit of a naughty boy, I have to say.
It takes me 15-20 minutes to get a first impression about kids, and I can usually work out during that time which ones I might need to keep more of an eye on than others. It took me about 30 seconds to realise that with Joe. He wanted to explore everywhere, and try everything. Every time I had to say his name, I also had to say 'No', and so by the end of the holiday I had given him the nickname 'No-Joe'. The great thing is that he came back for another holiday and one of my colleagues was leading that trip. He said he was curious to see how No-Joe would be, but he was at that stage when they can grow up so much in a year. And No-Joe had changed so much that my colleague said he was brilliant, did everything and wasn't naughty at all. I couldn't believe it. So, No-Joe basically grew up.
I think these trips do help young people grow up a bit.
As well as seeing their parents do new things, they think these tour leaders are really cool because they do adventure stuff, so that makes them pay attention when we are talking. I love kids though - they are the most honest people in this world. They don't hide anything and you can see everything on their faces. I would say that, in terms of adventure holidays - not life in general, of course - girls are easier in a way than boys. Because boys are looking for more of an adventure, and so you have to keep an eye on them a bit more, whereas girls are a bit more afraid of the stuff, so from a leader point of view, they are easier. So for example, if a boy sees a rope swing, he will just jump on it and go. Whereas a girl will ask how deep the water is first.
In Trilj,we have a local specialty, which is like bread, but you deep fry it, and it is called ustipak.
It was eaten traditionally after a day working in the fields, when you come back home and you are tired and hungry. And you would eat it with cheese and prosciutto. On our cycling day, we stop at a 500 year old, family-run local mill and have that as our snack, made from the flour from that mill, and eat it sitting by the river. We are really aware of dietary requirements these days, and so on the side we always have gluten free bread for those people who can't eat the ustipak. One of the dads didn't really understand how to do it and put ustipak inside the gluten free bread. So he had actually made himself a bread sandwich. I loved telling my mum and friends later about the guy who made the bread sandwich.
Most kids say that the white water rafting is the best bit of the trip.
Or mini rafting, which is in smaller boats and in smaller rapids. Plus in mini rafts you are a skipper in your own boat. Parents always love the canyoning because of the scenery. And also the cycling day, which has a bar at the end of it, the dads often say that is the best bit. For me personally, there is one rock on the canyoning trip, just before you exit the canyon, where you can see the river really calm on one part, and then beyond the rock where you are standing, it turns to rapids. This is on the last day, and it is as if we are saving the best moment for the last day.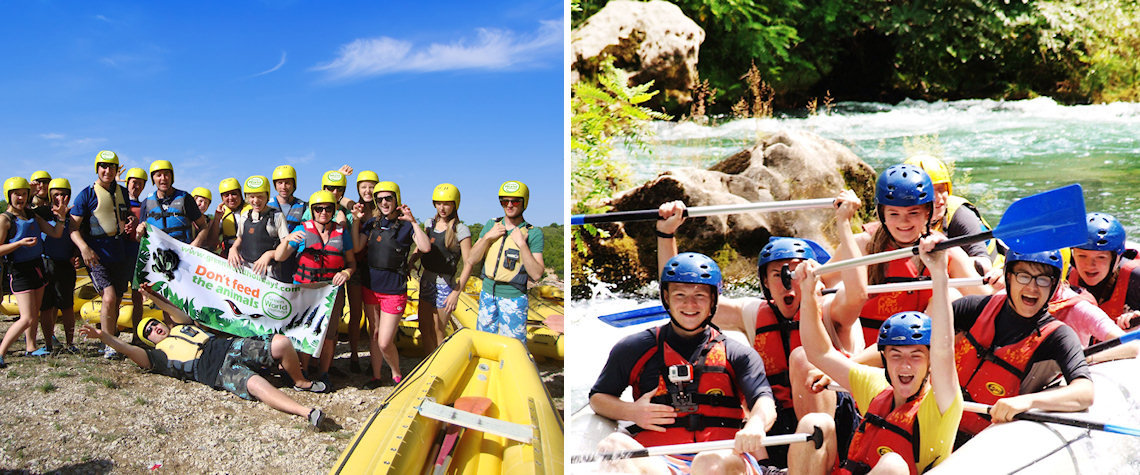 Mini rafting and white water rafting (Photo from Maria Budimir-Bekan)
In Croatia we say 'Hvala' for thank you, pronounced HVAh-lah.
But sometimes English speakers say 'koala' and then local people ask me to translate because they think that tourists are asking about koala bears! And so if a Croatian gives you a funny look when you say thank you, you will know why.
The other thing that we find amusing about some English people is when they wear sandals, and then put white socks on with them!
Croatians will always give a look and a laugh when they see that, and that is how they say they can recognise an English tourist, I'm afraid to say. I always wonder why - maybe they worry about the dirt of the terrain or something, but to be honest, there isn't reasonable explanation! They do make me want to scream 'Please don't', I must admit!
I love the smell of hog roast on this trip. We have that as our farewell meal, down by the river, after a day of canyoning. I just love the smell of that.
Croatia is famous for authentic food, and all organic and locally produced, so there are plenty of opportunities for vegetarians too.
One of the most popular questions from parents is, 'will I be able to get my teenagers out of bed in the morning?'
None of our activities, except the cycling one, start very early. The cycling we do, just because of the heat, but other than that we are aware of teenagers needing their sleep, so we don't start until 9.30-10ish. I have had to do a few bangings on the door, but rarely and that was usually a bit of a joke. Usually they are excited to get up, to be honest, so it isn't a big problem.
We do sometimes get pushy parents, but with a group of 16-20 people, they usually end up having to adjust and fit in.
They can't race in front of the guides, for example, so eventually they have to find their own place within the group, and by the end of the week we are all in sync anyway. We get competitive dads, but we also get competitive teenagers - they want to compete with their parents a lot, although they do usually win!
The toughest bit of this trip is always saying goodbye.
For seven days I am with those people, from the minute they arrive at the airport, until they leave, with all those activities and mealtimes in between. You really do get close to people, and you wouldn't want to see me after my group has just left. You do feel as if your friends have left and that some of them I might never see again. It might only be a week, but it is quite an intense and precious time, so it feels like a lot longer.
When I am not working, I guess I love to just hang out having coffee, which is very much the Croatian thing.
In England when you meet someone for a coffee, it is for half an hour or an hour. In Croatia, that can take up to two hours. So that is where you will find me, outside here in Trilj, in a café having coffee with my friends, and having lots of long, long conversations!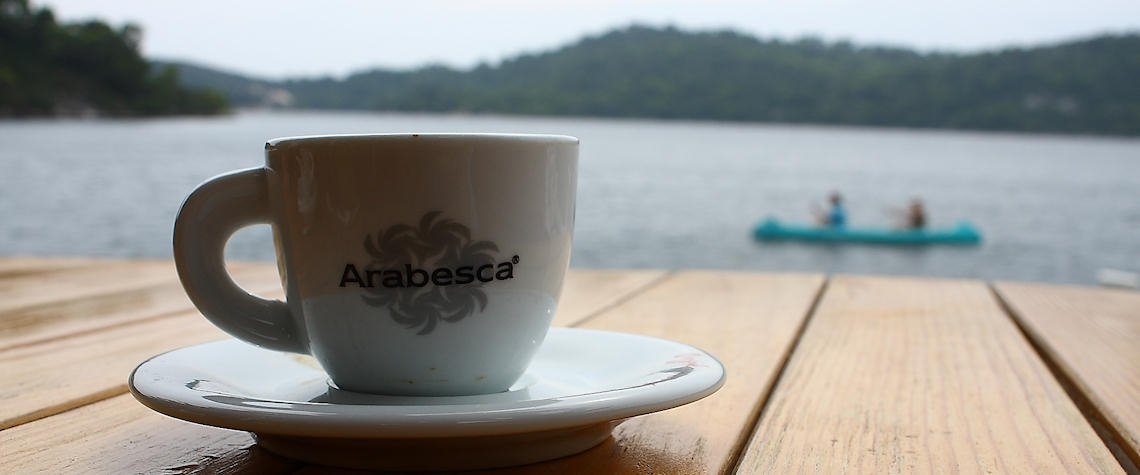 Croatian coffee (Photo by
Bruno
)
The most important part of this trip is for people to be with their kids, enjoying doing stuff together. People don't get to spend as much time as they used to with their kids, so it is a perfect opportunity for this.
Sometimes we get families who come and are surprised that they aren't getting a private family tour. But the thing is, this is a trip where the social atmosphere is the almost the biggest part. So if you are not ready to be around likeminded people, have fun with the other travellers and tour leaders, it won't be for you. For teenagers, hanging out with other teenagers makes it easier for parents to enjoy the trip and for the tour leaders too, to be honest.
For me, the best thing, when I really want to say 'Yes - we did it!' is when kids forget about their screens when they are on this trip.
Spending a week without their screens, forgetting about Facebook, Twitter or going around Snapchatting everything, not even talking about it, that is amazing these days. It's like bringing the holiday back to the true sense of what it was in the past, spending time with other people, and going off and exploring, that is just brilliant.
Find out more about this trip
Continue reading about this
Croatia activity holiday for families with teenagers