Traveller interview: Rosemary Chinchen on her Cyclades walking holiday in Greece
See / go back to these
Cyclades walking holiday in Greece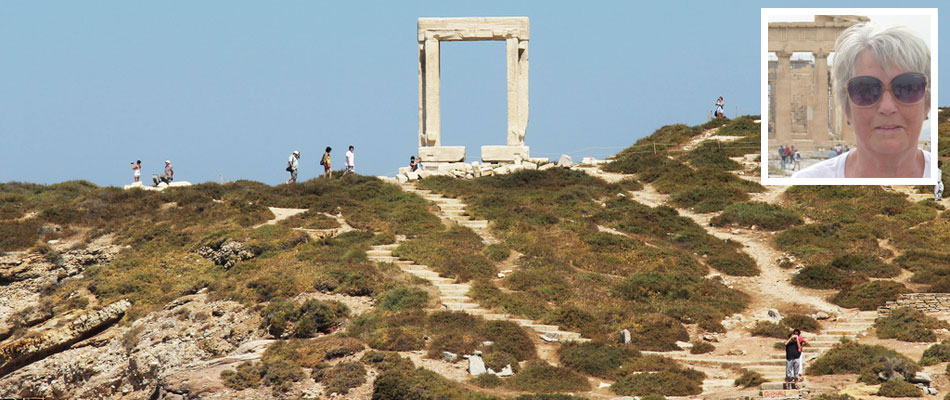 Rosemary Chinchen gave us a five star review of her Cyclades walking holiday in Greece, which she went on in April. She loved it so much she agreed to chat about it with one of our travel writers, Catherine Mack and her words capture the Cyclades scenes just perfectly.
What made you want to go to the Cyclades on a walking holiday? Had you been to Greece before?
No, I hadn't been to Greece before and it has been on my list of places to go, and I do travel quite a lot. A couple of my friends did the same trip last autumn and they had filled me in on it a bit. It was leisurely walking which suited me, because although I am in a walking group and do enjoy a strenuous walk, I prefer a leisurely pace if I don't know the people I am walking with.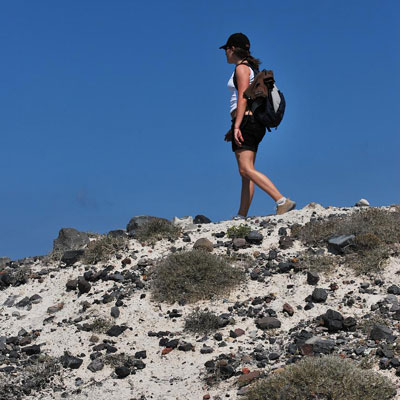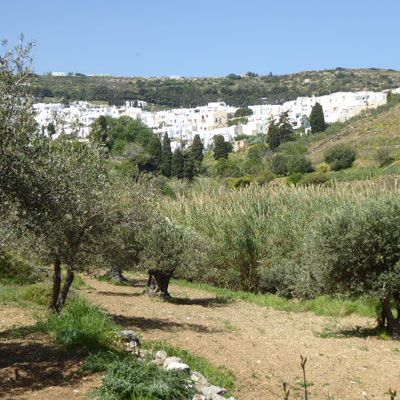 Walking photo by
Ana Raquel
and trees photo by Rosemary Chinchen
Is that because you don't want to feel under pressure?
Yes, that's right. I have got a slight problem on and off with my lungs, and in my walking group we usually do seven or eight miles, and last weekend we did the Brecon Beacons and I climbed three mountains. But that's with people I know. I wouldn't want to turn up for a holiday with a lot of people who were extremely fit!
So did you enjoy the pace?
I enjoyed the holiday very much. If it was a full on walking holiday I probably wouldn't have enjoyed the pace. But for what I did, I thought it was brilliant. I really loved it. Because it gave me enough exercise without being over strenuous, and it was very relaxed. I think one of the girls in the group got a little frustrated with not walking further and faster, but the rest of us were fine. We went there for a relaxed, enjoyable walking holiday and that's what it was!
How many were in your group?
There was one man and nine ladies! There was one couple where the gentleman was in his late 70s and the lady was 70 this year. I was the next one down in age, I am in my late 60s, and then there was one more lady in her early 60s. The rest were in their 40s and 50s, and working, professional people. And it was a lovely group. From the first time we got on a boat, we all sat along the back row with views out to the islands and our feet up on the rails. That always became our seat on each ferry journey with us hogging that back seat together! It was brilliant.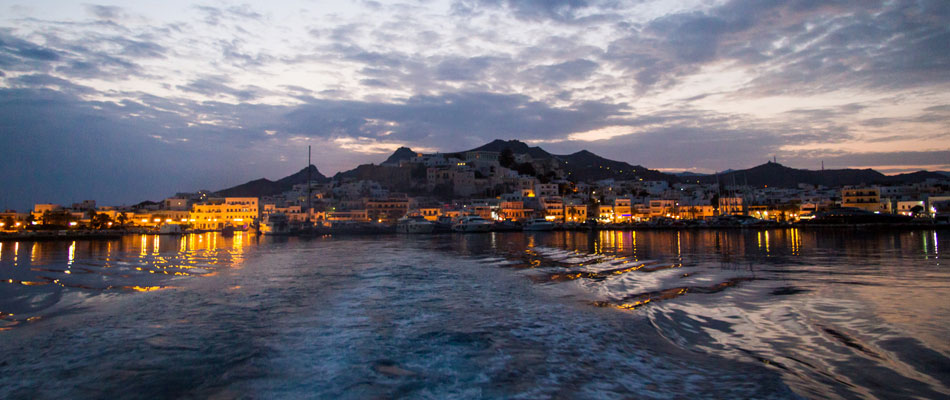 Ferry in Naxos. Photo by
TimOve
.
So you have done group holidays before then?
Oh yes, I go on group holidays all the time, probably three or four times a year. I am happy to go from camping to five star luxury, and also anywhere that takes my fancy. I've been to Finland, for example, and stayed up all night in one of those hides watching for bears all night, and things like that. I'm up for doing most things. Although I am trying to long haul travel at the moment, because I feel it is limited to a certain age. It gets more difficult as you get older to sit in cattle class for 12 or 13 hours.
What is the most useful thing you packed?
I always overpack! I always have my Berghaus rain jacket which comes everywhere with me, but we happened to have good weather. I had packed for cool evenings, with a couple of lightish fleeces and a duvet type jacket for the evenings. I also always have a sun hat, as it did get up to 25°C during the day. I certainly didn't need a woolly hat early mornings or evenings as it was around 17°C at that time.
Did you swim on the trip?
I did, yes. I swam in both a swimming pool and also in the sea. There were swimming pools in all the hotels but they were all outside and not heated and so they were still pretty cold in April. So I only went in one of those. It was colder than the sea actually, which wasn't as cold as it is here in Dorset in summer. So, it is always wise to bring your swimming costume on this trip. Another good thing to bring is a travel towel or a sarong. I always have a sarong with me which acts as a towel.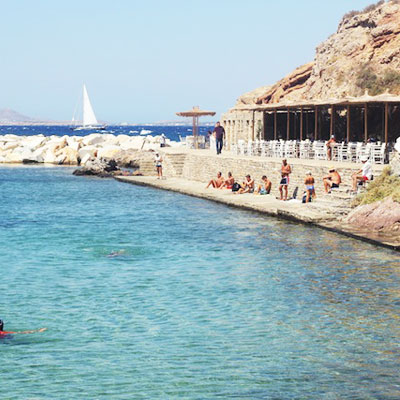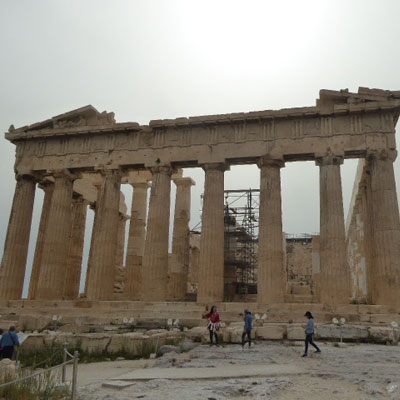 Swimming photo by
currystrumpet
and walking photo by Rosemary Chichen
Did you learn or use any Greek?
No! I couldn't get my head around Greek at all! I try a little bit with most languages when I travel, at least 'please' and 'thank you' but I just couldn't get to grips with Greek at all.
What is your favourite souvenir or present?
I always have to get certain things when I travel anywhere. First of all I always send postcards to my grandchildren. And then wherever I go I have to bring a fridge magnet for myself and one for my daughter. I often bring back (and I did this time) a calendar, and the other thing is a Christmas tree decoration. In Greece I got a little bell, from Santorini, like the church bells there. My granddaughter has come round the last two years to decorate the tree with me. It has all sorts of things on it from all over the world. I started this nearly 30 years ago when I went to Florida with my husband and we bought something from the Disney shop in Florida. My husband died 18 years ago and I have been travelling ever since then, and carrying on this tradition.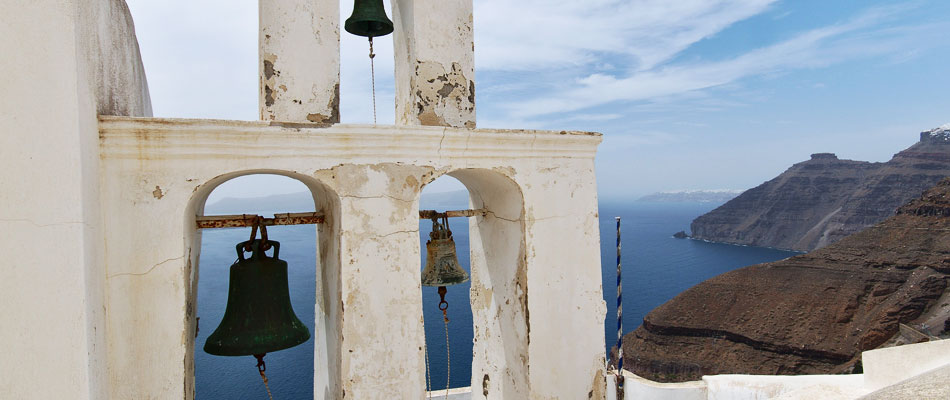 Do you have a particularly special decoration from your travels?
One of my most precious ones was from 2008 when I went to Libya. We were walking through a souk in Tripoli and I saw these branches covered in decorations. I asked the man if I could buy one and he said sorry, but they weren't for sale. I said, oh that's a pity, and walked away. But he came after me and said 'here you are. That's a present for you'. It is just a pale green bauble with glitter on it, but I just value that one so much, because it was so kind. In many countries, stall holders are trying to sell you everything, and he just gave it to me; I was so touched. And especially with everything that
Libya
has been through, it is just very special to me.
Were your preconceptions very different from reality on this Greece walking holiday?
It was even better than I hoped. I just loved it. I thought the islands were all different, all unique in their own ways. It was the perfect time of year, not too hot for walking but just absolutely perfect. I was really looking forward to it but it all lived up to what I expected and more.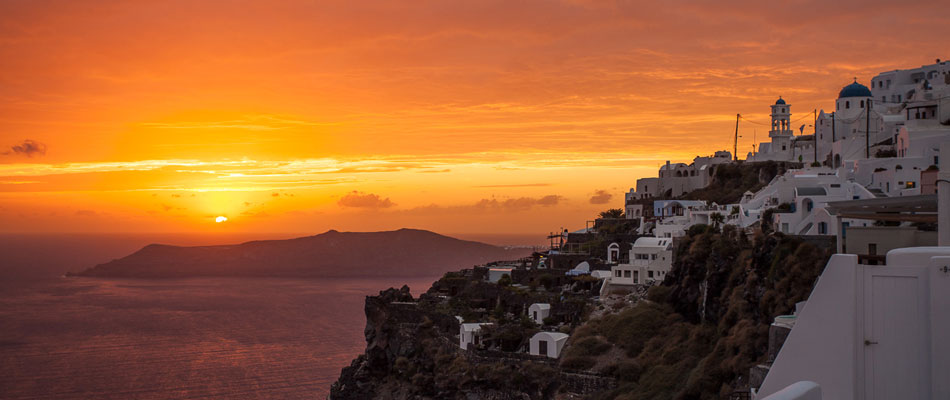 Where was your best sleep?
I really enjoyed Naxos. It is the first island we went to and I loved it. We had a lovely hotel there, which was like a boutique hotel. Although the hotel in Paros was by the beach, so that was lovely too, to wake up and look out to the sea.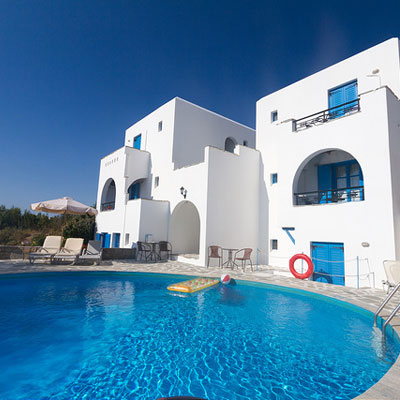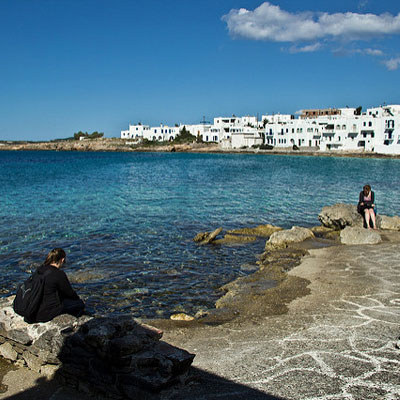 Do you have any sense memories from your trip, other than 'sight' ones?
Probably the smells. Being that time of year there are all the wild flowers and herbs such as thyme or sage. As we went along, the guide would pick some and pass them along for us to smell. Also, the smell of the orange blossom. At one café in particular when we ordered orange juice, he went down to the bottom of the garden, picked some oranges and came back and squeezed them! It was just a beautiful time of year to go. Things were still green and fresh everywhere.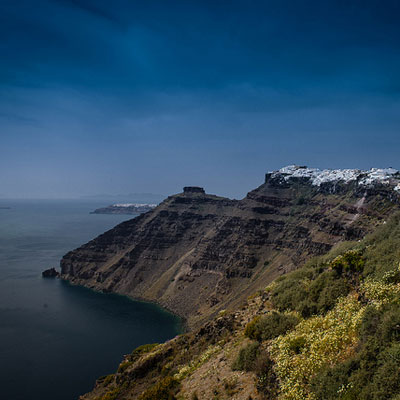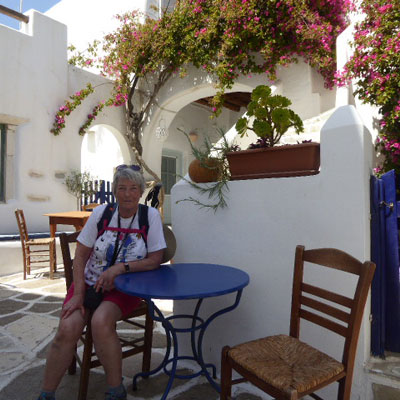 Coastal view photo by
Winniepix
and café photo by Rosemary Chinchen
Was there one local person that you met whom you will always remember?
Oh yes! We went to a big fat Greek wedding! It was the last night and it was so funny. When we got to the restaurant it was empty, but the guide said not to worry because there was a wedding party coming in later. And sure enough, in dribs and drabs the wedding party came in, with music playing and people dancing. And then the bride and groom arrived. The groom was a small man and the bride was rather large and seven months pregnant! We were there when they cut the cake, and we had our photos taken with them, and it was all just fantastic!
Was there anything that you were worried about that turned out to be OK in the end?
I was a little bit disappointed that I couldn't make it to Athens before the trip, and there was nothing on the itinerary at the end of the trip. But our leader guide was great because he got us back to Athens with an hour to get around the Parthenon before we left, which was perfect. It would have been a terrible shame to go through Athens and not see the Parthenon.
Has this trip influenced where you would like to go next?
I would like to go back and see more Greek Islands in a year or two years' time, especially it is very easy to go island hopping. So, the trip has influenced me in that way.
Find out more about this trip
Continue reading about this
Cyclades walking holiday in Greece