Traveller interview: Lyn Hill - Kerala and tropical India cycling tour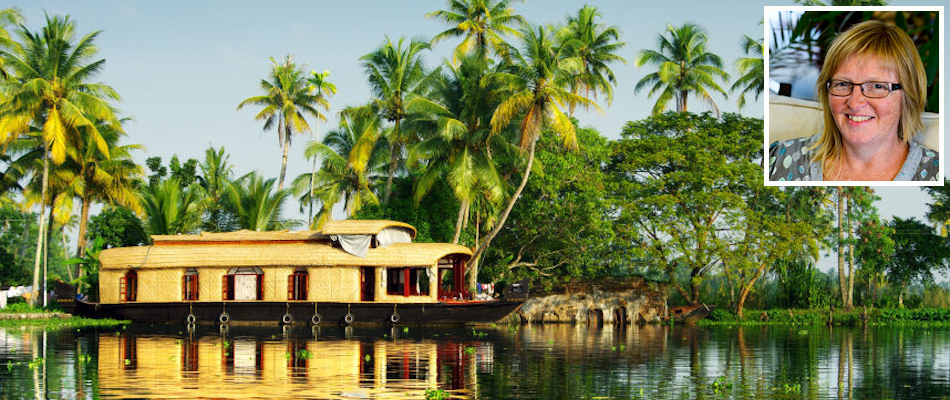 Kerala houseboat and (inset) Lyn Hill
What made you want to go on this holiday?
We didn't really want to go to India on our own, me and my partner - well, we could have, but we didn't have the confidence to do it. So as this was an organised tour, and we both like cycling, it fitted the bill really. We flew into Bangalore and then travelled down by minibus to Mysore, and then from Mysore we cycled everywhere into Kerala and flew out of Trivandrum. And yes, I was sore. All I can say is chamois cream works!
Were you worried about the cycling at all?
I had never done a cycling holiday before, and I was nervous about it. Particularly about not being fit enough. There was a range of people from mid to late twenties to a couple around sixty. So we fitted in the middle. But the sixty year olds were the fittest out of all us. I was the unfittest in the group and I'm not that unfit. So I was fine - a couple of days I did think 'ah, I am at the back of the pack again.' When you are in with the group, it is much easier because you were chatting with people and so on. However, you never get left behind really, as the support vehicle is behind you. Not always in sight, because they don't sit on the back of the wheels. So sometimes you don't even realise they are there, but they always appear when you need them. And if you get really tired, you can always go in the support vehicle anyway.
How did you rate your guides?
We had three guys with us all the time, one head guide Joseph, who was fantastic. He made the trip. He made a good trip superb. And the other two guys on support - Michael was driving the support vehicle, and Rintu was also a support guide, usually found at the back of the cycle group. Both were wonderful. They were all Indian and local, and very dependent on this job, and in fact wished there were more such trips so they had more work.
What is the most useful thing you packed?
The most useful thing was the water bottle. Everyone should bring their own, as they use giant water bottles to fill them up to reduce on waste. Cycling gloves were a must - I wasn't going to take them, but there are some very bumpy roads, so if you do come off, it protects your hands. And also, in Kerala the temperatures were so high that your hands sweat a lot, so you are able to control the bike more easily with gloves.
I also over packed. Just too many clothes, mainly because we didn't know how hot it was going to be, or how wet, as it was just at the end of the monsoon. So I thought we might get wet during the day, and not be able to dry clothes out, but in fact it was fine. We only had one or two wet days, and so you do need a waterproof, but all our cycling gear dried out quickly. It wasn't too humid not to dry them. I had five cycling shirts, two pairs of padded shorts and a couple of pairs of overshorts, and that was fine. But it was the evening clothes, I had far too many of those. You are in different hotels, so you end up packing and unpacking all the time. So definitely travel light.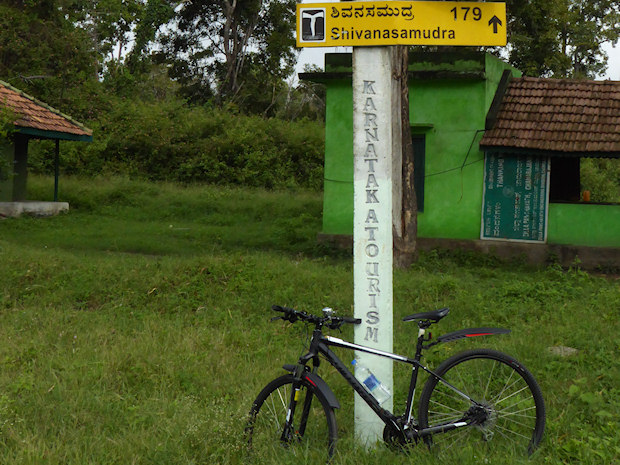 Bike, complete with essential water bottle!
Any other tips?
I had different bags, which really helped. So, a bag of cycling gear, a bag with change of clothes and bed clothes and then a bag of smart clothes. Oh, and don't worry about bringing your own snacks, which they advise you to do. There were so many brilliant tea breaks at roadside cafes, always with a freshly prepared snack, like a banana fritter, en route. All paid for out of the group kitty. I ended up just leaving the snacks I had brought there. I didn't eat any of them.
What is your favourite souvenir or present?
I have a few favourite gifts and souvenirs. For friends, spices from the markets or local supermarket, where Keralans buy them in Cochin were great. One looked like a dead mouse, but it turned out to be a mace flower! I gave it to a chef friend when I got back, who knew what to do with it. But for me, I have two other great souvenirs. In Cochin we went shopping on Bazaar Street, where real life happens, with tea dealers, rice dealers and so on. I am a freaky DIY person, and love nuts and bolts, and there was this guy who had a shop full of them, with boxes full of different nuts and bolts. All marked in pencil, with the measurements of each. Hundreds of them. I asked him if he minded if I took a photo and he looked at me as if I was mad. Then I noticed this pile of hessian sacks, with Indian writing all over, and I asked if I could buy one, but he said he just used it for wrapping, and wouldn't take any money and gave me one. I am going to use it to keep my vegetables in.
Oh, and also, I was admiring the giant peppercorns hanging from these trees at a farm that we visited in the Bandipur National Park. And the lovely farmer gave me one to plant at home. I did declare it at customs on the way back, as I wasn't sure if I would be allowed it and sadly I was right. But the customs person did advise me that, next time, it is best to remove all the soil, wrap it in a damp cloth and then declare it. And it might be fine to bring through then, as it is the soil that worries them.
Were your preconceptions very different from reality?
I was worried about travelling in a group, as I hadn't done that before - just that idea of being herded like sheep really. But it was great. I really, really enjoyed it. Much more than I thought I would. Whether we were lucky or not, I don't know, but it was just a fantastic group. There were no real leaders or laggers, everyone just blended really well. That was helped by having a really good guide as well, but the group was really great, always happy and amenable. And so, if he asked where we all wanted to eat that night, we all just said 'find us a place that you like and we'll all just go there'. There was nobody being difficult, so I think that helped.
Also, I actually found it quite nice for a change, the group thing. Because I didn't have to think - what shall I do today? I just got up, got on my bike and did it. Which was actually really refreshing.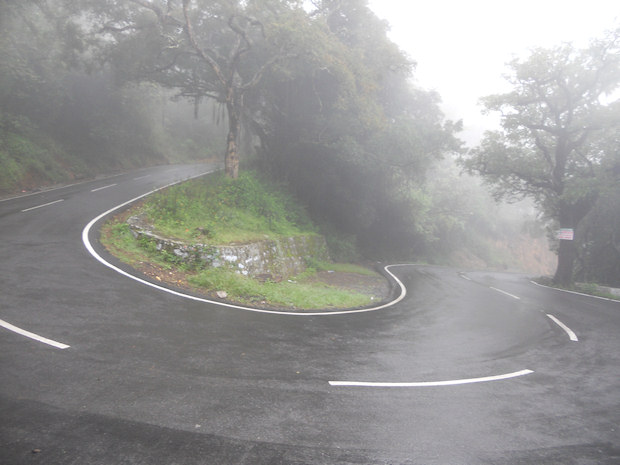 Up to Ooty hill station in the mist
Where was your best sleep?
There was one hotel at the top of Ooty after the toughest day of cycling - 13km all the way up hill, with 36 hairpin bends - to Ooty hill station, with another 20km after that. I did do it, even though it took me four hours! Anyway, it was a lovely posh hotel. And probably the best sleep too because I was knackered! Sadly, we didn't get the views because there was lots of mist that day. The next day was 54km downhill though, which was great fun!
Another great sleep was on the houseboat on the Kerala backwaters. We had a 'day off' that day, so just sitting on the boat, having a glass of wine, watching the world go by as we moved through the backwaters was just lovely. We put all our bikes on board, with four boats between us, and we transferred to our next destination that way. Very cool cabins too, with our own ensuite bathrooms and everything.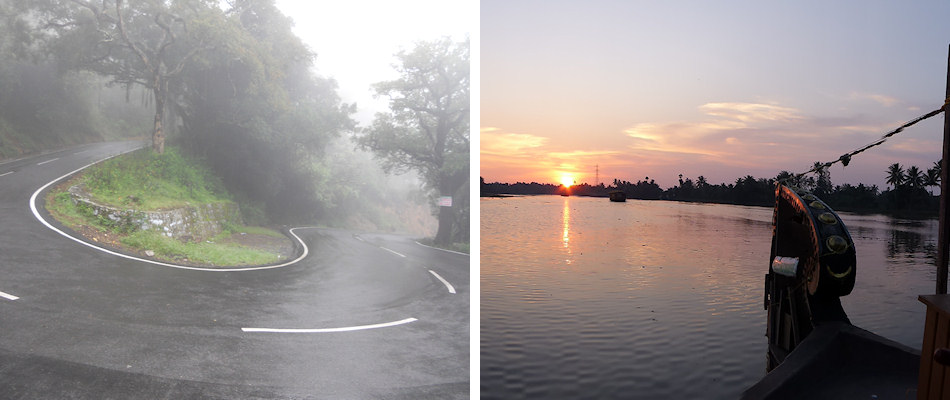 Up to Ooty hill station in the mist / On the houseboat on the Kerala backwaters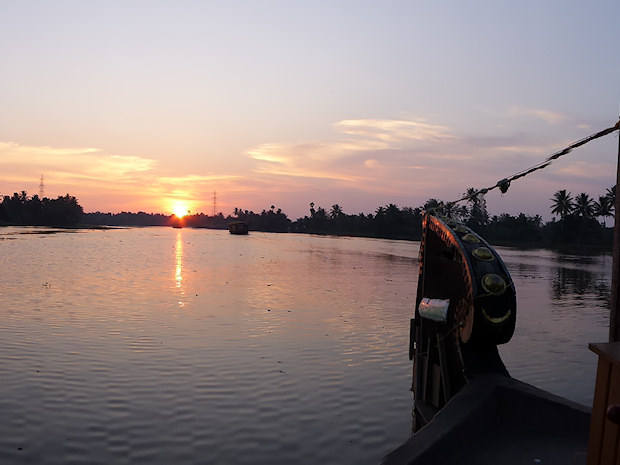 On the houseboat on the Kerala backwaters
Did you have a scary moment?
Just near the checkpoint from Tamil Nadu state into Kerala, we were coming down this hill and it was getting busy, with lots of lorries coming to a stop. For the checkpoint. So, I went on the outside of the lorries, very very carefully, using my brakes - but still, probably a bit faster than I should have been. I went round a bend and met a truck coming towards me. So, I jumped on the breaks, and the bike went up and over. I managed to keep on my feet, which was good, but that was scary. The lorry driver did slam on his breaks, however, and checked that I was alright, as did a couple of other people. I was absolutely fine, it was just a bit scary.
Generally we were on very rural roads, so they weren't busy, but they are mad drivers. In Mysore, on the first day we arrived, I thought 'I can't even cross the road on foot, let alone cycle' and so that was really nerve wracking. Because you are competing with cars, lorries, tuk tuks, cycles, pedestrians, cows, hens, dogs, kids. Anything, really. But after a day, you just get into it. Because there is a rule of the road, we just don't know it. They indicate by a little nod or a wink, or a shake of the head, which we wouldn't even notice. But we very quickly got confidence within our space and got on with it. I reckon if you can cycle in India, you can cycle anywhere. And also, our guides always made us feel that we were safe at all times. But basically every day brought its new adventures, from cycling through Mysore to cycling through Bandipur National Park. Just amazing.
Do you have any sense memories from your trip, other than 'sight' ones?
Every single sense was bashed every single day. Smell, sight, taste, heat, just everything. That's why it is amazing to travel by bike. The smells were great around the food, but hideous around the rubbish. But it's like anywhere, you get used to it. But it was really an assault on the senses. Particularly food and spices, or cooking. That has stayed in my head.
What I did miss was the feel of water, however, as I am a very keen swimmer. I craved it a bit, especially as it was a hot country. So, when there was a hotel with a pool, I jumped in straight away. Even if it was raining. I also swam on the last day at Varkala at the beach, and a couple of places in the sea en route, which was great. So, I always had my swimsuit nearby in my hand luggage.
Did you tip the leader and guides?
We did tip our brilliant guides, and because the group was so amicable, this was very easy to sort out. We organised it over a few beers by the pool on the last night. We all agreed on a split between the guides, with the main leader guide getting a bit more, and suggested a fixed amount. But actually it was up to everyone what they put in, if you could afford more, fine, and same if the you couldn't stretch to that amount. It was all just put in an envelope and given to the guides over dinner later on. As for all the other tips along the way, we put money in a central kitty, and our guides handed out tips to everyone in restaurants or hotels etc. Although sometimes I did give a bit extra to baggage boys etc.
Anything you wouldn't recommend about the places you visited?
We visited a lot of temples, which were amazing, but possibly for me, there were one or two too many temples. We had detailed guides too, who are great. So at Mysore Palace we had an amazing 80 year old guide who was so passionate about the palace, and he knew the details of everything, including the hallway of 36 giant paintings. So, that was a bit much for me to be honest. Of course, you don't have to go inside, you can always just sit outside under a tree in the shade. But that is just in the nature of being in India. There are so many temples and palaces that they are rightly proud of.
Do you have a favourite photo?
Probably one of Angie, my partner, sitting on her bike, by a railway crossing waiting for the train to pass. There were lots of people waiting on either side of the crossing, so it was great for people watching. The photo is just Angie on her bike, a big brightly coloured lorry with sugar cane on it behind her, and in front of her was a man on a motorbike, with granny on the back wearing big pink sari. Another favourite photo was taken about ten seconds before the train passed, when a calf just sauntered across the road, just being missed by the train. And then carried on walking as if nothing had happened. And of course local people didn't even react. I asked the guide, what would have happened if that calf had got hit? 'Oh nothing, it was nobody's fault. Just a stupid cow!'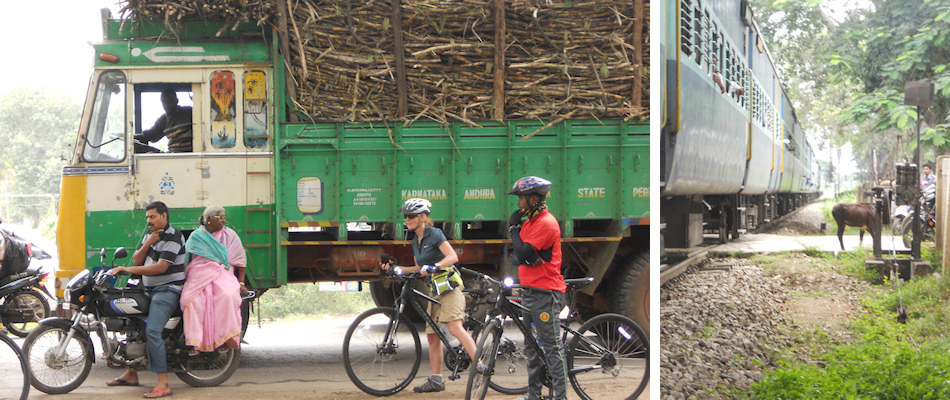 Waiting at the railway crossing / Calf crossing the tracks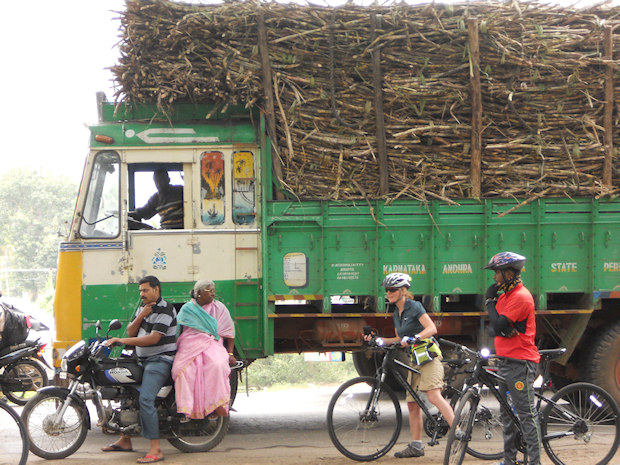 Waiting at the railway crossing
Has this trip influenced where you would like to go next?
Yes, I definitely want to go on another cycling holiday, and on a guided, group one too. Perhaps to Cuba. I would probably do a self-guided cycling holiday in Europe, but I am not really that confident travelling in countries where I don't speak the language. And also, it was just great having the logistics sorted on a group tour.
Find out more about this trip
Continue reading about this
Kerala and tropical India cycling holiday