Traveller interview: Francesca Kitto-Jones , on her Jordan small group holiday
See / go back to this
Jordan small group holiday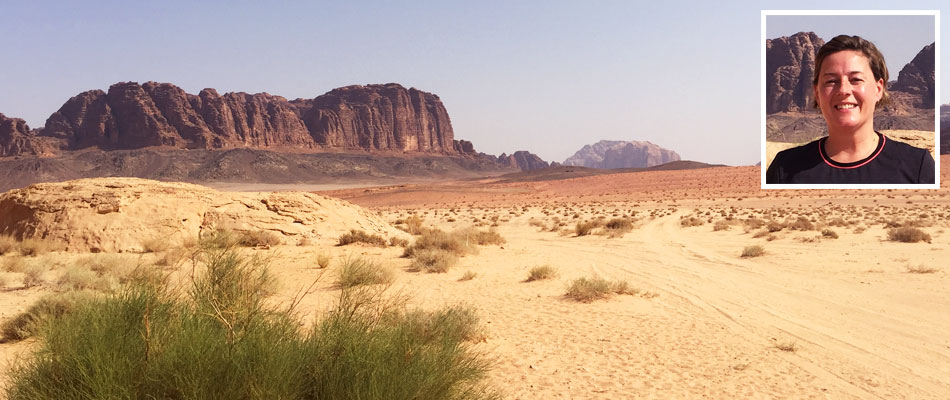 Wadi Rum & Francesca inset. Photos from Francesca Kitto-Jones.
Francesca Kitto-Jones had a last minute, spontaneous need to get out into the desert and joined a small group tour going to Jordan in September. She had never been to the desert before, and she wasnít disappointed. She shares some of her stories and tips in a chat with one of our travel writers, Catherine Mack
What made you want to go to Jordan?
I had never been to the Middle East before and it is going to sound ridiculous, but I just wanted to see a proper desert! I have done a lot of stuff, sailing and other stuff on water. I ski, so I have spent time in the mountains. And I have seen beaches of course, but I have never seen a proper inland desert. I have been to the US and flown over the Grand Canyon and things, but I wanted to see proper, remote, sandy desert.
Did the desert live up to expectations?
Absolutely! It completely took my breath away. I was literally Ďdeep intake of breathí when I saw it; I was properly wowed by it. I had driven down the Kingís Highway from Amman, and been in a 4X4 for four hours, got to this hill, drove up it and then the driver said, ĎOK, what you are seeing now in front of you is Wadi Rumí, and it was just spectacular. Just a vast, vast, as far as the eye could see, expanse of sand, rock and looked like it was almost not of this earth. I was properly blown away by it, actually.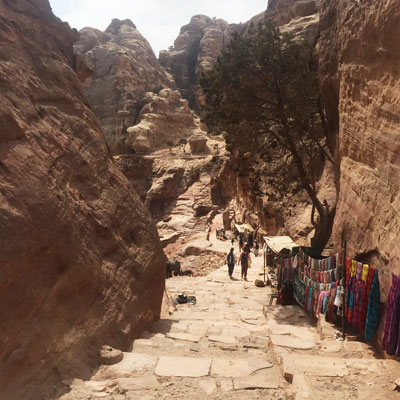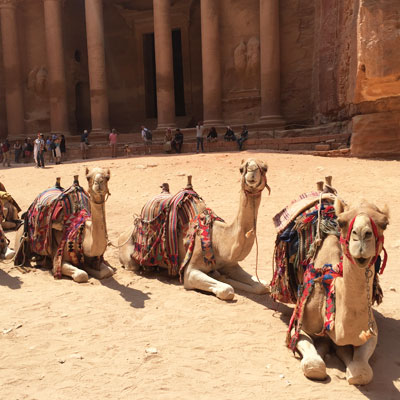 Ancient steps and camels. Photos by Francesca Kitto-Jones.
How many were in your tour group?
Eleven of us, 12 including our guide Amer, which was just perfect. As a group we got on like a house on fire, and had giggles when we were in our little minibus, had good fun banter, although we were quite different in ages, backgrounds and experiences. But we just all gelled really well. Our tour guide, who had studied English to Masters Degree level, was amazing. His sensibility about the English language was marvellous. He had such a good turn of phrase, knew a lot of the nuances and idioms of the English language and it really made a difference. So when we were having quick fire banter, he was in there with us! It was lovely.
Were you wary of going to Jordan at all, safety wise?
Not at all, it was a pretty last minute decision to go there to be fair. I did have a quick look at the Foreign and Commonwealth Office advice, but I think that was after I had booked it! I know it is a moderate country, and you never really hear bad things coming from there. A lot of people have asked me the same question, but security didnít really cross my mind at all.
What is the most useful thing you packed? Or was there anything you wish you had packed but didnít?
I wish I had packed my flip flops. I had my walking boots and some trainers, but when we went to the Dead Sea resort I really needed some flip flops to get from the changing room down to the Dead Sea. I ended up wearing my trainers and they got covered in mud and all kinds of stuff. So something slip on would have been handy. What I did do in terms of packing this time, as I had brought a rucksack, was to bring lots of little individual packs, with t-shirts in one, underwear in another, and so on. So when I pulled something out of my bag I didnít just shower them all over the room. I found that really useful.
Did you buy any souvenirs?
I am not a huge souvenir buyer, but I did get a couple of small dishes, and of course I got a fridge magnet because youíve got to have one of those! We did go to a centre in Madaba where they produce lots of mosaic items, and the people they employ have special needs of some sort. They sell lots of handmade crafts from hand woven silk rugs furniture and little dipping dishes like I bought.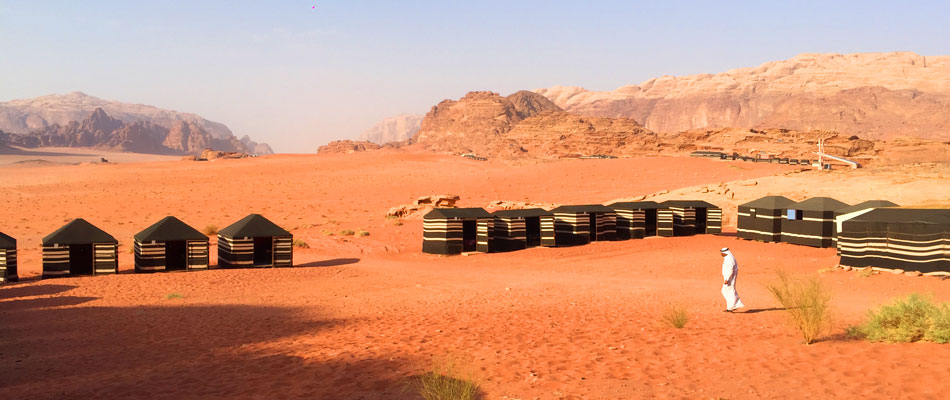 Bedouin man crossing desert. Photo by Francesca Kitto-Jones.
Were your preconceptions very different from reality on this trip?
I think that because I hadnít given myself that long to think about it, it felt as if I had gone without any preconceptions at all. Everything I had seen on the news about Jordan was about the millions of refugees who have come across their border. And also because I know that Amman is a pretty wealthy city, I thought that it would be a country of opposites. Which it is, but I didnít have major expectations really.
Where was your best sleep?
Not a great question to ask me, because Iím not a great sleeper at the best of times! But, I do have to say that the desert was probably the best sleep. Just because it is so beautifully quiet, and I know that would disarm a lot of people, but I quite like quiet and dark. And clean air Ė that was gorgeous. We were sleeping in a Bedouin tent which was nice actually. I donít know what I expected, something from Lawrence of Arabia probably, with great flapping sheets of cotton and silk floating around the place! But they are substantial, heavy hessian canvas, and with a fairly solid floor, so less tent like than I was expecting.
Did you need a sleeping bag?
I had one with me but I didnít really need it. I like to be covered up when I sleep, but most people didnít use their sleeping bags at all. I guess if Iíd known that, I wouldnít have packed it and made a bit more space in my rucksack. But still, I was glad I had it with me.
What did you think was going to be hard that turned about to be ok?
Iím a bit of a picky eater, and so when I go away anywhere, I am always a bit concerned that there is going to be something I can eat. Also I donít eat meat, and I didnít know what sort of diet they had, but actually I was more than well catered for. The vegetarian food was very nice, and on a couple of occasions I had really beautiful seafood. I know all the other people in the group loved the meat they had too, so no problems there.
What about Petra? Did visiting it live up to expectations?
Oh, and beyond! I had no idea how vast it was even though I read up on it before I went. It is so impressive. And of course we were rather spoilt, because although it is terribly sad for the country that tourism has fallen recently, for us it meant that we had loads of space to enjoy Petra.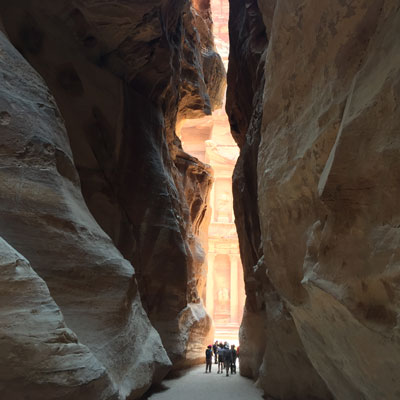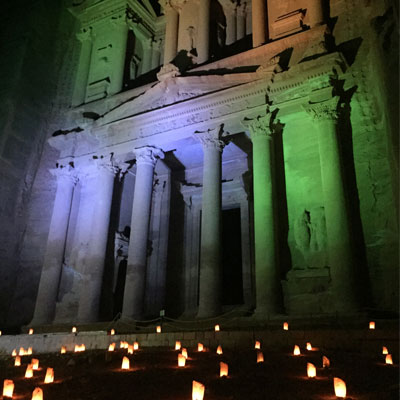 Heading towards The Treasury and again by candlelight, Petra. Photos by Francesca Kitto-Jones.
Do you have any sense memories from your trip, other than Ďsightí ones?
I guess the desert, but probably because I was so overwhelmed by it generally, and it is hard to say what it smells of. But just super hot air. You are constantly dripping with sweat, so it is pretty revolting really! There is a bit of a breeze so it is a bit like standing in front of a hairdryer. In September it didnít get that cold at night, as I know that happens in the desert. Even in the wee small hours of the morning, it was still nice.
Was there one local person that you met whom you will always remember?
We met our tour guideís wife and son, which was lovely. He also arranged for us to have dinner at the house of a Bedouin lady, whose family were from the tribe that used to live inside Petra. Obviously they are now settled elsewhere. She lives with her elderly aunt and some children who werenít hers, but whom she had taken into her home. She did an amazing spread for us and a delicious vegetarian meal for me too. With lentil soup for start, and then rice with goat and camel milk sauce which is a traditional dish. I had read a lot about the traditional Arab welcome that you get in Jordan and it was certainly true of this lady, and indeed from everyone we met.
What is your favourite photograph?
Probably one that I took of the desert that I use as my cover photo on Facebook now. It really is just an expanse of red sand, and huge boulders rearing up out of the ground. So because that is what took my breath away first of all, that is the image that is always going to stay with me.
And finally, Francesca, has this trip influenced where you would like to go next?
Yes, it has made me think that I would like to go to more places that are a bit more unusual. As opposed to the standard ĎIím going skiing in winter and sailing in summerí. I definitely want to do something a bit different again. So, I guess that this trip to Jordan has made me braver in my holiday choices. I havenít ever had a big need to travel really far from home, but now I would love to go somewhere like the Falklands and Antarctica, but itís a bit out of my price range! Iíve been a bit boring with my travel destinations and so with a combination of having experienced a very different culture, but also just where I am in my life, I think I am ready to take another step out of Europe. I also liked the fact that I didnít think about it too much before booking, so I didnít have time to get scared, so that was good. I must do more of that in the future!
Find out more about this trip
Continue reading about this
Jordan small group holiday