Traveller interview: David O'Leary, on his Maldives wildlife cruise holiday
See / go back to these
Maldives holidays, wildlife cruise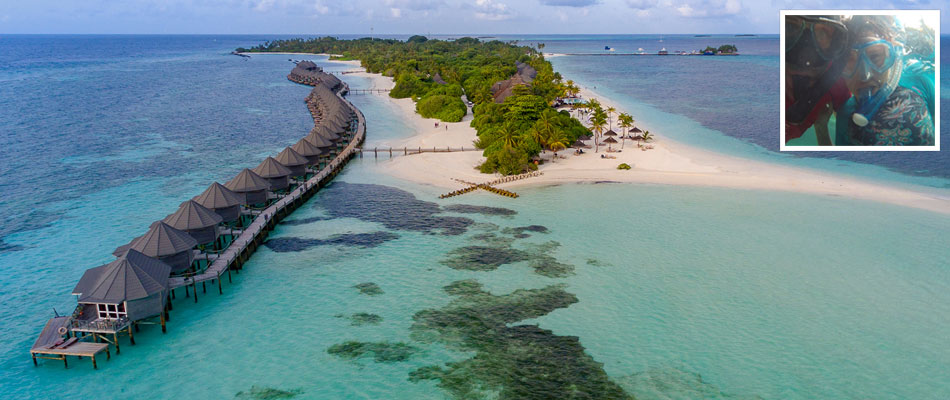 David OíLeary, who lives in Ireland, chats with one of our travel writers, Catherine Mack, about the joys of a wildlife cruise on board a small traditional gulet around the Maldives Islands. Manta rays, marine magnificence and Maldives culture. Read more of Davidís thoughts below, about how he went from being a nervous swimmer to totally confident snorkeler. For details of this trip see our
Maldives holidays, wildlife cruise
ďI had never done anything like snorkelling before, but it just blew us away. I know I had nothing to compare it to, but I just loved the whole thing.Ē
What an amazing holiday in the Maldives you have had, David. I presume you must be a bit of a water baby to want to go on a trip of this nature?
No not at all! My wife and I hadnít done diving before, and when we looked at this holiday, it looked as if snorkelling would be a good way to explore underwater without having to have too much training. We read up a bit, and people told us that we didnít have to be strong swimmers, although of course we can both swim. But we both liked being able to stand up in the water if we had to, and we could use a flotation device if we were more comfortable that way. We did practise for the trip during the summer, but snorkelling in the Atlantic off the west coast of Ireland isnít quite the same! But it at least got us used to using the snorkel, the breathing and all that, but I think we were still a little bit anxious before going over to the Maldives.
And how was it on your first day snorkelling in the Maldives then?
We had been out on the boat a few hours and the leader said ĎOK, we are going to hop out here, we are going to be floating for about 40 minutes in the water. I remember the two of us looked at each other and sort of freaked! But once we were in the water, I would say it is quite a high salinity there, we just floated along, were well looked after and it really was fine. In fact there were a couple of people even more nervous than us in the water, but the guide Kame (pronounced Kam-ay) was great at keeping an eye on us all.
This is great to know. A lot of people assume that you have to be a super confident swimmer or experienced snorkeller to go on a holiday of this nature.
Well, to put it into perspective, in a 25 metre pool back here at home, I could maybe get from one side to the other, but after that I would be in trouble, because my technique is poor. And I wouldnít like to float in the deep end for too long. But there, it was fine. You had your snorkel, the salinity was high so it was easy to float, even though I wasnít in a wetsuit. So, yes, 40 minutes out there? No problem.
Did you all snorkel together as a group?
There were six or seven of us in the group at the beginning, and some more joined us later. But we all stayed at least in sight of each other while snorkelling. We were all flowing with the current at our own pace, and the current kept us all together as a group. It was very relaxing, with not too much swimming involved. Just floating along.
Was it a special trip for you and your wife? A special birthday or anniversary?
It was a kind of honeymoon, I guess. We got married this time last year and we took a week away in Tenerife after the wedding. But we thought, letís do something nice for this first Christmas. We couldnít afford to go to the Antarctic, so we decided to go somewhere warm!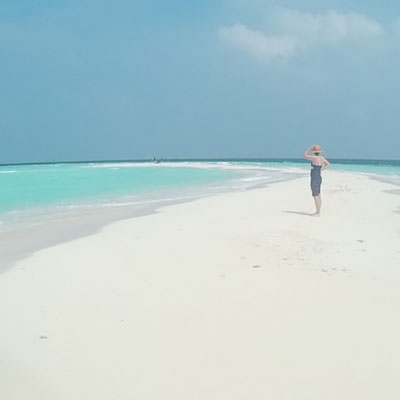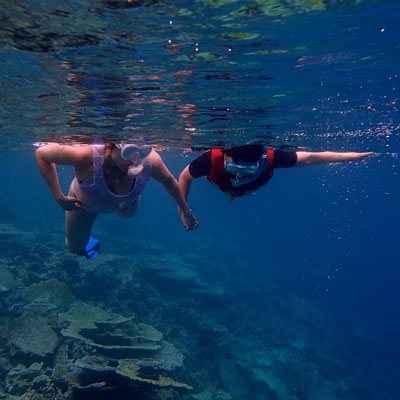 David O'Leary's wife & Maldives snorkelling. Photos by David O'Leary &
Ed Ralph
.
Are you are a keen wildlife person?
I love the idea of seeing wildlife on holiday, and combined with the fact that this was a smallish boat and had a focus on marine wildlife and seeing the reef, it seemed perfect. I have a background in zoology and science and I have a huge interest in wildlife. Our leader, Kame, is doing a degree in marine biology, and he really knew his stuff. Kame is his nickname, by the way, given to him by a Japanese diver, as he had saved a sea turtle a couple of years ago, and this is the Japanese word for turtle. We had an expert in whale sharks come on board to give us a lecture too.
What is the most useful thing you packed for this trip?
We tend to pack lightly anyway, and we knew that we would only require light clothes, ideally some with long sleeves to help protect from sun. as well as a hat of some sort. We brought our own snorkels and face masks, and I did get prescription lenses for mine; that was a great thing to have. We got rash vests that were UV protected. Coming from Ireland in the middle of winter, we were going to have to be very careful from the sun point of view. The vests were really good. There were a few people who didnít have tops on for the first trip or two and they got hold of vests pretty quickly, when they realised how exposed their backs were to the sun. And we had our Factor 50 covering everything else. Otherwise, I am glad we brought two sets of swimming togs as that was what we wore most of the time. On the boat we had bare feet most of the time, then flip flops or sandals for when we went onto the islands.
How did you dress on the islands?
The islands are predominantly Muslim, so out of respect we covered our shoulders and legs. We were all very good at that on our boat, but you did see some other tourists who had a lack of respect, which is such a shame really.
There is no alcohol on the islands either for that reason. How was that for you?
There was alcohol on the boat as that is allowed, so we could tipple away if we wanted to. Although it wasnít something we were too worried about either way, to be honest.
How was your group?
We had a lovely group and, not having done this kind of holiday before, the dynamic must play a huge part. There was a nice mixture of ages, from different countries, and we had good fun. We thought it might all be honeymooners, that sort of thing, and of course we were going on a sort of honeymoon ourselves. But actually, there was one other couple and lots of solo travellers too, which was grand.
The boat looks stunning. A traditional gulet, right? Do tell me more about that.
We wouldnít be fussy travellers in any way, but I thought the boat was beautiful to look at. Itís just a gorgeous thing. The cabins were basic, but what more do you need? We had our own shower and toilet, but we were hardly ever in our cabin, just for sleeping. We were out on deck all the time, lying out on shady couches or in the sun. It didnít feel crowded at all, with space for everyone to hang out and do their own thing. Sometimes you would go up to the front, or lie in the sun at the back. We ate outside on a covered deck at the back of the boat.
How was the food?
It was great. Mostly fish, and we love fish. Lots of tuna, some of which they caught off the boat. We donít eat meat, but there was chicken and other meat for people who did. You may have been a little bit more caught if you were vegetarian, but there were options, and always plenty of salads. We thought the food was fantastic. It was the job.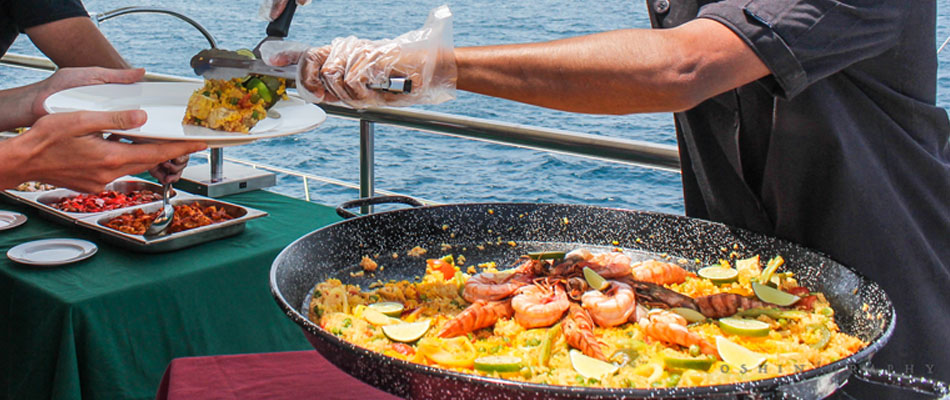 Did you sleep on deck?
No, we planned on doing that, but we never did in the end. It might have got a bit misty or damp, because sometimes when we came out in the early morning there was a fine film of water. Of course we could have slept under the covered area at the back and that wouldnít have been a problem. I think also because we donít really drink so much and we like our sleep, we went to bed a little bit earlier than the others, and there were a few who would have kept going a bit later than us on deck. So we thought we would just leave them to it!
Were your preconceptions about the trip any different than reality?
We extended our trip by a few days and went to one of the islands Ė we organised that bit ourselves. The island, Huraa, was a bit smaller and more underdeveloped than I had anticipated. To go somewhere local was really nice for a few days, but it was very different from the boat where there was something to do every day while also having time to chill, read a book and chat with the others. We had two snorkelling trips a day, so there was always something happening. And we were brought to different places so that there was always a different slant to what we were seeing. On the islands themselves you donít have that variety and on Huraa, the beach was small with not much to do. We knew it would be quiet there, which suited us fine. And we did several day trips from the island, including night fishing, turtle/shark snorkelling, as well as dinner on the beach on New Year's Eve whilst watching the fireworks from the nearby resort (we had better view than they did!). So in that sense there was plenty to do.
What about the coral and the issue of bleaching?
They have had a couple of very hot summers, so there was bleaching because of that, and apparently the colours of the coral might not have been what they were before. But there were certainly plenty of fish. The skipper and crew did their best to work with the prevailing conditions to make sure we were brought to a reef that was good.
Are there any wildlife moments you wonít forget?
Seeing the manta rays was amazing. I had thought we might see one gliding by or floating away in the distance, but we had our whale sharks expert with us that day, and also our leader, and they knew what to look for. We were lucky enough to find a spot where there were eight of them feeding in a trail, and we watched them from just above for nearly an hour. They were feeding away happily but I also think they were curious about us, because they could have gone off and fed anywhere. They were going in circles and loops, and we could see it all from a close position, floating just above them. We werenít at a reef, but had about 20 or 30 metres of water beneath us. It was mind blowing and was worth the trip alone. Also, we didnít have anyone else around, so we were very lucky.
Did you take an underwater camera?
I had a basic GoPro type of thing, but a cheaper version, which cost about 30 euros and it was grand. It was not much bigger than a matchbox and it attached to my wrist. For the memories it was brilliant.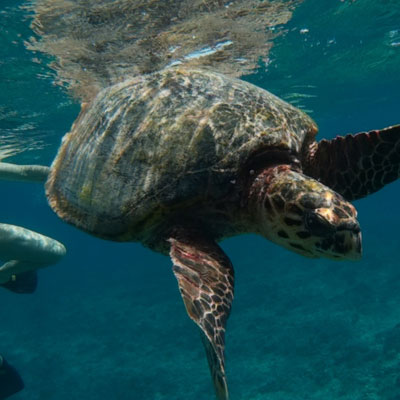 Turtle & Manta rays. Photos by David O'Leary.
Did you have any scary moments
On my first trip out snorkelling. I remember having the coral reef on one side and then a big disappearing drop on the other side. I remember looking and thinking, Ďah ok, thatís a sharkí Ė a white tip coming out of the depths and then disappearing again. I was slightly freaked out and then quickly thought, that is brilliant, I want to see another one of them! So I was keeping an eye on the deeper area. What I wasnít expecting was to then look into the shallow area and there was one swimming past! But by the end of the trip I was almost trying to chase them! I loved it. It wasnít as scary as I thought it would be, and itís amazing how quickly you feel safe and comfortable. We had had plenty of reassurance from Kame about reef sharks being safe here and he was always in the water to reassure us.
It makes all the difference having a good leader on a group tour like this, doesnít it?
Absolutely. Not only had he the marine life knowledge, but he was also local so he was very interesting talking about the politics, the culture, different islands that we visited or passed by and so on. That also helped us when we went to stay on an island on our own at the end of the trip as we had learned a bit about real life there.
Do you have any Ďsenseí memories from this trip, other than sight ones?
Thatís a good question. That feeling of being in warm water, I suppose. Coming from Ireland where I donít really swim Ė I just try not to freeze to death and get out after five minutes. The water in the Maldives is a wonderful sense memory, just floating and feeling the warmth of the water that must be close to body temperature. Also being in the water for up to an hour and then you get out, and you arenít even wrapping yourself up in a towel. I also remember hearing myself laughing through the snorkel - a strange sound - when watching the manta rays!
The heat was generally perfect on the trip. I was in Cambodia a few years ago and it was close to 40įC; that sort of temperature along with high humidity really isnít comfortable. But on the boat, with the comforts of the sea breeze too, it was perfect. The cabin had air conditioning so we werenít too hot in there either.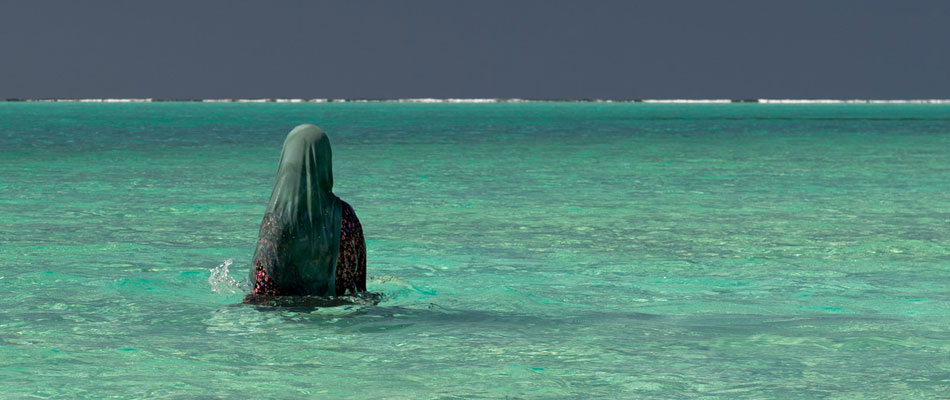 Did you have a problem with sea sickness or choppy waters at all?
For the most part it was fairly calm, a bit of a wind and swell/choppy here and there but overall no problem. There was one morning we were travelling a few hours and it was a bit rough. I felt a bit dodgy but I think the others were ok. Any other sickness issues were probably more alcohol-related than anything else!
Was there anything disappointing about the trip?
Nothing at all really. Maybe that we didnít get to see whale sharks. We went looking one day in a particular stretch of water where they are known to hang out. However, what was interesting was that there were hundreds of other boats covering the same stretch when we got there. And we didnít see a whale shark, but in a way we were almost glad not to. Having experienced manta rays with just a dozen of us the day before, with eight of these beautiful majestic animals swimming around beneath us at their own leisure, here there would have been hundreds of people in the water around it. I know the boats are careful to respect the animals and also that the sharks are probably used to it, but I think it would have felt like a bit of a scrum. Although I am sure it would have been amazing, I was happier to keep that calmer manta ray experience as my best one.
It sounds like most of the time on your trip, you werenít around lots of other boats.
Thatís right. A lot of the diving and snorkelling trips are daytrips from resorts and they all tend to go to the same spots. However, because we were out on the water for a week, we were able to go further away, which meant we out in very peaceful spots most of the time.
Finally, did this trip influence where you would like to go next?
We have been trying to get to the Antarctic for a while and so we still want to go there. I donít think we will be snorkelling there, but we might try the Ďpolar dipí Ė you never know!
Find out more about this trip
Continue reading about these
Maldives holidays, wildlife cruise