Traveller interview: Roddy MacLeod - Marrakech & the Sahara holiday in Morocco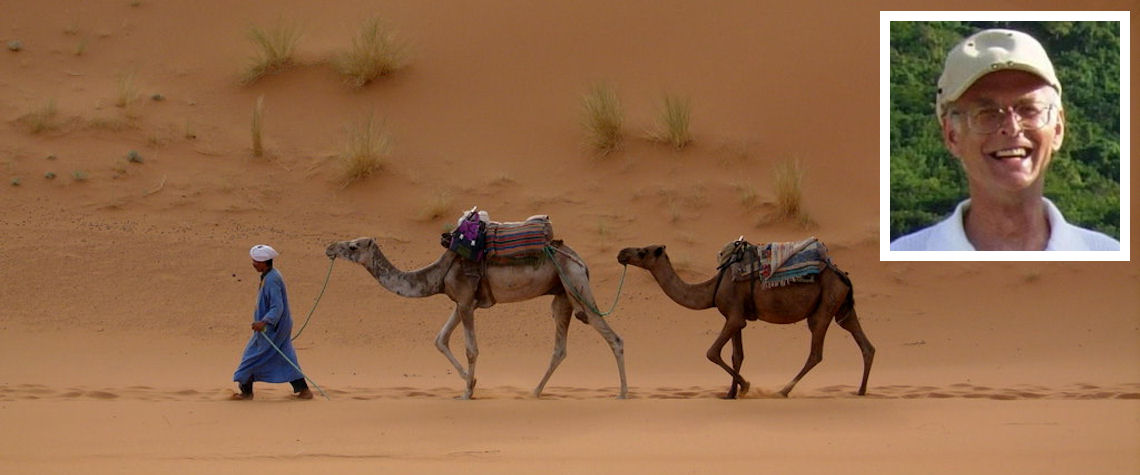 Sahara desert and (inset) Roddy MacLeod (Photo by
Julio Gago
)
Chatting with Responsible Travel writer, Chris Owen.
What were your first impressions?
I took a three-hour flight from London to Ouarzazate and as soon as I got out of the airport my senses were overtaken by an extremely exotic environment, hardly any time from home.
What were you hoping to achieve before you went to Morocco?
My partner, Lindsey, and myself both wanted to spend a night in the Sahara desert.
And did your wish come true?
It certainly did! After our first night in Ouarzazate we travelled through the Anti-Atlas and into the stunning Drâa Valley, to our next port of call on the edge of Zagora. The following morning we crossed some spectacular scenery on the way to M'Hamid, where we collected our camels, and set sail for the Sahara.
What was it like?
As sunset approached, our small group climbed to the top of a sand dune which was situated behind our camp in the desert. Everything was perfect, including the light. There was virtually no sound, and as our group began to take in the absurdity of just how far into the Sahara we were, we all got the serious giggles. Once we'd got over being in the middle of nowhere we settled down for our excellent evening meal by the fire. Although it got quite cold during the night there was ample bedding available, and the warmth from the fire and the food was more than adequate to keep comfortable.
What was your favourite moment in the desert?
For me, I really enjoyed climbing up that massive sand dune on the first night and resting my limbs after the camel ride. Later on, after dinner at the camp, we were entertained beside the fire by some Tuareg drumming, which was simply mesmeric.
What tips would you give other travellers spending a night in the Sahara?
Well, it can get a bit chilly in the desert in winter so make sure your sleeping bag is up to scratch. Having said that, one of our group had actually forgotten hers, and the rest of us were a bit concerned, but in the morning she told us that she'd been as snug as a bug due to all the available warm blankets provided.
What other highlights did you experience in Morocco?
We packed so much into our week away that it's difficult to pick out any particular highlights. That said, the UNESCO site of Ait Benhaddou, spending time in the High Atlas and experiencing the markets of Marrakesh will all be in my mind's eye for many years to come.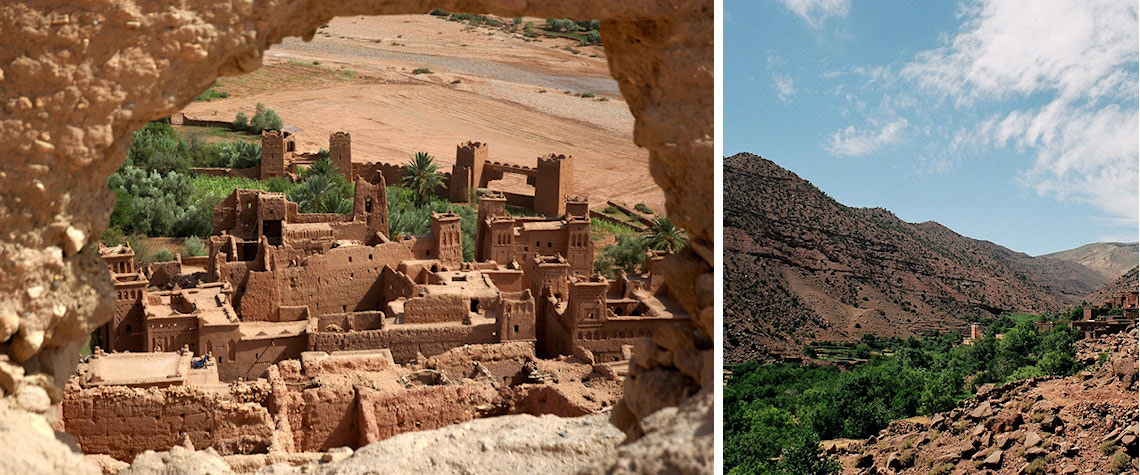 What interesting images have stuck in your mind?
There were several signs showing how long it would take to reach Timbuktu by camel. These were really interesting as they celebrate the time when camel caravans were the only form of transport. By the way: it takes over 50 days to get to Timbuktu!
What was your favourite meal?
Moroccan cuisine is delicious and pretty unique. We found that if we fancied something different to tagine we could opt for couscous. After we tired of couscous there was brochette or a typical Berber omelette. Salads were also great and I'd definitely recommend harissa sauce. We bought some to take home. One dish, however, I wouldn't recommend and that was the cheese omlette that was served to one of our group members at a restaurant in Marrakesh which we'd chosen because of its view over the Jemma el Fna (our guide had actually suggested somewhere else). It was the most miserable, miserly apology for food any of us had seen before. In fact, I think that that omelette was the only low point of the whole trip!
What were the other people in your group like, and how did you break the ice?
There was a smiley young woman from London, a slightly talkative American guy and a British chap who was quite the opposite of the American, in as much as he hardly spoke at all. Then there was Lindsey and myself. What became clear was that the American and the Brit had been on a fair amount of trips with the same tour operator in the past. The ice breaker question led on from there really, i.e. 'What trips have you been on before and what were they like?' For me, this sort of experience reflects positively on the tour company as there wasn't a bad word said.
Did you learn much about yourself during your time away?
Lindsey and I first went to Morocco in the mid-80s and although we know that we visited Marrakech, Imlil, Mount Toubkal and crossed the High Atlas Mountains, we couldn't remember the exact route. As we were also sure that we visited Essaouira, on the coast, at some stage, we also felt sure that we must have been to Ouarzazate. But just couldn't picture it! So what I learned about myself on this trip was - it really doesn't matter where you've been before, it's what you're experiencing now that counts.
Do you have any sense memories from your trip, other than 'sight' ones?
Whilst staying at the Bedouin encampment the quiet Brit got locked in his room. Lindsey and I awoke at dawn to intense banging and cries of 'Get me out of here!' Aside from this unfortunate incident, the Tuareg drumming around the camp fire on our night in the Sahara was pretty memorable as were the sounds and smells at the Telouet market.
What was your favourite photograph?
When we were staying at the gîte near Animeter in the High Atlas we had the chance to go on a walk. As I was waiting for the others to get ready I noticed some kids playing a game underneath our balcony. I just so happened to have some balloons in my rucksack so quickly blew one up and dropped it down to the expectant children below. Of course, as there were three of them, one balloon wasn't going to cut the mustard so I blew up two more and sent them down too.
The girls had very kindly formed a short line and gave me a wonderful smile whilst holding up their new found gifts. I asked permission to take a photo and the kids seemed genuinely grateful for the balloons and taking a photo of their natural smiles was the best gift that I could receive in return.
Did the trip meet your expectations?
You know what, for a long time these sorts of organised trips have never appealed to me as I couldn't comprehend how travellers could get an authentic experience which took into account details as opposed to just being away from home. After our small group tour to Morocco I've actually changed my mind. This was an excellent trip and great fun too. So yes, my expectations were met and I'd certainly consider another similar sort of trip in the future. In fact, I've already booked one in the spring, to Sikkim.
Find out more about this trip
Continue reading about this
Marrakech & the Sahara holiday in Morocco