Traveller interview: Linda Sankey - Atlas Mountains winter trekking holiday, Morocco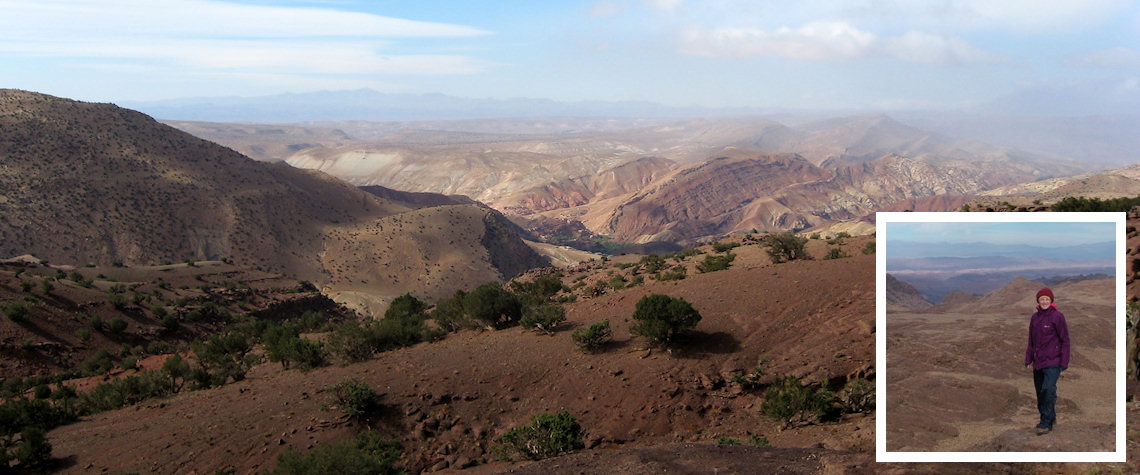 Tijhza Valley and (inset) Linda Sankey (Photos:
wonker
and Linda Sankey)
What made you want to go to the Atlas Mountains?
I had never been to Morocco before, but it has been on the 'want to go' list for a long time. It was just one of those fortuitous things that when I was scouting around on the internet, it just happened to come up. I hadn't travelled with Responsible Travel before and I wasn't a serious trekker. I did do part of the Annapurna in the past and I have a dog so I walk every day. Oh, and I have walked the Ridgeway in this country, but not a lot of big treks. But I am very much an outdoors person, so the idea of going off and walking for the day is not alien. I was very impressed with Morocco, though. I have travelled in India a lot, and find it a bit dirty and scruffy, but Morocco isn't. It's a step up from India and I was very impressed by that.
Did you feel prepared, fitness wise?
Fitness wise, it was fine. I actually hadn't thought about doing any fitness work, until one of my friends said "oh, how is your fitness training going?" and I thought, ah, maybe I should go for a walk then. But actually I was fine, partly because I am a pretty fit person anyway, but it was also down to our guide, Hichem. He just had a sixth sense about keeping the group together. I was really so impressed. My first reaction was, oh we are a bit slow, but then as we went up something steeper I thought, oh no, he is absolutely spot on. He was brilliant.
What is the most useful thing you packed? Or indeed, what do you wish you had packed?
My sleep system was absolutely the best thing. I had my very expensive Exped down sleep mat, my down sleeping bag and a thermal liner. And that meant I slept SO well. I was so comfy and had such a good night's sleep. The down sleep mats really are the bee's knees. I don't even need pyjamas, but just wear knickers. The whole point is that you have really good thermal layers around you and you don't wear any clothing, so that your body heats up those layers, and that is what keeps you warm. Not your clothing. I have done quite a lot of camping in the UK, and slept out in the snow and so on, and this system has always worked. It takes a leap of faith to take your clothes off, but you are warmer without the clothes. The mats they provided are comfortable, but this just gave me that extra edge of insulation. I did, however, have real envy of people who had their down jackets. Those cold and dry conditions meant that a down jacket would have been ideal. I just had a lightweight summer coat, and lots of layers, merino thermals and so on. But I do wish I had had that down jacket, especially when it got windy. And it is quite cold at that time of year, although later in the year it is apparently quite a bit warmer. There is no snow on the Anti Atlas, only in the High Atlas, and we could see a little bit on Toubkal as we could see across to the High Atlas.
Did you learn or use any of the local languages?
Hichem was great at teaching us bits and pieces of the local language. As well as always giving us historical and cultural information as we were walking. He taught us some Arabic words, such as hello, salaam, or thank you which is shukrun. The Berbers we met replied to us, even if we only knew those two words, and we could see that they were pleased that we had made the effort, rather than resorting to French.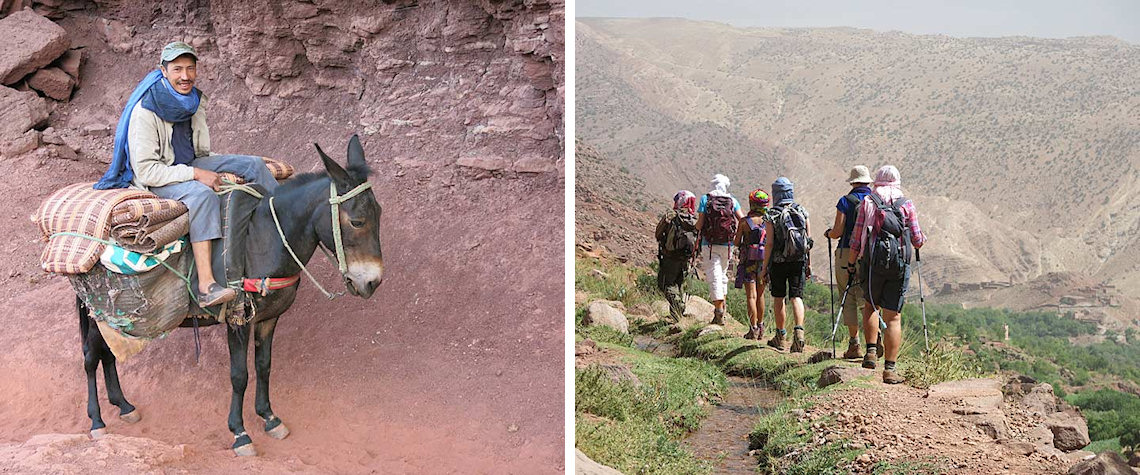 What is your favourite present?
One of the best discoveries is that couscous can be made from other grains than wheat, because I can't eat wheat. On our last day, we went shopping and to my delight discovered that there was maize couscous. In this country you always associate couscous with wheat, but apparently - and I have since bought a recipe book - couscous can be made from barley, wheat, maize or sorghum. It is just a way of processing the grain. And in fact, the Berbers don't eat a lot of wheat, because they don't grow much. It is more maize and barley that they grow. I discovered it on the last day, so it was too late to pass it on to the guides, but I will let them know about it. They were, however, great at looking after me on the trip, providing me with rice, extra fruit, or made soup without the noodles - they were great at that.
And your best souvenir?
The best thing that I brought back from Morocco, actually, was that I had such a relaxing time. Partly with the group, partly because of where we went, such as Taroudant, which was such a lovely place. We just sat back in the square and were never hassled because it wasn't touristy at all. So, my best souvenir is actually just what a great holiday it was. It was only eight days, and in some ways it did feel like more, as it was just timeless in the middle section. Plus there are things I still haven't done there, such as seeing the Valley of the Roses, and I love vegetation so it was a bit barren at that time for me, and also I didn't have a hammam, so there are plenty of things I can go back and do. But I don't feel as if I cheated myself in not doing things, because I packed in a whole load of stuff, had a lovely time, but there is still stuff to do if I want to go back and do it.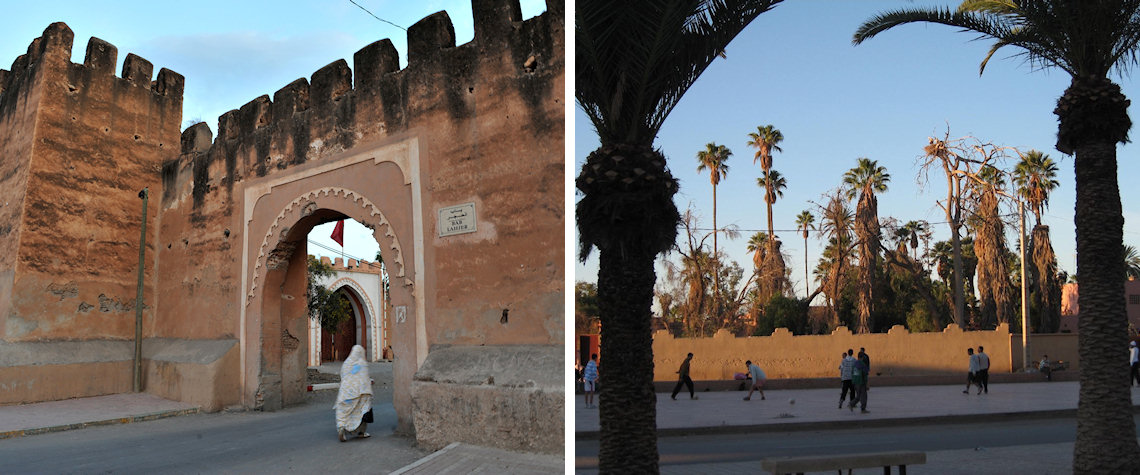 Were your preconceptions very different from reality?
I have done lots of backpacking stuff on my own, but I went for a group tour this time, and I took this on as a kind of challenge. I had travelled with a loose group of friends before and it turned out to be an absolute nightmare, so it had put me off any kind of groups for a long time. Because it was a group of friends, with a mix of some young active people, but also an elderly lady who had difficulty walking, which meant that we didn't really get anything done. Whereas, in hindsight, I realise now that if you want to do something active, then you really do need to go for an active holiday. With this holiday, for example, where you are walking all the time, and then wild camping, that filters out a whole bunch of people who would rather just sit on the bus and not do anything different. So that means that the people on the trip were 'up for it' kind of people. So you can choose the holiday that you want and then get what you want from it. So in a way, this was a personal challenge, to get over always going away on my own, or always trying to find a friend to drag away on holiday. And it worked. And was absolutely brilliant. And so, from that point of view, it exceeded all expectations.
Where was your best sleep?
We slept on plateaus in the Anti Atlas a couple of times, and so we got the sunsets and then also the sunrises. But for me, and it wasn't a visual thing at all, it was when we camped near what is called the City of the Cats (which isn't a city and doesn't have any cats!). It is in a valley and I don't know how to describe it, but there is something about the energy of that place that was pretty amazing.
Do you have any sense memories from your trip, other than 'sight' ones?
When you head away from the group, even to nip behind a rock to go to the loo or something, you are suddenly aware of just how quiet the mountains are. Just absolutely stone dead quiet. It is quite amazing to hear that.
Was there one local person that you met whom you will always remember?
We stopped with a lady called Fatima for tea, and she was a lovely character. She was around 50 or 60, it is difficult to tell. Traditional Berber, she may even have been younger than that, but because of the harshness of the environment she looks that age. We went into her little salon, and it felt like quite a privilege to be invited in, and drink tea with traditional snacks such as dates and almond and argan oil paste, and she had also made fresh bread. We just stuffed ourselves!
Any other tips for other travellers going on this trip?
On the first night, when we stayed in a hotel in Agadir, I shared the hotel room, even though I had decided to opt for a tent on my own for the rest of the trip. And it so turned out that the woman I was paired with, she and I got on really well. It was really nice to have that straight away. And sharing a hotel room is no biggie, but it was nice to have a tent on my own. Other people might have been happy sharing, but I am used to being on my own, and it only cost £25 for your own tent for the whole holiday. And, to be honest, if you are in a hotel room and you aren't getting on with someone, it is easier to get away, but in a tent it is a bit more difficult!
Oh, and earplugs are brilliant to take on holiday by the way, especially when camping. I have the silicone ones and they are brilliant. I don't hear a thing. I bring an eye mask too, and then it means if you are sharing, and someone wants to get up and put the light on or whatever, they can do that and they aren't worrying about doing so.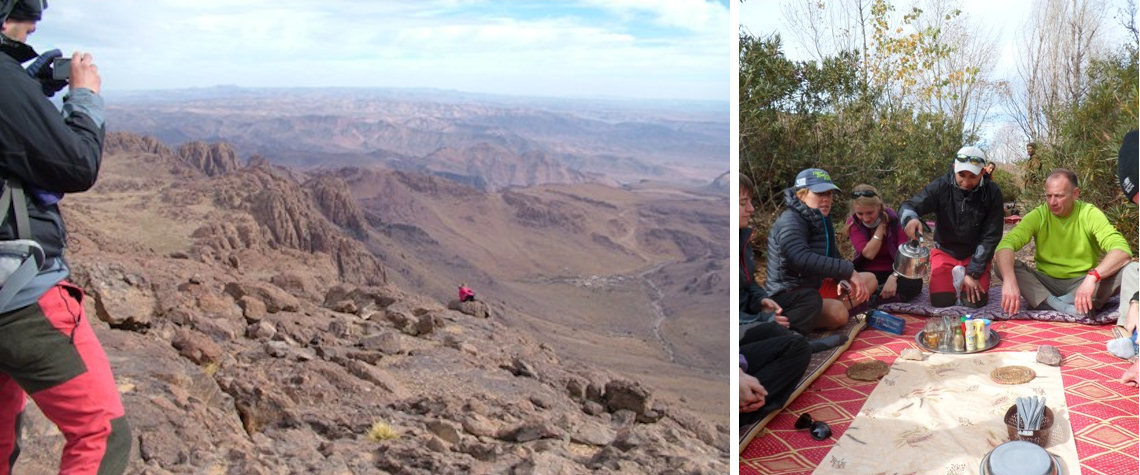 Travelling in a group (Photos by Linda Sankey)
Is there anything you wouldn't recommend?
On our last day, our trip ended in the morning, but our flight wasn't until the evening, so some of us decided to have a day in nearby Taroudant and just hung out there, going to the tannery and so on. We could have gone to Agadir, but Taroudant seemed like a much nicer and more authentically Moroccan place to be than Agadir. I mean, if you want to just and lie on the beach for the day, great, but we enjoyed just having a leisurely lunch in the square in Taroudant, and that seemed much nicer.
Has this trip influenced where you would like to go next?
I quite like the idea of the Valley of the Roses next in Morocco. Roses are one of my favourite flowers, so that would be lovely. Or maybe cross country skiing in Sweden or something like that - just getting away from it but with an activity, is what interests me. But the holiday has definitely opened up the possibility of another small group trip.
Find out more about this trip
Continue reading about this
Morocco Atlas Mountains holiday