Traveller interview: Jennifer Milward - Namibia cycling holiday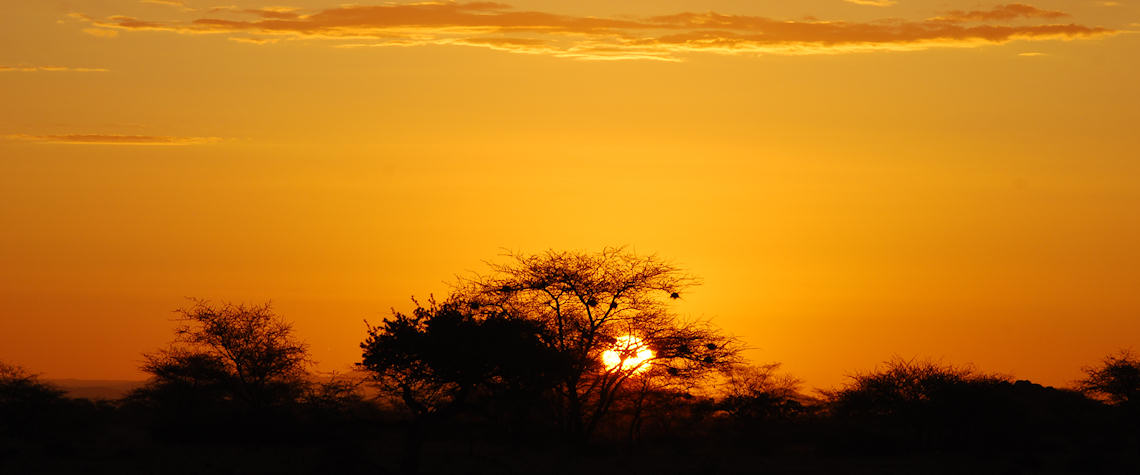 Sunset (Photo by Jennifer Milward)
What made you want to go to Namibia?
My parents went there when my dad finished work, and they went on a bit of a round the world trip. My dad told me that I would absolutely love it, and he was right. It was beautiful. So, that was part of the reason to look at Namibia but I was also looking at holidays that involved a bit of exercise as much as anything else, so I was looking at cycling trips already. And when I saw cycling in Namibia, it sounded perfect.
How big was your group?
There were nine of us and that was a nice size. There were a couple of people who were always out in the front, and a couple always at the back, but the rest of us were just in the middle, cycling along with each other. One day you are talking to somebody and the next day you are talking to somebody else. It worked really well. There were five women and four men, and bizarrely three of the women were called Jennifer, which was very confusing!
What is the most useful thing you packed or one thing you wish you had packed?
I took my own cycling pedals and clip on shoes just because I am more used to cycling in them. So if people are used to their own, then I would advise that. I took four pairs of cycling shorts and that was more than enough, as you could easily wash them through and dry them out for the next day. Definitely have padded shorts. I didn't take one, but the company had a spare padded saddle cover, which was quite useful as well. But most people had brought one of their own, so luckily there was a spare. It is mainly gravel, sandy compact roads, so it is a bit bumpy and the saddles aren't particularly designed for women, or indeed for men. So anything that eases the seat is quite useful!
I probably should have taken one long sleeved top. I assumed that it was going to be really hot, sunny and warm all the time, but actually when we were cycling along the coast, I borrowed a long sleeved top from one of the others, because it was just a bit chilly in the air, a bit misty, certainly when we set off in the morning. Oh, and a hat. Bring a hat. Especially for when you go climbing in the sand dunes.
Are you a serious cyclist?
I am the sort of cyclist who cycles to work every day, so about 7.5 miles each way. And then longer day trips, but not every weekend. I had done the Coast to Coast cycle ride in the UK last year and had just done odd days out since then. And I felt absolutely fine, fitness wise. I do a lot of exercise anyway, a lot of running and stuff like that, but it wasn't as strenuous as I thought.
Were your preconceptions very different from reality?
I was a bit concerned about whether or not I would cope with the cycling, particularly ten days of it, but actually it worked out really well. Because the way we did it, we got up early and set off cycling about seven in the morning and did four hours. Somewhere between 40-60km, and by that time it was getting a bit too hot to cycle. So the tour leader stopped us and drove us the rest of the way, about an hour's drive generally, and then we had the rest of the day to relax. That made it, because you could do your exercise in the morning and then feel good for the rest of the day.
Where was your best sleep?
Camping at Etosha National Park was really interesting. We could go to the edge of the campsite, which was right by a waterhole, and you could sit there and wait for the animals to turn up. I saw rhino, elephants, lions, antelopes and giraffes. The tents were just standard tents, not anything spectacular, but it was really well done. The last place, on the Waterberg Plateau, where we were staying in lodges, we had a wonderful view over the valley there as well.
LEFT: Giraffe at wateringhole. RIGHT: Elephant (photo by Jennifer Milward).
Do you have any sense memories from your trip, other than 'sight' ones?
A bumpy feel on the bum! Dust, sand everywhere in my clothes - I always wear cycling glasses or goggles. So yes, when a vehicle went past you did get a face full of dust, but it is very dry so it doesn't stick to your glasses, but just blows up in the air. The truck always had lots of water for us, so we all made sure we drank lots. So you have to bring a good water bottle, keep filling it up and keep drinking. There are no designated facilities, but there is an awful lot of landscape to use as a facility!
What was your "turnaround moment" for you on this trip, when you started to relax and get into it?
The first day when I was getting the bike set up to how I wanted it, and then getting used to it - it was a mountain bike and I am not used to them. I'm a hybrid girl and I was used to sitting much more upright. So having to get it where I am leaning over more, and getting the distance from where my saddle was in relation to my handlebars and all that stuff, took a little bit of adjustment throughout the day. But once all that was set up, I was away.
Was there one local person that you met whom you will always remember?
The guys who were our leaders on the trip. The head cycling leader was Sven, who was South African but now lives in Namibia. And then there was Happy, and Billingate. They were so helpful, always there to help you fix things if they went wrong, and just always happy. When we were camping, they also made us amazing food. I'm vegetarian, and they made me a broccoli bake, a vegetable casserole, a fantastic tuna salad - what they could create out of having to carry everything around, it was really impressive. And compared with some of the food we ate in restaurants and cafes, it was a lot better than what we were getting in there.
Did you cycle through local villages?
There aren't villages really, more the odd shack in places that we cycled through. But you do get to see much more of the landscape as you cycle, and occasionally animals too. Although quite a lot of the time you are focusing on cycling! When you cycle past the people living on the road sides, some people looked at us as if to say 'what on earth are you doing?' and then in other places where they are more used to seeing cyclists, such as along the coast, it was more usual. But in some of the tribal areas, there were some strange looks. We usually waved to people if we saw them, but because it is huge distances between places, we didn't actually often see people out.
What is your favourite souvenir or present?
I bought a very nice picture in one of the galleries in Swakopmund. I don't tend to buy trinkets or souvenirs, but the best thing I have brought back is my memories and my photos.
Is there anything that you think is 'underrated' about this trip, which you really loved?
I did one optional trip, the flight from Swakopmund, and it really was worth it. I wanted to see the shipwrecks along the coast, and how far inland they now are. Seeing those and the dunes from above really was amazing. The flight was about an hour and a half. Five of us did it and it really was amazing. I also think that, for the trip in general, I was gobsmacked by the scale of it all sometimes. Just the sheer pleasure of being out and seeing the landscape as you are cycling along, seeing the vastness. There were times when you just saw this road going on forever, and I thought, ah OK, that is where I am going - well I just have to keep going then!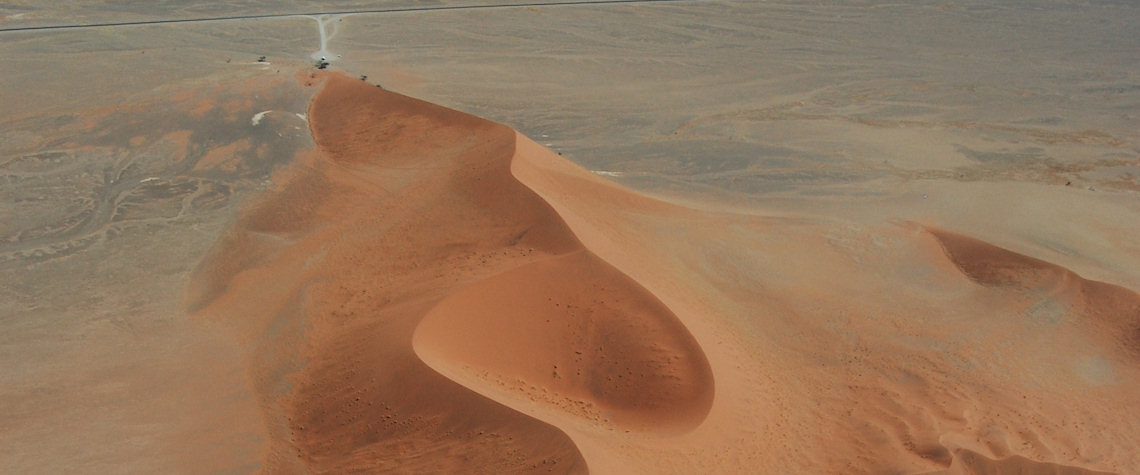 What is your favourite photograph?
I loved the sand dunes. We were there early morning as the sun rose. We got the truck down to the first sand dune and climbed that as we waited for the sun to rise. And then we cycled along for a bit past all the sand dunes, and then went for a walk through the sand dunes again. They were just amazing.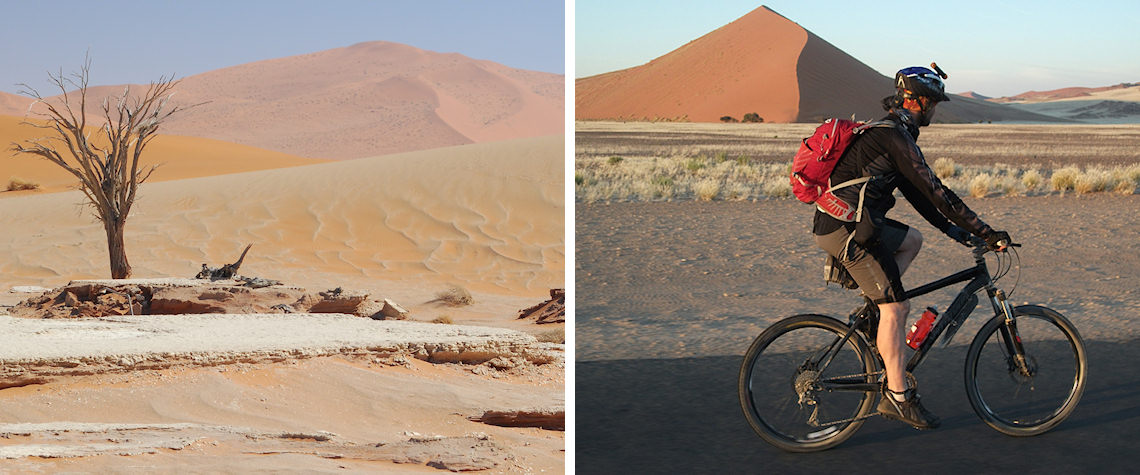 Cycling past the dunes (Photo by Jennifer Milward (LEFT))
Has this trip influenced where you would like to go next?
It has reminded me how much I love travelling and going out and doing things. It was my first time doing a cycling trip in a foreign country and I would definitely think about doing more of those. I am thinking about Cambodia or Vietnam, or perhaps Costa Rica and Panama.
Find out more about this trip
Continue reading about this
Namibia cycling holiday