Tour leader interview with Robert Kidd – Scotland by railway holiday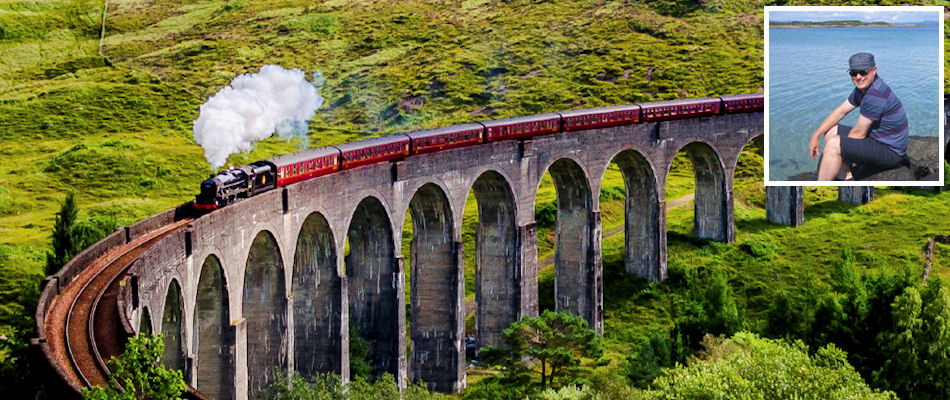 Jacobite Glenfinnan viaduct and (inset) Robert Kidd
Leader interview: Robert Kidd – Scotland by railway
Robert Kidd wins awards for his eclectic and inspiring itineraries around Scotland, such as this Scotland by Railway holiday. If anyone knows Scotland like the back of his hand, Robert does. Hosting tourists around the Highlands and islands since 2003, Robert's passion lies in bringing tourists off the beaten tourist trail, showing them the glories of slow travel and surprising them with some of Scotland's splendid secrets.
You leave the rest of the world behind when you take the famous West Highland line
It offers one of the finest views in Scotland. This is because the train track parts company with all roads, and takes you through the absolute wilderness of places like Rannoch Moor and the mountains of Glencoe. You leave the rest of the world behind when you take this train journey.
One of the most evocative pieces of music about Scotland is the Waterboys playing Fisherman's Blues.
It was actually used by the tourist board a couple of years ago. The Waterboys are both Scottish and Irish and this song captures the train, water and Scotland perfectly.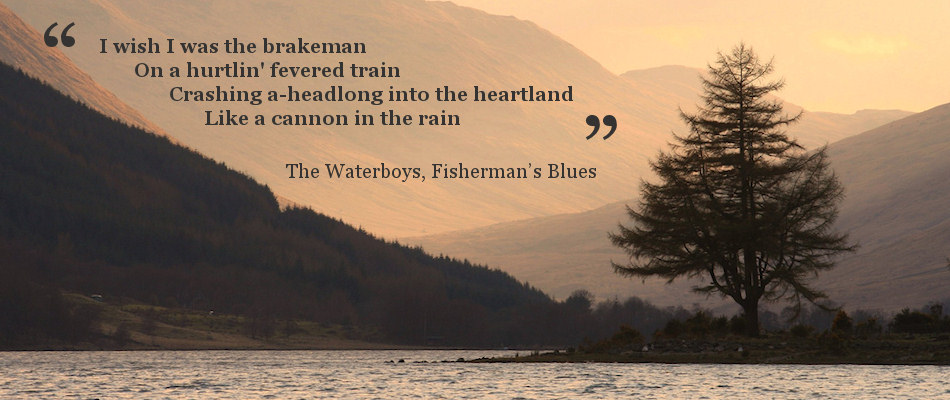 Apart from the obvious gifts of shortbread and whisky, you can buy the most amazing batik art and clothing on the Isle of Skye of all places.
Although it has eastern influences, you can buy beautiful Celtic images done with Batik style, all from a Skye company, Skye Batiks, that has been going for over twenty years.
Our clients just love a couple called Donnie and Peggy who are our tour guides on the island of Skye. Which is an add on to our general itinerary.
They are very gentle people, and when you first meet them you might think they are quite shy. But they are very passionate about where they live and very knowledgeable. They actually run a local taxi company and then went into tourism because it is one of the main things you can do on the island. They have always lived on the island and so they have decided to share their knowledge with visitors. They have the most perfect customer ethos in terms of making sure everybody is having a wonderful time. They are very, very caring, and extremely professional too. Which is why our clients just love going out with them.
One of our American visitors went to a pub and ordered a malt whisky for him and his wife. His wife wanted Coke in it, however. But the barman refused! Point blank refused.
The couple were pretty taken aback, because they expect service to be really good and friendly, but the barman just wouldn't sell it to them. "If you're having Coke, I'm just not going to give you the whisky". Now that definitely is a bit of cultural misunderstanding!
When we live in a place, we really don't appreciate what a visitor sees in it. Such as an old rusty piece of farm equipment at the end of the lane.
The things that people enjoy when they come from a different continent are not necessarily the things that we think they will enjoy. So sometimes the simplest fields, which we would think of as 'oh, dull fields' they go crazy about. When we live in a place, we really don't appreciate what a visitor sees in it. Such as an old rusty piece of farm equipment at the end of the lane. We look at it and think 'must move that, it's spoiling the view'. But our guest thought that was amazing, part of this rural idyll, and put it up as her Facebook profile shot.
Cranachan is a popular traditional Scottish dessert made with oats. I still think my recipe is the best... the secret is to make it very fresh to stop the oatmeal going soggy.
I use whipped cream, with a bit of Greek yoghurt added to give it a bit of body. Then some honey, whisky and maybe some raspberries. But the key thing is to have pinhead oatmeal, lightly toasted on a dry pan, usually available in a health food shop. You combine the whipped cream, yoghurt, raspberries, honey and a bit of whisky and then chill them for a bit, to allow the whisky to come into the cream. Then fold the oatmeal, which you have just toasted, into the cream mixture just before you serve, to stop it going soggy. Sometimes in a hotel, they have made it the day before, which isn't as good.
One of the reasons I really like the train is that you are not in your own cocoon of a car, and so you do get to meet the local people.
It is a much more social thing and you meet all sorts of characters on a train, sometimes even ones you might not necessarily want to spend time with! Of course, our guests love the views, the skies, Ben Nevis and all those sorts of things, but more than most, like all good travel, they remember meeting the people.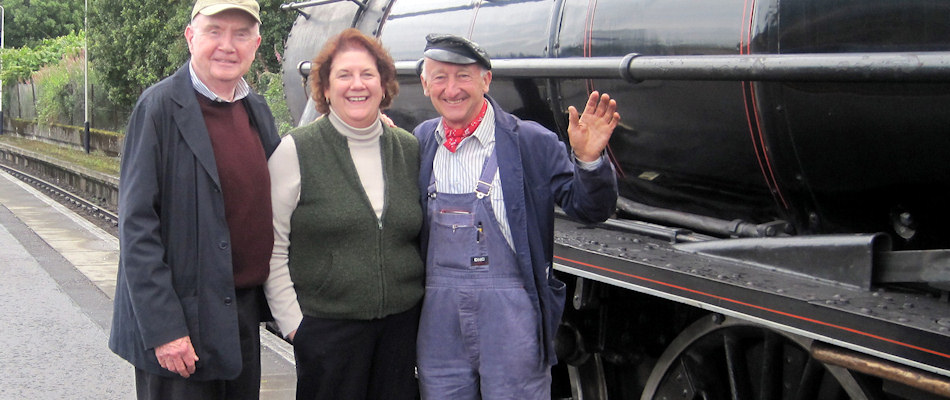 Meeting people (Photo by McKinlay Kidd)
My top survival tip for this holiday is 'Don't bring so much luggage!'
Pack light, because you are getting on and off trains, and carrying your own luggage. So also make sure you can carry your own luggage. We do meet guests at each station, of course, but you do need to be able to get your bag off a train and onto the platform. So two huge suitcases can become stressful and take away from your enjoyment of the trip. It's only a week long, so you don't need lots anyway. Some people do this as part of a longer UK trip, and then they store their extra luggage in Edinburgh or somewhere.
This is a trip where you need to be fairly organised and also pretty self-reliant.
Because you can't change the itinerary too much with rail travel. If the train is going to leave at 12.20 then you need to be on it. And then when you get there, you will have plenty of time to yourself to choose what you want to do. So it isn't like a coach tour, where you are guided through every bit of the day. There are guided elements to it, but it is an independent tour really.
If you travel on a train for three or four hours, when you get off you sometimes feel as if you are still moving.
I remember the first time I went from Glasgow to Mallaig on the train, and I got off at Mallaig. I still felt as if I was moving around. Or that the earth was moving.
You do get an instant hit off the pine forests in Perthshire.
On the railway line from Kyle of Lochalsh to Inverness, for example, the pine forests have a certain smell that you get as soon as you stop at the station.
The three most important things to have in your daypack are a camera, snacks and a raincoat.
Sadly the food and drink on the trains are not great, so it is always good to bring your own snacks. Especially if you like fruit and healthy snacks. You can usually get tea, coffee and water, but extra snacks in your bag is a good idea.
One thing that makes me scream 'No!' at tourists is when they just want to tick boxes, and do it all as quickly as possible.
We do get visitors contacting us and saying, I want to go to Edinburgh, Glasgow, Aberdeen, Inverness, Fortwilliam and Dundee, can you organise it for me? Oh, and I want to do it in a week. These are places to tick off, not real tourist experiences. So, what drives me mad is that sometimes tourists think that they know what they want to do, and they aren't actually prepared to listen to some experts. We all do it as tourists, but it is really worth taking your time, getting local advice and just taking it a little slower. If you want to tick things off your list, fair enough, but sometimes by just taking one extra day, you will have a much better experience.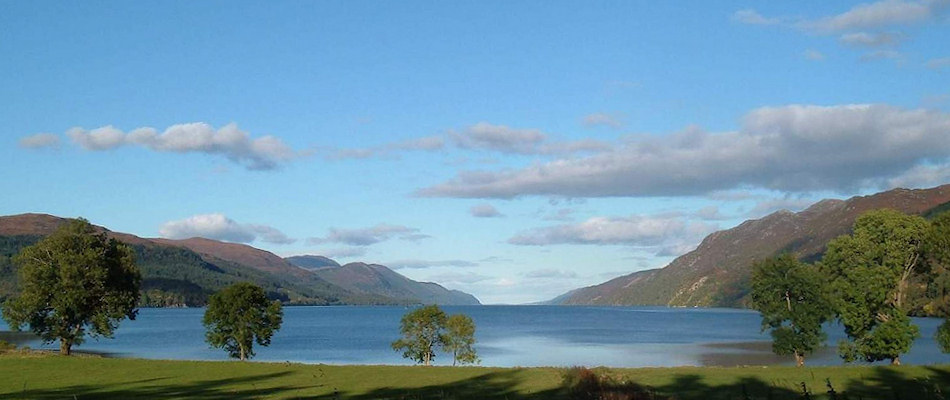 What I love is it when visitors arrive with an open mind and accept things for how they are and throw themselves into what's happening, and not expect things to be the same everywhere.
So, get stuck into local food, don't expect it to be what you might have at home and talk to local people.
Find out more about this trip
Continue reading about this
Scotland by railway holiday