Traveller interview: Lyn Hill on her land based Spitsbergen adventure holiday
See / go back to this
Spitsbergen holiday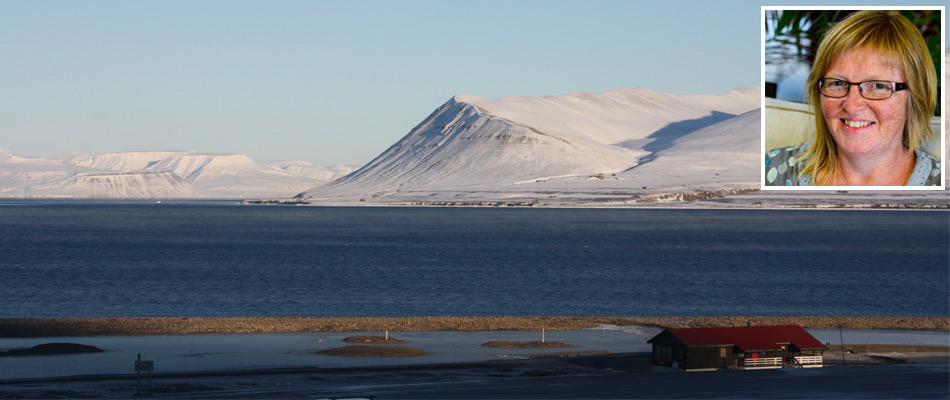 View from airport. Photo by Lyn Hill
Responsible Travelís Lyn Hill chats with one of our travel writers, Catherine Mack about a land based Spitsbergen adventure holiday which she went on in March 2018. A very different experience altogether to the more common small ship cruises around this, the largest island in the Svalbard archipelago.
What made you want to go to Spitsbergen?
I have always wanted to go to the Arctic although I didnít know about Spitsbergen or Svalbard really until I found the trip. But when I read about this expedition, I knew it was perfect for me. I liked the idea of being somewhere out of this world really. Although to be honest, I didnít even realise where Spitsbergen is. It was only when I booked the flights and then tried to find it on the map and couldnít find it! Then I realised just how
far
north it is.
What was the journey like?
I flew London to Oslo then took another three hour flight to Spitsbergen so that shows how far north it is. It is the only populated island in the Svalbard archipelago. We flew into Longyearbyen, which is the northernmost populated town in the world.
Svalbard is run following the rules and regulations of Norway, but there is a Treaty that gives 40 countries rights to be there while following Norwegian legislation. So when you fly in from Norway you have to go through international arrivals and go through passport control again.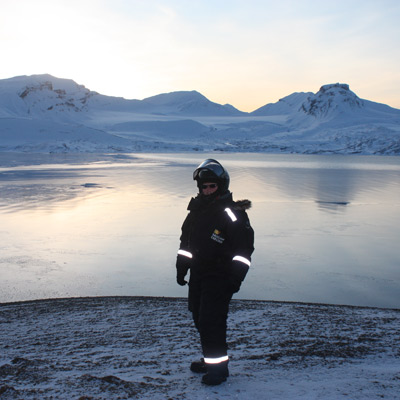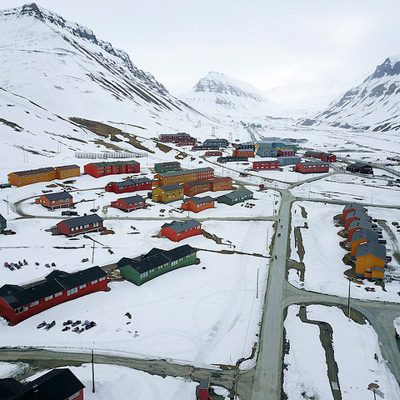 What is the most useful thing you packed?
Silk liners, without a doubt. Silk gloves and socks, because they are warm and not bulky at all. I had normal long johns as the silk ones are really expensive, but the socks and gloves were great value. I took far too many clothes as I spent most of the time in my base layers. And I did take pyjamas and tracksuit bottoms for the hotel at Isfjord Radio Station, where even though we were having fine dining experiences, people were just wandering around in their long johns.
Where did you stay in Longyearbyen?
The first two nights were in Basecamp Explorer in Longyearbyen. It is a strange, outback sort of town with only 2,000 residents. It has its own university, but basically it has one high street, some residential houses which were typical Norwegian, wooden chalet-style. And it was all more ice covered than snow, as there had been rain the week before. There is a port where the ships come and go in summer, although the water was partly frozen there when we were there. Itís amazing to see the river partly frozen. I had never seen that before.
So in summer Longyearbyen must be busy with giant cruise liners?
Can you imagine? 2,000 people live there and when the cruise liners arrive in summer, over 7,000 people can disembark, wandering around the otherwise quiet streets. All the locals go and hide, apparently. And even though it is a local tradition not to lock your doors in the town, they lock their doors when the cruise liners come in because otherwise people just wander into their houses! Just wanting to see how people live. Local people say it just changes everything. Anyway, it was all lovely and quiet when we were there.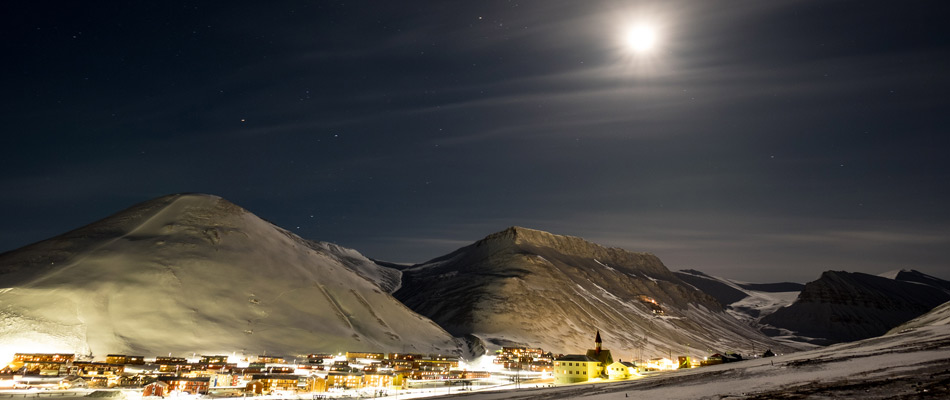 They donít lock any doors normally in Longyearbyen?
No, apparently not. Cars neither. Just in case there is a polar bear around, and then people can get into a house or a car to escape to safety if necessary.
How was Basecamp?
It is gorgeous. Decked out to look like an old fashioned trappersí lodge, with all wood, hessian and a rustic feel to it. Animal skins on the wall and all that stuff, and very warm and comfortable. We only had breakfast there, which was buffet style, with the really fine dining later on in the trip when we travelled to Isfjord Radio. Of course there isnít a lot of fruit and veg as you are in the middle of the Arctic, so getting it there is difficult.
Dog sledding adventures
Tell me more about your time in the wilderness, when the real adventures beganÖ?
At the husky centre, about 10km from Longyearbyen, we learned all about how to handle the dogs and sledges. This was a totally mad but wonderful experience. There are about a hundred dogs, all with chained up to their individual names and their own kennels. At first it seems a bit strange, because in our culture if we see a dog tied up the connotations are not great. However, you have to get your head around the fact that these are working dogs, and they are sitting there quite happily curled up in the snow. They tend to sleep outside rather than in their huts. Anyway, it was all quite peaceful at the start until they realised that they are going to go out on a run, and then the din of barking takes over. They are so excited, but sadly only 18 of them were going to go out that day with us, divided into three teams. But They were all jumping up and down as if to say, Ďpick me, pick me!í
Did you handle the dogs yourselves?
Yes, we were given instructions on which dogs to choose and how to harness them up using handmade harnesses that the guides made in winter. They are seriously heavy duty harnesses as the dogs are so strong. You unclip them from their chain and put them into their harness, which involves standing with them between your legs to make sure they donít run off. And these dogs are seriously strong.
Were you nervous handling the dogs?
Even though I have a dog at home I was quite nervous. But we were given really good instructions. So, for example, when we guided them to the sledge, they were on their hind legs only, because if you had them on all four, you would end up being pulled along by them, as they are so keen to take off. You have six dogs harnessed up, jumping all over the place as they are so excited and meanwhile all the others left behind are barking madly, because they want to go too. So it is just a mad noise and atmosphere, but exciting and fun.
How many of you were in the husky team?
There was one other person in my team, and the guides helped us too of course. My partner was first to drive the team, which I was happy about, having been taught how to steer the dogs by swaying your body in one direction or the other. She followed the leader in front, with me sitting on the sled, recovering from the whole experience! It is quite a basic seat, almost like a wooden palette with my driver behind me. And no, I didnít get covered in dog s**t, which someone had warned me could happen!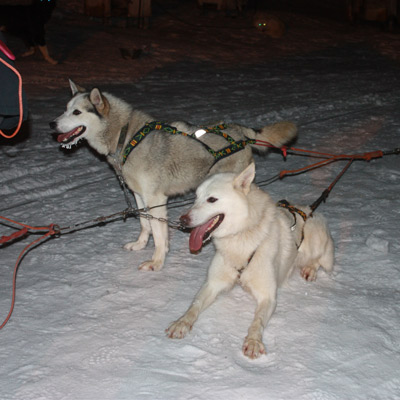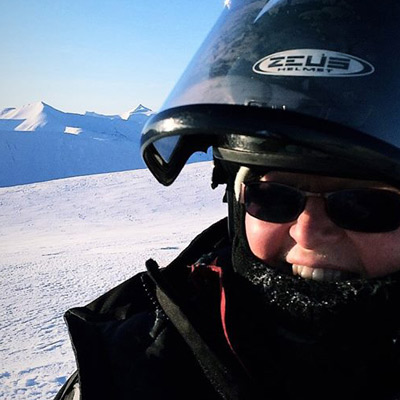 Husky's and Lyn Hill wrapped up. Photos by Lyn Hill
So the guide is out in front on his or her sled?
Yes, she is out in front with her team of dogs and she is armed of course. Your guides are always armed up here in case of polar bears. You donít go anywhere without a guide with a gun, apart from within the main area of the town Longyearbyen which is fine to walk around in on your own. And then suddenly, as soon as we start moving, it is silent. Because the dogs are happy, and they just gallop silently through the snow following the lead team. The contrast is just incredible going from the chaos to this serene silence. All you can hear is the movement of the sledges over the snow, and suddenly they arenít barking anymore.
What gear did you wear when going out with the huskies?
The tour operator gives you all the kit you need: all in one winter suits, balaclavas, boots, mittens, head torches and everything. The gear is fantastic, and I didnít feel cold once for the whole trip.
How was the landscape on this first husky outing?
We went down a valley between two mountains, so not a vast open space. But it was beautiful. And it was twilight when we went out and dark on the way out. So that was really exciting. There were actually about 12 hours of sunlight when we were there in March.
The dogs are all fine navigating in the dark, and we had our head torches on so we could see other peopleís lights. But that was our first experience of being out in the middle of nowhere. At night, and wondering about polar bears! Although of course, the polar bears donít tend to come near the dogs anyway, and they would bark if they did. But it was a pretty wild experience, and I was a bit frightened, but I did feel very safe with the staff team and they really knew what they were doing.
Did you get to drive the dogs on that first outing?
Yes, I did take over at one point, and that was scary too of course, and a bit frenetic because you have to brake, which involves putting all your weight onto this metal anchor. Even then, the dogs take about 20 metres to actually come to a stop. Then the guide puts in a proper heavy duty anchor to hold you completely still for the changeover. Then I swapped positions, stood up and held onto the wooden handles, not reins as you might imagine. I was glad to stand at this point as it is easier on the back. And also fun, of course, learning to steer the dogs.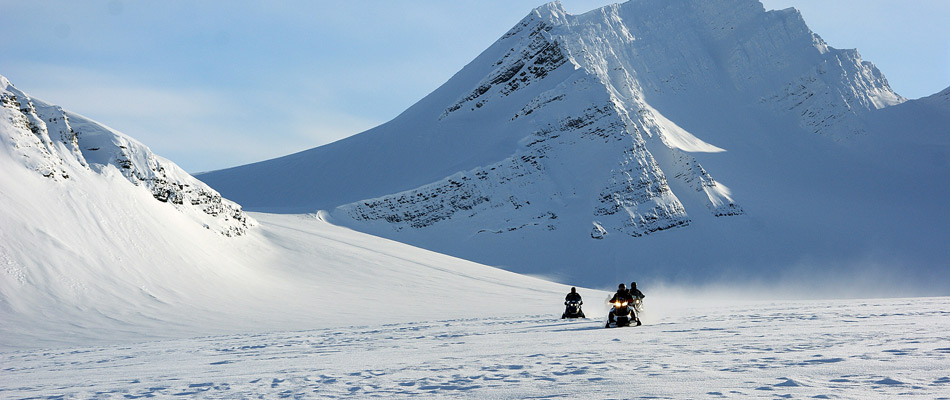 Snowmobiling & Isfjord Radio
Do tell us more about Isfjord Radio and the snowmobiling expeditions
We had two nights at Isfjord Radio, which was eight hours through the mountains on snowmobiles from Longyearbyen. It usually takes about four hours but we had lots of ice to contend with. Again, you get more all in one Arctic kit supplied, which is a different thickness and a bit like a big motorbike kit. Going on top of my salopettes and ski jacket, so even that takes energy to get on! We also had helmets, of course.
How was it learning to drive the snowmobile?
We had our own snowmobiles which was great. I was a bit nervous, and you do need to have a full driving licence which you have to take with you, and they check when you arrive. To be honest, I went through every emotion that day. From anxiousness, even getting all the kit on which takes time, to nervousness going out in the wilds again, excitement because I like being on things like snowmobiles, and also a bit panicky putting my trust in a stranger, who has a gun of! And then being in awe and ecstasy over the beautiful views, while also just worrying about falling off. Which I didnít, thankfully, but people do apparently. So, by the end of that day I was completely and utterly knackered. I could hardly speak. But it was totally amazing.
How was your second day on the snowmobile?
The second day I was much more confident and at ease on the snowmobile. They had heated handlebars by the way. How fantastic is that?! I relaxed into it. I loved the wide open spaces, blue sunny skies, mountains, and even reindeers running alongside us. We went up giant, steep hills to take in the wilderness views, which were amazing. Until I had to go to the loo, which involves ducking down behind your snowmobile and peeling everything off. That is very cold indeed! You donít have to be a fitness freak for this trip, but you do need a certain amount of stamina and energy for sure.
What did you eat during these expeditions?
It is seriously cold, so everything freezes. You canít have a banana as a snack, or water bottles, as they just freeze. Our guides had brought hot flasks of water, dehydrated food, and bars of chocolate. So, we had chilli con carne on the mountain, which was really good. I didnít know you could get quality dehydrated food, but you can. I never went hungry.
Is someone on watch with guns while you stop to eat?
We didnít hang around for long when we ate. Just 10 minutes, and even then we are always looking around. The guides know what to look for. You also are told to look out for each other in terms of the cold. So, if you see someoneís face going white, or nose going white, it is the first sign of frostbite. But most of the time you would have your balaclava up over the lips anyway. The guides have GPS, and they do point out that if anything happens to them we have to know where the GPS and emergency kit is.
Did you have any scary moments?
I didnít realise at first not to put my visor down on my helmet on the snowmobile and of course it froze pretty quickly. You have to leave it slightly open so that the air can get through, but I wear glasses so they got steamed up too. Anyway, that distressed me a little and it is hard to draw attention once you are off. I did find that a bit scary until I got it sorted. However, I felt totally safe with the guides who were brilliant. If you are a little bit nervous, I do recommend being just behind the guide as you donít feel under pressure to keep up with the rest of the team. You also get a great view with only one person in front of you.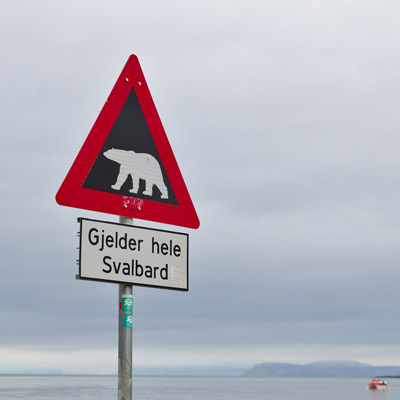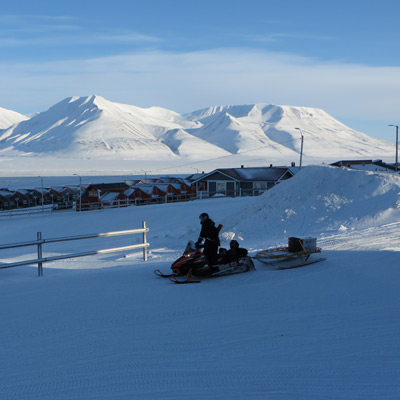 Did you see any polar bears?
No I didnít. I did see paw prints as I was up behind the guide who had stopped to look at them. But we went in the other direction of course, because you arenít allowed to follow them. To be honest, I was quite pleased I didnít see one as I was nervous about them. At that time of year most of them are out on the sea ice. You are more likely to see them in the summer and I did see footage from one of the guides who had filmed a mother bear with her cubs dancing around outside the hotel in June last year. But this isnít a wildlife trip; itís more of an Arctic experience at this time of year, and very different in summer I am sure.
How was the hotel at Isfjord Radio?
Unbelievable, as this was also the fine dining part of the holiday. It used to be a radio station and all that is there now is a big satellite dish and the hotel, and a few huts and cabins for staff. It has been totally revamped. It looks a bit like a constitutional hall from the outside and inside it looks like a five star hotel. Not in a bling or excessive way, but just totally pristine and cool, with fine dining. There is an expert chef producing Masterchef style meals, with lots of fish, reindeer and so on. A lot of people go for that fine dining in the wilderness experience alone. The rooms are lovely. I had a double room with a sofa, although the bathrooms are shared, so not five star in that regard. But really lovely with top notch furnishings.
Did you do other activities out at Isfjord?
Yes, we took a hike out along the shore, and I loved that experience as it was different again. We went out for a morning walk, and then back for another three course lunch! Even on that walk we had three armed guides walking with us along the coast. I loved having time to take in the landscapes, such as the big chunks of ice on the beach, ice floes and everything sparkling in the sun as the skies were cloud free. One thing that was a shame was that there was a lot of plastic washed up on the shore, and the guides say it is getting worse. We picked up everything we came across, mostly bottles, but it is such a shame.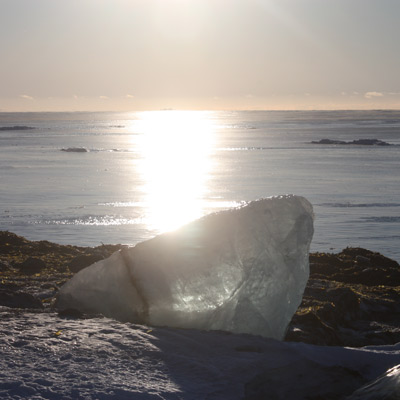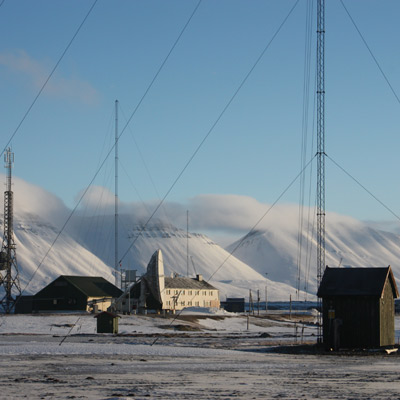 Ice blocks and Isfjord Radip. Photos by Lyn Hill
Was there a sauna?
Of course, and that was gorgeous. And yes, I did dare to go for a swim and persuaded some of the other girls to do it too. In the Arctic, Ė twice, in fact! I did do one stroke in the water, but I didnít put my head under, and wore my woollen bobble hat throughout! And swimsuit. Not even a wetsuit, but actually the water was 4įC so it wasnít too bad. But it was about 100 metres to the water, and about -25įC with the wind chill on the way in and out, They do provide you with bathrobes to put on to get down to the water! You also have your guide with you, because of the polar bears. You arenít allowed to do anything without one. It certainly is the first time I have swum with an armed guard. I was so pleased that I did it though.
Great to see those photos of you swimming. What camera did you bring to cope with the conditions?
I took a digital SLR, so quite a chunky one. I have a smaller one with a slower shutter speed, so I was nervous that would freeze. But it was fine to carry over my outdoor gear, and I didnít have to change the batteries at all. It was in a normal camera bag and it was fine. The only time it froze was on the walk, as I didnít put it in the bag. But it was fine after a few hours.
The final frontier
How did the trip draw to a close?
With another day of snowmobiling back to Longyearbyen, but following a different route. This time we saw glaciers, frozen lakes, different mountains and more extraordinary landscapes for eight hours. The mountains are flat a lot of the time, almost like Table Mountain, but then suddenly you will get one that is a peak and it is just unworldly. On the last night back in Longyearbyen, we went to a gorgeous restaurant, again all fine dining, so that was a great way to finish. On my last morning, I just went down to the waterfront and took in the view of the mountains and sea so that I could remember them forever. I couldnít get enough of them.
What is your overriding sense memory from the trip, apart from Ďsightí?
That would have to be the deafening silence. The emptiness, when everything stops and the snowmobiles are switched off, and everyone stops talking. The silence is so loud somehow. I have only noticed that in one other place before and that is in the middle of Dartmoor. When the wind is there, you can hear that, but even that it is just whistling around you because there is nothing else there. But often there was no wind, and so there was just absolutely no noise at all. It was amazing.
Find out more about this trip
Continue reading about this
Spitsbergen holiday