Traveller interview: Angie Pantall on her tour de mont blanc holiday
See / go back to this
Mont Blanc circuit walking holiday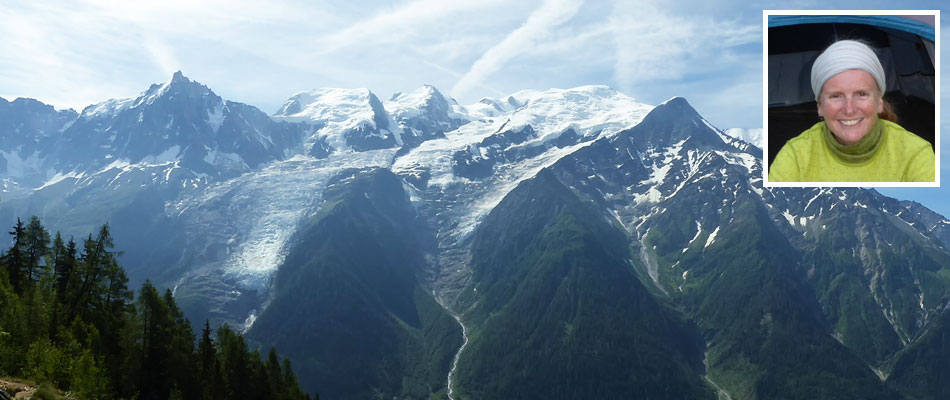 Photo: Mountains and Angie. By Angie Pantall
Angie Pantall gave us a five star review for her
Tour de Mont Blanc walking holiday
, where she spent two weeks trekking the iconic circuit with a small group and mountain guide. She shares more about this adventure in a chat with Catherine Mack, one of our travel writers.
What made you want to go on the Tour de Mont Blanc holiday?
I wanted a challenge for my 50th birthday. I used to trek quite a lot in my 20s and I wanted to reconnect with that again. I looked at the ten most popular walks in the world, and Mont Blanc came up as one of them. I thought, I live so close to the Alps and yet I have never been there. I have travelled to the Himalayas and Africa but I have never really trekked in Europe. Also, it's quite an iconic trek and it just looked beautiful.
Tell us more about the complete circuit of Mont Blanc
It takes two weeks and it goes all the way around Mont Blanc through France, Switzerland and Italy. We camped, which means that you go up a lot but you don't stay up high, which is what you do if you stay in the mountain huts. We climbed up and then had to come down to camp in a valley, so then you have to climb up again the next day! So it is a lot of up and down, but it is really amazing.
I liked the camping because there is more camaraderie and you get to know people better. And we stayed in amazing locations. There were generally shower and toilet blocks at the sites, but occasionally when you were a bit more remote, a long way from everything, they got more basic.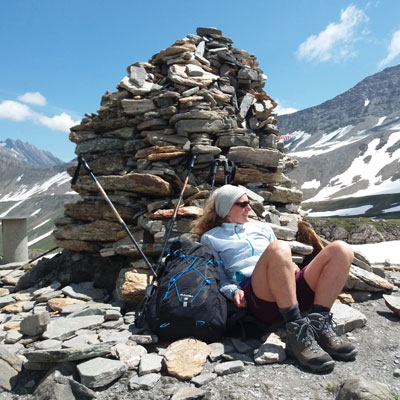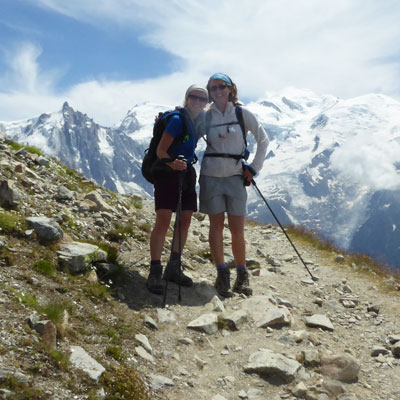 Photos: Angie resting and in front of mountains views . By Angie Pantall
How many people were in your group?
There were 12 people and a really nice mixture too. There were Australian, American, English and Irish. The age range was late 30s to a lady in her late 60s, or maybe even 70. There were two men and the rest were women, and there were no couples, which was interesting.
How was your guide?
We had two guides – one for walking and one who set up camp and cooked. We did take down our tents and we helped with the prep of the cooking, washing up and stuff, but he cooked us really nice meals, which was great.
What is the most useful thing you packed?
My CamelBak water carrier. It wasn't like carrying lots of bottles, and I could get three litres in there. We had to carry quite a lot of kit with us on the walks, in case the weather changed. So the next best thing that I brought was my actual backpack, because it had a gap between my body and the backpack, which was great because I wasn't constantly getting a sweaty back. You don't have to carry all your gear with you, that stays in the van, but you do need to bring layers for when you hit snowy areas up at the top. Anorak, waterproof trousers, fleece and stuff like that.
Did you bring a sleeping mat?
Yes, I had a Thermarest. I didn't have to carry that in my daypack, it was in the van. I wore pyjamas at night, and I had a sweatshirt near me in case I got cold. I also wore a hat to keep warm, but it wasn't freezing cold at night. I didn't need thermals. I had a four season sleeping bag, which was fine.
Did you have walking poles?
Yes. There were so many descents and I wanted to protect my knees and so I decided to train with them for a couple of months. I had never used them before, but I would highly recommend them. They really saved my knees going down. I use two of them – apparently that's the European way! I borrowed them, but I have bought my own since because they were so good.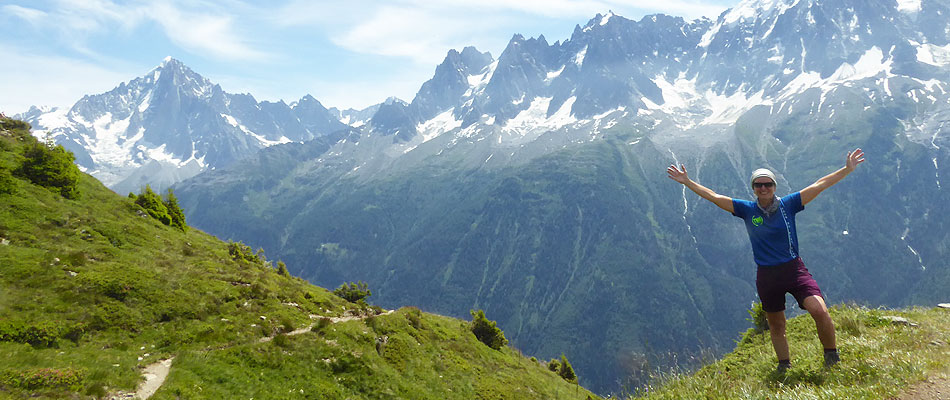 Photo: Angie on the mountainside. By Angie Pantall
How did you train for the holiday?
I trained on the South Downs where I live and also up in the Lake District. I would recommend training for six months before you go. Start off with a two to three hour walk and then just add on half an hour or an hour, building it up to being able to walk for six or seven hours towards the end. I tended to do a four hour walk in the week, and then a longer walk on a Sunday when I could fit it in. For hill training, when I had an hour free, I picked a steep hill on the South Downs that was near to me and went up and down it again.
Were your preconceptions of this walking holiday very different from reality?
I was excited about the trip and I was also a bit apprehensive about how fit I would be for it, but I have to say it exceeded all my expectations. I was on such a high when I came back.
Did you have any scary moments?
We did have a drama while I was there. One of the ladies in the group, who had come from Australia, had gone off to the toilet block at the campsite and we heard her scream. When we ran to find her she had passed out and was lying on the ground and was clearly very ill. To cut a long story short she had deep vein thrombosis, so it was really serious. Luckily we were quite early on in the trip, and not too far from Chamonix. The guides were brilliant and called an ambulance immediately, which was there in 20 minutes. She spent the next two weeks in hospital, but we heard she was OK by the next evening and that was great to find out, of course.
How did you all manage that as a group?
I think this incident really brought the group together, as it was a big shock and very serious. We bonded really well immediately after that and just enjoyed the experience, thinking 'wow, this is amazing' because something like that was a real wake up call for us all. The guides dealt with it and coped really well. They kind of got the group going quite quickly after it happened saying, "come on guys, we can't do anything more. Let's get going." Which was good.
Do you have any sense memories from your trip, other than 'sight' ones?
The sound of the cowbells everywhere, the crunching of snow under our boots, and sometimes just the sound of chatter behind you. Oh and the streams of course. The sound of running water.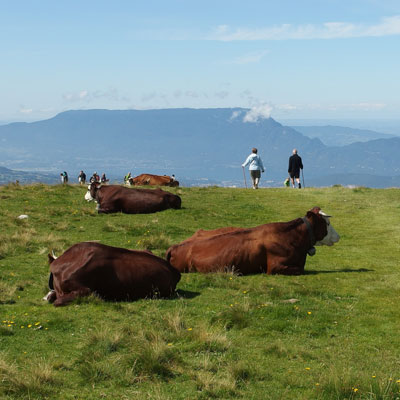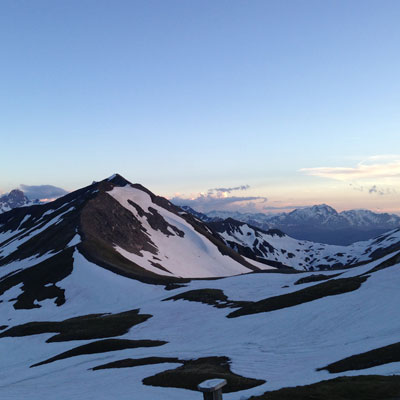 How often were you walking through snow in early July?
You come upon snow every so often. There wasn't heaps of it in July but there were patches up on the high pastures. You might be on it for 100m, back off it for a bit and then back on it again.
Did you have any particular highlights during your time there?
One night we camped at the bottom of a valley; it was pretty remote and wild. We had an open fire that night and we all sat round it. The mountains were on either side of us and, as we sat there, we just felt so insignificant.
I also remember a moment when I was doing my washing and there was a glacier behind me. The sunlight was on it and I just thought, my God, you just couldn't be in a better place. Wild flowers in front of me and a glacier behind me, and I am doing my smalls! It is just so beautiful. And you are in beautiful scenery like this every single day. There wasn't a peak or a particular place that you have waited for, every day is one beautiful walk after another.
We had one magical moment. We were coming into camp one day in this wild valley and there was a paraglider coming in, in front of us. All of a sudden he landed in the middle of our camp, and it turned out to be our cook! It was like the Man from Milk Tray advert and we were laughing saying 'Oh Kieran, what a dramatic way to cook our dinner!' He had taken advantage of it being a nice day and went off paragliding while we were walking. I didn't realise he was a paraglider; I just saw him land, fold up his paraglider and start cooking for us!
Did you swim in any of the mountain lakes?
I did! Only one though, because they were cold. I went into one in Switzerland and it was quite funny, because I went down there with my swimming costume on under all my clothes. I had been saving my fluffy towel for a good moment as I had been using a travel towel up until then. I stood on a little wooden platform and went to put my toe in to test the water before I undressed, and the platform had algae on it. I just slid, shot up in the air and ended up in the water. The others were all there killing themselves laughing. So my nice fluffy towel got sopping wet too and took days and days to dry! But, having said that, it was beautiful with the mountains reflected in the lake.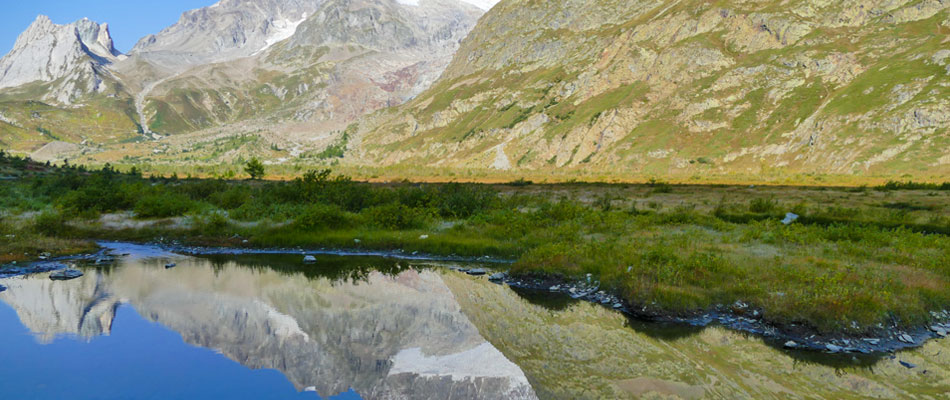 Was everyone in the group super fit?
No, not exactly. I think people are always worried that they are going to be the last person and hold everybody up. But actually we kept swapping positions and talking to one another. We weren't marching through it, but more interested in one another and looking out for one another. We wanted to have chats with different people and it all felt very organic as a result. You would spend a couple of hours chatting with someone, and then stop for a tea break then head off chatting with someone else. Every day is a challenge of course, physically, but you get to the end of it and have a real sense of achievement.
That sounds like just the perfect group!
Yes it was, and we had some really deep and meaningful conversations. But then other times you are just talking about body functions, stomach issues and other such basic stuff. We have stayed in touch and in fact I am going walking with one of the girls on the South Downs next week. The thing about a trip like this is that you are with likeminded people and, I have to say, I had such a laugh with everyone. My sides were hurting sometimes as we were laughing a lot. So, breathtaking scenery and a great bunch of people.
And finally, Angie, has this trip influenced where you would like to go next?
It has reignited my passion for walking, definitely. I just want to do more and more now. Especially in the Alps. I am doing the Cumbrian Way next summer as well. I just really think that the trip was amazing.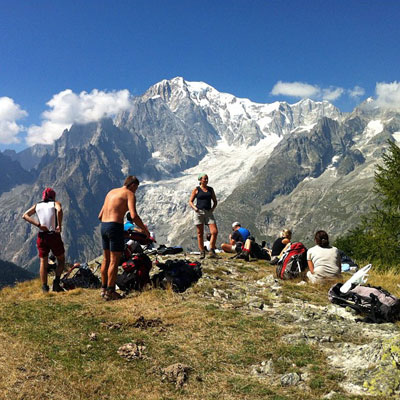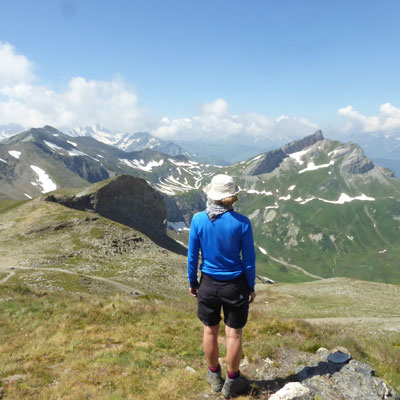 Photos: Hiking group and Angie looking out at mountains. By
Heather Cowper
and Angie Pantall
Find out more about this trip
Continue reading about this
Mont Blanc circuit walking holiday