Tour leader interview with Danh Nguyen – Vietnam cycling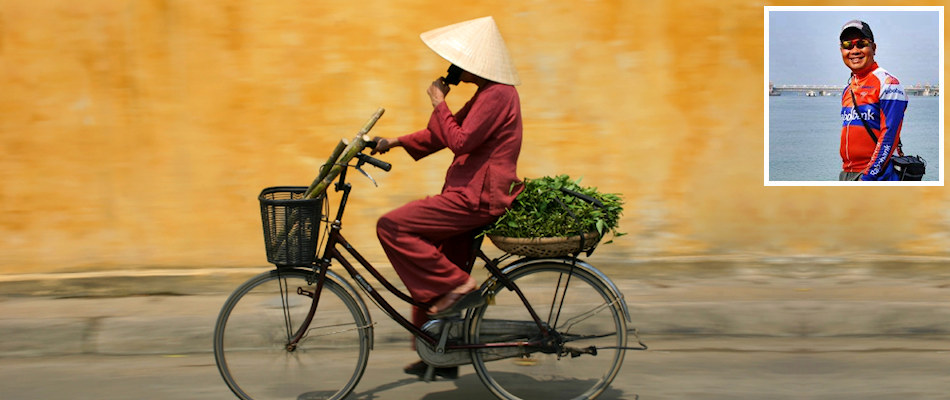 Cycling and (inset) Danh Nguyen
Leader interview: Danh Nguyen - Vietnam small group cycling holiday
In 2012 Danh received the Best Cycling Leader and Overall Winner Awards from this international tour operator. But when he first started leading tours over 20 years ago, Vietnamese holidays were quite different. As there were so few foreigners there, Danh led tours for Vietnamese people around their own country and overseas.
By 1998, it became easier to travel in Vietnam, and Danh led a number of groups from the former East Germany, who were interested to visit another communist country. Visitors began to request cycling tours, despite the poor quality of Vietnamese bikes at the time, and Danh soon became known as a cycling tour guide. Fortunately the bikes now have more than one gear, and can deal with Vietnam's varied terrain!
When he's not leading tours, Danh is showing others how to do so; he teaches tour guide students at Ho Chi Minh University. He doesn't expect many of them will become cycling guides though – as he says, "all cycling tour leaders in Vietnam are 35 or older. When we were young we had to use a bike all the time – not like now. Young people now don't want to use bikes – always scooters! You can't find young people who want to cycle in heat, rain, long distances…"
In Vietnam any problem can be solved by being happy and smiling.
So on the first day I always teach the group oi choi oi, do you know? Oi choi oi is like "Oh my God!" Whenever they go to buy something, I tell my group – you don't ask for a discount but you just say oi choi oi – "oh my God, too expensive!" And you look happy, smiling and they can give you a good price. So I always teach them this one – it makes the local people laugh and they can make friends with you easier.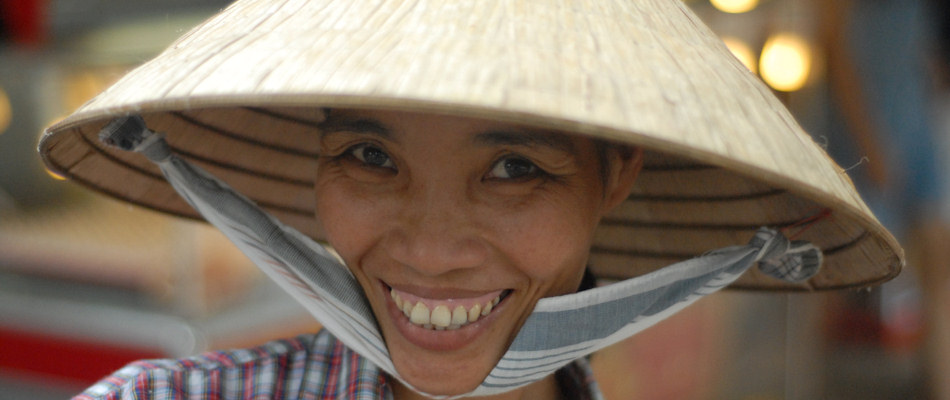 The first day, in the group meeting, I say, "I don't care who you are or where you come from, but when we jump on the bikes we become a big family and we look after each other."
Sometimes a group member gets a puncture, or they stop to take a photo so they are behind, we can stop and wait for them. We have to be a group together. But if you just want to do things yourself it's quite difficult to join a bicycle tour.
A very important thing to show the group is how to cross the traffic in Vietnam. Walk slowly, never run, never stop.
On the first day a lot of the group members are really scared and they stay in their hotel until they meet the tour leader. They meet us and we give them the way you cross the traffic. And after that they can do it. So I think that is the most important thing to know as they have a culture shock with the traffic. Six million scooters in Ho Chi Minh City!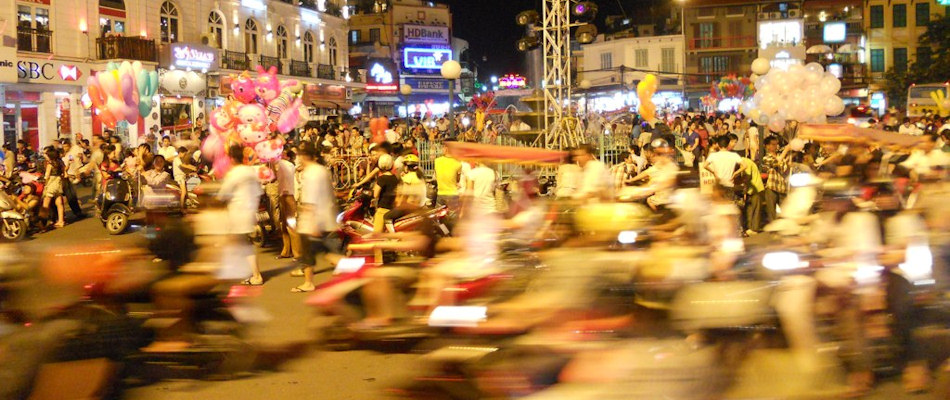 For souvenirs, I had an idea. I run the bicycle tour so the group is always interested in something that belongs to the bike.
So when the chain from the bike is broken, we can recycle it and make a gift for the person who first climbs to the top of the hill, for example. They are really interested in this one! I think in the future when a lot of the old bike gear is broken – we can recycle them all to make a gift for the group. It would be nice! I make a necklace with the spokes from the bike – the group loves it but we can't make it for everyone – so it's just for the champion of the hill! It's good to recycle the bike gear. There's a mechanic in Ho Chi Minh who makes things for the group – they really love it.
The song I love is Hello Vietnam.
It was sung by a Vietnamese girl who was born in Brussels. She was born there and lived there – she didn't know Vietnam. But some guys wrote a song for her about Vietnam. She sang the song, it's very nice in French, and now they have an English version.
There's a guy called Mr Khanh who is from Ho Chi Minh, but he gave up the city and came to the countryside. He lives in the middle of the jungle – he has no electric, nothing, but he set up a small house there and he sells coffee.
The hill tribe village has many coffee plantations there and he started to run a coffee shop there with no electric or anything. We always talk with him and chat with him, he buys some bananas from the hill tribe for the group, he's quite a nice character. The group loves it because when we come there they can lie down in a hammock, enjoy the real coffee from him and also we have a lot of bananas from the jungle. I love this guy because he doesn't want to live in the busy city; he prefers living in the middle of the jungle.
In Vietnam, you know, when they say hello they use two fingers with the back of the hand turned out. But they don't know that the foreigners think that is a naughty signal, you know what I mean?!
So on the first day when the group is on the bus, I always explain this because we go in the countryside cycling, a lot of the kids go "Hello, hello!" and they always give two fingers. But really it's a misunderstanding. In Vietnam we count "one, two three" – mo, hai, ba. Hai – that means two. In English they also have the word hi – it means hello. So when the kids are saying "hi" – in Vietnam it means two. So they give two fingers! They are not naughty – they are just doing it wrong. So I explain it to the group and they are ok, and then when they say hi they also give two fingers. It's nice. When we take a photo of the group we do it with two fingers!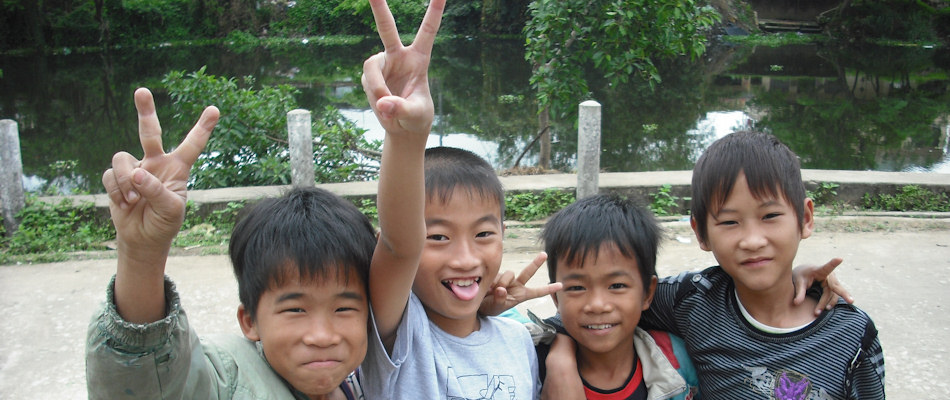 If you come to Vietnam without the jungle juice, you cannot finish the tour! A lot of people use the electrolytes, but that is still chemical; we always make the fresh one.
We use lemon juice and every morning around 4:30 we cut it and squeeze it and get around 300ml of fresh juice plus 400g of sugar, 2tsp of salt and 5l of water so we make a fresh lemon juice. After 20km we stop, the group have a drink and they all love it. In Vietnam it's very hot, and the jungle juice has more vitamin C, salt is very good for your muscles… If you look at the cycling tour reviews, a lot of group members always say – "come to Vietnam, you have to enjoy the jungle juice." But me and the mechanic, we have to get up early – 4:30am – to do that every day!
I think we should join our money together so that the tour leader can help you pay for some small things.
If I pay, it's cheaper than if you pay – and I don't want my group to have problems with that on this tour. So always we join together and it's nice. It makes me feel guilty – if someone buys one coffee and they're a foreigner, they ask the price and it's $1.50. But if I take the money and pay for the group, they say it's 10,000 dong – that's half a dollar. So it's easy for the group, and they can save more money. But even for me it's different. I live in the south, so my accent comes from the south. When I go to the north, I always have a high price! I have to ask the local people there if they are happy to buy something for me.
I explain to people on the first day – a cycling tour is not like other tours. We can be a little bit tired, we are with the local people, touching, smelling, getting dirty – but that's real life. You can't do that on the bus.
On the bus you can't go with the local people. But if you want to stay up late, get up late, have breakfast, a short cycle – on this tour, that's impossible. With the people they mustn't expect a lazy tour, an easy tour. Every morning we get up around 7 but some people didn't want that, they said no. This is a holiday – I have to get up after 8am. But I think that's impossible. If you get up after 8am it's too late for the schedule. You cannot cycle – it's too hot in Vietnam.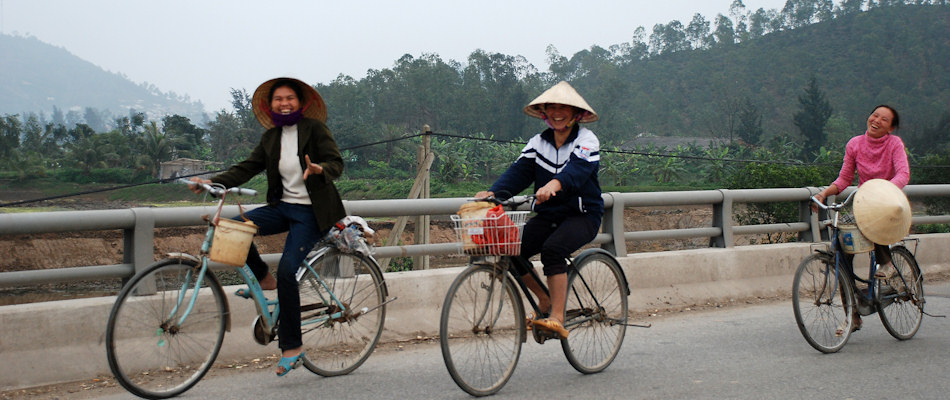 Only one thing I cannot control is the weather. Anything else that happens, any other problem – I can deal with it. But the weather I cannot control!
If there is a typhoon coming, there is nothing we can do. Vietnam is quite a long country from north to south, 2,400km. So north Vietnam has different weather to the centre and the south. If you want the whole country to have good weather – it's impossible. For example, in the south it's very hot, in the centre raining, in the north cold. In the north if it's hot and humid, in the centre it's typhoon, in the south rainy. But we know how to plan for that on the trip – just don't expect for nice weather!
Whenever I join with the group, I always mention that this is my holiday that I am enjoying with the group!
I go with them and enjoy it. So that's a relaxing time for me. I also enjoy the tour, and the group recognises that.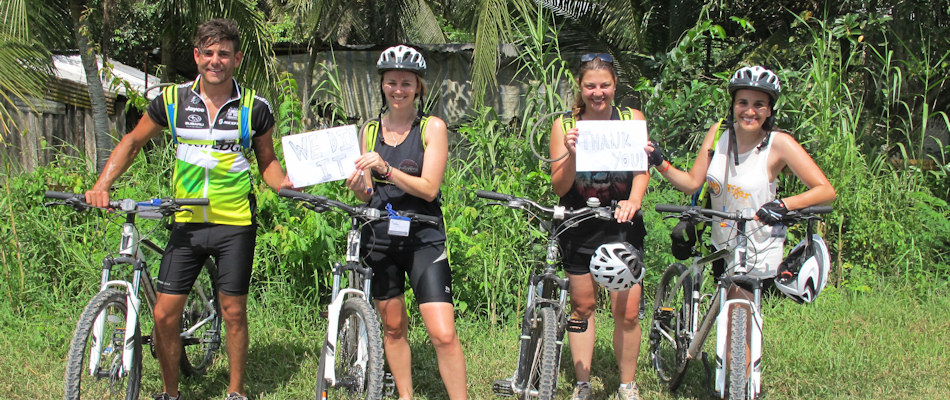 One day when we cycle to the national park it's very nice and quiet – no scooters, no cars, nothing.
We cycle along there and sometimes we hear the noises from the monkey, or we hear the birds, they make a nice noise and the groups sometimes stop there and just listen to nature's sounds. It's very nice. Sometimes we cycle and have noise from the traffic and the scooters and everything – but when we go down there it's quite quiet and we can hear all the sounds from nature, the jungle, even the bamboo cracking together… It's really, really nice. People stop and listen for a long time, sometimes I have to say "Let's go!"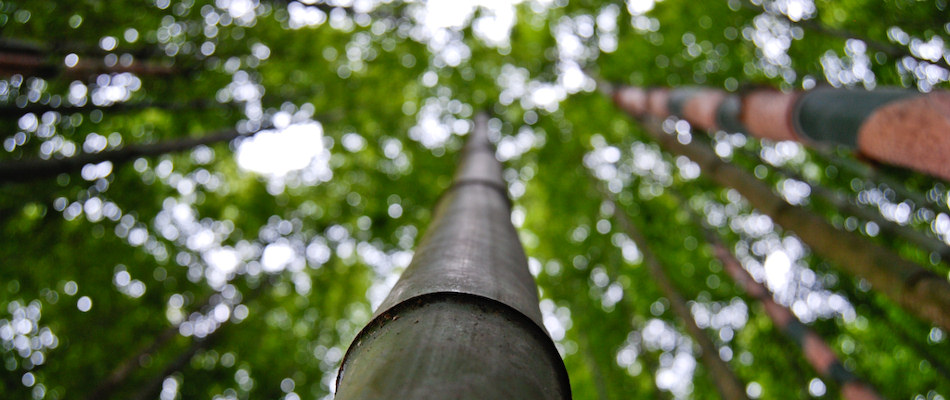 Find out more about this trip
Continue reading about this
Vietnam small group cycling holiday