Late availability & offers wizard
Our late availability & special offers wizard allows you to add your own
Product Deal
straight onto your page in under 2 minutes! Just enter the details, choose which pages you want it to appear on and pick the relevant activities - that's it - and your updates will go live the next morning.
It's really easy to do but we've written a step-by-step guide below. If you have any problems please contact your Account Manager (see
help section
). Please note that it's only possible to have one Product Deal on a particular page at a time.
Click on the small images on the right to see larger, more detailed images.
Sections in this guide:
Example
Adding your Product Deals in 10 very quick steps
Step 1: Log in to the extranet

Log in to the extranet at https://www.responsibletravel.com/extranet as normal by clicking on the icon in the top left corner. If you have forgotten your password you can have it sent to you from this screen.

Step 2: Go to 'product deals'


Click on 'product deals' in the left hand menu. Any deals you've previously entered will be listed.

Step 3: Create a new 'deal'


Create a new deal by clicking on 'new' on the grey toolbar at the top of the page. This will bring up a new window.

Step 4: Name your 'deal'


Name your deal. This is for your adminiatrative use by you and Responsible Travel only. It won't appear anywhere on the site. How you name your deals will depend on how many holidays you have, if you put the same deal on lots of holidays, etc. Generally, you might want to consider including the holiday name (and code if you have one), the offer and when it's valid. See the style section below for examples.

Step 5: Select a deal type


Choose from:
'late availability' (for departures within the next 3 months)
'special offers' (e.g. discounts, get an extra day free or free bicycle hire if you arrive by train, etc)
'late availability and special offers' (offers for departures within the next 3 months)

Step 6: Enter the details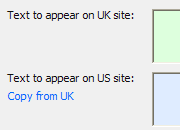 This is the text (narrative) that will appear on our search results pages and on your holiday page, so make it as appealing as possible. Please don't use abbreviations or exclamation marks, and be clear whether an offer is for bookings made within a certain period or holidays taken within that period. See the style section below for examples. If you have a complicated offer that you feel needs a lot of text to explain plese contact your Account Manager to discuss this.

If your pages are on the US site, please enter relevant text you would like to appear in the blue box if different from the UK text. If you would like it to be the same as the text on the UK site, click the 'Copy from UK' link and the text entered in the UK field will copy over to the US field.

Step 7: Choose the display dates


The start and end dates are the period that your deal will be displayed on your pages. Enter your dates by clicking on the date picker icons. The start date will almost always be today's date. The only exception to this would be if you are setting up a deal in advance (because you won't have access to a computer later, for example). The end date will be the date that you want the deal to be removed from your page (or the last relevant departure). If your computer is using American settings your dates may not come through properly; either change your settings through the Control Panel or contact your Account Manager to ask that they be changed.

Step 8: Choose the pages you'd like your deal to appear on


Your live pages will automatically be shown in the product list tab. Choose all the pages that you'd like your deal to appear on. If you have different deals for different pages you will need to set up individual deals for each one.

Step 9: Choose activities


A list of relevant activities (depending on whether your deal is late availability, a special offer or both) will be shown in the activities tab. Choose the activities relevant to your deal. This will dictate which search results your deal appears in. Please do not associate your deal with inappropriate activities - this will only result in a delay in putting your deal live. If you are not sure whether your deal belongs in an activity, have a look at this section on the Responsible Travel site to see the type of holiday already associated.

Step 10: Save


Click save! You will now see a list of all your deals. The last column (status) shows you whether your deal has gone live yet. Typically, your deal will go live the following morning (UK time).

Updating or removing deals

If you need to remove your deal before the end date (e.g. if your departure has been filled), open your deal and change the end date to today's date. The end date is the only field you can edit after your deal has gone live. If you need to change your deal and it is still pending you can open the deal and change it as per the steps above. If it is live you must end your current deal and start a new one as per the steps above. Examples of good deal names:

All accommodations - availability until Sept
Spain t/m trips - 10% off bookings before 31 Jul
BRC Brazil adventure - late availability Jun, Jul, Aug
Europe trips - 10% off September departures

Examples of good narrative details:

Late availability on 19th July and 1st August departures
7 nights for price of 6 for stays throughout June – subject to availability
15th June departure now from £489 for 7 nights - save £140
Late summer and autumn guided walking still at 2007 prices and an extra 10% discount for Responsible Travel clients. No single supplements.
Travellers arriving by train who book via Responsible Travel will receive a discount of €75
£50 off per person for tours that depart before 30 June 2008
10% off all bookings made before 31 July

Frequently Asked Questions

What will my page look like?
Take a look at these examples:
Deals on an activity page

What if my offer is on-going and doesn't have an end date?
If your offer is something like £20 off a £500 holiday and it is on-going then we would class this as a price reduction and you should tell your Account Manager that this is the case. If, however, you offer free bicycle hire to anyone arriving by train (for example) then this is something we are happy to keep on the site for a long period. Please enter an end date 6-12 months in the future and remember to re-visit your deal before it runs out to extend the end date. The end date is the only field you can edit after a deal has gone live.

The first departure for my late availability is in 2 weeks' time - is that the start date?
The deal start date is the date you want the deal to start appearing on your page on Responsible Travel. In almost all cases you will use today's date.

How late is late availability?
We class late availability as departing within the next 3 months. You can add a special offer for departures after this time but late availability deals will not be put live if they are later than this.



I've added a deal so why isn't it appearing on my page?
New deals are logged in our system as 'pending'. We check these and change the status to 'live' at the end of each working day. Our site is then updated overnight and new deals will appear on the site at around 9:30am the next morning (UK time). Your deal may be delayed if it's the weekend, a Bank Holiday or if the wording you've used isn't clear and we have to check it. You can see whether your deal is live or not by logging in to the extranet, clicking on product deals and looking at the last column, which shows the status as live or pending. If you think your deal should have gone live already but is still showing as pending please contact your Account Manager. Please note that it is not possible to have more than one deal on a particular page at a time. If you're having problems and you've already read through the steps above, our FAQ and the notes on style, please contact your Account Manager. If you're not sure who your Account Manager is, log in to the extranet and open your Wholesaler - your Account Manager's name is below your address.


Get started by logging in to the extranet See how Product Deals appear on our main late availability and offers pages, and in search results