Sean Conway: On the edge - The British ultra triathlon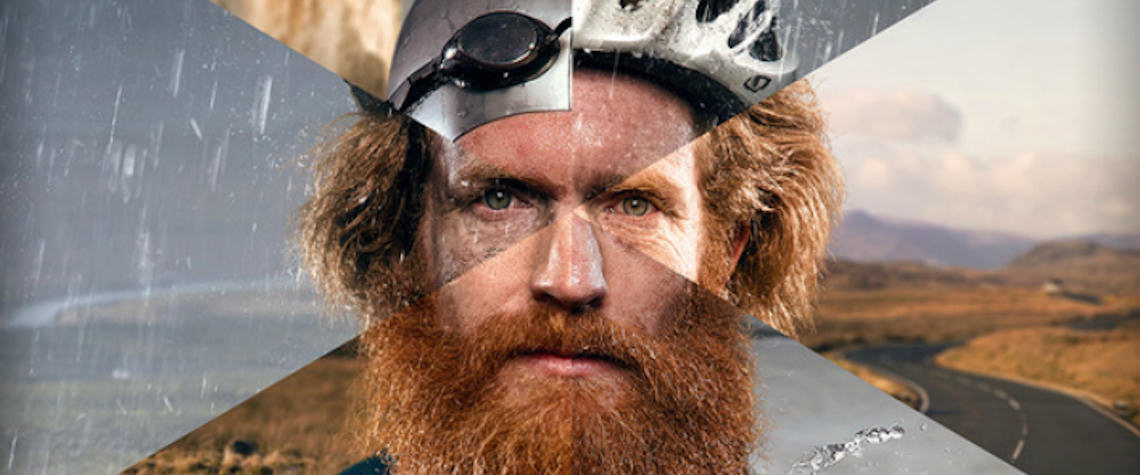 So, when you've already swam, ran and cycled the length of Britain, what's left to do? For Sean Conway, the answer was obvious: do the whole lot in one go by undertaking a self-supported ultra triathlon that circumnavigates the entire coast of mainland Britain.
Challenges like this are what drive Sean and even though he readily admits running kicks his ass and an 80 mile unaided swim dragging a self-made raft isn't going to be easy, there's no way he'd swap the life of an extreme adventurer for any other job on the planet.
"I just got miserable turning 30 and realised that in my twenties I was in such a rush to be successful and earn money that I'd forgotten what being outdoors and having adventures was all about.
I was born in Zimbabwe and raised in South Africa. Life was pretty adventurous and probably has a lot to do with my current outlook. We didn't have much electricity so there was no TV and I was outdoors a lot. My father still lives there on a game reserve in Mozambique. I love to go back to the South African bush, as you're just away from everyone and out of communication from the outside world. There's nothing like it."
It's no coincidence that Sean's early years in South Africa are what push him now he's in his thirties, and working out that life is not meant to be one long rush has become a real motivator when it comes to fresh challenges.
"It's good to push yourself to attempt something new as you can easily get in a rut. I've got another 40 odd years of living so why should I be in such a rush? When going anywhere I always think: why do things by halves? I took the easy way throughout my twenties and never want to be that complacent about life ever again."
Sean's 'doing nothing in half measures' attitude was exemplified on a recent trip to Jordan where he undertook a hot and gruelling desert hike rather than just sticking to a sightseeing tour of Petra or spending a night under the stars in Wadi Rum.
"Recently I visited Jordan with a friend and walked across the desert for 10 days. We carried our own water and just rocked up at Bedouin camps. I was blown away by their hospitality, kindness and sense of humour, they were really jovial people despite, or because, of their conditions.
Petra used to get 5000 visitors a day; when I went, there there was under 100. There's absolutely no reason not to go to Jordan, it's completely safe and the people are just super grateful that someone came to visit them from a different country.
In my experience, 99.9% of the world's population are happy, caring, loving people and it's just the media that present a negative perception, just to create headlines".
Through challenging himself not to be complacent, Sean has discovered a way of life that he loves and that has allowed him to see the world and its people from a positive perspective. It's with this in mind that he explains what, for him, is the essence of responsible travel.
"For me, the essence of responsible travel is becoming involved in the place that you're visiting. Leave your preconceived notions and stereotypes at home and don't press your values and ways of thinking onto the people that you're coming into contact with. We all need to learn that there are different ways of doing things in other countries, and learning languages, experiencing the culture and trying the food is all part and parcel of responsible travel. Go travelling with an open mind and really make an effort to embrace and get involved in someone else's culture.
Most of the world and the people living in it are pretty awesome, if you make the effort to get involved."
Of course, pushing yourself and creating fresh challenges is something that everyone can explore on a unique and individual basis. People like Sean are special because they're doing something extraordinary with their lives. But we're all capable of achieving something that we can be proud of and sometimes it's just visiting a new country or exploring what's on our own doorstep that gives us the inspiration to push ourselves just that little bit further.
"My advice for anyone looking to travel is to just put aside some time in your diary and just go. Buy a map of the world, find a place that captures your imagination and just go. I cycled around the world without much planning and you'll find that once you've worked out visas and how much you need to get by there's not much else you need to do other than just go.
The world is not as scary as the media would have you believe."
Sean completed his self-supported 4000+ mile ultra triathlon of Britain in June 2016, almost 3 months after setting off cycling from Lulworth Cove in Dorset to Scarborough in North Yorkshire. From Scarborough he swapped his bike for running shoes and headed down the east coast of England en-route to Brighton, whereupon it was an intense two week swim back to Lulworth Cove.
Sean's incredible journey around the UK coastline will be shown in detail in Sean Conway: On the Edge, on the Discovery Channel on 30th August 2016 or follow his story on Twitter:
#GoSeanGo
.
Amazing work Sean!