Traveller interview: Margaret Patterson on her Morocco holiday to the High Atlas Mountains
See / go back to this
Morocco holiday in the High Atlas Mountains
Margaret Patterson, an Australian customer, spent a week in
Morocco exploring the High Atlas Mountains
with her husband on this small group holiday. Now back in Sydney, she shares some of her experiences with one of our travel writers, Catherine Mack.
What made you want to go to Morocco?
I had some friends who had been to Morocco and I was cruising around the internet and just thought Ďthat sounds niceí. I liked the idea of going to Morocco and including some walks in the High Atlas Mountains and thought that it would be super interesting. We combined it with some other trips in Europe as well, one of which was walking on Portugalís
Rota Vicentina
.
Are you a keen mountain trekker generally? This is categorised as a moderate walking holiday so hopefully it was fine for you.
Well, we do a lot of walking, yes, but I am not a technical climber or anything. But we do love to walk. And you donít need to be a technical climber to do this holiday anyway. Absolutely not!
Where did you stay on this holiday?
We stayed for two nights in Marrakech at the beginning of the holiday and one day at the end too. In the High Atlas we stayed in a kasbah.
What is the most useful thing you packed or, indeed, wish you had packed?
We did expect it to be quite cold up in the mountains in April, when we were there, but it was actually super cold. It was totally unexpected, even by the locals. There was snow on the terrace outside our room in the morning, so that was surprising. It was unusual for that time of year so we had to get extra blankets for sleeping as those kasbahs are designed to be open. People just need to be aware to take warm clothes. I unfortunately left my thermal leggings in Marrakech when we were packing up to leave for the mountains. I also wish I had taken my thermal gloves. You need them for nighttime but also when you are walking in that much snow and ice.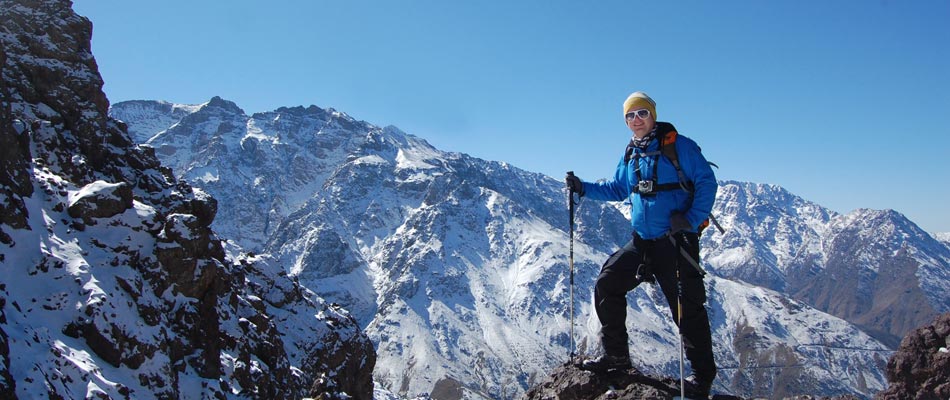 Did the unexpected snow prevent you from doing any of the walks?
Yes, there was one long walk to Lake Tamda which was going to be 31km but because it was so long with snow on the ground, we decided it was going to be just too slippery going up the hill. And we didnít know how much snow or sleet there would be higher up. It also means that it is difficult to take rests on the way up, as it is just too cold. So we decided against the trek and took the morning to just wander around the village and then we went to the hammam!
And how was the hammam?
Oh we really enjoyed the hammam. We had a lot of fun in that. It was in the village and was set up by funds earned from people travelling with this tour operator, so that was great. It was a really different experience. Men and women are separated of course, and so my husband went in with a Cypriot man who was in our group. You go in naked except for your panties and the lady who did the treatment, Fatima, was just brilliant.
How was Mohamed, your guide?
Mohamed was lovely. He had good English, and he had trained as a lawyer and then decided to retrain as a guide. He comes from a place called Happy Valley and he says it the happiest place in Morocco and that we should all go there! He was very nice.
Were your preconceptions very different from reality?
We travel quite a bit and there was nothing shocking about Morocco. It was different to what we anticipated but that is often the case when you go travelling to a new country. The food was better than I thought it was going to be. People told me that the food in Morocco was a bit boring, but I have to say that the cook at the kasbah where we stayed was fantastic. I loved the tagines in particular which were done in a very tasty way, and not bland at all. They also had beautiful salads for lunch.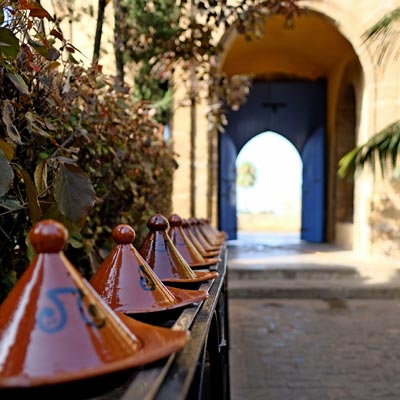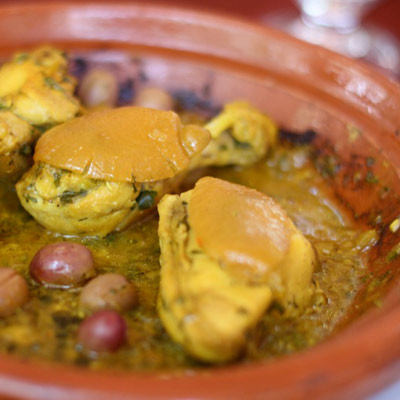 What did you think was going to be difficult that turned about to be ok?
I was a bit nervous about doing the long walking day that is 31km; it was meant to be a seven hour climb and a three hour return. But as I said, because of the weather we didnít end up doing it. In the trip notes, it says that you donít have to do the 31km route anyway, and to be honest, I donít think all of the people in this particular group would have been able to walk 31km. In some ways we were probably two of the faster walkers in the group.
Do you have any sense memories from your trip, other than Ďsightí ones?
I remember the call to prayer in the village which was quite regular. One of the smells that I remember was on the first day of the walk when we stopped to eat lunch in a sheep shelter which was full of sheep shit! So, that was interesting and certainly quite a strong smell. And definitely an authentic experience!
Was there one local person that you met whom you will always remember?
I think it will probably be Fatima from the hammam. She was an older lady and was very amusing, a real character, and even though we didnít speak the same language she just really made me laugh. She was quite bent over, and had probably spent many years working in the fields. She had that tattoo down the centre of her lower lip, but she was just really amusing. That whole experience was quite unique really and great fun. She also very much put us at our ease, which was great.
Was there anything about the trip that you wouldnít particularly recommend?
Well, when we were in Marrakech Mohammed arranged for us to have a female guide to show us the markets. He had done this because some previous clients had asked why they always have male guides. But actually I didnít really think she was very good although she was a nice person, donít get me wrong. We also went to an argan oil shop and were trapped there for about an hour and a half, getting the whole spiel, and that felt like a bit of a waste of time. So I think it was an attempt on the part of the tour operator to cater for those who wanted a female guide, but I think it is better to have a better quality guide like Mohamed than worry about whether they are male or female.
Do you have a favourite viewpoint?
It was probably the day that we hiked around Mt n'Oughlagal, which gave us just amazing views across the mountains and valley. It was also a beautiful day, so that was terrific. Also just seeing the snow covered peaks all around us was pretty spectacular.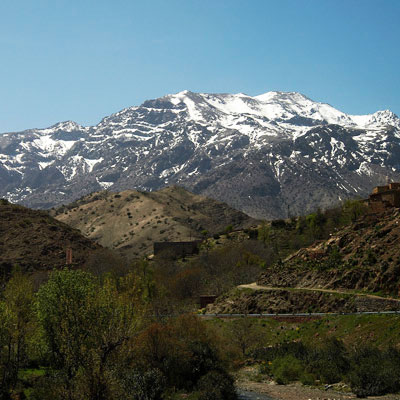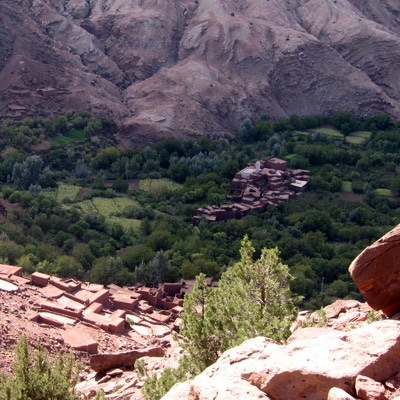 Has this trip influenced where you would like to go next?
I would say this is a great trip as an introduction to Morocco but we would like to go back some day. Especially to the northern part of Morocco which we couldnít get to on this trip, around Chefchaouen as there is some lovely
walking around there
. And also along the Mediterranean coast as there are some interesting places there too. But we travel quite a lot, so we are planning the next trip already. Perhaps a
walking holiday in Ladakh next
. I hear there is one that is timed with a local festival and I think that sounds wonderful.
Find out more about this trip
Continue reading about this
Morocco holiday in the High Atlas Mountains