Traveller interview: Colin Hovey on his snow leopard tracking holiday in the Indian Himalayas
See / go back to this
Snow tracking holiday in the Indian Himalayas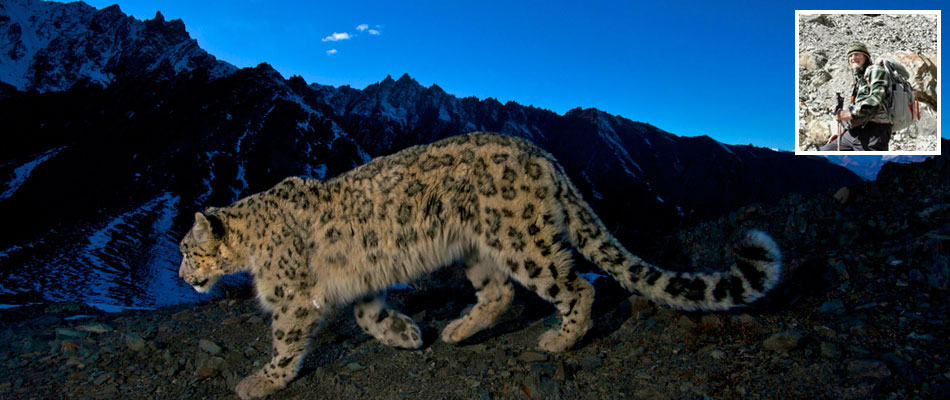 Colin Hovey, a 75 year old well travelled man from New Zealand talks to one of our travel writers, Catherine Mack, about his incredible
snow leopard tracking holiday in Ladakh in the Indian Himalayas
in March. If you want to hear from a man who has seen more big cats around the world than anyone we know, Colin is one awesome aficionado.
"At last we could see there was actually a pair of snow leopards, and they moved and I was able to see them completely silhouetted on the skyline. One of them sat down and the other was upright."
Had you been to the Himalayas before?
No I hadnít, and I went purely to see the snow leopards. My daughter in law asked me recently how it ranked out of 10, and I said it was really a 15. Even though I had watched quite a few videos around the Ladakh area before I went, and knew that it was rocky and steep, until you actually get to a campsite and are walking up the valley with its frozen stream covered with snow and ice, and having to cross that, you donít really have any idea of the extreme nature of it all. When you go to Rumbak village, for example, it is just a really small place. The streets are so narrow, and you have to push the cows out of the way to get up the street.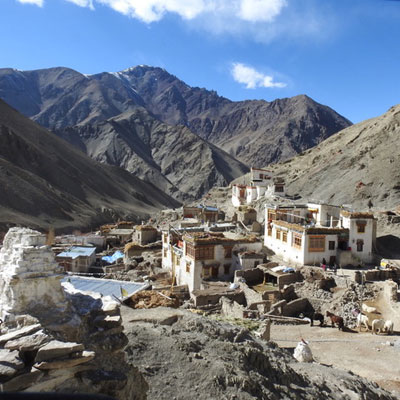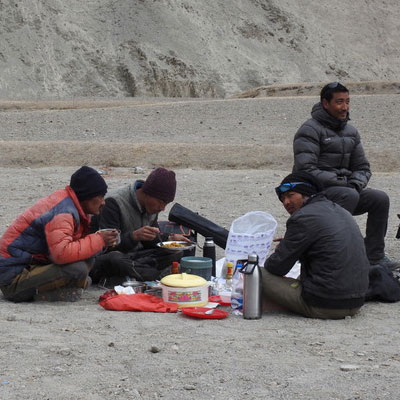 Rumbak village and breakfast with guides. Photos by Colin Hovey
Had you been on a wildlife holiday before?
I have travelled hugely, always chasing big cats. Iíve been to South America to see the jaguars twice, and to Sri Lankaís Yala National Park to see leopards. I have been to India eight times to see tigers, and Africa at least two or three times to places like the Serengeti, Ngorongoro and the Masai Mara. So, as you can see I am a big cat fan!
Out of all those experiences, which has been the most spectacular or memorable for you?
If you leave Ladakh out of it, when you see your first tiger in the jungle that is incredible. I think out of all the cats out there, the tiger still rates quite a way above them. Also, where I go to see jaguar in Brazil, on the CuiabŠ River in the Pantanal wetland region, you are on a boat safari. And you can whip up the river pretty quickly when there is a jaguar sighting. You get to see jaguars sitting on the river bank or perhaps even swimming in the river. I suppose that South American experience is the most different from being on a jeep or walking safari in Africa, where the animals run away from you. In Brazil, you can get much closer.
Where did you see tigers in India?
I have seen over 100 tigers on my travels! I have had over 70 sightings in Bandhavgarh National Park and 20 in Kanha. I have also been to Corbett, Tadoba and Pench.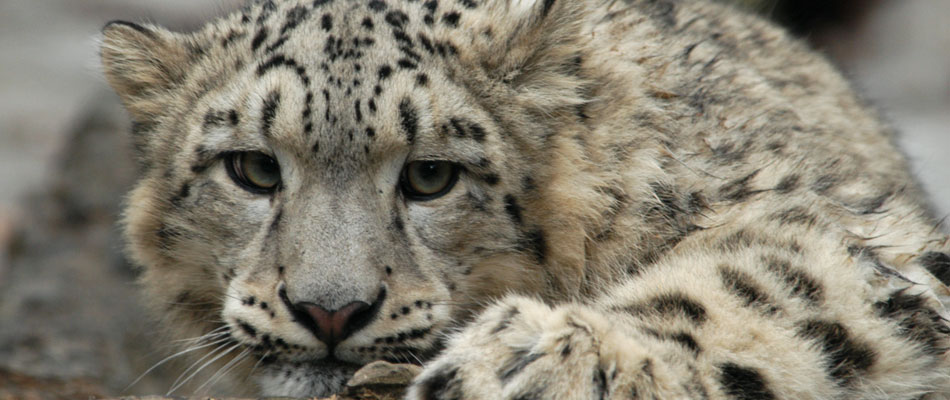 Snow leopard
Back to Ladakh and the Himalayas, you went in winter didnít you?
Yes, and it was very cold. The first night it went down to -10įC, so that is cold. You get out of the tent for breakfast and itís a toasty nought degrees! And I have always said I didnít like travelling where it was cold.
So what persuaded you to go for Ladakh, even though you didnít like the cold?
I met two young UK vets on my travels to see tigers at Bandhavgarh in India and was talking about how I had seen all the big cats except the snow leopard, and how I didnít think at 75 years old that that was realistic. They had just come back from Ladakh and showed me photos of the snow leopards on their phones that the guides had taken through their spotting scopes. They talked to me about it and said that they met plenty of people around my age there, and that it wasnít that difficult. So that changed my whole approach about only going to warm places and I decided to get geared up for the cold.
"As well as my warm clothing and puffa jacket the best thing I took to cope with the cold was an extra blow up mattress for camping."
What sort of gear did you need?
I have a couple of sons who do a lot of that sort of stuff and knew exactly what I needed, so that helped. As well as warm clothing and a puffa jacket the best thing I took to cope with the cold was an extra blow up mattress for camping. I donít go camping at all usually, so this mattress as well as a very good quality -5įC sleeping bag were really important as I always had a good nightís sleep. Otherwise I would have found it very hard to sleep with the skinny mat they provided. I had that in my pack, with a little pump, and that was perfect.
What did you expect before you got there?
Well, I had watched the few snow leopard snow documentaries, including one where a guy sits in a tent for three days because it is blowing a gale, and almost freezes to the point of frost bite waiting for a snow leopard to move. So I expected the weather to be a lot worse. I had spent the previous 14 days in Iceland and that was far worse than Ladakh; we couldnít get out of the hotel there because of blizzards and snow. So, I thought, heck if itís like this here in Iceland, whatís it going to be like in the Himalayas?!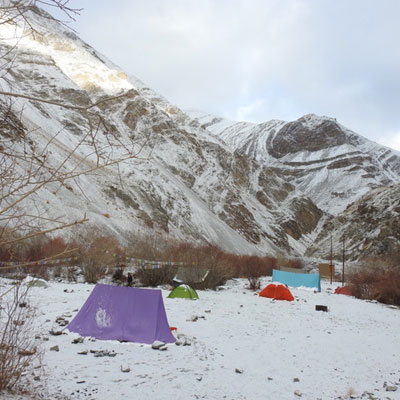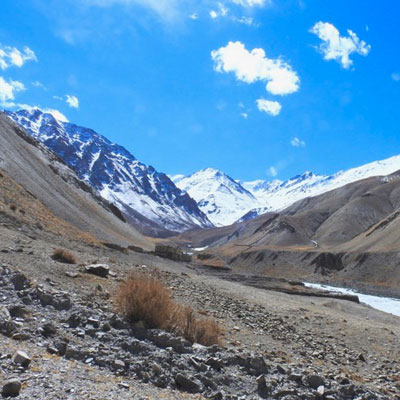 Campsite and sunny dwelling. Photos by Colin Hovey
And how was the weather?
I was apprehensive, but when I got there and asked the guide about blizzards, he just laughed! Maybe I was just lucky. I met someone who had been at the same camping ground this time last year (end February-March) and there were two feet of snow. With us, it snowed one night, but it didnít hang around. For the 14 days I was in Hemis National Park, it never rained, it was sunny and the daytime temperatures got up to 10 and 15įC. There was a cold wind so I needed my gloves and a cover around my face, but otherwise when I was trekking I was just in a base layer and a shirt.
What about altitude sickness? Were you worried about that?
I was wary of the altitude of course. There is one documentary about snow leopards where the film maker is so seriously ill he had to be pulled out of there. Although I have been at 4,000m before, on the island of Taquile on Lake Titicaca, it was only briefly, so I wasnít sure how I was going to be. I knew I was fit because I had been going to the gym for three or four months but I knew that the breathing thing was going to hold me back, so I was best not going in a group. Each morning, walking 200m or 300m up a relatively gentle gradient, I had to stop. The breathing at night for the first two nights was bad, but after a couple of nights I didnít have a problem. I met quite a few people along the way who were around the same age, and they had all struggled with puffing and panting.
How was it the first time you saw a snow leopard?
On the first day we got to the end of the road around 1pm and then to our campsite about 2pm. We walked up the valley to another campsite and when we got there, people were excited because they had just seen a snow leopard. I couldnít believe it. I was just four hours from the town of Leh, here in this incredible environment, and people were telling me there was a snow leopard. But I couldnít see it! I was really frustrated knowing that somewhere up there was a snow leopard and that it might move and I would never see it.
The guideís English was not great and my hearing is not great, but he managed to tell me it was on the skyline, about 1,500-2,000m away, and to look between two small peaks. Of course he was looking with his spotter and I was looking with my eyes and binoculars and couldnít even see peaks! However, at last we could see there was actually a pair of snow leopards, and they moved and I was able to see them completely silhouetted on the skyline. One of them sat down and the other was upright. Then one wandered away and the other stayed there, silhouetted for quite some time. And I could make them out with the naked eye, but seeing them through the guideís top class Swarovski spotting scopes was amazing.
"During my 13 day trip I actually saw six snow leopards."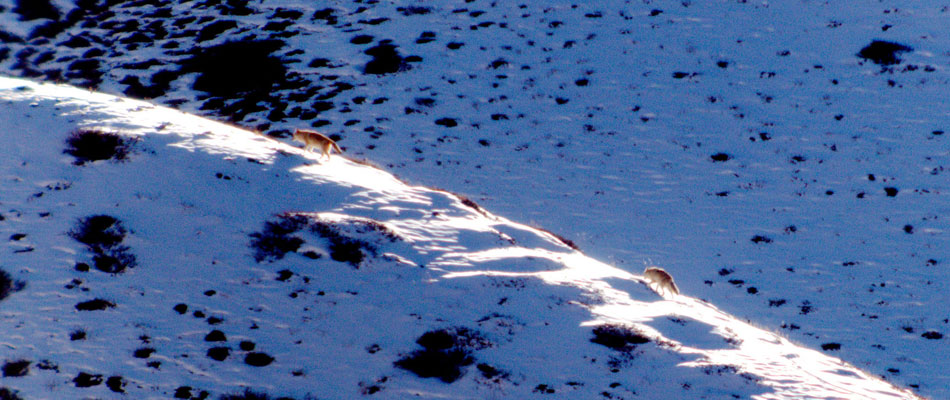 Did you see any more?
During my 13 day trip I actually saw six snow leopards. I was very lucky Ė one of them I saw twice. We saw it early in the day and then it travelled along the same ridge and down the valley where we saw it again. The best thing, however, was on the second to last day, when we saw one just across the valley from the campsite, about 300m away. We were able to watch it all day. So, basically every second day we saw a snow leopard. But when we didnít, we saw yaks, wolves, blue sheep and golden eagles up high, and lammergeiers, which actually flew quite low. They are fascinating birds and I got a really great photo of that with my long distance Nikon, with its wings up so you could see the whole body and the head. So even when we didnít see a snow leopard the whole adventure was astounding.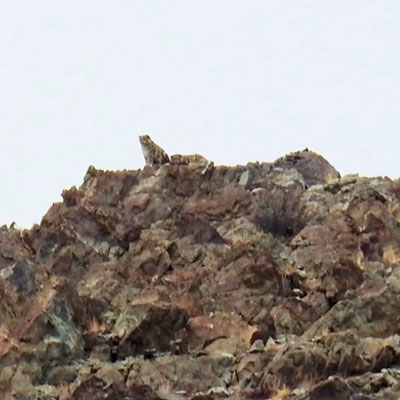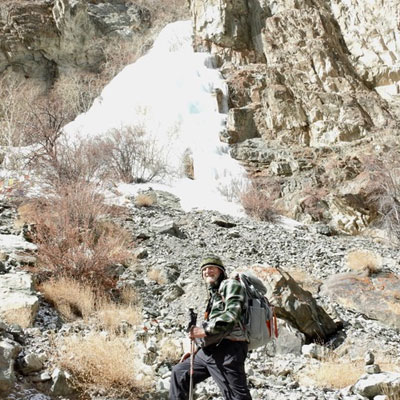 Snow leopard and waterfall. Photos by Colin Hovey
So you had an incredibly good sighting record for this trip?
Yes, my guide kept telling me how lucky I was. I think I may have seen double what people usually see, and of course some people go and donít see any at all. However, I know that this company has about an 85 percent success rate when it comes to sightings so that is reassuring.
We were careful about the trekking routes we took. From the documentaries I had seen, snow leopards have their own paths and they donít want to come into contact with each other. So if one goes down the valley one day, you wonít see another snow leopard in that area the following day, as they keep about two days apart. So, I encouraged my guide to follow trails that were in keeping with this behaviour. If no snow leopards had been seen in a particular valley for a couple of days, I asked him to go up there as we had a better chance of seeing one. On that last day when we saw one so close, no one had seen a snow leopard on that particular face for a while, even though there were plenty of blue sheep which is what they like to eat.
"From all my travelling to see cats, I have learned that you really do need to pick your time."
Are February and March particularly good times of year to see snow leopards?
Yes. It is also mating season so they are more likely to be on the move. From all my travelling to see cats, I have learned that you really do need to pick your time. In the parks in India, prime time is March, April or May; I have been there in October and struggled to see a tiger. In Yala National Park in Sri Lanka I saw 17 leopards in three days in November, but in in June I only saw one leopard in three days. So if you are really keen to see snow leopards you have to go at the right time.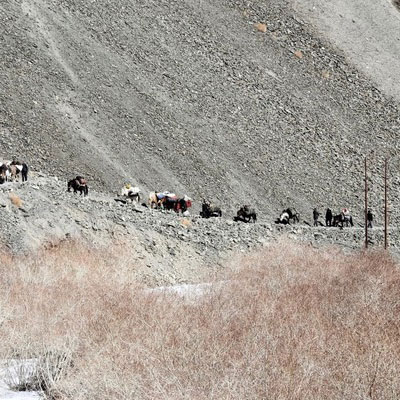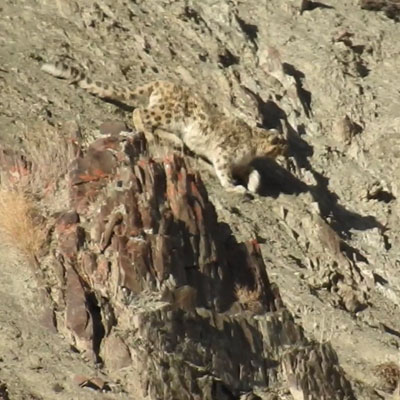 Pony train and snow leopard. Photos by Colin Hovey
Seeing life go on around you in Ladakh must have also been amazing.
Oh yes. Seeing where people lived, and how they had to have the fire going at all times. They had so many clothes on, but they would be outside offering you a cup of tea before you could say boo. They live in utter isolation with their horses and cattle, and of course sometimes the snow leopards eat one of their cows. The pony trains are also incredible. All day you see pony trains going up and down the valleys, sometimes with as many as 20 ponies. They carry huge loads, because everything has to be carried into these valleys of course Ė gas bottles, heaters, generators, food and general provisions, peopleís backpacks and so on. It is is always funny to see fancy wheeled suitcases strapped to the side of a pony or donkey!
Is the snow leopard an enemy for Ladakhi people or is there a sense of reverence?
I think the whole thing has turned around and they are compensated now if a snow leopard kills one of their livestock. The Ladakhi people revere animals, and would never kill a snow leopard. However I have seen documentaries of tribal gatherings and you will see people wearing the pelt of a snow leopard, so historically it must have happened. However, when we saw the snow leopards the local guides were very excited too.
Is travel insurance an issue for you at 75 years old, when you travel to somewhere as extreme as the Himalayas?
Well, that did concern me, and it wasnít cheap. As soon as I hit 75 it went up about NZ$375. It cost me about NZ$1600 [approx £800), although that covered the Iceland trip too. But it also covered me being air lifted out of any altitude up to 6,000m, so that was expensive.
Where is your next wildlife trip?
I had already arranged this before my trip to Ladakh, and it is into the Altai Mountains in Mongolia in June to see snow leopards, just in case I didnít see one in the Himalayas. And because I am also now geared up for the cold, I am going to go on an Arctic cruise around Svalbard and Spitsbergen after that to look for polar bears on the ice floes. I will fly across Russia and then onto Longyearbyen on Spitsbergen. So, that chance encounter with the two vets has changed my whole outlook about travelling in the cold!
Finally Colin, do you have any lasting sense memories from your trip, apart from the magnificent sights?
Itís just the environment in Ladakh that is so completely different Ė particularly the cold. Itís a clean, fantastic environment. There is no smell up there, for example, it is too bloody cold. I have often wondered how on earth people live in such frozen places, but the thing that I have learned from watching life go on there, watching kids playing on the frozen streams and so on, is that people work out how to live in such places, how not to have a TV and not to have a phone, and they are happy and cheerful. It was really wonderful.
Find out more about this trip
Continue reading about this
Snow leopard tracking holiday in the Indian Himalayas