Jimmy Goddard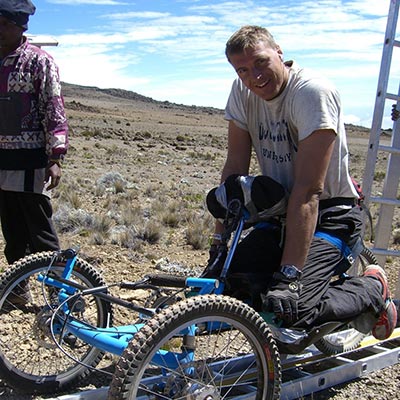 Jimmy has been doing triathlon for many years, but only in a wheelchair since a climbing accident in 2004. He is a former commando and had an accident whilst rock-climbing in Wales that left him permanently paralysed from the chest down. His fellow climber and former girlfriend tragically died in the accident. Two months after discharge from hospital he completed the standard distance event at the London Triathlon, and in 2006 he completed an unaided ascent of Kilimanjaro using an arm-powered all-terrain hand bike. Here he tells Responsible Travel how his time as a commando prepared him for any tough challenge life throws his way and how his fatherís surplus chocolate bars leftover from his mountain climbing expeditions inspired his future adventures.
Jimmy Goddard interview
Whereís home?
A lovely village in the beautiful Northamptonshire countryside called Moulton.
Whatís your first ever travel memory?
Actually my first travel memories are not of myself but of my father returning home from mountain climbing expeditions when I was a young boy and pulling chocolate bars out of his kit bag that he had left over from the trips. They were just ordinary chocolate bars, but to me as a young kid I thought they were special expedition bars. I think it is these early experiences that laid the seed of my own future adventures.
Describe yourself in three words?
Motivated, cheerful, fun
What do you dream of for our world in the future?
I am a liberal at heart. I believe in equality, but I am not naive enough to think this is something that can ever be reached, or that in itself it would be a force for good. However, I do dream of a world where the gap between the have and the have nots is vastly reduced and where people are more fairly recompensed for their time and resources.
Whatís been the biggest challenge youíve faced on your personal journey?
The easy answer is falling 50 metres off a cliff whilst rock climbing in 2004; an accident which left me paralysed from the chest down and wheelchair bound. The more realistic and difficult answer, however, is the death, resulting from the same accident, of my former girlfriend Claire and the struggle with the personal guilt I felt for it.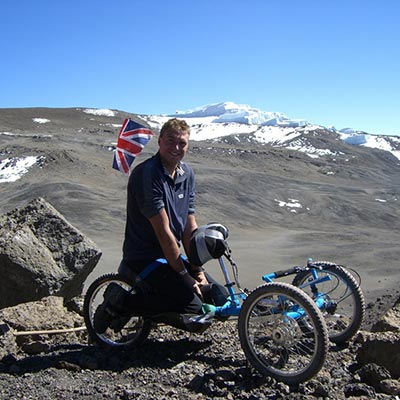 Whereís the best place youíve woken up?
In the middle of the ash bowl of the outer crater of Kilimanjaro.
Is there one person youíve met who you feel you were so lucky to connect with?
My wife, Amelia, who I met 12 months after my accident and who has been a constant, loyal and supporting companion ever since.
Has anyone ever told you that you wonít make it?
Yes for sure. There are always plenty of doom sayers whenever you try to push boundaries in life. I have found that generally comes from a place of love and concern though.
Tell us about a time when you felt like walking away from an adventure?
Well Kilimanjaro, every dayÖ.. Throughout training and the climb itself. It just felt so overwhelmingly difficult.
What keeps you going if you ever feel like giving up?
Very cliche but the commando spirit. Before my rock climbing accident I was serving in an Army commando unit (29 Regiment Royal Artillery), and prior to that I was in the Royal Marine Reserves, so I have completed the commando course twice over, and itís in my blood. The training itself not only tests your character but forms it. It becomes part of who you are and when you go through tough times, like my rock climbing accident, you can lean on it for support.
What are you most proud of?
Being awarded the commando medal for the best recruit in training.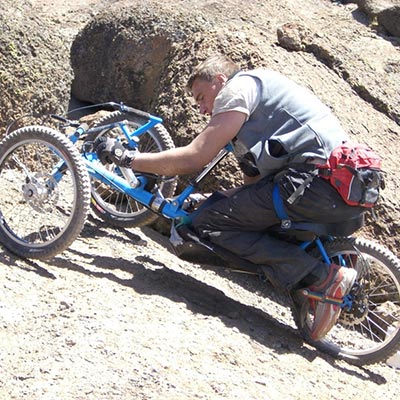 Whatís your happiest travel memory?
I cycled the length of New Zealand on my handbike with my wife and a friend, a journey of 2000 miles. I towed my wheelchair and the other two carried all the camping gear. It was pure freedom and I loved it.
Whatís always in your bag Ė no matter what adventure youíre on?
A good book. I love to read, especially when away travelling. It provides a moment of quiet to yourself, away from all the hubbub and stress.
What do you still dream of doing that you havenít yet done?
Tour cycling coast to coast USA, tour cycling the length of Africa and many many other things. Iím a dreamer, Iíd need another life time to do them all.
Where would you like to be right now?
Exactly where I am. Retraining to be a child therapist after my careers in the military and paralympic sport. It is time for me to slow down a little and give something back to a society that has given me so much.
Where was the last trip you took and why did you decide to go there?
The last real adventure I had was with my wife a few years ago when we spent a couple of months driving from the UK out to Croatia and Bosnia. They are extraordinarily beautiful countries with fascinating histories and it was a real privilege to have the time to explore them.
What does responsible tourism mean to you?
Obviously there are many quantitative parameters of what might constitute responsible tourism, from carbon footprint to economics. To me though, it is simply being respectful of the people and landscape you are visiting. I think if this is foremost in your mind you canít go far wrong.