John Caveman Gray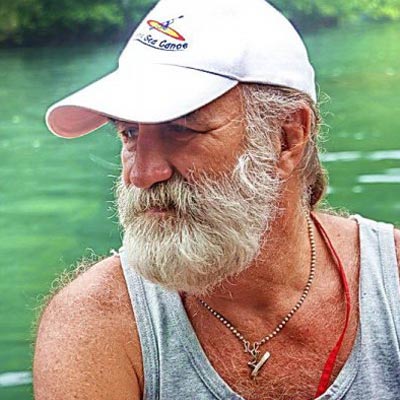 EMMY winning Californian, John 'Caveman' Gray also known as Ling Yai (Thai for Big Monkey) established and runs John Gray's Sea Canoes in Phuket, Thailand, taking travellers on unforgettable trips on the ocean. Responsible Travel caught up with John to discover what inspired his love of nature and how he channelled this from California, all the way to Thailand. A true environmentalist at heart, he explains how he almost died climbing a rock in Northern California, why he's such a pessimist when it comes to the future of our planet and how he started his business with just $28 and four broken kayaks.
John Gray interview
Where's Home?
I was born in Southern California and moved to Hawai'i as soon as I graduated. I now live in Phuket, Thailand.
Tell us what you do and the main idea behind it?
I started John Gray's Sea Canoes in Phuket, Thailand. The idea behind it is "natural history by sea kayak". We encourage local people into sea kayaking so they learn their own natural history and are enfranchised into protecting their own nature. They then have an asset to nurture and protect, i.e., their own nature.
What is your first ever travel memory?
Camping in the High Sierras of California when I was four. My parents met on a Sierra Club trip and we went camping as often as possible. My epic trip was at 15, when my family took our camper to every national park in the American West.
What inspired you to start kayaking? And to subsequently start your business?
My family grew up on boats. We built our own kayaks in the family garage. We often spent the entire weekend without seeing another person. I enjoyed the exercise and harmony with the sea, but it's the symbolism of hand-powered boating that keeps me going. In Hawai'i and Polynesia I retraced the routes of the ancient Polynesians and discovered spectacular sea caves. I went looking for more, and found them in the limestone of Phang Nga Bay near Phuket.
I returned to Honolulu and organised for two groups to explore Phang Nga Bay. They paid for their trips to my friend managing the Honolulu office but he never forwarded it to me in Phuket! I was left with a Samui-Phuket airplane ticket. I cashed it in and started the "SeaCanoe" industry with Thai Baht 700.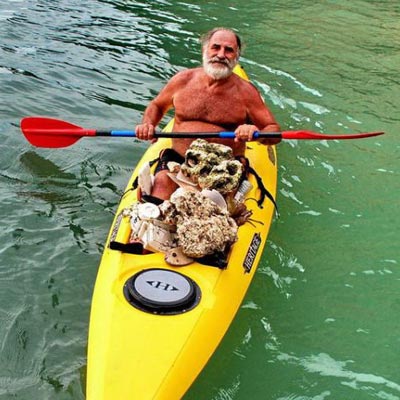 What do you dream of for our world in the future?
I'm such a pessimist from global warming and overpopulation that I have intentionally never had children. I sincerely hope I'm wrong, but until we get overpopulation and global warming under control I don't want offspring that inherit the damage we have done.
What's been the biggest challenge you've faced on your personal journey?
Being stuck in Thailand with only $28 and six inflatable kayaks in rags was my most formidable challenge. I had nothing. I slept on the beach or in the jungle, and finally the luxury of a concrete floor.
I had to fit together the kayak pieces on a concrete slab at the Phuket Cashew Nut Factory totally exposed to the sun. On my hand and knees, breathing acetone fumes, I scoured off the old glue with steel wool and acetone. I ended up with four kayaks I could call seaworthy. A travel agent got me into Le Meridian tour counter and I was selling kayak trips off the beach. One day a former corporate client from Honolulu came to the tour counter and was shocked to see me. He and his wife took the trip. The trip was less than a hour, but when we stepped back on the sand he asked, '"That was great! What else can you do?"
I took them to a cave in Phang Nga Bay - the "Bat Cave Hong", a huge spectacular limestone structure. As Phuket grew, more people would find the place and this spectacular cliff-lined lagoon would soon succumb to the same fate as many Asian tourist spots. I am still here.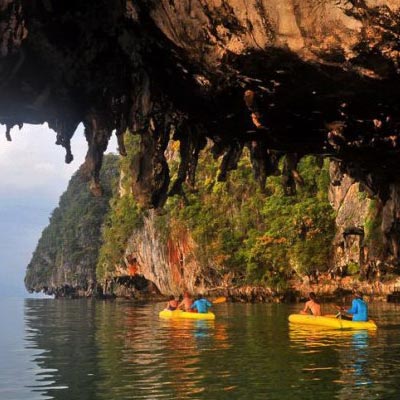 Where's the best place you've woken up?
The back side of Taveuni, Fiji is extremely spectacular, but the absolute best spot to wake up is Joyce Kainoa's retreat at Ha'upu Bay on Moloka'i' in Hawai'i. Joyce is now gone along with husband Mike but Ha'upu is a stunner.
Is there one person you've met who you feel you were so lucky to connect with?
Only one person? Prathep, the Princess of Thailand, is a wonderful woman if only because she is so charismatic and humble. But Richard Marks, the Sheriff of Kalaupapa on Moloka'i, was certainly one of life's great characters. Joyce Kainoa was also special.
So was Keith Funston, Chairman of the New York Stock Exchange. Wikipedia credits him with design the modern day exchange. He presented me with the Bull and Bear award when I was Junior Achievement (High School Business Club) Annual Report Winner in 1961.
Willie Mays, the Hall of Fame Baseball player, was a real thrill. In 1954 I lived in Sendai Japan and the combined American All-Star team played the Japanese All-Stars. Willie not only signed my program but invited me to sit on his knee through the entire game - an American boy's dream.
Has anyone ever told you that you won't make it?
If anybody ever did tell me I "can't make it" I would dig in my boots and make them a liar.
Tell us about a time when you felt like walking away from an adventure?
Life is an adventure and at 71 I have never felt the urge to walk away from an adventure.
What are you most proud of?
I've saved many live at sea. My travel awards are great memories, especially the Smithsonian Environmental Award (stolen by a former partner and then dropped and smashed into pieces). My United Way "Spirit of O'hana" campaigns kick-started the Hawaiian Renaissance, and my arrival in Thailand started the "sea canoe" industry (it's really sea kayak - a joke on my copy cats). My "Eat Less Red Meat" campaigns for the National Cancer Institute certainly saves thousands of lives, but what truly makes me proud is just to keep going and inspiring others to "break the mold" and "just go for it" are all silent victories that keep me going.
What's your happiest travel memory?
My EMMY Award was Hawai'i's first, but the hundreds of people I have inspired to "break the mold" on my Thailand trips is certainly satisfying.
In the early 70's I decided to spend 30 days in the wilderness without seeing or talking to another person. I picked out a spot in the Trinity Alps of Northern California, packed my backpack with books and took off hitchhiking. As I approached the train head we came up behind a car with a bumper sticker that read "Trinity County, Home of Bigfoot."
My ride asked me, "Are you sure you want to do this?"
My reply was "I picked my place. Let's go for it."
The next day I was traversing a huge rock structure and I stepped onto a wet spot and slipped. I was sliding down the dome, scrambling to find a crack to stop my slide. About 20 metres from the cliff my boot caught a crack, and I crawled on my belly back up the dome. Finally, I was safe and alive. You can find the spot on Google Earth by punching in "Almost dead rock."
It was a great 30 days. One of my happiest memories.
Read more about John's adventures on
his website
.