Karen Darke, British paralympic cyclist and para-triathlete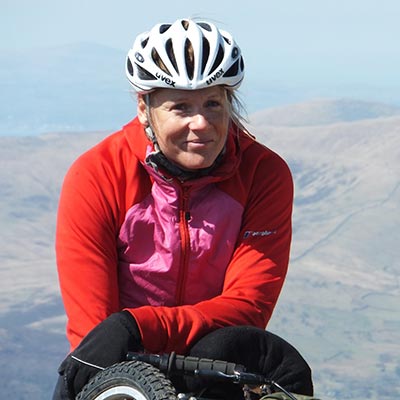 Karen is a British paralympic cyclist, paratriathlete, adventurer and author. In 2012 she won a silver medal at the London Paralympics. At the age of 21, Karen became paralysed from the chest down, following a sea cliff climbing accident. Since then her perseverance and creativity have made for an extraorindary life. In 2006 she crossed Greenlandís ice cap whilst sitting on skis using her arms and pole to travel 372 miles. She has also cycled the length of Japan and climbed El Capitan, Matterhorn and Mont Blanc. Here, chatting to Responsible Travel writer Catherine Mack, she talks openly about the challenges that being paralysed poses and how sheís nearly died five times; from falling off a cliff to being run over by a car to cerebral oedema in the Andes and being flown out on a plane.
Karen Darke interview
Whereís home?
Home is three places now. Majorca feels very much like home as I spend most of the year here, for the last three years. Well, the winters anyway. And the rest of the time home is Inverness in the north of Scotland. But Yorkshire also feels like home because that is where my parents live and where Iím from. And I spend quite a lot of time there as I go to Manchester with British Cycling quite a lot. And the rest of the time, home is where the bike is - where the heart is!
Tell us about what you do and the main idea behind it.
My background is doing adventurous things, but someone once said to me, I wondered how good you could be if you just concentrated on one thing. So, the last seven years, eight almost, the focus has been getting to the Paralympics. I never planned on that really. It was a surprise just getting to one never mind two. So, now Iím trying to win a gold medal in Rio really. My passion really is about learning, and so I am always trying to challenge myself in new ways. I am always studying something, and wanting to try something new in life and see what I can learn.
What are you studying at the moment?
At the moment, I am studying for a degree in Spanish and Psychology with Open University. I am totally unrealistic about my use of time, but somehow it does all seem to come together in the end. Iíve been doing it for the last three years, and so will finish it next year. Iíve already done a degree, then a PhD, then a Masters, and now Iíve gone back to a degree! Iíve gone from science back to the arts.
Whatís your first ever travel memory?
My youngest memories are going to Europe with my mum and dad camping for six weeks every summer. My mum and dad were both school teachers, so they had six weeks in the summer. We didnít have a lot of money but we used to just pack up the car with food and tents and drive to France, and went all over Europe every summer. We went to the Alps or the Pyrenees or wherever we ended up. I grew up with cycling, and my dad was always passionate about the Tour de France, so I think our holidays were based around intercepting the Tour de France route, hanging out on mountain passes waiting for it to come through.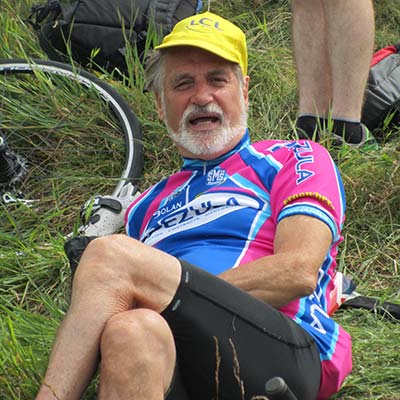 Mike Darke cycling in France
Your dad must be so proud of you cycling now?
I donít know about that Ė but I am really proud of him. He inspires me, because in 2010 he had a stroke and he couldnít walk and they said he wouldnít be able to cycle again, and basically he just got on his bike every day for ten minutes inside the house. It got his legs moving and now he can go and cycle. He sets himself these crazy challenges. He wants to cycle 75 miles for turning 75. And I did point out that itís going to get worse the older he gets as he would have to go further. But thatís how he is, so I think I got quite a lot of genes from him.
Describe yourself in three words?
Adventurous, resilient and I donít know how to describe it really. But maybe connected. With what I am feeling, and that sort of guides everything. And also to connect with other people.
What inspired you to start travelling?
The big thing that really transformed my life was when I was sixteen, I saw a poster on the wall at my school for The Yorkshire Schools Exploring Society, advertising a trip to China, which back then was super far and super exotic. I totally dismissed myself as being able to go because I couldnít afford it, and didnít think I could do it. I ended up going on a selection weekend, being selected, then spending a year raising money for it - getting a part time job, doing sponsored challenges, learning to ride a bike, going on training weekends with the team. It was an incredible thing, taught me a huge amount, and gave me a thirst for adventure and other cultures. So it was really life transforming.
What do you dream of for our world in the future?
Thatís a good one. One of the things I love about going on an adventure is the simplicity of it. And the way it connects us with nature, and ourselves and with each other. And I feel like the world has become so fast and so technology driven, furious in a way. I kind of like the idea of a world that just beats a little bit slower. Where we are a bit more connected to everything. Maybe thatís why I like being in Spain, because there is more of a maŮana way about life, and a really strong ability to live close to nature here. Helped by the climate obviously.
Whatís been the biggest challenge youíve faced?
There have been so many and on different levels. Lots of physical challenges, ones that I have elected myself for on adventures, but also ones where I havenít. I think I have nearly died five times in various physical traumas, from falling off a cliff to being run over by a car to cerebral oedema in the Andes and being flown out on a plane. It is never ending really. There have been too many. But of course, becoming paralysed is a massive one.
What about an adventure that you took on that was much more of a challenge than you thought it might be?
Adventure wise, it would be crossing the Greenland Ice Cap. When youíre paralysed, and I canít feel anything from the chest down, you canít regulate your body temperature, so keeping myself warm and safe in that environment where you canít wash and clean or do anything was really hard. And in my position toileting is a bit more of a challenge. I canít squat and hover like everyone else, so there were lots of details to pay attention to. So, I had to plan really well for it, but physically it was just really demanding to pull myself along, using only my arms to pull myself across the ice cap for ten hours a day. I can remember waking up and I couldnít open my palms, because the tendons in my hands were so tight from gripping the ski poles. So, I had to sort of peel my hands open in the morning, get the blood flowing so that I could move them.
Were you on your own?
God no, I was with a group of friends. But we organised it all ourselves, and didnít have a guide or anything like that. It was a tough trip for everyone on different levels.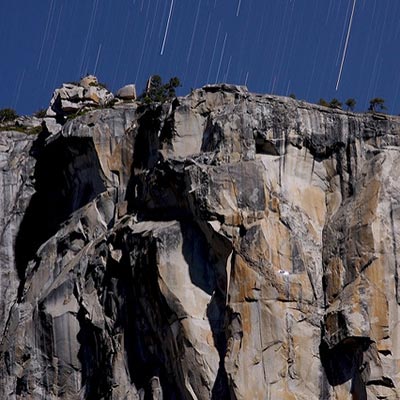 Whereís the best place youíve woken up?
I have to say probably hanging off El Capitan. Mentally it was one of the hardest challenges for me, as I realised I was really scared of heights when I got up there, which I didnít used to be. So I had to work through quite a lot of mental stuff. But to wake up in the morning, hanging off this cliff on a portaledge, looking up at the moon and stars, and then the sun coming up, it was really, pretty out of this world. We were up there for five nights. Three to start with, and then failed, and then had to reassess and went back up again.
Is there one person youíve met who you feel you were so lucky to connect with?
Thatís a hard one to answer, because there are people all the time that I am hugely appreciative of. Someone who turned things around for me when I was first injured was a friend called Will Ramsbottom, but sadly he died three months after my accident, also in a climbing accident. I didnít know him that well Ė we had climbed together but werenít really close. But when I had my accident, he just kind of appeared and came and visited me just about every day. He was just an incredible person. And then he died. It was the first time he had been climbing since my accident. But his spirit and soul has stayed with me my whole life, because I was in a difficult place when he died, and so it made me ask questions about why I am here and he is not. And so, it was pretty fundamental in turning things around for me, and making me want to make the most of this life that I have, because he doesnít have his. Iím still in touch with his parents. I donít see them that often, but he was a beautiful, caring spirit.
In fact, a couple of years ago, someone had organised a hand cycling mountain bike challenge up Cadair Idris in Wales. Which is where Will died, and so I wanted to try and do this. When I got there, I looked up at it and thought, there is no way I can make it to the top of that, it is so huge. But it was just an amazing day, I got to the top of the mountain, the views were incredible, there was the stillest bluest sky, and also I met someone on the ridge by chance who knew him. And who pointed out the point where he had fallen. And when I got down at the end of the day I did not know how I physically did it. So, it was like he was there in some shape or form pushing me up the mountain. So, that was quite special.
Has anyone ever told you that you wonít make it?
Not really. I remember when I started hand cycling, one of the coaches said, Ďyouíre not going to beat herí, and I did. So, it is like fuel to me if someone says that. I donít know if it was reverse psychology and if he knew that I would react and say, Ďok then letís show themí.
Tell us about a time when you felt like walking away from an adventure?
Probably El Capitan, when I did actually walk away and said it was too hard. First of all, we had to come down as we realised we werenít going to last for food and water, and I was so petrified and really struggling. So we decided to abandon and go on a beach holiday in California. Well that was the plan but I slept on it and woke up crying and it was like, Ďwhatís the problem, weíre leavingí and I said, Ďno, thatís the problem, I canít leave. I want to go backí. So, I gave up and then realised I couldnít.
What keeps you going if you ever feel like giving up?
Just getting some sleep, because when you wake up every day is a new day. That has been true right through, from being injured and paralysed to every adventure I have done. I am human and there are days when I just think I canít do this. And then I go to bed and wake up, and itís different. And I know that now, when things are difficult, just to wait a day or two, get some sleep and perspective and then see how I feel. And itís always different.
What are you most proud of?
I am proud of my family generally, my mum, my dad and my brother. My mumís mum died when she was not even one, and I know she has always felt like she never learned to be a good mum or something. But I just think they have always been completely supportive, never judgemental, but just let us get on with it and they are there to pick up the pieces if they need to. So, I think it is pretty special the way they parented me and my brother. I donít think they would think that though.
Whatís your happiest travel memory?
One of the most amazing trips I have had was kayaking around Corsica. And another one was kayaking from Canada to Alaska. Just living with the rhythm of nature and the ocean was really something special. Particularly the Corsica trip because it was so much fun. Just me and three friends - we had all had broken relationships not long before, and we kind of got our sadness out on the way driving there, and then once we got there we decided not to talk about it but just to have fun. And the team dynamics were the most incredible ever. There were no issues, just fun from beginning to finish. On trips like that team dynamic issues can crop up, but on this trip it was just total harmony, and very special.
Whatís always in your bag Ė no matter what adventure youíre on?
Lots of boring things like catheters and things like that. But I also like to have some nice cream with me, and lip balm. I am pretty attached to Aloe Vera Vaseline. I was cycling through Tibet last year and it was a life saver. With the altitude and dry air, you just put it up your nose every night and it saves everything. And of course my bike. I hardly go anywhere without that these days.
What do you still dream of doing that you havenít yet done?
Oh everything. I never stop dreaming. There is always something. I just find the world amazing, and I meet someone or read something and get inspired. Right now I have lots of ideas to do a cycle ride on every continent, but yes, I never stop dreaming.
Where would you like to be right now?
Exactly where I am! Lying on a sofa in Majorca, relaxing, looking out the window at the mountains with roast vegetables in the oven. Itís perfect.
Where was the last trip you took and why did you decide to go there?
The last big trip I took was autumn 2014, cycling from Lhasa in Tibet to Kathmandu in Nepal. It was a journey I had wanted to do for a long, long time, ever since I was first paralysed, and my first big trip was cycling over the Himalayas. I had wanted to do this journey for more than twenty years, and a friend of mine had also wanted to do it, independently of me, so we finally got to do it together. By that time it had turned from a dirt road to shiny tarmac, so I was slightly worried that it would not be what we wanted. But it was fab, because dirt roads on a hand bike are not good. But going on quiet, perfect tarmac through the Himalayas, through Tibet, it was just out of this world. Through the most stunning scenery and with the most fantastic people, because Tibetan people, you just kind of feel some kind of strong heartfelt connection in them. Their smiles are incredible. So, the whole journey, which took a month, was really special.
What does responsible tourism mean to you?
Well, in an ideal world I wouldnít be flying around the world damaging the world, so maybe responsible tourism is having adventures close to you. And maybe that is ultimately what I aspire to. But at the moment, I am not quite there, and have eyes of a child for the world and want to see it. When I go somewhere, I do try to do things in the most simple way possible. So I try to not leave any trace or mess on the landscape and also it is important for me to learn about the place and the people. And share that when I come back, writing stories or showing pictures about the places. The world is a small place, but it is also a big place and I am aware that I am fortunate to get to see parts of the world that many people donít.
For more about Karenís adventures see
http://www.karendarke.com/
and
her website