Lola Akerstrom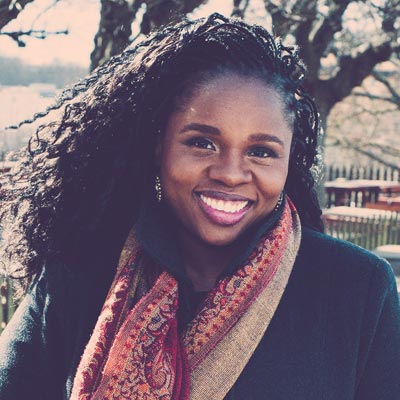 Lola (Akinmade) Akerstrom is an award-winning writer and photographer. She has dispatched from and photographed roughly 60 countries for various publications and her work has appeared in National Geographic Traveler, BBC, CNN and The Guardian among others. She is also editor-in-chief of Slow Travel Stockholm. Originally from Lagos, Nigeria she talks to Responsible Travel about the challenges that racism has posed for her on her own personal journey and how she dreams of a tolerant world, leading to more understanding and ultimately more peace. Lola is obsessed with the North Pole and dreams of visiting there one day. For now though, her happiest travel memory was eating homemade pizza with her husband in the tiny mountain village of Gratteri in Sicily.
Lola Akerstrom interview
Where's home?
Home is wherever my nuclear family is – my husband and two kids. Emotionally, home is with them. Right now, we live in Stockholm. So physically, Stockholm is home. And culturally, home is Lagos, Nigeria, because I was born and raised there.
Tell us about what you do and the main idea behind it.
Beyond working as a freelance writer and photographer, I also run a site called
Slow Travel Stockholm
and the concept behind the site is to encourage people to slow down their pace while in town and organically soak up what it has to offer. Sometimes we spotlight cool local business doing things in sustainable and socially-conscious ways.
I am also a co-founder of the
NordicTB Collective
which is a select group of digital storytellers and travel influencers living in Norway, Sweden, Finland, Denmark and Iceland. We cooperate and collaborate with clients and fellow collectives to create innovative marketing and re-branding campaigns for destinations, brands and companies.
What's your first ever travel memory?
I come from a family of travellers and I vaguely remember an early childhood memory of being a toddler in my mom's arms in Italy and interacting with someone, a local.
Describe yourself in three words?
Creative. Versatile. Kind
What inspired you to start travelling and pursue your dreams?
As I previously mentioned, my family are avid travellers and I knew travel was in my blood. But personally, I always loved geography – especially social and human geography - and wanted to explore the world. In terms of pursuing my dreams, I knew I wanted to share those experiences through words and photography in some way, and I am grateful to be able to do that today.
What do you dream of for our world in the future?
Tolerance, tolerance, tolerance. We're living in an extremely selfish world which is magnified through the narcissism of social media. My prayer and dream is for more tolerance which leads to understanding which leads to peace.
What's been the biggest challenge you've faced on your own personal journey?
Racism. It always stings and it comes from a pitifully-deep place of ignorance. Especially being an African woman of colour working prominently in a space mostly reserved for the white middle-aged man – travel photography.
But the more prejudice I experience, the tougher and stronger my resolve and resilience.
Where's the best place you've woken up?
Hands down the Four Seasons Seychelles. Mostly because we arrived late at night in pitch darkness not sure what morning will reveal, and when we woke up, we were met with this view: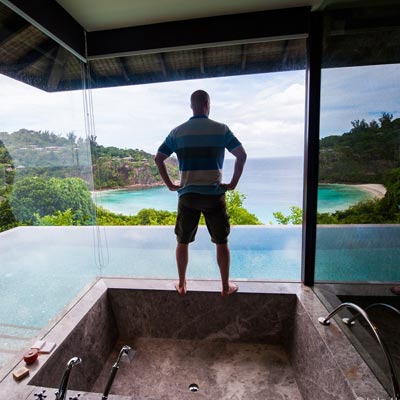 Is there one person you've met who you feel you were so lucky to connect with?
There are so many wonderful people that pass through our lives at various transition points and during our travels who affect us in profound ways. But I would have to say my husband. He is an absolute blessing, a rock and support, who lets me grow in my travel career while doing so with unconditional love and taking on the role of stay-at-home dad as needed. So I won't say "lucky" but deeply "blessed" to share my life with him.
Has anyone ever told you that you won't make it?
Every day with their actions and insinuations. But I am personally the type of person who really doesn't go out seeking other people's approval.
I do what I do because I truly enjoy it and it shows through my work. I often say if my very same portfolio of work was being presented by a "white" colleague, they would have gotten further in terms of partnerships and collaborations.
Tell us about a time when you felt like walking away from an adventure?
Gratefully I've never been in such a desperate situation, but I do remember a time when I was in Luxembourg and a shopkeeper yelled at me, told me to leave her store, and look in through her windows instead. Based solely on the colour of my skin. Other customers were shocked. I remember an older guy laughing. I remember leaving that store and walking away with tears in my eyes. I was walking uphill when I heard a woman screaming after me, Mademoiselle! Mademoiselle! She finally caught up to me, panting. Middle-aged. She apologized to me saying "We are not like that." Maybe the shopkeeper was having a bad day, she said, but "Mademoiselle, we are not like that". I will never forget that phrase.
That is why I believe love will always win over hate and why I give every single person I meet the benefit of doubt at least twice.
What keeps you going if you ever feel like giving up?
My strong faith. I am a believer and there is an energy and source of life much bigger than myself, and in the grand scheme of life, my petty worries are insignificant.
What are you most proud of?
My family. Really, nothing else compares. Even though there have been many career highlights such as being signed by National Geographic Creative, getting different awards, and being able to contribute to prominent publications, they all pale in comparison to the joy that fills my kids' eyes when they run at full speed towards me screaming "Mama!"
What's your happiest travel memory?
I would have to say staying in the tiny mountain village of Gratteri in Sicily with my husband for a couple of days. The village was practically empty so we had it all to ourselves. There was a milkman who delivered fresh milk from door to door. And we couldn't order pizza from the local tavern until the pizza maker arrived at 7pm to specially make them. And they were worth the wait. The most divine pizza I've ever had to date.
What's always in your bag – no matter what adventure you're on?
A well-stocked toiletry kit with everything from cough drops, toothpaste, and lip gloss to painkillers, tampons, and deodorant. I always have that little bag with me.
What do you still dream of doing that you haven't yet done?
Everyone I know at this point knows I want to go to the
North Pole
. It's a fascination (well, more of an obsession) of mine. I love and I'm enamoured by the Arctic and Polar regions. I would also love to explore Antarctica and Greenland as well.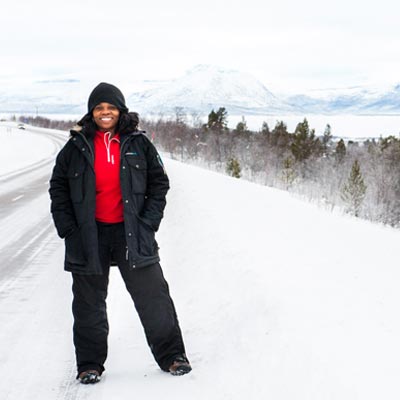 Where would you like to be right now?
Island hopping around the South Pacific islands with my family in tow. I've been hooked ever since I spent three weeks in Fiji working behind the scenes of an expedition.
Where was the last trip you took and why did you decide to go there?
I was in the Lombardy region of Italy exploring the Italian Renaissance towns of Mantua and Sabbioneta as part of the #inLombardia365 campaign.
What does responsible tourism mean to you?
To me, responsible tourism means "respect". It's about having deep respect for the places you visit, the people you meet, and how you explore their backyards.
As travellers, we should always be cognizant of the impressions we leave behind. Once you cultivate that attitude of respect, then travelling responsibly comes easier. You follow local laws and sensitivities, you are socially-conscious about how your travels impact local communities, and you travel without leaving destructive behaviour in your wake.
Find out more about Lola and her work at
her blog
, and follow her on
Twitter
and
Instagram
.