Lucy King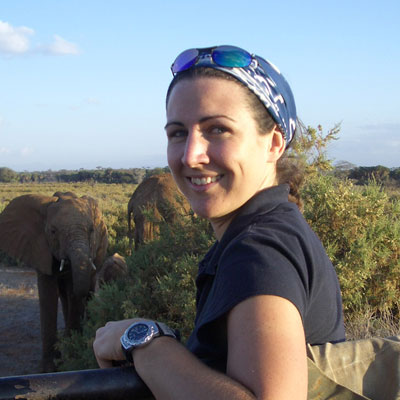 Lucy King manages the Human-Elephant Co-Existence Program for the research charity Save the Elephants. She set up a project which uses beehive fences (no mean feat for someone who is allergic to bees!) to keep elephants off of farmland owned by poor farming communities. She has a doctorate in Zoology from Oxford University. She tells us how meeting Bill Clinton was one of her high points, whilst climbing Kilimanjaro and feeling like she was 'solidifying into an ice-block' was a definite low! Lucy knows how precious every minute of her life is - collapsing with a cerebral aneurysm and needing emergency brain surgery was a stark remind of this for her. She remembers fondly her childhood spent in Africa, travelling through safari parks with her parents in a Ford Cortina with a tent and a camping stove.
Lucy King interview
Where's home?
My home is on the outskirts of Nairobi, Kenya where I live with my safari guide partner in an old stable block that has been converted into a ramshackle but charming old cottage. We have monkeys bouncing off the roof and Touracos living in the garden, it's stunning, but it leaks like a sieve when it rains…..
Tell us about what you do and the main idea behind it.
I manage the Human-Elephant Co-Existence Program for the research charity Save the Elephants. My main project work is running The Elephants and Bees Project and The Elephants and Bees Research Center which is located next to Tsavo East National Park. Here we are studying the effectiveness of beehive fences to keep elephants out of small holder farms and therefore reducing human-elephant conflict. It is working really well as not only do the honey bees keep 80% of the elephants out of the protected farms but the bees provide honey and pollination services for the farmers too. To find out more check out www.elephantsandbees.com
What's your first ever travel memory?
I was brought up in Lesotho and Kenya with two parents who were both teachers so we had lots of long bush safari holidays as kids. I can remember bouncing along in our old Ford Cortina on safari in Kruger National Park in South Africa looking for lions. I honestly can't remember a time when we were not in the bush or travelling around the country exploring in our old Ford which only had two wheel drive. We used to throw tents in the back and a camping stove and just explore for all of our school holidays.
Describe yourself in three words?
Adventurous, messy, introverted
What inspired you to start travelling?
I can't relate to people who are not interested in travelling! I have been travelling my whole life starting aged 10 months old when my family moved to Somalia to teach in Mogadishu for a year. From there we moved to Lesotho where I lived until I was 14 and then we moved up to Kenya. I guess my parents inspired me to travel as they made it seem normal and almost "expected" and with such an international upbringing all I was interested in when I left school was to explore more of the world and its natural places. I have been to 58 countries now and always have a backpack ready for my next trip.
What do you dream of for our world in the future?
My dream would be to somehow slow down human population growth and to preserve at least 50% of the planet as truly wild as recently advocated by E.O. Wilson. If we can just acknowledge that we need wild places, unpolluted oceans and healthy species populations to help keep us stay alive we would all live in a better, healthier world and keep it that way for future generations.
What's been the biggest challenge you've faced?
The biggest challenge I faced was when I was studying elephants in Samburu National Reserve in northern Kenya and I collapsed with what turned out to be a fusiform cerebral aneurysm. I had to be medi-vaced back to London for emergency brain surgery and it took me 6 months to recover. We think it was a combination of bilharzia and tick fever that I had contracted some months before that triggered this event. I now have one artery less in my head than I should have but luckily I have been able to fully recover and get back to work.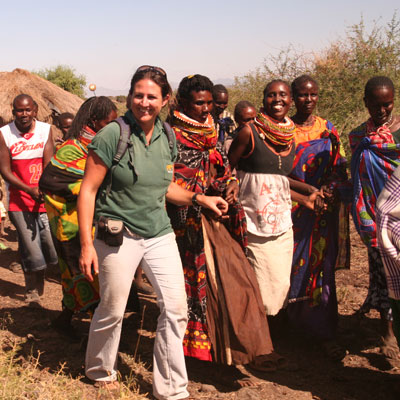 Where's the best place you've woken up?
I've woken up in the most incredible places during my life, but recently I wild camped in a simple bivy shelter on the edge of the Kirisia Mountains in northern Kenya with a friend who works there and woke up to a million mile view of the vast plains and the Matthews Mountain range in the background and it literally took my breathe away.
Is there one person you've met who you feel you were so lucky to connect with?
I felt very lucky to meet Bill Clinton last year who came to our project in Samburu and we discussed my beehive fence idea and he took away some of our Elephant-Friendly Honey. Whatever your political views, people like the Clintons can massively influence environmental policy for one of the biggest polluting countries on the planet so I feel lucky to have had a chance to discuss our project work with him and introduce his group to our beautiful wild Samburu elephants.
Has anyone ever told you that you won't make it?
Yes, I went to a really fantastic boarding school in England but my grades were never very good (too many sporting distractions!) so when I told the careers teacher there that I wanted to work outdoors with nature and animals she told me I should be a gardener. I definitely never thought I would end up getting a doctorate in Zoology from Oxford University. I think my careers teacher might have fallen off her chair if that was suggested to her back then!
Tell us about a time when you felt like walking away from an adventure?
I felt like giving up multiple times when I climbed Kilimanjaro! It wasn't so much the physical altitude that challenged me but I can't bear being cold and for the last two days of the hike I felt like I was solidifying into an ice-block and have never been so frozen and miserable in my entire life! That was until I made it to the top and saw the whole of Africa lying out below us and I was so glad I never turned around.
What keeps you going if you ever feel like giving up?
Chocolate….
What are you most proud of?
Coming up with the beehive fence design which is an appropriate deterrent method for the poorest of the poor farmers who live on the front line of elephant crop-raids.
What's your happiest travel memory?
My sister and I went to Tahiti and Bora Bora with my mother for her 60th birthday and we 3 girls spent an incredible week on a hut on stilts above the blue waters and coral reefs. We never splash out on luxury holidays like that and it was a treat of a lifetime snorkeling, diving and drinking mohitos together!
What's always in your bag – no matter what adventure you're on?
I always have a leatherman penknife, mosquito repellant and my epi-pen as I have an allergy to bee stings after being stung so much from messing around with bees on my project! I drive a 4x4 truck for my project work and you always need a penknife (oh and gaffer tape to keep the engine bits held toegther!).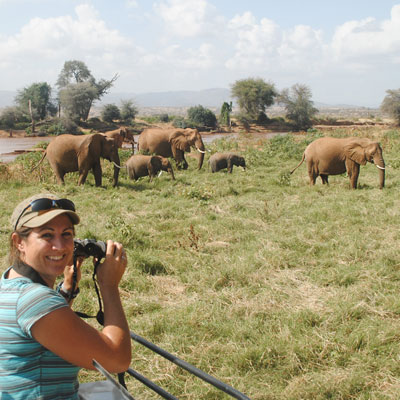 What do you still dream of doing that you haven't yet done?
I would love to go to Madagascar to see the giant baobab trees and lemurs there. Also, I have always wanted to experience Borneo and see some of the pigmy elephants, which I believe are genetically separate from mainland Asian elephants. And I'd love to go to Patagonia but in the summer months!
Where would you like to be right now?
My family has a small, rustic cottage on the beach in Kenya that has no phone reception and 10km of wild sandy beach to walk on. It is stunning and peaceful and I love getting away from my phone ringing as much as anything else!
Where was the last trip you took and why did you decide to go there?
I went to Sri Lanka for my last big trip to work with Asian elephants to get some recordings of their vocalizations in response to bee sounds. I was also helping to set up my PhD student there who is now testing whether beehive fences can be effective against Asian elephant crop-raiders. It was much more beautiful than I could have imagined, the people were exceptionally friendly and I look forward to going back soon.
What does responsible tourism mean to you?
I firmly believe that you should investigate where you are staying and what you are eating and ensure that you are not putting your money and time into hotels and experiences that are damaging the environment or causing harm to species. I can't bear seeing photos of smiling tourists hugging drugged tigers or poor, scarred elephants carrying people around on their backs. It is so healthy and essential for people to travel and enjoy exploring but if we all traveled irresponsibly our planet won't survive.
Read more about Lucy's adventures on
her website
.