Wycliffe Sande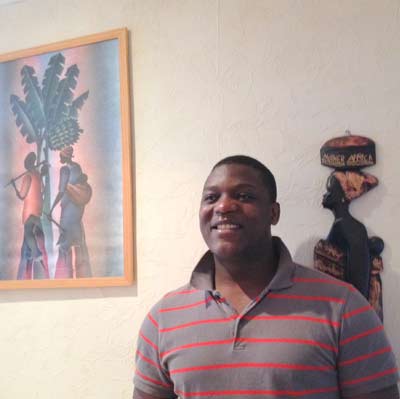 Wycliffe Sande grew up in Mityana in Uganda. He has always been determined to fulfil his dreams of creating a positive impact through travel, and that's exactly what he has done by setting up the travel company Sandfield Travel, now a member of Responsible Travel.
Wycliffe Sande interview
Where's home?
Home is London and Mityana in Uganda.
Tell us about what you do and the main idea behind it.
I run
Sandfield Travel
, a tour company that specialises in organising amazing safaris and gorilla tracking trips to Uganda and East Africa, combined with volunteering. The idea behind the company is a very simple belief that tourism has huge potential in creating amazing positive impacts for visitors and local people.
My own story and experiences are entwined and are the reasons for starting my venture. I lost both of my parents before I was 13 years old. I used to help the volunteers who were living in my town and one day, one of the girls decided to ask her parents to sponsor me so that I could gain higher education qualifications. It was life changing.
Now through my business venture we invest a percentage of the profits back into community projects, especially healthcare, education and clean water. It's my way of releasing the ladder down to the next boy or girl.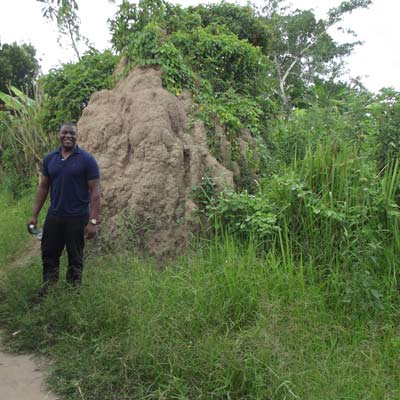 What's your first ever travel memory?
Travelling from my village where I lived in Mityana, Uganda to the capital, Kampala. It was like I was living in a different place. Toilets with running water, fridges, everything was new. It was so different from my village.
Describe yourself in three words?
Determined, adventurous and passionate.
What inspired you to start travelling?
For me travelling was a way to learn, discover and see what's on the other side. I was born in a small village and from time to time tourists passed through the village. I was mesmorised by them, how they spoke and their stories. I made the decision that in the next ten years I would visit the countries of the people I had met to learn more about their cultures and way of life.
Of course, everyone I told thought I was daydreaming as I couldn't even afford a pair of shoes. So I started by teaching myself English and read books only in English. I literally became obsessed with learning this difficult language.
Before my mother died, I told her how I wanted to travel the world, see how others lived and learn about other cultures. She looked in my eyes, smiled and then said "Son, I don't think you can. It's very expensive you know!" I said to her: "Indeed it is but I believe I will do it." She then turned again and said "I know you're a very determined boy; maybe you will." That conversation and burning desire to know about other countries inspired me to travel.
What do you dream of for our world in the future?
A world, where there are no wars or killing of wildlife for fun. I'd like to see a world where people get to learn more about each other so we can be kinder to one another.
What's been the biggest challenge you've faced on your personal journey?
I think the biggest challenge for me has been raising myself and looking after my sister and her kids. Having lost my parents at such a young age I had to figure out what I wanted to do in life very early and how to get there, with no father or mother to ask for advice. I worked from the age of eight so as to buy books and pencils.
Where's the best place you've woken up?
It must be Tokyo.
Is there one person you've met who you feel you were so lucky to connect with?
I have met many people over the years and many of them have remained like family to me so it is hard to pick one. If you really pressed me, it has to be my god family (you won't find that term in the dictionary) - Heather Wear introduced me to mother and father, Scott and Verity Maclachlane who have since become my family too, although not biologically, they're always there for me.
Has anyone ever told you that you won't make it?
That's almost my childhood buzz word from whoever I told whatever I wanted to do. I love it when I hear that phrase; it's a motivation for me to prove someone otherwise.
Tell us about a time when you felt like walking away from an adventure?
During my last year in primary school I was working and saving money to be able to go on my first cross border trip to Rwanda. After a few months of making bricks and other stuff I managed to save about £40 to buy a ticket to Rwanda. As a rule, I always divided my money and kept it in separate places. On this occasion I forgot some of the money and was already on the bus to Rwanda when I realised. I could have got off the bus and returned to Uganda but I thought turning back now would be failing in my quest. I visited a few places and for those two days I ate once as I couldn't afford to buy food. I spent the last night in the bus park!
What keeps you going if you ever feel like giving up?
Knowing that this cannot be the worst and knowing that if I don't try hard I may live to regret it.
What are you most proud of?
In terms of personal life, it's my wife and kids. More generally though it is seeing the smiling faces of children who have previously been taking their classes under mango trees and now have a brand new classroom instead which I might have had a hand in building.
What's your happiest travel memory?
My happiest I think was travelling back home and seeing my daughter who was two years old at the airport with a placecard, "Dad, welcome home".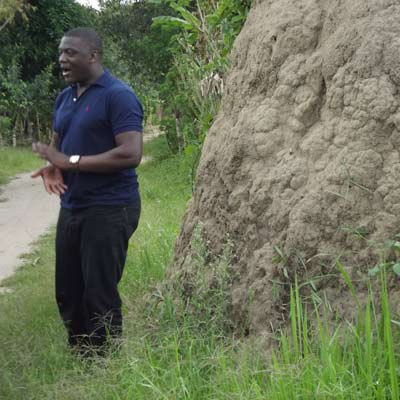 What's always in your bag – no matter what adventure you're on?
In no particular order, passport, camera, laptop.
What do you still dream of doing that you haven't yet done?
There are many things I dream of doing. I would like to do an across Africa tour, visiting each and every African country. So far, I have done about 10 African countries.
Where would you like to be right now?
In Uganda either in Bwindi or Kidepo Valley National Park.
Where was the last trip you took and why did you decide to go there?
The last trip was to Cornwall, visiting a school who have been my clients for a long time.
What does responsible tourism mean to you?
For me it is about understanding both the positive and negative impacts that we have when we travel from one place to another and making more of the positive impacts on the environment, local cultures and the local people. I believe that benefits of responsible tourism are attained when both the tourists, companies and the local people become more aware of the true positive impacts their encounters bring.
To find our more about the
trips Wycliffe runs with independent reviews