Kefalonia, Lefkada & Ithaki walking holiday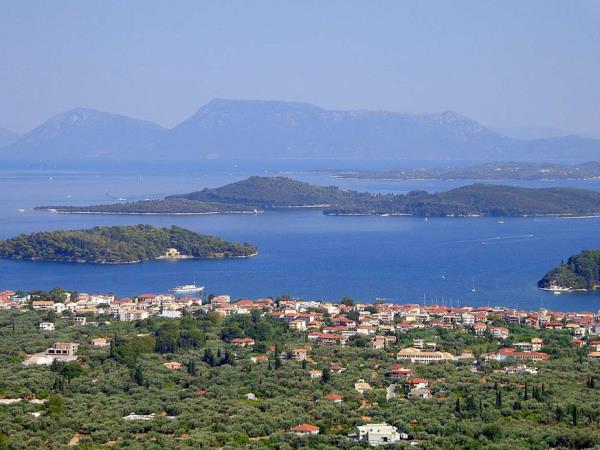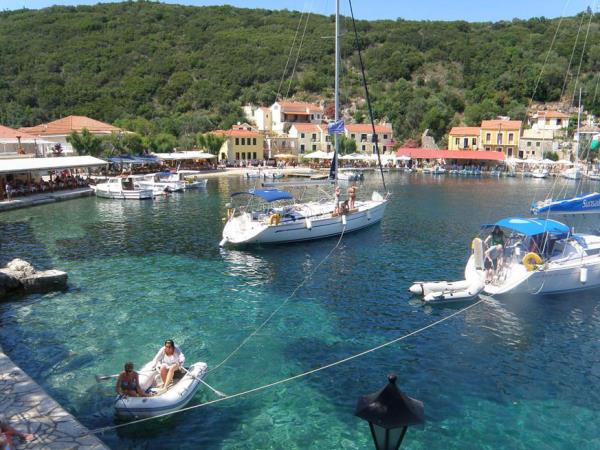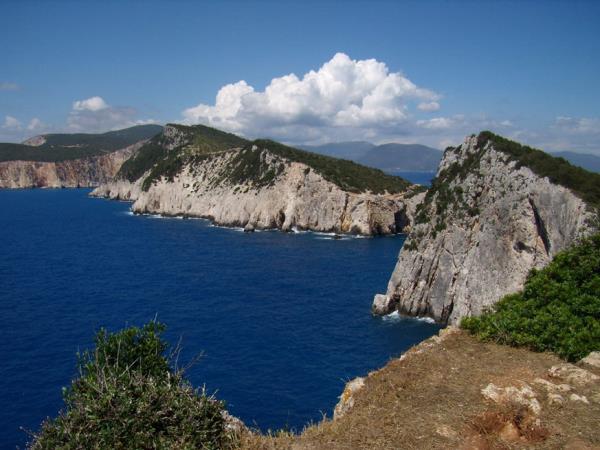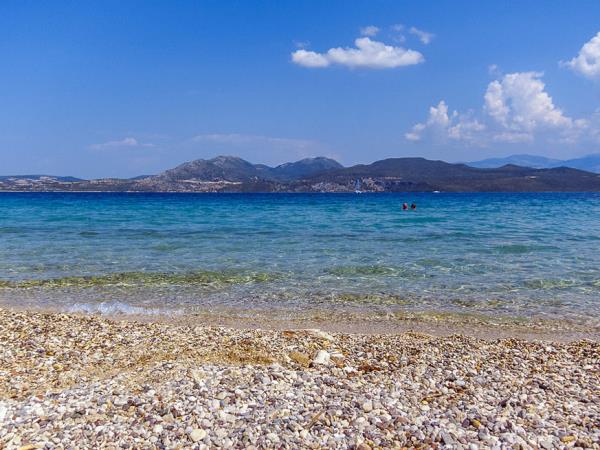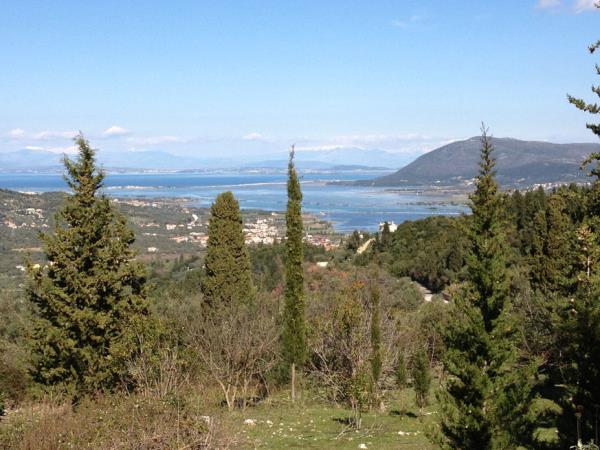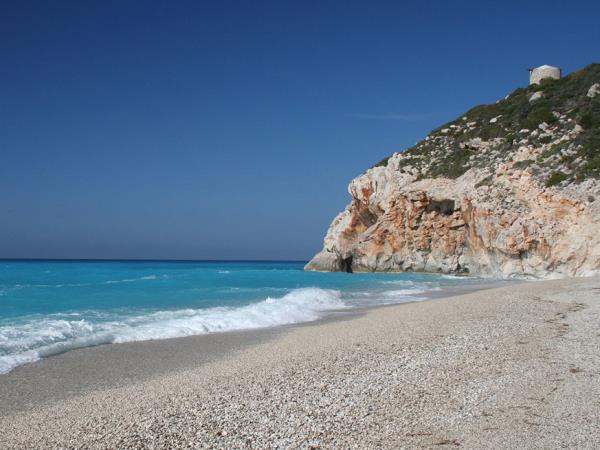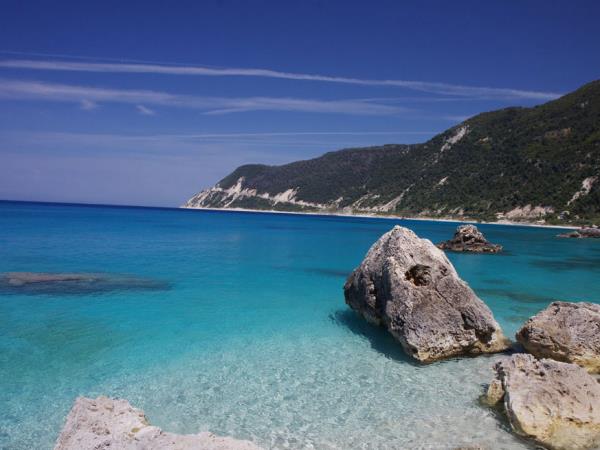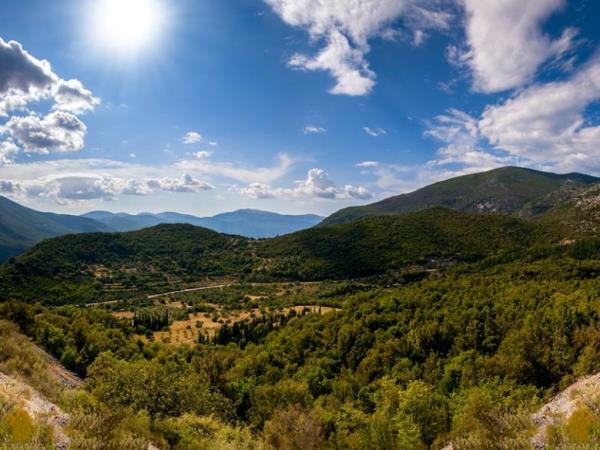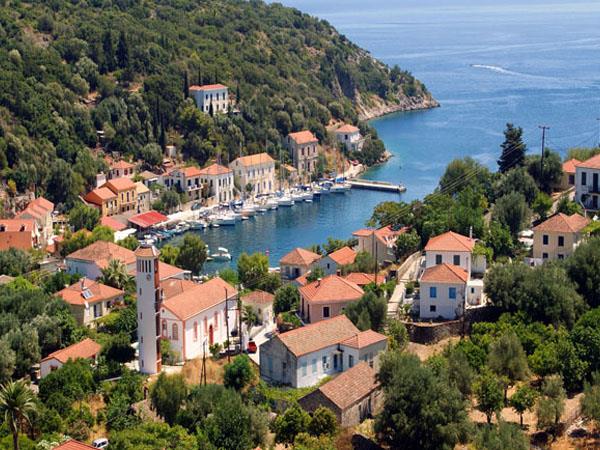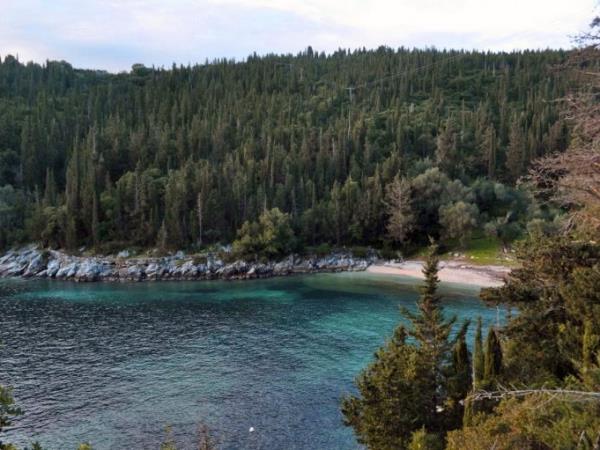 Ten days of guided walking on the Ionian Sea island of Kefalonia, Lefkada & Ithaca. Following in the footsteps of Homer, an idyllic odyssey for any keen hiker.
Lefkada Island
Greek Ag. Ioanis Antzousis chapel
Faneromeni monastery
Gira lagoon
Ligia
Katouna
Nydri village
Skaros Mountain
Exanthia village
Mylos beach
Lefkatas Cape
Athani village
Alexandros
Kefalonia
Fees are pp for two people sharing a double room.
Supplement for single room & 7-day itineraries are available.
Fee includes guided walks, accommodation, breakfast, VAT, transfers, information on local culture, history and local flora and fauna.
Description of Kefalonia, Lefkada & Ithaki walking holiday
A 7- or 10-day walking itinerary around the lush islands of Kefalonia, Lefkada & Ithaca in the South Ionian Sea is the ideal holiday for nature and walking lovers.

We'll start from Lefkada, famous for being the homeland of Homer's Greek hero Ulysses, in The Odyssey. A mountainous, valley rich landscape glistens like an emerald, and segues smoothly with the blues and turquoises of the Ionian all around. Despite the hot Mediterranean climate, its eclectic natural features include plenty of water that shapes it into the walking terrain so loved by many. Natural springs, waterfalls, rivers, canyons and forests all thrive around the mountain terrain, as do flora and fauna. Such as the array of wild herbs, as well as rare orchids and reams of wild flowers.

You'll continue to Ithaca to explore its trails among olive trees and ancient ruins, Byzantine monasteries and churches, sheer cliffs, arid mountains with splendid views, hidden coves with pebbly beaches, charming villages. Eventually you'll reach Kefalonia, the largest of the Ionian islands. Wooded and mountainous with broad summits rising to 1,627m (Mt Ainos), you will love its lush green hills, much photographed sandy beaches, picturesque villages, sheltered coves, spectacular caves, unprecedented views of the azure waters of the Ionian, delicious local recipes and wine…

Every day on this walking holiday brings another ancient trail, following old cobbled mule paths either up into the mountains, valleys or gorges or along the dramatic cliffs and coastal paths. With plenty of beautiful beaches and coves for rest and refreshment, swimming and sunning, to make your odyssey complete.

This walking holiday in Greece is graded as easy to moderate, with five to six hours of walking every day including stops, and climbs of no more than 500 metres. We are also flexible with our itineraries, depending on the needs and interests of our group members. We can push those muscles or just go for more easy going hikes, it is up to you. We run this Lefkada, Ithaca and Kefalonia walking holiday all year round, except from August, when extremely hot temperatures in Greece make walking very uncomfortable. We highly recommend spring and autumn, however, particularly the former, when the wild flowers and trees blossom, lining your walking routes like beautiful magic carpets.

Itinerary
Day 1: ARRIVAL AT LEFKADA AND RELAXED WALK AMONGST OLIVE GROVES.

Arrival at Lefkada and check in at our chosen family run guesthouse. After a briefing on the week's activities, we will go for a short walk amongst olive groves around the beautiful coastal town of Lefkada. Highlights include visit to the oldest Christian church of the island, Ag. Ioanis Antzousis and the short climb up to Faneromeni monastery to admire the views out across the island and Ionian Sea. Your first day on the island wouldn't be complete without a trip to the beach, and Ag. Ioannis's white sands and translucent waters are the perfect introduction to what will become a daily tradition on this holiday. As is dinner at a top tavern, in time for sunset.

Day 2: WALK ALONG THE FAMOUS GIRA LAGOON & HIKE INLAND TO EPISKOPOS WATERFALL. Today's morning walk is at the island's famous Gira Lagoon, a bird filled wetland and a Natura 2000 protected site very close to Lefkada town, which is conveniently located on the migratory path of birds such as wild duck, moorhen, flamingos pelicans and, sometimes even swans. Walking around the lagoon is an idyllic immersion into the island's fine natural heritage. We have time for a second evening walk today, starting from the charming fishing village of Ligia and hiking along an inland path to Episkopos waterfall, with brooks and birdsong adding to nature's harmoniousness along the way. Heading up to the elevated and exquisite village of Katouna, you will have earned a superb tavern dinner with great views and, if we are lucky, great local music too.

Day 3: WALK & EXPLORE SKAROS MOUNTAIN AND ITS ANCIENT OAK FOREST. In the morning the choice is yours – another beautiful day by the beach or a boat trip out to a neighbouring island. Our afternoon hike starts from the east coast village of Nikiana and climbs gently to one of the island's most remote and very tranquil spots: Skaros Mountain, famous for the place that Ulysses took his sheep to pasture and where nowadays the surrounding, ancient oak forest is considered one of the island's most precious habitats and wild places. After taking in the wonderful Ionian views, we descend back to Nikiana for our traditional dinner.

Day 4: HIKE ALONG STUNNING GORGE TO EXANTHIA VILLAGE. Today we delve into deep traditional Lefkada, hiking to the old village Kalamtitsi which, in many ways, feels delightfully unchanged by time, where elderly women still don traditional black dresses and use donkeys to negotiate the mountain paths and roads. Continuing on along trails bedecked with cypress trees and olive groves, we hike through a stunning gorge that leads us to Exanthia village, the perfect picnic spot overlooking more Ionian idylls. Our afternoon ends down on Mylos beach near the village of Drimonas, with top swimming and clear waters for those who like to snorkel. Walk or boat back to Ag. Nikitas village for a taverna dinner in this stunning waterside spot.

Day 5: COASTAL WALK FROM SOUTH TIP ALONG LEFKADA'S SPECTACULAR BEACHES. Today is the day to be blown away by beautiful beaches. Starting on the island's south tip lighthouse on Lefkatas Cape, where the cliff and seascapes take your breath away. And indeed it is the perilous drops from these cliffs that gave the island its name, where criminals were forced to take the 'Lefkadian Leap'. We will only be leaping from sandy bays into tranquil waters, however, heading west towards Porto Katsiki and Egremni, considered some of the Mediterranean's finest bathing spots. After plenty of beach time at Porto Katsiki, we head inland to Athani village in a stunning olive grove filled mountain location. More stunning views, more stunning food at the local taverna.

Day 6: BOAT TO ITHACA AND EXPLORATION OF THE NATURAL HABITATS OF THE ISLAND. Today we'll take the short boat ride to Ithaca and the picturesque fishing port of Frikes. We'll take the narrow path that leads through the mountain towards solitary beaches. You'll enjoy the lush green vegetation, olive groves and terraced slopes as well as the beautiful sea views nearly all the way towards the beach of Marmakas. Marmakas got its name from the white pebbles on the bottom which are shining like marble. Tall eucalyptus trees offer ample shade so we can stop to relax, swim and have a picnic.

We'll then take the route that leads to another beautiful beach, Aphales, and then continue our pleasant walk towards Frikes. By the time we arrive the sun will be setting and a glorious sky will await us. Transfer to our guesthouse near the main port and town of Vathy which we'll explore later in the evening.

Day 7: PLEASANT WALK THROUGH UNSPOILT LANDSCAPE WITH GREAT VIEWS. Today we'll start the day with a pleasant and relaxed walk towards the Matathia plateau following an isolated track through an unspoilt landscape and great sea views to the Homeric Arethousa Fountain, where Odysseus' swineherd, Eumaeus, brought his pigs to drink. The scenery at the fountain is breathtaking. We'll then continue to the beautiful Pera Pigadi beach where we'll plunge into its crystal clear waters. Relax the rest of the day.

Day 8: FERRY TO KEFALONIA AND CIRCULAR WALK FROM PICTURESQUE PORT OF FISCARDO. Stroll around Fiscardo, a picturesque and beautiful Greek harbour village, unique in Kefalonia as it retains the architecture and ambience of a long gone era, when the Venetians ruled Kefalonia. The picturesque harbour is surrounded by Venetian-style houses painted in pastel colours.

We will follow a circular walk starting from Fiscardo towards the northern part of the island. It connects villages, passes through cypress forests, strawberry tree forests, agricultural fields, beautiful secluded beaches where we'll stop for a swim and a picnic as well as various historical sites such as the ancient tomb of Throni, the old village of Psilithrias, as well as the Battaria, which was a 1940 German anti-aircraft base.

Supper at our favourite tavern where you can taste the acclaimed cuisine of the island.

Day 9: ANCIENT PATH THROUGH OLIVE GROVES AND CYPRESS TREES TO ASSOS BAY
We will start our walk from the rural mountainous village of Kokolata and follow the ancient tracks, through olive groves and Cypress trees that grow in abundance on this part of the island, towards the village of Kortheas and the beautiful village of Assos. You will enjoy magnificent views of the coastline, of mountains dropping straight into the sea, and breathtaking views of the rustic village of Assos, its peninsula and the fortress.

We will stop at Assos' delightful fishing port for a refreshing swim at the crystal clear waters of the bay and lunch before continuing our walk on the peninsula to the ruins of the old Venetian fortress. We will end our day with a visit at the most beautiful beach in the Mediterranean, Myrtos beach, with its white pebbles and turqoise waters.

Day 10: HIKE THROUGH VIVID GREEN MOUNTAINS TO HIDDEN BEACH

We will start the day with a visit at the Melisanni Lake where you will have the opportunity to take a short boat ride around the underground lake. We will then continue at the village of Sami where we can enjoy a drink before our walk through the most distant part of the island of Kefalonia.

From the mindblowing beach of Antisamos, surrounded by vivid green mountains, we will walk the narrow path through dense plant life, reaching the hidden beach Koutsoupia. Opportunity to swim at its secluded crystal blue waters before continuing to the village of Poros. You will be rewarded at the end of the day with a delicious farewell supper.

Price information
Check dates
2023: 10 Jun, 17 Jun, 2 Sep, 9 Sep, 16 Sep, 23 Sep, 30 Sep, 7 Oct, 14 Oct, 21 Oct, 28 Oct
Holiday information
Diet:
We cater for both vegetarians and vegans.
Reviews
9 Reviews of Kefalonia, Lefkada & Ithaki walking holiday
---
Responsible Travel
As the pioneers of responsible tourism, we've screened this (and every) holiday so that you can travel knowing it will help support the places and people that you visit, and the planet. Read how below.
Planet
This walking trail holiday in the islands of the Ionian Sea, has a primary eco-focus. We are dedicated to encouraging low-impact activity holidays, such as walking, and minimising our negative impact on the environment and people. This is mainly done by respecting the natural environment of the places we visit and by concentrating on an alternative way of travelling, mostly out of the heavy burdened touristic summer season.

We try to support the No Footprint idea by exploring in small group numbers and as much as possible getting around on foot or by public transport. Our walking holidays after all, leave nothing but footprints behind! We walk on designated paths and make sure no litter is left behind, while we also gather up any that we see on our way. We often arrange clean ups of paths and beaches during the week, or tree planting initiatives in these dry and arid Greek islands. We report on paths that are falling out of use and help to clear or shape them back.

Most of our paths are part of larger protected areas or National parks and Natural reserves, such as the vast Natura 2000 network. This way, we encourage our guests to behave in an environmentally responsible manner. We inform our guests about the unique flora and endemic and common species they will encounter while walking or swimming around the islands of Kefalonia, Lefkada & Ithaca. We find it to be important to encourage and develop a passion for wildlife and wild places among our customers. We give guidelines on where to look for them, how to observe them or even capture a unique picture showing to the rest of the world their magic. Of course, it is important to emphasize that all wildlife sightings are a bonus; none are guaranteed! We practice Responsible Wildlife Viewing principles by not disturbing or threatening the behaviour of any wild animal by no means. We ask our guests to never remove a specimen – whether plant, seed or animal – from its natural environment. Guests leave aware of the environmental dangers faced and what they can do themselves to minimise them.

We encourage our guests and the owners of the accommodations we use to be aware of the threats to the environment (i.e. water waste, plastic bags and bottles) and suggest ways in which they can minimise their negative footprint. We explain to our guests the need for water conservation in the Greek islands and advise them on how to minimise their water waste. We encourage our guests to bring refillable water bottles and/or recycle them in designated areas. All communication is done electronically where possible, saving on paper
People
We have the greatest respect for the local people and their customs and are anxious to share our knowledge of Ionian island lifestyle with our guests. Your guides are all local, sharing with you their ideas and love for their land. In order to limit the social impact of tourism all are guests are introduced to the local customs, religion, politics and history during our walks. We take our clients to local festivals, artists' workshops, and other local celebrations trying to get them to experience the local way of life. We encourage our guests to mix and interact with the local people which are particularly friendly and hospitable.

Through our walking trail holidays in Greece we support small businesses by supporting locally owned shops, guesthouses, mini-markets, bakeries and taverns. As our holidays take place in spring, early summer and autumn, we bring customers and income to establishments which would otherwise only have visitors in the high touristic summer months. In many villages, we visit local craftswomen who make their own handmade traditional products and by selling them, support their families.

All the products used in our picnics are bought locally, by small family-owned shops, supporting a low carbon diet and respecting the seasonal produces, thus supporting the local agricultural community. Evening meals are taken in typical Greek restaurants serving local, Greek and Mediterranean dishes, usually with products from their own personal gardens.

We opt for local, family owned guesthouses, staffed by locals. These accommodations have been restored by local workers and retained their unique local character whilst providing all necessary comforts. The guesthouses recently installed solar panels which provide hot water for all rooms all year round.

In general, with all walking holidays in Greece, we're trying through our activities to encourage travellers to approach places they visit with greater understanding and respect.
Popular similar holidays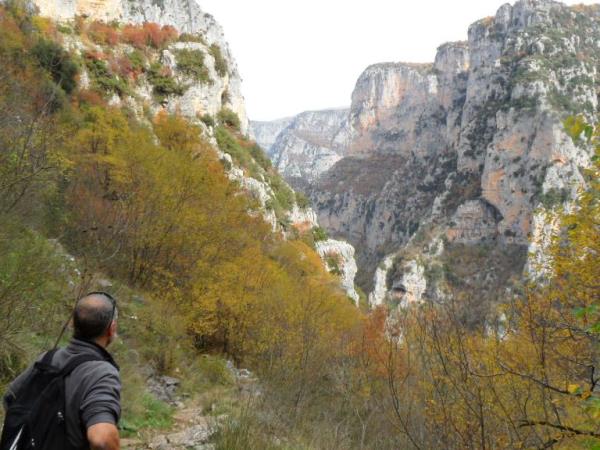 From £525 - £650 8 days excluding flights
Macedonia & Epirus - sightseeing & walking in ancient Greece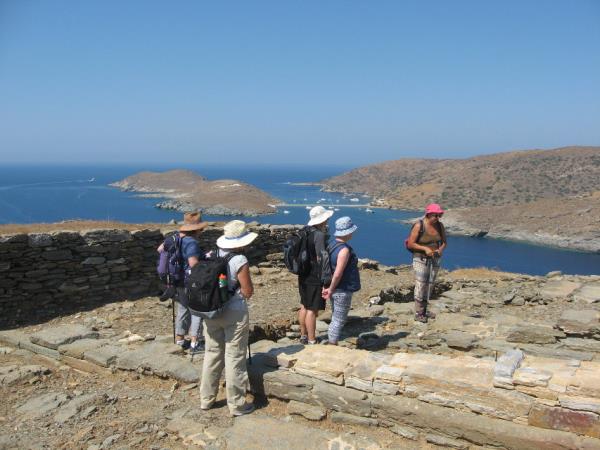 From €495 6 days excluding flights
Hiking holiday on Kythnos, a beautiful Greek island in the Cyclades group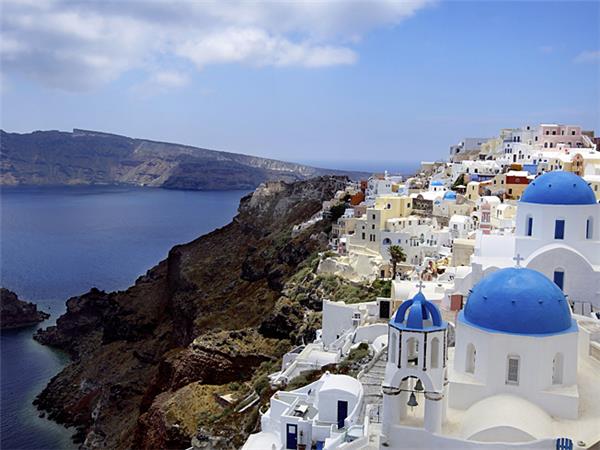 From £1795 - £2095 8 days including UK flights
A gently active holiday in the Cyclades