"Whether you're on Ithaca for relaxation, contemplation or outdoor activities, this luxury estate promises an organic experience set against the deep blues of the Ionian Sea."
Highlights
Saltwater infinity pool | Organic coffee & food shop | Traditional, organic meals on request | Outdoor massage pavilion | Hidden hammocks | Local taverna for evening meals | Babysitting service | 10 min walk to beach | Optional activities: self-drive excursions, dingy hire, crewed yacht charters, horse riding, cycling, snorkelling, wild flower walks
Description of Luxury Greek Island holiday accommodation
No sooner than you've stepped a tentative foot onto the fishing boat bound for Ithaca then your very own legendary Greek odyssey can begin.

This luxury self catering Greece estate is all you need to let your mind unwind as your body and spirit soak up the sunshine and the most extraordinary clear blue swathes of the shimmering Ionian Sea.

No smoothed white pebble has been left unturned when it comes to complete and utter guest satisfaction with the scent of sage, rosemary, thyme and salty sea breeze combining to great effect alongside organic olive groves and bountiful vegetable gardens.

The hillside setting is perfect for maximising mountain and coastal views with the peaceful natural surroundings never failing to lull guests into sublime submission or rejuvenate imaginations into creative play or meditative thought.

As you'd anticipate, as much of the estate's home grown produce as possible goes into breakfasts and evening meals with the resident chef on hand to cater for every whim with children, honeymooners and couples all benefitting from inspirational organic ingredients.

Although the setting screams romance, children are also in their element with free range chickens, a rescued donkey and a companion sheep providing untold entertainment alongside exploring the estate's forest paths or just splashing in the superb salt water swimming pool.

No matter who you're travelling with, you'll soon be made to feel like one of the family with home cooked meals on arrival, early morning chats over coffee and recommendations for local cafes and restaurants all helping guests to find a pace and style that's comfortable for them.

Aside from the family-friendly feel there's a great choice of wellness and relaxation activities to welcome the day and exploit the scenery. Pilates, yoga and meditation in the alfresco lounge area, underneath the pencil pine trees, are perfect ways to start the day afresh with all over massage treatments in the forest glade just what's required to unravel a few knots no matter when you plan on getting up.

As the mind is a muscle it makes sense to give it a slight stretch even on small Greek island holidays and there's no better opportunity other than accompanying a storyteller en-route to the ancient sites that inspired Homer to pen his epic poems The Iliad and The Odyssey.

Self guided cycling and walking allows you to explore under your own steam, with no end of mountain tracks and rural roads descending into valleys and secret coves where swimming or snorkelling in window clear water lets you submerge under warm waves until your heart's content.

Luxury Greek Island holiday accommodation. How it all began.
A planned two year break from city life in Australia went little awry on discovering that we inherited a small olive grove on a hillside above our favourite beach. Builders, restauranters & landscapers in previous lives, we decided to pool talents & build four traditional houses under the olive trees - perhaps for our 4 children in the future, but meanwhile maybe we could rent them out. 20 plus years later?? Land size increased by 4 times, the eco-landscaping of 7 acres of hillside and forest and the addition of numerous outdoor amenities.... enormously satisfying full time work for four people
Rooms, food and facilities
Our luxury self catering villas are just as sumptuous as they sound and as this estate features four traditional style houses, ideally located overlooking the Ionian, this is your chance to really see how good life can be.

Each of the estate's properties are situated on a terrace with herb gardens creating a permanent perfume whilst flag stone pathways and stairs lead guests to the morning coffee shop, the shaded alfresco dining and cooking area, and the salt water swimming pool and summer house.

Further down the slope you'll discover outdoor lounging areas, massage pavilions and hidden hammocks whilst further still unearths the organic farm as well as forested paths to swimming coves or the local taverna which opens in the evening until the night's sky is twinkling with stars.

The four guest houses are designed to maximise the elements with natural materials and passive heating and cooling systems helping to keep guest comfortable no matter what the time of day.

Each house has two bedrooms which are kept cool thanks to a strategically placed flagged terrace area covered with a vine pergola. Guests can also make the most of well-maintained kitchens, sitting rooms with slow burning wood heaters, and fully equipped outdoor eating and relaxation areas.

Meals can be arranged in many guises including locally sourced marinated meats for the BBQ, carefully packed organic ingredients for a picnic hamper and the chef's menu which always includes a bounty of organically farmed vegetables and locally sourced seasonal produce.

From families with babies and active kids to small groups and couples into yoga, meditation, Pilates or just generally relaxing, luxury self catering Greece style does not get any better than this.
Our top tip:
Take your time to do pretty much everything on Ithica as often the most treasured of rewards are only realised once you've returned to the real world.
Room description:
4 traditional houses, each with 2 bedrooms, living room with fold out bed, kitchen, bathroom, sea views and private verandah.
Amenities:
Set in a 7-acre organic olive farm with infinity pool and gardens.
Meals:
Self catering. Stocked with refreshments from the estate on arrival, with fresh bread daily. First breakfast included.
Also included:
Transfers, housekeeping, beach equipment, car (in high season).
How to find us
Head to Kefalonia Island, located around 50kms west of mainland Greece, whereupon it's a 45 minute small fishing boat ride to Ithaca and your luxury accommodation at the organic farm estate.

NB: Airport transfers from Kefallonia to the accommodation are included in tariffs
Responsible tourism
Responsible tourism: Luxury Greek Island holiday accommodation
Environment
The first guiding principle of offering luxury Greek Island holiday accommodation was to invite people to share our lives and begin to learn about a new environment at the same time ? to offer the experience of 'living in Greece for a week or two' rather than mindlessly taking a holiday in a different country.
Producing organic olive oil has been extended to other farming activities - raising sheep and chickens; and providing a biodiversified environment which also includes gardens planted with native flora; vegetable gardens growing greens used in the local diet, a wide range of other vegetables, and Mediterranean herbs. We are a member of the National organisation for organic producers. We work to encourage the idea that holiday destinations offering high quality accommodation and services can be, at the same time, in harmony with a natural, living environment.
Providing organic foods and gardens rich in native flora and foods; having passive cooling and using our own timber for heating our accommodation; providing natural spring water; harvesting rain water for the gardens; using grey water for maintaining forest trees; recycling organic waste, we are providing a sustainable environment and encourage guests to become inquisitive about why they feel so at rest ? firmly believing it?s the affect of their ?whole? and peaceful surroundings.
Community
Our second guiding principle is that tourism income should always 'stay at home', and so we operate independently rather than risking a compromise on this.
Our local community benefits because we provide a full time income to two people (and families); and local families own every service we recommend or routinely make use of ? taxis, car hire, boat hire, restaurants employing local people and sourcing foods locally, supermarkets, cafes, food producers such as shepherds and fishermen. The economy of the island therefore benefits from every guest being here.
27 Reviews of Luxury Greek Island holiday accommodation
---
Popular similar holidays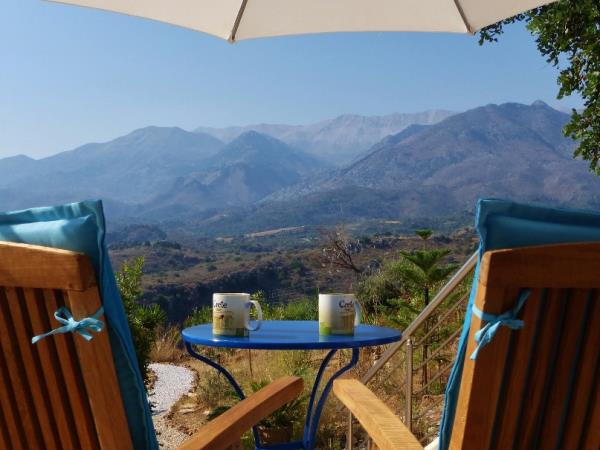 Spectacular views from luxury accommodation in Crete Mountains
From €110 - €230 per accommodation per night (sleeps 2-4)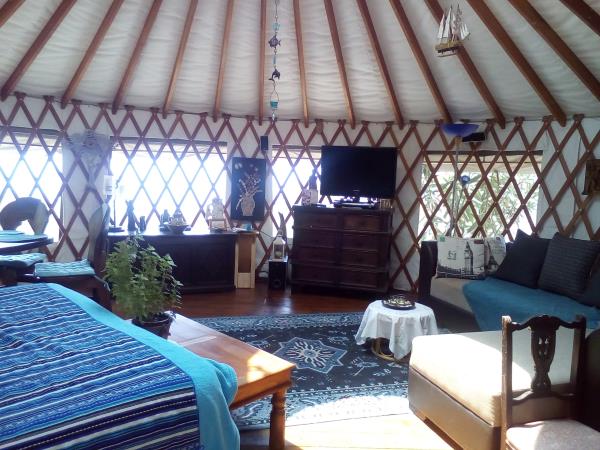 Yurt in a peaceful olive grove overlooking sea
From €50 per accommodation per night (sleeps 2)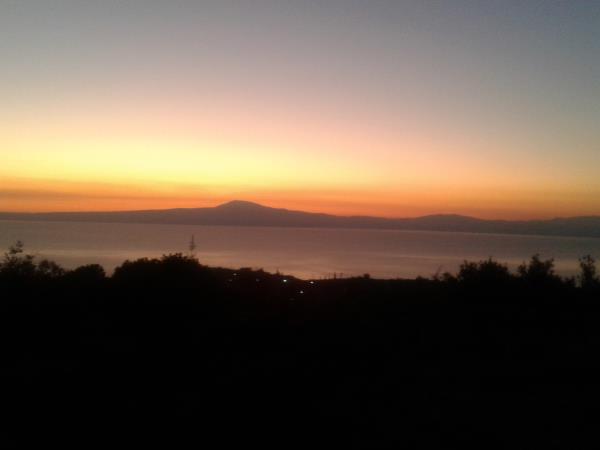 Olive Nest tree house with lovely views to the sea
From €35 per accommodation per night (sleeps 2)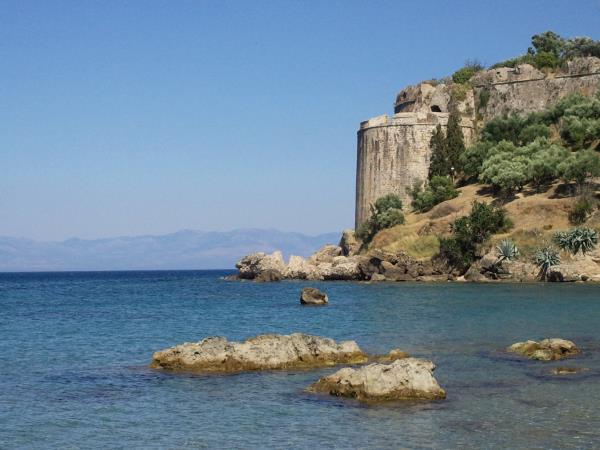 Lovely Cottage in Atmospheric location, with Sensual Garden
From £50 - £100 per cottage per night